07 February 2013
Lincoln, Alexander Gardner and the Silent Indian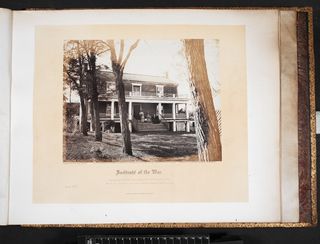 This work (Gardner's Photographic Sketch Book of the War, Washington, 1865) identified by British Library, is free of known copyright restrictions. [BL Shelfmark: 1784.a.13]
One of the many joys of American Studies is that it's very easy to argue that you're watching a particular TV programme or going to a movie because, well, it's work isn't it? Just recently we've had a few films that we all felt compelled to see, and not least because they've provoked numerous debates on Twitter and in the press. Fortunately, we've enjoyed at least two of them – Django Unchained and, of course, Lincoln. A lot of words have already been generated about both so I've no intention of reviewing either, but I did want to just touch on a couple of things in Lincoln. 
In one scene Abe discovers his son looking at 2 glass plates of 'slaves for sale' and tells him that they should be returned to Mr Gardner. This of course is a reference to the photographer Alexander Gardner. And there were numerous points in the film when it was if Gardner's (and his associated photographers) images had sprung to life, particularly when Lincoln and entourage are touring the battlefields late on in the film. Sadly our 2 volume set of Gardner's Sketchbook of the War is not quite complete and is missing the iconic photograph of Lincoln in the field. But we do have the image at the top of the blog, taken by Timothy H. O'Sullivan. If you've seen the film, you will recognise it as the Appomattox Court House in Virginia 'where the Capitulation was Signed between Generals Grant and Lee.' I've already blogged about Gardner and the sketch book so I'm not going to say anything further, other than to flag up that both volumes have now been digitised as part of Matt's Civil War project and you can peruse them here (vol. 1) and here (vol. 2).
But let's go back to that scene at the Appomattox Court House. You might also have noticed that a tall Indian in Union uniform walks across the frame at one point. He had also appeared briefly earlier on when we first encountered General Grant. He has no lines at all but a close scrutiny of the credits confirmed my assumption that he was intended to represent Colonel Ely Parker (Tonawanda Seneca), adjutant and military secretary to Grant, drafter of the final terms of surrender, and who became, amongst many other things, the first Native American to be appointed Commissioner of Indian Affairs. I can't do justice to the extraordinary (and sometimes controversial) life – and many careers of the talented Ely Parker in a blog, but you can read about him in this piece from the American Indian Magazine. We also have a number of books on him in the Library, including Warrior in Two Camps: Ely S. Parker Union General and Seneca Chief, William H. Amstrong, 1978, BL shelfmark: X:950/31002.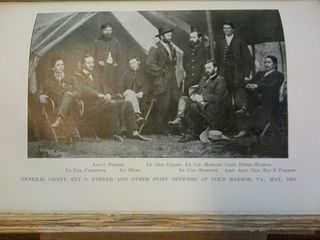 This work (The Life of General Ely S. Parker, by Arthur Caswell Parker. Buffalo Historical Society, 1919) identified by British Library, is free of known copyright restrictions. [BL Shelfmark: AC.8367/3, vol.23]
It's a shame that Parker doesn't merit any dialogue in the film. There is a much repeated story that, at the surrender, General Lee first mistook Parker as a black man. Realising his mistake, he then shook his hand, saying 'I am glad to see one real American here.' Parker's response was 'We are all Americans, sir', which, you have to admit, is a pretty good line. I can't vouch for the authenticity of the story, but the lines do occur in the movie - but between Lee and, I think, Grant. And incidentally, Parker is played in the film by Asa-Luke Twocrow (Oglala Sioux), a member of the Lincoln rigging crew, who, much to his surprise, was asked to take on the part.