26 April 2013
A Cuban directory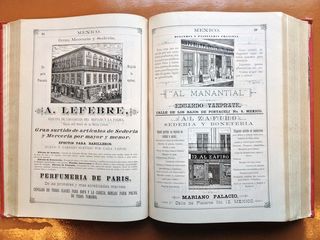 Nomenclator Comercial, Agricola, Industrial, Artes y Oficios, Directorio General para Mexico, Isla de Cuba y Principal Comercio de Nueva York Havana: Molina Y Juli, 1884 Shelfmark, RB.23.b.7347
This recently acquired directory of businesses is a fascinating resource on the interwoven economic and cultural histories of Mexico, Cuba and New York. It was published in Havana in 1884 just after the end of the Guerra Chiquita (or the Little War) - the second of three wars that resulted in Cuba's independence. Cuba was ravaged by war and the directory was no doubt part of an effort to support trade and investment with neighbours across the Gulf and to the North. With historical hindsight the introduction to the book, which reads, 'We have not forgotten, in light of our important links to our neighbour the United States, to include a general commercial guide to New York […]' strangely forebodes the new imperial economic presence the U.S. will have in Cuba by the end of the 19th century.
 It is also important to note that this book was published two years prior to abolition of slavery in Cuba and offers insight into the ways slavery and capitalism articulate during the late 19th century.
 The majority of the directory is comprised of advertisements for businesses and drawings of city street scenes intended to help people find businesses. While the statistics and advertisements are of great use to economic historians, they also tell us a great deal about technology, the organisation of work, social life, food consumption, fashion, public space, and leisure.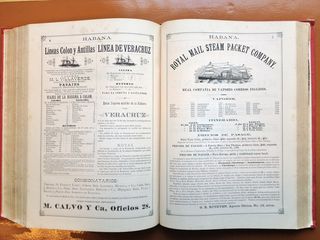 Something that immediately strikes a reader is how utterly diverse and thorough the directory is, with detailed information on everything from fruit vendors, candy makers, wine importers, insurance companies, hotels, bookshops, sugar mills, cigars, pharmacies, and military equipment. The directory also reveals the 'trans-national' facets of Cuban and Mexican life at the time – including the strong presence of English insurance companies and the Royal Mail Steam Packet Company. Here at the British Library you will also find maps and charts of the shipping routes of that company in the Americas. See for example, Add MS 31981 N : 1840 and 8805.df.25.(1.)
[E.N.C.]