12 April 2013
Picturing Canada: going live (gradually)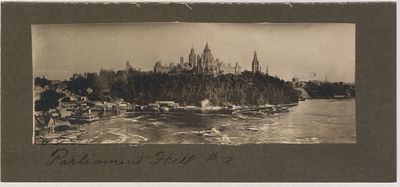 Miniature panorama of Parliament Hill, Ottawa [copyright number 22264, shelfmark: HS85/10]

This work is free of known copyright restrictions.
So, the day is here when Andrew and I get to show the first fruit of the Picturing Canada project to the world. Friday sees us present the initial outputs from the project to attendees of the GLAM-WIKI 2013 conference and it only seemed right to share it with our Americas blog readers too.
Digitisation is almost complete, with just the largest images still to come (a nice treat to end the project with), and while a few things need putting in place before we can host the images on the Library's Digitised Manuscripts page they are being gradually uploaded to Wikimedia Commons. Here the collection has a dedicated area which will soon have an introductory blurb and you can browse the collection as it grows over coming weeks.
That said, what have we got to show you? I briefly described the history and content of the collection a few weeks ago on the Americas blog but here are some fun extra facts. First off, we have so far mapped the collection's contents to over 300 different locations in Canada and you can browse this on the map above. This time it's a vector map so you can zoom in and out, clicking on the buttons for details on the location, how many photographs there are from each area and what time period they cover. I'm afraid there's no direct link to the photographs yet, as we're still uploading, but it will be available in the coming months.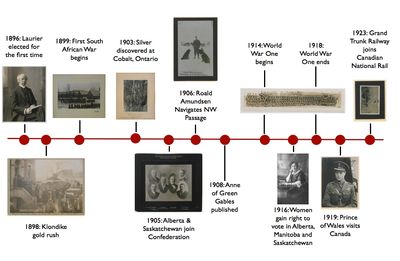 I've also got back to thinking about how the collection reflects the history of Canada. It provides a dynamic (and sometimes irreverent) lens on the many significant events that occurred between 1895 and 1924, both inside and outside of Canada. The above is one of the slides from Friday's presentation and it gives a highly selective and somewhat hap-hazard view of Canada's history during the period - but hopefully it provides a sense of some of the significant and / or interesting events of the period.
Over the course of the project Andrew and I have worked hard to make the metadata attached to these photographs usefully available as well as refining it and putting it to new uses. Hopefully the result of this will be a collection of photographs of use to historians of Canada, historians of photography, the writers of myriad Wikipedia articles and - you never know - the creator of the next cat-based meme.
I can live in hope... That said, if you put the photographs to any interesting uses please let us know.
[PJH & AG]