10 May 2013
Changing Scenes: Canadian landscape views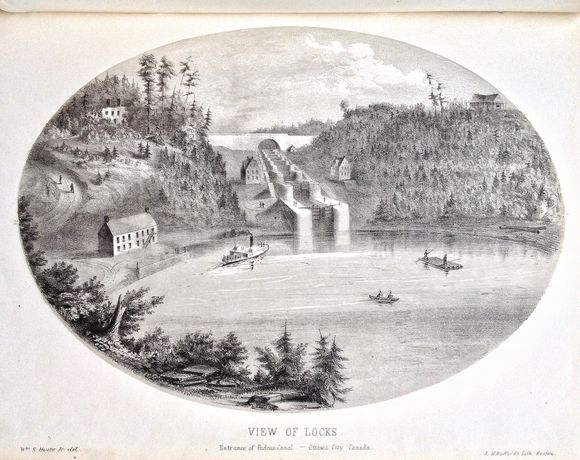 Above: 'View of Locks' in 'Hunter's Ottawa Scenery' [Shelfmark: RB.31.c.502]

These works are free of known copyright restrictions.
After ducks took over the blog earlier in the week a change of tone - although our feathered / mechanical friend will be pleased water is still involved. I've been digging through a few of the Library's printed books on 19th-century Canadian scenery and I thought I'd share some of the examples of subtle and striking change I've come across. The above illustration is a view of the Rideau Canal locks that sit below the parliament buildings in Ottawa, taken from 'Hunter's Ottawa Scenery' [Ottawa City, 1855. Shelfmark: RB.31.c.502]. It shows the city around the time of its incorporation but prior to its installation as capital of the Province of Canada.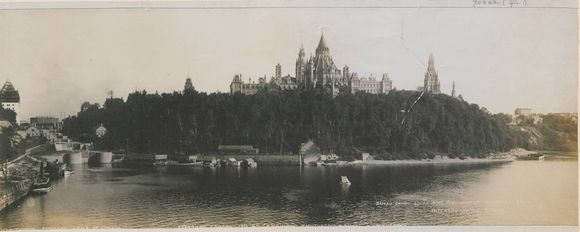 Above: 'Rideau Canal Locks and the Parliament Buildings', by the Canadian Photographic Company [Shelfmark: HS85/10, Copy. 22830]

The above photograph was copyrighted in 1910 by the Canadian Photographic Company, less than 60 years after the plate in Hunter's 'Scenery' was produced. It illustrates quite nicely the changes brought to the area and its development as a national capital, although the scale of change is not as dramatic as in other examples from the collection. A good example here is an illustration of Toronto taken from Willis', 'Canadian Scenery' (London, 1842. Shelfmark: 789.e.18).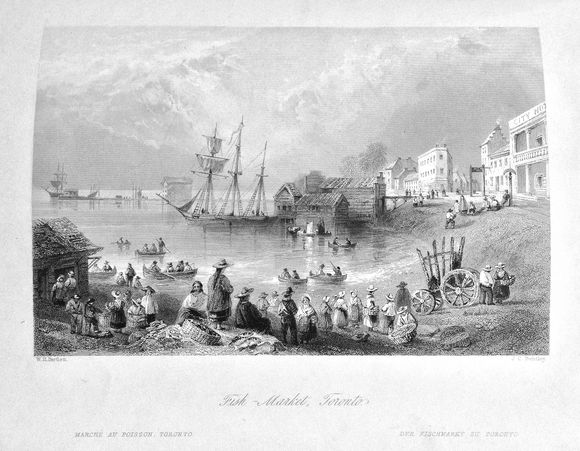 Above: 'Fish Market, Toronto' in, 'Canadian Scenery' [Shelfmark: 789.e.18]

According to the Toronto Public Library the area shown is at the foot of today's Jarvis St., downtown Toronto. By 1903 the view looking across this area was strikingly different, as the below photograph by William Thompson Freeland shows. The photograph is taken across the road from Toronto's government buildings, looking across Younge St. and Jarvis St. out towards the lake and the islands. While it doesn't show the area from 'Canadian Scenery' directly it does illustrate the dramatic change Toronto has undergone.

Above: 'Toronto Panorama, pt 4' by William Thompson Freeland [Shelfmark: HS85/10, Copy. 14481]

These are just a few examples from the collection depicting the changing Canadian environment and relevant items are not just found in printed books and photographs. For example, the topographical views and maps that make up the King's Topographical collection also contain myriad views which help illuminate the developing landscape of Canada.
For more on the scale and scope of the Library's Canadian collections, visit our Help for researchers pages.
[PJH]