30 May 2013
Connected histories: the East India Company and the Caribbean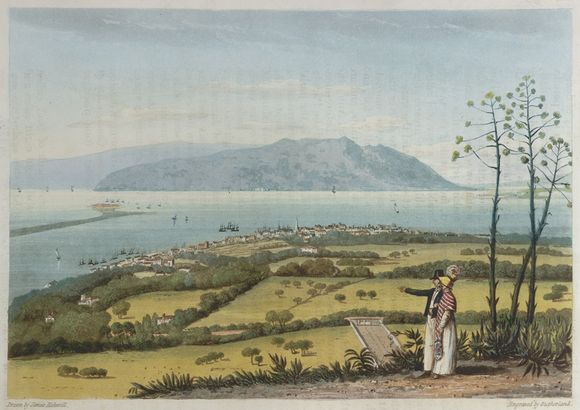 Above: View of Kingston and Port Royal from Windsor Farm. From the Caribbean Views Online Gallery
It might not feel like it today but summer really is just around the corner, which means Summer Scholars 2013 is too. One of this year's talks stems from an AHRC funded collaboration between the British Library and UCL that seeks to explore the connections between the East India Company and the Caribbean, particularly through family networks that spanned Britain, the Caribbean and India.
Chris Jeppesen, the speaker for this talk, will show the intricate connections between the Atlantic and Indian Ocean worlds that facilitated the transfer of people, capital and goods during the late eighteenth and early nineteenth centuries. He will also talk about his experience of working with the Library's collections, providing insights into researching family histories, global networks and other subjects relevant to his research. The talk is one of our later Scholars events, happening during lunch on the 3rd July. If you'd like to book a free place full details can be found here. 
So far we have four Summer Scholars events scheduled with a few more to be announced in coming weeks. Other events you can book right now include, Kim Ghattas  on Hillary Clinton, Travis Elborough on London Bridge in America and Joe Banks on Rorschach Audio. All these talks are free and sponsored by the Eccles Centre for American Studies, which means you get a free coffee and some biscuits too.
[PJH]