25 July 2013
The New York Cosmos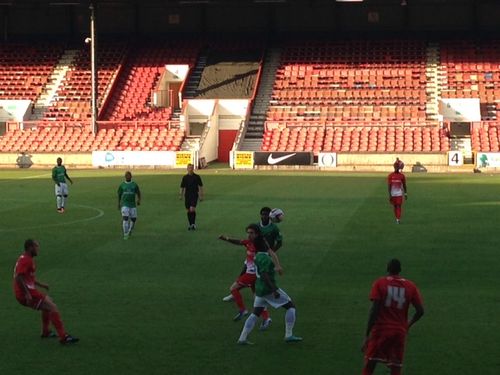 'The last football match I saw was Everton versus Wembley.'...
I don't often go to football matches, and this was my best effort to blend in on Wednesday, when I headed to watch Leyton Orient in east London for a friend's birthday. Once it was suggested that Wimbledon was a more likely match (and it was suggested that I saw Vinny Jones [not Vince]), I realised that I really was out of my depth and kept my mouth shut.
My companions, though, had noticed, and suggested that they explain the offside rule to me (although years of hanging around goal as a 'defender' at school chatting to the keeper had already impressed this regulation on me).  How, they asked, could they put it in terms of the American Revolution? Quick as a flash, another Orient supporter in the seats in front turned round:
'It's like Washington crossing the Delaware too early.'
It was very apt, because we were watching the O's inflict a 2-1 defeat on their visitors: the New York Cosmos.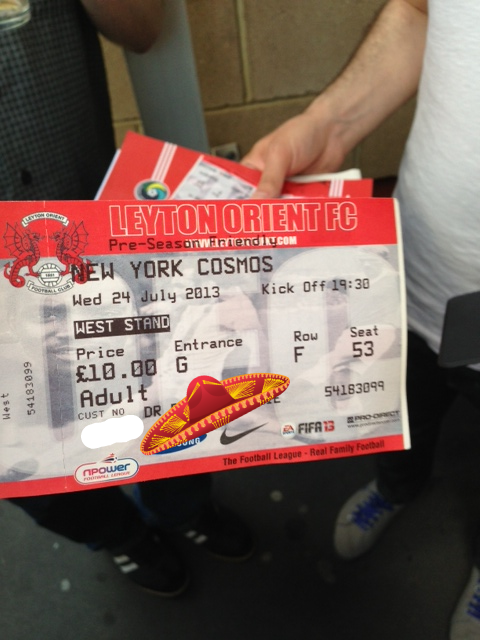 Having nothing to do with Jerry Seinfeld's neighbour, the Cosmos are a revivified version of the team that snagged Pelé in 1971 for nearly 5 million dollars, and also signed Franz 'Der Kaiser' Beckenbauer (who led West Germany to World Cup victory in 1974), Giorgio Chinaglia and Carlos Alberto during Warner Bros period of ownership. For a while, the Cosmos were 'the hottest ticket in town, with politicians and movie stars attending games. Cosmos players became mainstays of the hedonistic club scene at Studio 54' (from the blurb of Gavin Newsham, Once in a Lifetime: the extraordinary story of the New York Cosmos (2006), Shelfmark YK.2008.a.455; there is also a documentary film by the same name). It didn't last, and the glamour and turnstile takings faded after Pelé left the team in 1977. It disbanded in 1985.
But now they are back (and can boast a number of Brazilian, or Brazilian-born players on their roster, including the 28-times-capped-for-Spain Senna). A new 25,000-seat stadium is billed for Long Island.
Read more in Gary Hopkins, Star-Spangled Soccer: the selling, marketing and management of soccer in the USA (2010) Shelfmark YK.2012.a.8506, or visit our football pages.
[M.J.S.]