11 September 2013
Rebuilding after 9/11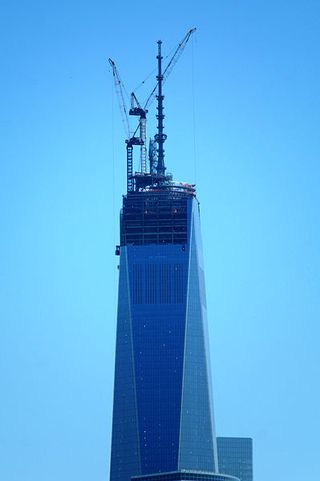 Spire installed at the top of One World Trade Center by Alec Perkins 

It hardly seems possible that it's 12 years since the horrors of 9/11. As usual, over the last week or so the TV networks have been showing numerous programmes relating to the events of that day but it's been good to also see some stories which focus on post 9/11 developments in New York. I would recommend in particular that you try to catch Belfast-born artist and film-maker Marcus Robinson's Rebuilding The World Trade Center, an artistic project "about reconstruction, ambition and humanity."
In 2006, when Ground Zero had finally been cleared and the numerous disputes around the rebuilding resolved, Robinson was given permission to document (through film, photography, drawing and painting) construction on the  World Trade Center site, which must be one of the most scrutinised building projects in the world. Through time-lapse photography (with 13 cameras taking a frame once every 30 minutes), we get to see exactly what goes in to the construction of  a skyscraper (the focus is on Tower One), as beautifully edited sequences distill over 7 years work to almost the blink of an eye. Interspersed with the time-lapse photography are numerous interviews with the army of people who are needed for such a massive building project – surveyors, site managers, engineers, construction workers and a whole host of others, many of whom wanted to be involved in the project for very personal reasons.  And although the photography is stunning, it is the construction workers and riggers who are the real stars (and heart) of this story of epic architecture and engineering (they are aptly described as a kind of Greek chorus by one reviewer). In particular, it's amazing to watch the legendary iron workers as they walk across open girders hundreds of feet in the air in the world's most dangerous circus. "I see a lot of things up there, I get chills, see shadows. I don't know if you call them ghosts or whatever, but you feel stuff. They're trying to tell you something." comments Joe "Flo" McComber, one of a long line of Mohawks who have been involved in building New York's skyscrapers since the early twentieth century.  And look out for the wonderful Chantelle Campbell, an ex-secretary but now concrete carpenter, who isn't content with doing "light work" but says "I want to be seen on the same level as the men… I don't have the type of personality where I'm going to back down. That gets me a lot of respect." And you really can't imagine anyone arguing with her.
Ending (well almost, but not quite) with a joyful party on the roof, Rebuilding the World Trade Center is an uplifting film in every sense.  The actual end and final stage of the build was in fact the incredibly complex and dangerous crowning of Tower One with a huge metal spire earlier this year. The Tower, standing at a symbolic 1,776 feet, is now the tallest building in the U.S. But it was never just going to be about building a new skyscraper - for the crew, or New York. As Marcus Robinson says, "They are healing a scar in the bedrock of the city, in its skyline, and in many ways what they are doing is part of a much greater act of rebuilding and healing."
The documentary is currently still available on the Channel 4OD website and we'll acquire a copy on dvd for the collections when it becomes available.
 [C.H.]