04 October 2013
John Burnside: In Good Company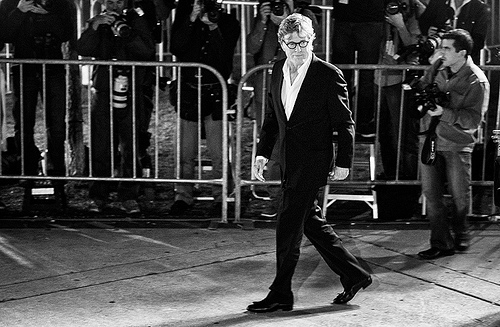 Robert Redford at The Company You Keep premiere. Photograph by Sam Javanrouh, 9 September 2012 via Flickr, CC BY-NC 2.0
I've seen it three times now and Robert Redford's The Company You Keep is mostly a fine mix of thriller and (mainstream) political reflection. Based on the 2004 novel of the same name by Neil Gordon, the film tells the story of Jim Grant, a widower with a young daughter, whose secret past with the Weather Underground – and his alleged role in a botched bank robbery during which a guard was murdered – unexpectedly comes to light after three decades of living a socially useful aboveground life, forcing him to go on the run to prove his innocence. It's an enjoyable thriller, with fine leads in Redford, (who also produced and directed) and Shia Labeouf, and standout cameos from Susan Sarandon, Chris Cooper, Nick Nolte, Brendan Gleeson and relative newcomer Brit Marling. Enjoyable – and (hopefully) thought provoking, which was surely Redford's intention when he bought the rights to Gordon's book and put so much of himself into making this project happen. For, if any period in American history needs a rewrite and a total re-evaluation it's "The 60s" – and this film may well drive curious souls to read some of the non-fiction histories of American dissent during that time, (my own recommendation would have to be Dan Berger's excellent Outlaws of America: The Weather Underground and the Politics of Solidarity, which is both honest and very moving).

However, as much as I enjoyed the movie, I was prompted to wonder just how much has to be conceded in order to talk about the realities of the 60s and 70s to a wider public than would normally be interested in radical politics. Where Gordon is clear that "only property was destroyed" in Weather Underground actions (a point made, early in the book, by a Republican whose husband was killed in Vietnam), it also refers to "the Bank of Michigan robbery", supposedly committed by a Weather splinter group, in which a guard was murdered - and both film and book show Jim Grant going on the run to prove his innocence in that crime. The trouble is, there was no such action at the Bank of Michigan in 1974. The robbery - and, of course, the murder of the guard – is a fiction. Compounding the problem is the fact that, in both novel and film, three Weather Underground members are shown as being present at this fictional robbery, effectively undermining the point made earlier – which was that the Weather Underground targeted property (mostly symbolic buildings, like the Pentagon), not people. These were pacifists whose principal ethos was the opposition of violence against human subjects - any human subjects. Weather bombings were preceded by ample warnings that allowed buildings to be evacuated, and in their entire history, the only people killed were the three Weather members who died in the infamous Town House Bombing, when a bomb they were building accidentally exploded.

Is this important? Isn't a writer permitted to invent things, even in the course of a historical novel? Should a film not be ready to make some factual concessions, in order to set up a mature political debate and, perhaps, educate people in the subtler details of radical politics? Well, yes: up to a point. Yet there is a point and, for me, the invention of the Bank of Michigan robbery is a concession too far. I think I know why both Gordon and Redford made that concession: to get their other points across, they probably felt the need to meet mainstream opinion halfway, (and mainstream opinion, sadly, still clings to a more comfortable and hazy view of the 60s and 70s than can be justified). And if that is the case, then at least we can be grateful that those other points got made. Leaving the cinema, however, anyone with even a rudimentary awareness of that era (or of the political corruption our own time, for that matter) and of the background of intolerable violence in which these events unfolded, would not feel that the central character has to prove his innocence of a crime that never happened, when the wider society has done so little to set right the injustices that it perpetrated then, and continues to perpetrate today.
John Burnside is an Eccles Centre Writer in Residence for 2013