22 November 2013
The Transition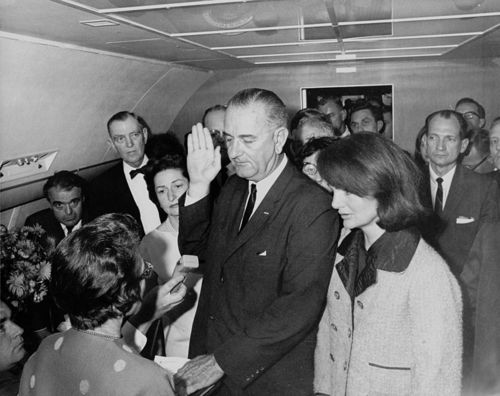 Image: 'Lyndon B. Johnson taking the oath of office, November 1963' by Cecil W. Stoughton, White House Press Office.  Usage: Public Domain.
Naturally enough, Team America's minds have today turned to US Presidents, as all US government buildings fly their flags at half-mast in commemoration of the death of John F. Kennedy in 1963.
Johnson, pictured above, took the oath of office on a cramped Air Force One in a moment of improvised constitutional continuity a little over two hours after the Kennedy assassination.  A Catholic missal stood in for a Bible, and he was sworn in by Federal Judge Sarah Hughes, making Johnson the first, and so far only, president to have his oath officiated by a woman.  Jackie Kennedy has turned from the camera to avoid the Hasselblad recording her husband's bloodstains. (If you haven't read Robert Caro's account of this transition, you're missing out.)
Johnson's presidency (like Kennedy's) continues to be reassessed; the next few years will no doubt see a series of publications, conferences and debates on the turbulent years of the mid-to-late sixties: the War on Poverty, the Space Programme, the Cold War, Civil Rights and Vietnam.  A quick search of our holdings reveals a collection of photographs of Johnson, preserved as part of the Endangered Archives project, 'Rescuing Liberian history - preserving the photographs of William VS Tubman, Liberia's longest serving President'.
President Tubman (who himself survived an assassination attempt in 1955) visited Washington in 1968 (the official toasts are recorded at the American Presidency Project) at a time when the USA saw Liberia as a useful African ally in the Cold War and Liberia sought foreign investment.  During the visit, Tubman laid a wreath at the John F. Kennedy Eternal Flame memorial at Arlington Ceremony as a mark of respect to the fallen president.  The moment is recorded in a photograph preserved as part of the Rescuing Liberian History project, and it is online at the University of Indiana.
[M.J.S.]