16 January 2014
Slavery in America: slave narratives
We've enlisted our Eccles Centre colleague, Jean, as a new, regular contributor to the blog. Here, in the first of a series of posts on slavery in the U.S., she takes a look at some of the slave narratives to be found in our collections:
As Phil mentioned in his post last week, Twelve Years a Slave, the Narrative of Solomon Northup (1853; BL shelfmark 10881.b.38), is one of many American slave narratives held by the British Library. In the mid-nineteenth century, the narratives of runaway slaves provided the antislavery movement with a highly effective weapon and after the Civil War many more narratives were published, as were reminiscences by those who had spoken with slaves.  These narratives provide a rich insight into the lives of the slaves, their work and relationship with their owners, their families and life in the slave quarters.
Not surprisingly, descriptions of the cruelty endured by the slaves – whipping, ear-cropping, the wearing of iron collars and extended isolation – feature prominently in these works. Whilst some of those who escaped this brutal existence did so alone, others were helped by the 'Underground Railroad', an extraordinary network involving thousands of individuals, including many former slaves, who were willing to break the law and/or endanger their own lives by feeding, hiding and disguising slaves en route to freedom.
The Narrative of Henry Box Brown ([1849]; shelfmark: 10882.b.35.(3)) outlines the journey of one of those helped by the Railroad. So-called because he escaped from Richmond, Virginia, to Philadelphia in a box measuring three feet one inch long, two feet wide and two feet six inches deep, Brown chose to escape from his master not because he was physically abused but because, after his wife and children were sold to another owner, 'slavery now had no mitigating circumstances, to lessen the bitterness of its cup of woe.' It has been estimated that more than a third of slave families were broken up by the sale of one or more family member as a result of their masters' debts, bankruptcy, relocation or death. Many slave narratives echo Brown's assertion that these separations 'were more dreadful to all of us than a large number of lashes inflicted on us daily'.

The Narrative of Henry Box Brown [1849]; shelfmark: 10882.b.35.(3)
Until 1850, fugitive slaves who successfully made it to the northern states were relatively secure. Yet the Fugitive Slave Law changed all this. In his narrative, Twenty-Two Years a Slave, and Forty Years A Freeman (1859; shelfmark: 10880.bb.15), Austin Steward describes how he witnessed the dreadful consequences of this Law: as he travelled by steamship down the Hudson River, a runaway slave who had been recaptured by 'a human blood hound' and returned to his 'avaricious and tyrannical master' attempted suicide in front of Steward, rather than face returning home to his former life.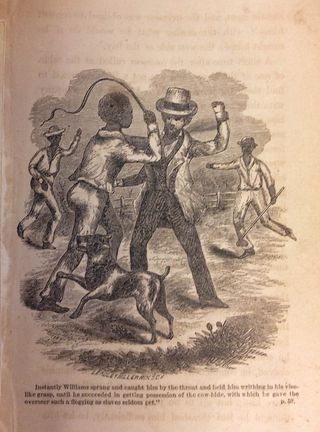 Twenty-Two Years a Slave, and Forty Years A Freeman, 1859; shelfmark: 10880.bb.15
While many fugitive slaves later helped facilitate the escape of others, a large number played a crucial role as abolitionist agents and orators. The most famous of these undoubtedly is Frederick Douglass whose first autobiography, Narrative of the Life of Frederick Douglass, an American Slave (shelfmark: 1452.b.32), was published in 1845.  
The powerful contemporary insight into the 'peculiar institution' provided by these narratives is supplemented by that of journals and tracts published by abolitionist societies, as well as religious sermons, political speeches, newspaper articles and advertisements, travellers reports and works of fiction and these will be highlighted in my next two blogposts. All blogs are based on 'Slavery and Antislavery in the United States of America', The British Library Journal, Vol.23 (1), Spring, 1997. Sixty slave narratives published before 1866 can be found in American Slavery: Pre-1866 Imprints (print copy also at shelfmark: 2725.e.2858).
[J.P.]