09 January 2014
Twelve Years a Slave, the Narrative of Solomon Northup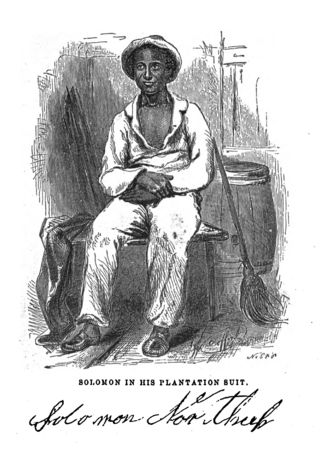 Above: a portrait of Solomon Northup from, Twelve Years a Slave. Image from Wikimedia Commons, for reasons that will become apparent below.
With Steve McQueen's '12 Years a Slave' seeing general release in the UK on Friday we in Team Americas thought we should call up the Library's copy of Northup's 1853 published account (Shelfmark: 10881.b.38). Forming part of the Library's large collection of Canadian, UK and US published accounts of slavery throughout the Americas Northup's Twelve Years a Slave is a harrowing portrayal of Northup's trials after his kidnapping in Washington DC in 1841.
Calling up the book, however, was surprising. The Library holds a microfilm copy of the New York published version and a first edition print of the London version. Unfortunately the London copy, containing a blue stamp and therefore collected via legal deposit, was submitted to the Library prior to the addition of the plates (representing incidents that also play a key role in Steve McQueen's film). There was however, the rather wonderful note (reproduced below) which states the plates, 'are not yet ready, the book is published without them'.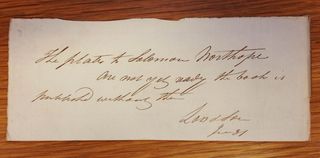 Above: the note contained in the British Library's London published copy. The rest of the book, par the spine, is free of embellishments [Shelfmark: 10881.b.38]
The rest of the book is faithful to the US version's account, depicting Northup's horrendous story in grim detail. There has been an accusation in some parts of the printed press that McQueen has over asserted the horror and violence of American slavery during Northup's time but the text contained in the book contradicts this. Northup's account is every bit as violent and terrifying as its interpretation in McQueen's film seems to be (as you'll guess, I've seen nothing but trailers, clips and interviews thus far so I'll confirm next week).
If you go and see the film and would like to know more about the book or slavery in the Americas in general then reading Northup's work is a good place to start, you can find it for free over at Archive.org. The Guardian also ran a fantastic article and interview with Henry Louis Gates that is well worth a read for further background and information, as is a later article by the BBC. Should you still want more after that there are a number of publications by Henry Louis Gates in the Library's collections.
[PJH]