23 April 2014
Marking ANZAC Day: 'Fighting Australasia'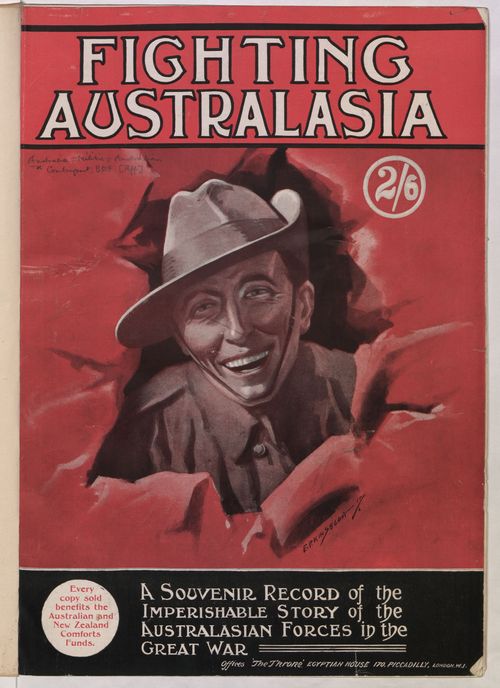 Front cover from, Fighting Australasia. You can see more on the Library's item viewer.

These works are free of known copyright restrictions.
As Friday marks ANZAC Day Team Americas and Australasia dig into the Library's Europeana contributions and look back on Australia and New Zealand in the First World War.
Quoting from from the Australian War Memorial Website, 'ANZAC Day – 25 April – is probably Australia's most important national occasion. It marks the anniversary of the first major military action fought by Australian and New Zealand forces during the First World War.' To mark the event, the British Library's 'Item of the Week' is currently, Fighting Australasia: a souvenir record of the Imperishable story of the Australian Forces in the Great War.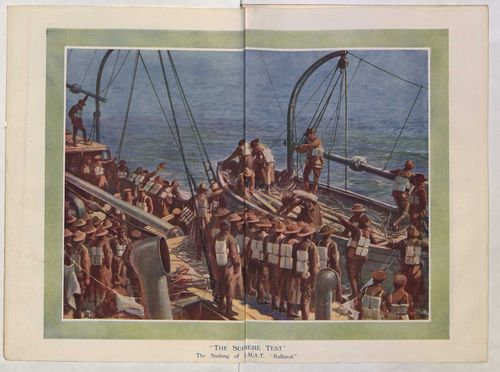 Sinking of R. M. A. T. "Ballarat", from Fighting Australasia. You can also view the item on the Library's World War One learning resource.
Published in London in 1917 the publication sits alongside other works such as, The Anzac Book, which commemorate the actions of Australian and New Zealand forces in the war, often while working as a means to raise money for the soldiers' Comfort Funds. While publications such as The Anzac Book were written and assembled by members of the Australian and New Zealand fighting corps (in this case, in Gallipoli itself) Fighting Australasia is very official in tone and was produced and printed in London's Piccadilly. Inside the publication is fascinating for a number of reasons, not least the wealth of advertising material the flanks the main text, which includes a Bovril advert using the text of letters from Gallipoli before proclaiming, "Bovril Gives Strength to Win!" (p. 89). The account is heavily photographically illustrated and contains a number of artist's illustrations, including one of the sinking of R.M.A.T. Ballarat.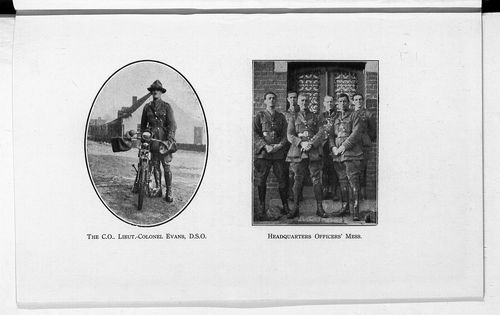 Photographs from, Regimental History of the New Zealand Cyclist Corps.
Both Fighting Australasia and The Anzac Book have been digitised as part of the library's contribution to 'Europeana Collections, 1914 – 1918' where they form part of a large selection of material detailing how people from the then British Empire contributed to the First World War. Within this there is a wide range of Australasian materials from, Australia in the Great War: the story told in pictures; to, The Maoris in the Great War: a history of the New Zealand Native Contigent and Pioneer Battalion and; Regimental history of New Zealand Cyclist Corps in the Great War, 1914-1918 (seen above). Some of this material can be found with further details in the British Library World War One learning resource and the rest can be found on the Library's Image Viewer.
[PJH]