01 April 2014
Tall Stories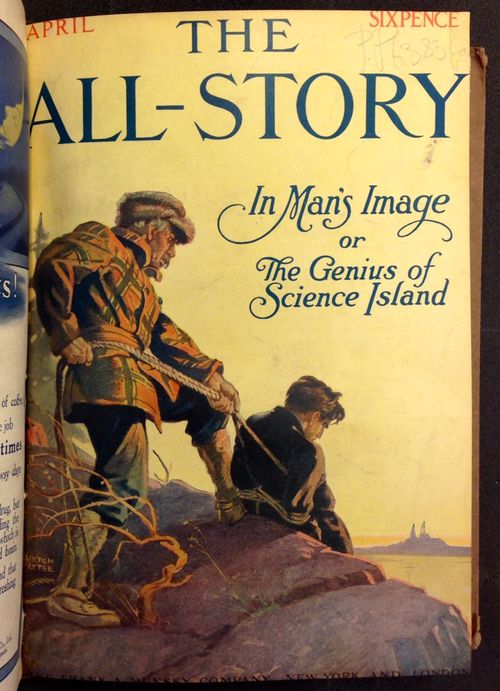 All-Story Magazine, April (New York & London, 1912).  Cover art by Cover by Clinton Pettee.
We don't know what to believe. 1 April is a good day to stay away from social media, and perhaps tuck into a plate of tree-grown spaghetti or unicorn pie, as well as feeling grateful that Americans don't much go in for April Fool's Day (Madison Avenue aside).
This said, we have other tall stories closer to home, including this magazine that I've just collected from the Reading Room. This is April's cover from 1912, but regular readers of this popular pulp fiction periodical could look forward to a story by Edgar Rice Burroughs that October, entitled Tarzan of the Apes (again illustrated by a nicely lurid Clinton Pettee cover). Tarzan would be published as a hardback in 1914, with Burroughs taking the opportunity to remove the presence of 'African' tigers in his text.  
Burroughs also lurks in this present volume, which contains part III of his  'Under the Moon of Mars', issued under the pseudonym Norman Bean, and later published as the Barsoom series of novels (alas, a copy-editor rendered his proposed nom-de-plume, Normal Bean, in this more prosaic fashion). In this tale, Capt. John Carter, a confederate veteran, heads west in search of gold, takes refuge from 'hostile Indians' in a cave and, by means of poisonous gas, finds himself transported to Mars.
Now, would you believe it?
[M.J.S.]