28 April 2014
Erica Wagner: A Trojan post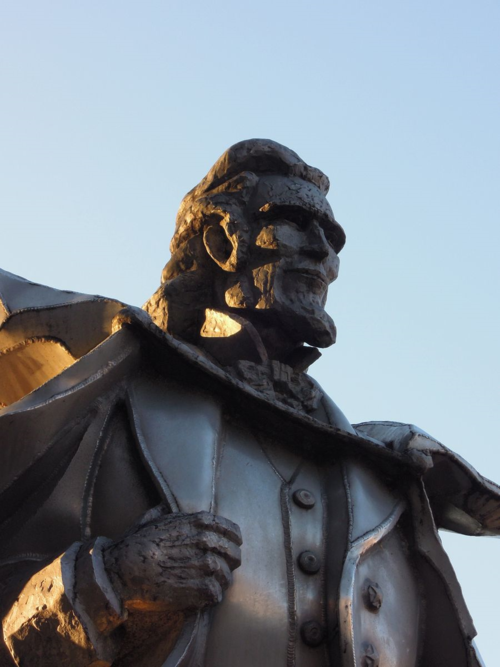 Image © Erica Wagner
Who's that? Why, Uncle Sam, of course – standing in downtown Troy, New York, his native town. Sam Wilson was a meatpacker who supplied American troops during the war of 1812. You might call him this city's most famous son, if he didn't have some stiff competition: Kurt Vonnegut hailed from here (if you've come across a mention of Illium in his work, that's good old Troy), and just this morning, on River Street, I came across a plaque on a house that marked the site of the old Troy Sentinel newspaper – in which Clement Clark Moore first published The Night Before Christmas. 
But I'm grateful to Stephen van Rensselaer, too – who founded Rensselaer Polytechnic Institute here in 1824; it was America's first technical college, and remains one of the world's oldest. RPI was the alma mater of Washington Roebling, the subject of the biography I'm writing, and builder of New York's Brooklyn Bridge. RPI sits above the town, and has the feeling of a city on a hill – perhaps more so than in days gone by, since the elegant campus is sometimes in striking contrast to urban Troy. Once one of the country's wealthiest cities thanks to its rich manufacturing heritage (everything from shirt collars to steel), these days there are plenty beautiful brownstone houses which are boarded up and broken down. 
That said: this morning I headed to the Troy Waterfront Farmers' Market – and found a thriving local produce market which was positively inspiring; if you ask me, it made the Greenmarket in Manhattan's Union Square look a little tired, which is saying something. It was a lively scene: and in downtown, certainly, many of those lovely old houses are getting the care they deserve. I was last here at RPI about four years ago; since then it does seem like business is coming back into the city at last. Uncle Sam would be proud. 
Erica Wagner is a 2014 Eccles Centre Writer-in-Residence at the British Library