Remembering American success in the 1986 Tour de France
As cycling fever descends on the UK (and the British Library!) we are marking American cycling success: on this day (6 July) in 1986 Davis Phinney became the first American cyclist to win a stage of the Tour de France.  His success was replicated just 10 days later when, on 16 July, Greg LeMond became the second American rider to win a stage.  LeMond then went on to become the first non-European professional cyclist to win the Tour de France (which he did again in 1989 and 1990).  He is currently the only American to officially win the Tour—following Floyd Landis' and Lance Armstrong's disqualifications for doping.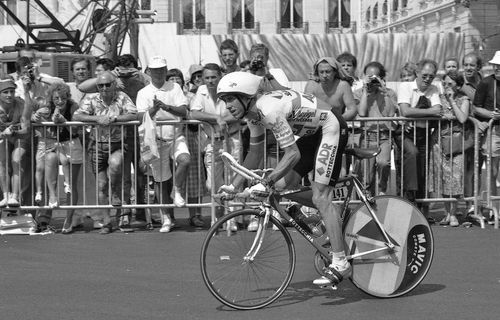 Greg LeMond starts the 21st and final stage of the 1989 Tour de France, photograph Benjamin Werner - http://www.flickr.com/photos/bw94/2927911618/ - CC BY 2.0
With Le Grand Départ currently visiting Yorkshire and due in London tomorrow, the British Library has been showcasing its organisational cycling prowess: several intrepid members of staff, including Team Americas' own Matthew Shaw, and a British Library Reader cycled the 200 miles from the British Library's main site at St Pancras in London, to Boston Spa in Yorkshire in 48 hours on 3–4 July.  The Library is also highlighting Collection items related to cycling with a free display on the history of cycling and the Tour de France currently open at Boston Spa.
The display includes accounts of the early days of cycling as a mass pastime and sport, including an 1897 description of a 'bicycle gymkhana' and more recent journalistic accounts of the legendary cycling extravaganza.  Also featured is Samuel Abt's 1990 biography of Greg LeMond, LeMond: the Incredible Comeback.
The display also includes typographical prints responding creatively to the 2011 Tour de France – including Mark Cavendish's Green Jersey win – and the original manuscript of Tim Moore's best-selling French Revolutions, his 2001 account of cycling the entire 3,630km route of the 2000 Tour de France.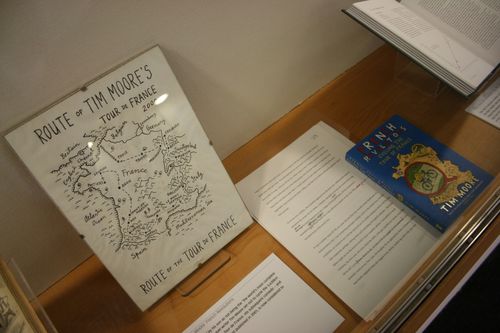 A paperback of Tim Moore's 2001 best-seller French Revolutions, alongside an original draft by the author and a hand-drawn map of the route he took (following the 3,630km route of the 2000 Tour de France), on display at the British Library at Boston Spa. Photograph by the British Library, CC-BY-NC.
The Tour de France display at the British Library at Boston Spa is free to visit until the end of August during Reading Room opening hours (9.00-4.30, Mon-Fri).
For more on the 1986 Tour de France, see Richard Moore, Slaying the Badger: LeMond, Hinault and the Greatest Ever Tour de France [2011] (London, 2012). YK.2013.a.3441.
[C.R]