14 August 2014
"Na-no, Na-no!"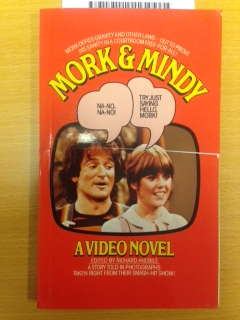 Richard J. Anobile, Mork & Mindy: a video novel (London, 1980 ed), Shelfmark X.958/21638.
For obvious reasons, one of Team Americas favourite films is Night at the Museum. It was playing on one of the TV channels on Monday night, and once again I enjoyed Robin Williams doing his turn as Tedddy Roosevelt. Like most people, I suspect, it was surprisingly sad when I woke up the next morning to hear the news of Williams' death, something that has been reflected in the extraordinary amount of column inches and screen time that followed the news.
I wondered what we might have in the collections from happier times, and called up the volume shown above (saving the The World According to Garp for another day). It's billed as a 'video novel', a rather unusual form of publication which riffs off the novelty of the new-fangled video recorders of the 1970s, and tells the story of everyone's favourite Orkan (Mork) and his Coloradan housemate, Mindy, via 'photographs taken from their smash-hit show', Mork & Mindy (which ran 1978-82). Apparently based on an hour-long special, it uses what looks like frames taken from a VCR to tell the tale in comic-book fashion, complete with speech bubbles. Our copy arrived via Hong Kong, a legacy of colonial copyright legislation. You can read more about the novel on Chris Pearce's comics blog.
Naturally, and now somewhat poignantly, the final pages show Mork calling his Immenseness with his final report, signing off as ever with his Orkan salutation:
'Na-no, Na-no!' 
[MJS]