05 September 2014
Farthest North Cricket (and other Arctic sports)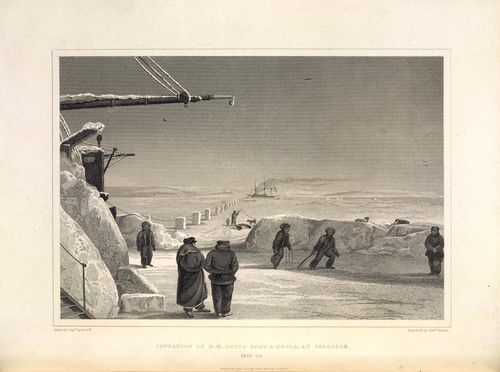 Above: HMS Fury and Hecla in winter quarters near Igloolik (1822-23). Frontispiece to vol. 1 of Parry's account, 'Journal of a second voyage for the discovery of a North-West Passage...' [BL: G.7394]

Last week two Canadian Coast Guard icebreakers reached the North Pole. In and of itself there's nothing unusual here as planes, ships and subs have been reaching the Pole for a long time now. What made the news story, though, was how the Canadian crew celebrated - with a game of hockey at the North Pole.
Interestingly, while this is a news-worthy pastime, it is not a new way of celebrating a milestone or just filling time in the High North. For many years sports have been played to celebrate reaching notable locations (when the German ship Polarstern reached the North Pole in 1991 a game of football ensued) or just to pass time while locked into the ice. Such was the case during the search for the Northwest Passage where the monotony of long periods of time spent locked into the ice were broken up with many activities, not least a bit of sport on nicer days (i.e. when not snowing, foggy, blowing a gale, etc.).
At the top of this post you can see a plate depicting a scene near Igloolik in 1822-23, where sailors pass the time standing around, hunting, working with local Inuit (right in the background) and playing a spot of cricket. We can only imagine how it must have felt, so far away from home and in such an alien environment, to break out the cricket bat and be taken back to memories of leisure time cricket on the green wickets of an English summer.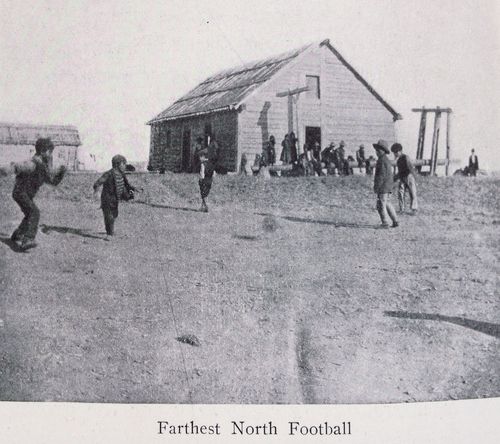 Above: Inuit children from the Arctic Red River area play football during the summer. In, 'The New North' (p.232) [BL: 010470.ee.18]
A later photograph from the travels of Agnes Cameron captures what she calls, 'Farthest North Football' and it's a reminder of how much cultural exchange was instigated by whalers, traders, prospectors and explorers making their way north in ever greater numbers. Unfortunately Cameron's work doesn't make it into 'Lines in the Ice: Seeking the Northwest Passage' but Parry and his cricket playing crew do; so for more on them, the history of cricket in the Arctic and the expedition's interactions with local Inuit make sure you come along to the exhibition once it opens on November 14th. 
Finally, it's worth noting that Santa has also (unseasonably) visited the icebreakers' crew, but that is a story for another blog post and for his (more timely) appearance in 'Lines in the Ice'.
[PJH]