15 September 2014
The Unbuilt Room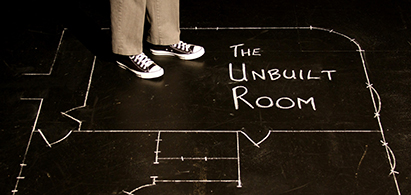 Running on a mainframe at a firm working on the US military's contribution to the internet, ARPANET, the world's first text-based adventure game, Adventure (c1975), let the player wander around an underground cave system (supposedly based on the Mammoth cave system in Kentucky). Issuing typed instructions ("Go North", etc.), the player explored a world described in text and contained within 300kb; it was a world that would become very familiar to any players of similar games in the 1980s, or indeed viewers of Game of Thrones: swords, magic spells and strange creatures.
A bit nerdy, kind of old fashioned, and almost completely replaced by graphically expansive first-person simulations, text-based adventure games now only live on as a kind of retro-chic, or as a small sliver of popular culture (a line from a Australian game, The Hobbit, has just about made it out into the wider world: 'Thorin sits on the floor and starts to sing about gold'). As such, they may provide the fodder for artistic reinvention, or at least a fresh way to approach something you think you know.
The Unbuilt Room does this. I've just returned from a dummy run with the artist Seth Kriebel. He has performed a similar show at the Battersea Arts Centre, and now is offering a limited run of visits (if that is the word) to the room at the British Library for our Enduring War exhibition, a show that I helped to curate.  I can't give too much away, but it's part seance (think lights in a darkened room), part theatrical performance, and part (in a non-terrible way) team-building exercise, like a art-school version of the Crystal Maze or the Adventure Game.
There is also, following the trope set out by Adventure, a labyrinth. As such, it echoes the tunnels and darkness of the war. We managed to unlock some of its secrets, with Seth reading some startling extracts from some of the items on display in the First World War exhibition (Indian sepoys' letters home, the crash of a Zeppelin bomb under a moonlight sky, the last letter before going over the top). It's all appropriately unsettling, puzzling, and an intriguing way to set up a visit to an exhibition (which follows the performance), and which makes you read the items in a new way. The fantasy of the adventure form also echoes some of the dominant contemporary myths of the war - the belief in the honour of combat, the chivalric nature of military heroism, the search for adventure; myths which in part explain the motivations for some of those who fought.
The Unbuilt Room can be booked here (16, 23 Sept, 7 Oct).
[Matthew Shaw]