14 October 2014
Baseball in the Library
As mentioned in the Babe Ruth blog back in July, the Library was recently pleased to acquire the extensive baseball collection of Mike Ross.  
Of its 300+ items, about two thirds were published in the 1980s and 90s – with the rest dating between the late 1940s and 2000s. In subject matter they span the panoply of baseball publishing. There are biographies and autobiographies of players such as Babe Ruth, Joe DiMaggio, Jackie Robinson and Sandy Koufax, to name but a few; team histories include the Red Sox, the Phillies, the Dodgers and the Yankees; there are books about the Minor Leagues, the Negro League, the American League, the 1919 World Series, the dead ball era and baseball during World War II; and there are works by those associated with the game as managers, owners, umpires, scouts, sports writers and broadcasters. 
Not surprisingly, given its vital role in summarizing performance and evaluating players, numerous works incorporate or are devoted to statistical analysis. In addition to annual editions of the American League Red Book, the National League Green Book and team media and information guides, there are also numerous works by Bill James whose innovative statistical approach – 'sabermetrics' – earned him a place on Time's 2006 guide to the 100 most influential people in the world. 
Finally, the collection includes literary works that take baseball as their theme, runs of  baseball journals including National Pastime and The Baseball Research Journal and – in addition to numerous works highlighting best player, moment, decade or season – there are a few that take a slightly more circumspect approach to the national game.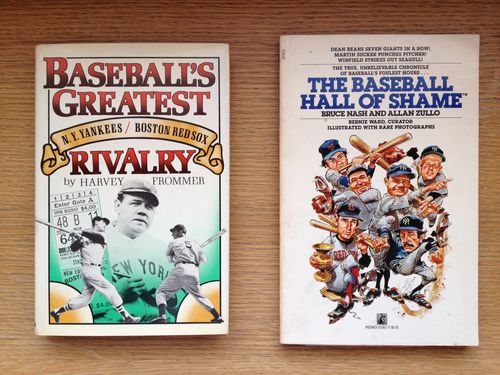 The collection is now on its way to Boston Spa where it will be catalogued by our colleagues – we will keep you posted on its progress!
[J.P.]