24 November 2014
Bringing the Arctic to Leicester Square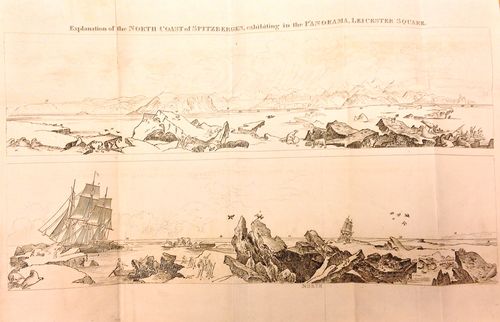 Above: an overview of Henry Ashton Barker's Panorama, from 1819.
Lines in the Ice is now open and continuing a long tradition of bringing the sights, sounds and experiences of the Arctic to the heart of the city. One thing that struck me in researching and selecting material for the exhibition is how much has been published about the Arctic and our exploration of it - the volume suggests a ravenous market for accounts, stories and information.
This is undoubtedly true. A number of items in the exhibition speak to the market for Arctic tales, especially during the British Navy's nineteenth-century quest for the Northwest Passage. One display item in particular, The Illustrated Arctic News, is a lavish facsimilie of the onboard newspaper of HMS Resolute. It tells two stories simultaneously, the lengths officers and their crew went to in order to stave off the boredom of a dark winter in the Arctic and the hunger the population of Britain had for stories from these expeditions.
Many similar items did not make it into the exhibition. One that almost did, and is well worth mentioning here, is a book related to Henry Ashton Barker's Panorama in Leicester Square. During the nineteenth century panoramas were a popular entertainment, giant works of art that brought the foreign landscapes of the empire home for metropolitan Londoners to see. The expeditions of Franklin and others generated a number of these installations, but this one from 1819 captured my attention.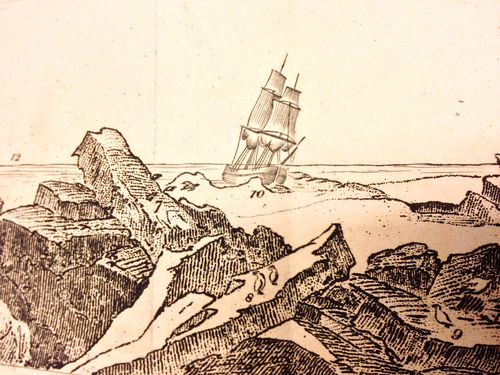 Above: detail from the panorama.
This book, a souvenir and guide to the panorama, provides written details of the content of the panorama but also a handy sketch, presumably to help the reader orientate the account with particular parts of the display. The sketch, while not lavishly reproduced, suggests the scale of the panorama and the sheer volume of things to see. It is worth noting that some of the details are a little off - viewers would be forgiven (despite this being about the wrong Pole) for thinking the above birds (noted as point 8) are penguins, or more realistically, Great Auks. Instead, they are puffins...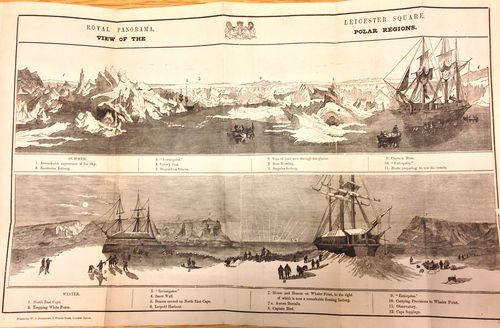 Above: a later Leicester Square panorama, depicting Capt. James Ross' 1848-49 survey of Somerset Island.
Erroneous depictions aside the book reminds us of the hold the Arctic has long had on our imagination and the connection to the entertainments of Leicester Square also provides a sense of the scale of interest in the high north. Indeed, it was far from the only Arctic panorama on display in Leicester Square between 1819 and 1860, as a flick through a compendium of these panorama guides (found at shelfmark: 10349.t.15) will show. That being the case, we're pleased to continue this tradition of bringing the Arctic to central London. Hopefully it will inspire as much curiosity, interest and questioning about the Arctic as the panoramas of previous centuries.
[PJH]