21 May 2015
Stories Weaved in Cloth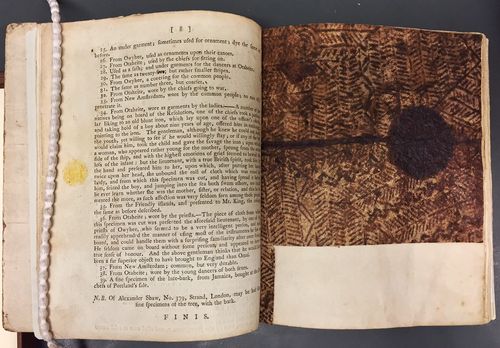 Above: cloth sample with text description [BL: C.112.e.1, restricted item]
If you have been through the Entrance Hall Gallery recently you will note that our own Lines in the Ice has given way to a wonderful new work by Cornelia Parker. Designed to capture the process of collective memory (and history) making that underpins our ideas about the Magna Carta and its legacy the work is a multi-authored depiction of Wikipedia's entry on the Magna Carta. At first glance, the idea of craft, needlework and textiles in the national library might seem a little odd, but this isn't the only place you'll find such materials in the Library.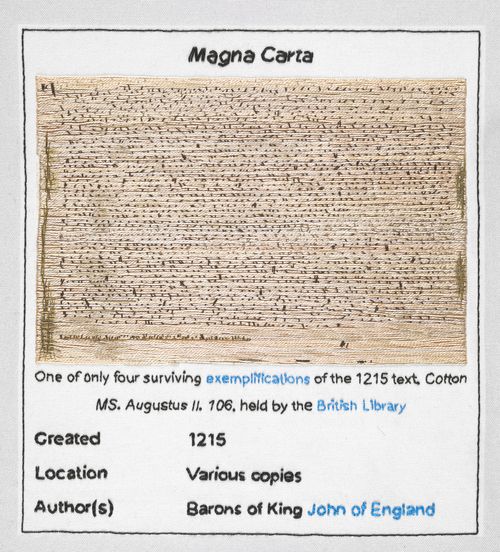 Above: one part of the Magna Carta embroidery. From the Library's press release.
As Lines in the Ice showed, the Library holds a number of unusual items and accounts relating to the efforts of explorers from the 18th and 19th centuries, not least those accumulated as a result of the voyages of Captain Cook. Amongst the materials relating to Australasia is a book snappily titled, 'A Catalogue of the Different Specimens of Cloth collected in the Three Voyages of Captain Cook, to the Southern Hemisphere; with a particular account of the manner of the manufacturing the same in the various islands of the South Seas; partly extracted from Mr. Anderson and Reinhold Forster's observations, and the verbal account of some of the most knowing of the navigators: with some anecdotes that happened to them among the natives. [With 39 specimens of cloth, restricted item held at C.112.e.1]' - lest we forget it was published in 1787.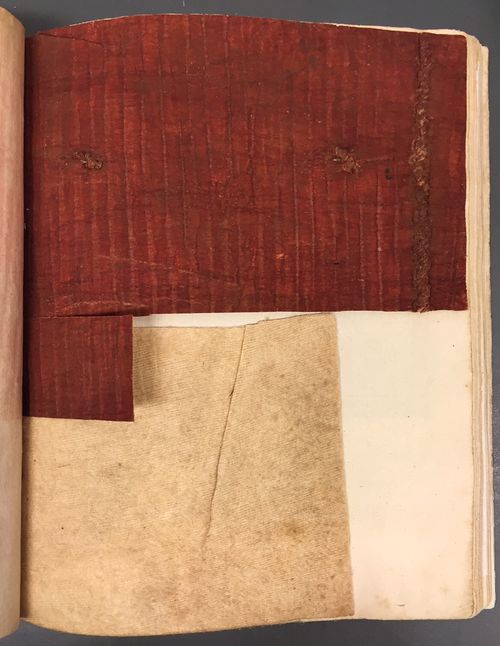 Above: two samples of cloth from the catalogue [BL: C.112.e.1, restricted item]
There's a lot to say about this book and it has recently been the focus of research at the University of Otago (you can read the outputs here) but what struck me today was, like Cornelia Parker's piece in the Entrance Hall gallery, this is fundamentally a collaborative effort with a large number of individual stories bound into it. As the title alludes, the collection and publication of these samples of textile are endeavours awash with stories, as are the textiles themselves; and today we are much more aware that the stories of the cloth makers, not just the collectors, need recording too. They communicate, history, heritage and culture in their weave. As a result, the book represents a fascinating and complex historical object, as does the embroidery on display in the Entrance Hall Gallery.
Speaking of complex and contested artistic histories, Team Americas and Australasia are heading over to the British Museum's new exhibition, 'Indigenous Australia, Enduring Civilisation' later this week - so a bonus exhibition / collection items cross over for this post.
[PJH]