09 June 2015
Searching for Saul Bellow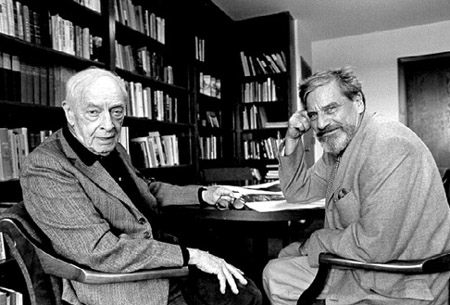 Above: a photograph of Saul Bellow with Keith Botsford, at Boston University, c. 1992. Image courtesy of Wikimedia Commons.
To commemorate the centenary of Saul Bellow's birth – on 10 June 1915 – we thought we'd highlight two excellent sources of information about the life and work of this Canadian-born American writer: first, the world's best database for tracking down works by and about Bellow (and every other American author); and second, recordings in the Library's Sound Archive that either feature Bellow himself or take him as their main subject.
The database in question is MLA International Bibliography which can be accessed on the PCs in any of the Library's Reading Rooms. Having begun life more than a century ago as a hard-copy periodical index, this extraordinary resource now indexes books, journals, dissertations and websites covering modern literature, literary theory and criticism, linguistics and folklore. It holds more than two million records, adds more than 66,000 items a year and is an indispensable tool for anyone working in American literature.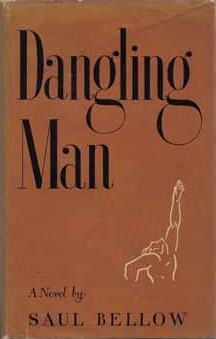 Above: first edition cover for Saul Bellow's 'Dangling Man' [BL: X.950/3239]. Image from Wikipedia.
A simple MLA search for Saul Bellow currently retrieves over 1500 items. These can then be narrowed down into: works by the author; works about the author; source type (books, dissertations, articles, edited volumes); source title (including Saul Bellow Journal (251 items), Studies in Jewish American Literature (35) and dissertations (69)); and publication date. There is also a graph indicating how many items have been written every decade: the 1980s wins with 392. While most citations need to be cross-referenced in 'Explore the British Library' to see whether or not we hold them, the full-text of some items can be accessed immediately online. 
Our second source – the Library's Sound Archive – holds numerous substantial interviews and discussions with Bellow as well as items about him. Highlights include: a PEN Writers Day conversation with critic Francis King, 'American Writers and their Public – The American Public and its Writers' (1986); a 30 minute interview by Jonathan Raban on BBC Radio 4 (1989); a 1970 interview about Mr Sammlers Planet; a 25 minute interview on BBC Radio 4 focusing on his depiction of  the 1960s (1997); a BBC Two Bookmark profile of his life and work (1998); a Royal Society of Literature lecture by James Wood, 'Saul Bellow: English Influences, American Rhythms' (2004); and a BBC Radio 3 feature, 'Saul Bellow and the Latter-Day Lean-To', which includes contributions by John Updike and Alfred Kazin (1982).   
[JP]