10 July 2015
Canada in the UK: waiting and training in WW1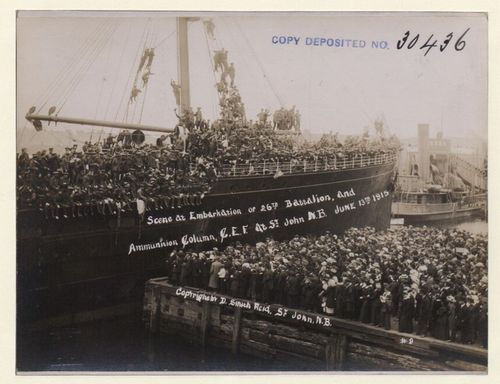 Above: Canadian troops leave New Brunswick for Europe [BL: HS85/10 30438, from the Picturing Canada project]
We've not talked about Europeana 1914 - 1918 for a little while here on the Americas blog but their work continues and we're still digging around our First World War collections, so here's a little update. You'll remember that last year we launched the Library's contributions to Europeana, as well as an Entrance Hall Gallery exhibition and an in-depth learning resource and the online elements of this are still open for use. But the work, digging and research involved inevitably opened up new questions for those of us curating the material.
For me the research highlighted my personal proximity to sites associated with Canadian troops in the First World War. While I lived in South West London I learnt that my nearby green space, Bushy Park, hosted Canadian troops and medical facilities during the First World War. This is often forgotten in the face of the more dramatic presence of US Air Force base 'Camp Griffiss' in the park during the Second World War but Royal Parks commemorate Canada's place here with a totem pole installed in 1992.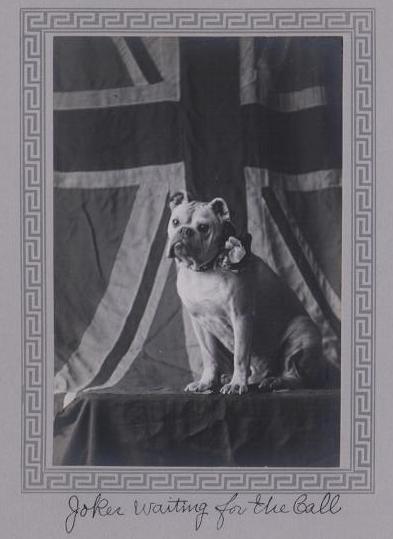 Above: 'Joker, a patriotic fund collector', looking delighted by his job [BL: HS85/10 29607, from the Picturing Canada project]
Having now fled London's cramped trains and busy roads I find I've inadvertently moved to the epicentre of the Canadian presence in the UK during the First World War. After being originally posted to Salisbury Plain Canadian reserve troops, hospitals, engineers and other corps were moved to garrisons around Kent, particularly the Folkestone and Shorncliffe areas. From here the reserve regiments were sent to various training sites around Kent, including some small trench operations based on a common just down the road from where I live.
By now you can guess where this is going. Spurred by this knowledge, I've been digging through Europeana and our physical holdings to see if we hold anything about the Kent camps and, most especially, the training centre near where I live. There are various items about the Kent camps on Europeana including photographs and personal letters sent home to Canada from Shorncliffe. It also turns out there are films of some of the Shorncliffe based training, courtesy of Canada's NFB. Unfortunately, I've not been so lucky trying to find material about places a little closer to home but I'll keep digging at the weekends.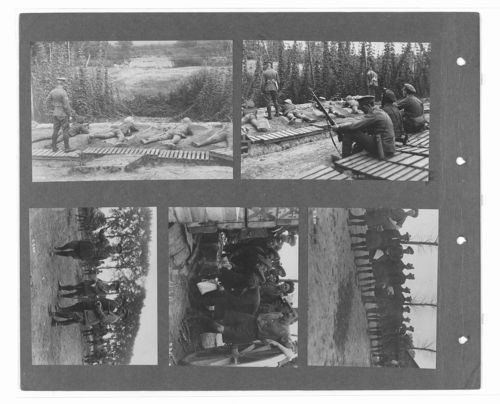 Above: photographs of snipers in training from the Canadian War Records Office photographs. There's a small chance these are taken in Kent, near my home. Or, they were taken in France... [BL: L.R.233.b.57, from the Picturing Canada project]
The best hope is a collection of Canadian War Records Office photographs submitted to the Library in 1923. These photographs were sponsored by Lord Beaverbrook in an attempt to document, as well as promote, Canadian achievements during the war and these contain a number of photographs of reserve regiments training in and around Kent. I've not found anything astounding yet but here are a lot of them and the location data in the title isn't always helpful. However, digital copies are available from ourselves and Library and Archives Canada so there's plenty of scope for sitting with a drink and sifting through the mass.
One final note, if this has caught your interest the Eccles Centre is hosting a #BLScholars talk about, 'Cliveden, Canadians and the First World War', by Martin Thornton, on 27th July at 12:30. As for me, I'll let you know if I find anything!
[PJH]