05 October 2015
More Animal Tales: Ozzie the Eagle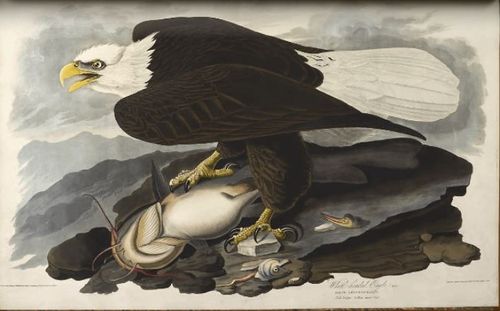 Bald Eagle (captioned 'White Headed Eagle'), from James Audubon's Birds of America [British Library shelfmark N.L.Tab.2]. Image: public domain.
For several years, a Floridian bald eagle has been the subject of a popular webcam. Fans of Ozzie could follow his day-to-day activities at the Southwest Florida Eagle Cam, observing the comings and goings of the bird along with those of Harriet, his partner of some twenty years.
But last week, we received the sad news that Ozzie is no longer with us. Discovered injured in a North Fort Myers backyard, the famous bird of prey died a few days later from infection from the wounds he received fighting off another bald eagle (as well as a possible entanglement with barbed wire). While such eagles are often said to partner 'for life', they do sometimes go their separate ways if they fail to breed. Courtship, notably, included dramatic displays of flight and free-fall, sometimes plummeting to a few feet off the ground before soaring into the sky once more. It is presumed that a final battle of aquiline love (or pride) finished him off.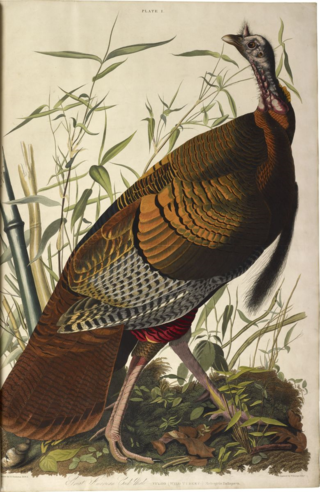 'Wild Turkey', from James Audubon's Birds of America [British Library shelfmark N.L.Tab.2]. Image: public domain.
The news of Ozzie's demise went global, but perhaps struck a particularly American chord.  As the Washington Post noted, the death 'sent shock waves through Ozzie and Harriet's loyal following, not only because of the eagles' regal beauty as a couple, but also for what they represented: America, of course, and strong family values.' Famously trumping Benjamin Franklin's turkey proposal, the Bald Eagle has been America's national bird since 1782, appearing on the original Great Seal of the United States, thirteen arrows grasped in one talon, and an olive branch in the other: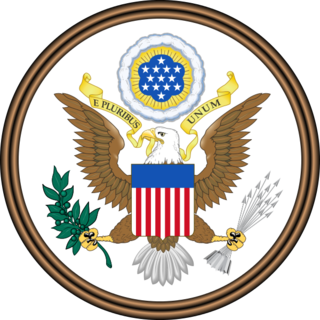 Great Seal of the United States. Image: public domain.
It's a fitting choice: the eagle also plays an important, sacred part in many Native American cultures (for some of the museological consequences of this, see this fascinating post on 'Birds of a Feather' at the National Museum of the American Indian). And, of course, the bald-headed eagle makes a striking appearance in that great monument to Anglo-American natural history printing, James Audubon's Birds of America (image at the head this post). Here, the eagle is surrounded by the head and entrails of the scavenged dead fish that forms a large part of the bald eagle's diet. (Like Franklin, Audubon favoured the Turkey as the national bird.)
We didn't include Audubon (or indeed his precursor, Alexander Wilson) in our Animal Tales exhibition. More about this and the reasons for it next time. You can also see some of Audubon's Birds of America as part of our Turning the Pages project. You'll need a big iPad or monitor to duplicate the impact of the the double elephantine folio, though.
-- Matthew Shaw