19 November 2015
Theatre in Video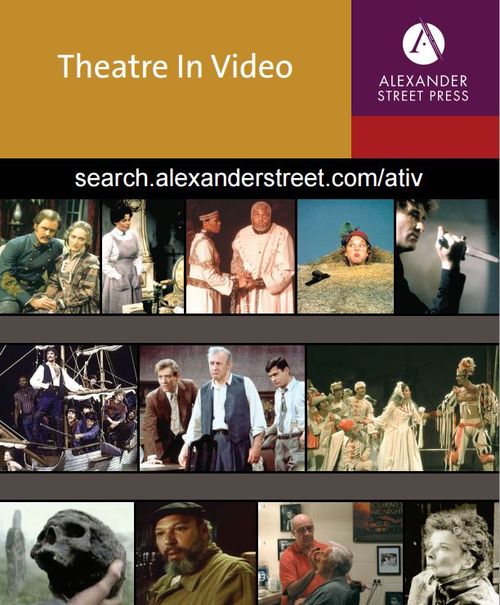 Having briefly alluded to the wonderful Theatre in Video database in the recent blog on Arthur Miller, we thought it merited a little more coverage and are combining that here with information about another excellent resource, the Entertainment Industry Magazine Archive.
Theatre in Video contains over four hundred videos of documentaries and definitive performances of some of the world's important plays. Full performances of American plays include Mourning Becomes Electra, Beyond the Horizon and The Iceman Cometh by Eugene O'Neill; Thornton Wilder's Our Town; Fifth of July and The Rimers of Eldritch by Lanford Wilson; All Over by Edward Albee; a 1979 production of Wendy Wasserstein's Uncommon Women and Others, starring Meryl Streep; Dragon Country by Tennessee Williams; and John Steinbeck's Burning Bright.
The vast majority of interviews with actors, directors, writers and designers are episodes of the television show Elliot Norton Reviews which ran for 1,100 episodes from 1958-1982. Based in Boston, Norton was one of the nation's most important drama critics and his reviews – which frequently included suggestions for improvements – as well as informal advice supported numerous writers and directors whose shows were undergoing pre-Broadway trials. Interviews included in this collection include: Mickey Rooney (1971); James Earl Jones (1980); Al Pacino, when he was playing Richard III with the Theatre Company of Boston (1981); Jack Lemmon (1972); Gloria Swanson (1971); Edward Albee (1966); Neil Simon (1981); New York Times theatre critic, Walter Kerr (1968); film critic for the New Yorker, Pauline Kael (1973); and director Arthur Penn (1970).
For any researcher studying the film and entertainment industry from vaudeville and silent movies through to 2000, the Entertainment Industry Magazine Archive offers the most comprehensive collection of US and UK trade magazines covering music, film, theatre, television and radio as well as film fan magazines and music press titles. All of the publications have been scanned cover-to-cover in high-resolution colour and the contents have been indexed to enable searching by article, covers, ads and reviews. Major American titles which have effectively provided the main historical record for their subject area include Variety (1905-2000), Billboard (1894-2000) and Broadcasting (1931-2000), while consumer and fan magazines include Picturegoer (1911-1960), American Film (1975-1992) and Musician (1976-1999). Bringing these titles and many others together, this database offers a unique opportunity to find comprehensive information on specific films, plays, theatres, actors, directors, TV series as well as youth movements and subcultures.
See more at: www.bl.uk/eresources/dbstptitles/eresourcest.html#T and www.bl.uk/eresources/dbstptitles/eresourcese.html#E (n.b., most of these resources are only available within the reading rooms on Library computers)
[Jean Petrovic, bibliographer, Eccles Centre for American Studies at the British Library]