Guadalupe: from Tepeyac to the British Library
In early December 1531, a recent Christian convert named Juan Diego set off from his home of Cuautitlán towards Tlatelolco in the valley of Mexico. As he climbed the hill of Tepeyac, Juan Diego was visited by a magnificent apparition of a woman, who told him she was the Virgin Mary and that he was to instruct the Bishop of Mexico (Juan de Zumárraga) to build a shrine in her honour on the hillside at Tepeyac.
So began the long and tangled story of Nuestra Señora de Guadalupe, whose feast day is celebrated on 12 December. The shrine, now the Basílica de Nuestra Señora de Guadalupe, is one of the world's most visited Catholic pilgrimage sites, and Guadalupe herself has become not only the most recognisable religious symbol in Mexico, but a political one too. Miguel Hidalgo, himself a Catholic priest, began the fight for independence from Spain with his Grito de Dolores by making explicit reference to Guadalupe (although accounts differ on his exact wording, Hidalgo is generally agreed to have shouted "Long live Our Lady of Guadalupe!" during his speech, and the flags borne by Hidalgo and his insurgents carried the image of Guadalupe).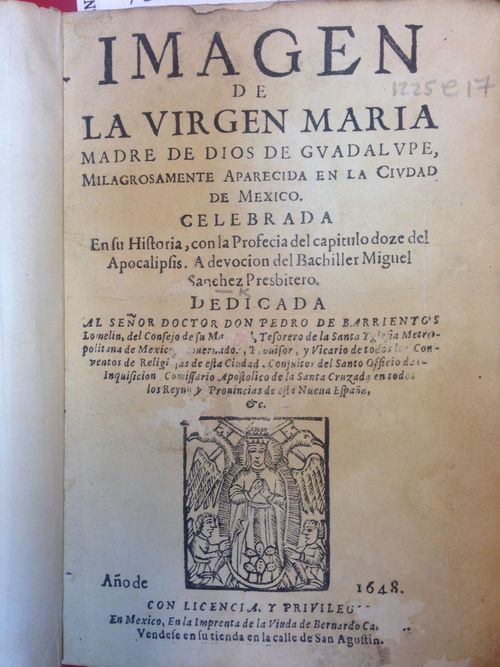 At the British Library, we are fortunate to have two of the texts that were foundational in establishing and legitimising Guadalupe. Imagen de la Virgen Maria Madre de Dios de Guadalupe, milagrosamente aparecida en la ciudad de Mexico, (1648, shelfmark 1225.e.17; shown above) was the first printed description of the apparition (from which the above narrative derives), authored by Miguel Sánchez, a Catholic priest who became known as one of the four evangelists of Guadalupe. Also in our collection is Huei tlamahuiçoltica (1649, shelfmark 884.k.35; shown below), which was the first account published in nahautl, the language in which Guadalupe is said to have communicated her message to Juan Diego.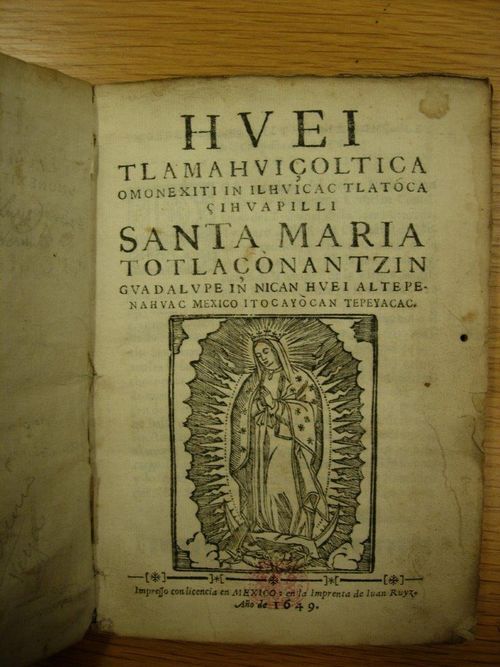 – Laurence Byrne