The Brooklyn Dodgers
Fan devotion to a local sports team is common throughout the world but only in America do the faithful face the prospect of the object of their emotions being uprooted and moved thousands of miles across the country.
The recent news that the St Louis Rams of the NFL are heading to Los Angles is just the latest in a long list of sports teams to move cities: since 1950 forty one teams in America's big three sports – football, basketball and baseball – have re-located. Next year marks the sixtieth anniversary of the most notorious relocation of all: when the Brooklyn Dodgers left New York for Los Angeles just two years after winning the World Series. Bitterly opposed at the time, it is a move mythologised as the betrayal of the people of Brooklyn, an act of treachery by the team's owner which precipitated the economic decline and urban decay of New York's largest borough.
[Shelfmark VOC/1957/ROSS]
The Mike Ross baseball collection, which the Library acquired in 2014, is rich in material celebrating the Dodgers' Brooklyn years and lamenting the move to California. Among several books which take a fan-based view of the period, historian Doris Kearns Goodwin's memoir Wait Till Next Year (New York, 1997; shelfmark YKL.2015.a.11716) – which begins, 'when I was six, my father gave me a bright red scorebook that opened my heart to the game of baseball' – evokes the club's ties to its community and the sense of the end of an era when it left town. The seminal scholarly work on the relocation, Neil J Sullivan's The Dodgers Move West (Oxford, 1987; shelfmark YK.1988.b.992), lays the responsibility for the upheaval not so much on the demonised Dodgers' owner, but on the machinations of local politicians thousands of miles apart.
The Dodgers were famous for their aggressive style of play and the collection contains a copy of The Dodger Way to Play Baseball (1954; shelfmark pending) by Al Campanis, who went on to become the general manager of the club. His book effectively became a manual for coaches on how to play the hard-running, defence-orientated, pitching-based game typical of Dodgers' teams. And of all the Dodgers' pitchers none was greater than Sandy Koufax, a Brooklyn native and arguably the most prominent Jewish athlete in the history of American sports, who famously sat-out a World Series game because it fell on Yom Kippur. The signed copy of his autobiography, Koufax (New York, 1966; shelfmark pending) recounts his extraordinary career, beginning in his home borough in 1955 and ending 2,800 miles away a decade later as a Dodger on the west coast.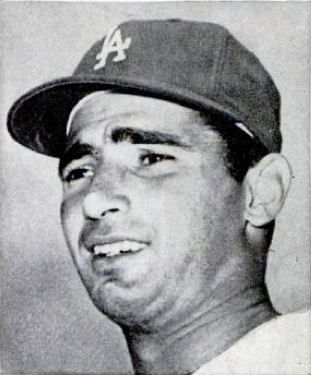 Sandy Koufax. Image believed to be in the public domain. (Wiki Commons)
By Chris Birkett, Masters student at the Institute of North American Studies at King's College London.