06 August 2021
This blog by Pola Oloixarac is part of a special Summer Scholars blog series highlighting recent research across the British Library's Americas collections by scholars and creatives associated with the Eccles Centre, including those supported by the Centre's Awards.
Travel has changed a lot since the early naturalists voyaged through the Amazonia, and it continues to change today thanks to Covid restrictions. While I've been unable to foray in person into the archives of the British Library as I was hoping - summer, London, arcane tomes - I've had the luck of encountering the mighty digital explorer, Dr Aleksandra Kaye. Dr Kaye knows her way around the British Library's vast digital  archives and like any sensible 19th century naturalist seeking help from a guide, I secured her expertise in unearthing their intricate holdings.
 
In the first written accounts of the Amazon, the anthropological gaze is under-developed. Though entranced by the power of landscape, the earliest naturalists typically didn't consider the human culture they encountered. The richness of the human Amazonian world typically escape their notice. Indeed, where Amazonian people are referenced, early accounts by European naturalists are explicitly racist. One explorer, however, who did take some account of indigenous people was the French painter Hercules Florence, although how he saw them was problematic. He travelled to the Amazon from 1825 to 1829 and ended up spending his life in Brazil.
What excited Florence was undiscovered places and he was uninterested in indigenous village life. He remarked in his diary that the jungle is repetitive and that, "to see a Brazilian village, is to see them all"1. He became obsessed with capturing the unchartered territory and capturing it through sound and image with pioneering technology. Florence experimented making photographs in Brazil in 1833 and wanted to record the sounds of what surrounded him. This led him to devise a method to record wild bird song in the Amazon. While looking for a way to record sound, he stumbled into photography. Indeed, while trying to publicise his experiments in sound recording he managed to devise the first printing machine in Sao Paulo.
In the first page of his diary he mentions the expedition slaves, noting that all humans become the same bundle of flesh under the severity of the Amazonian environment. When the expedition's commander, Gregory Langsdorff (Fig. 1, below) succumbs to yellow fever, Florence notes that illness made no distinction about social class in the context of the Amazon.
Langsdorff claimed to be the first to attempt the fluvial crossing of Brazil, from Pantanal to Belum. Until now it was believed that the first trip was in 1825 but Dr Kaye's research has revealed a precursor: there was a previous trip funded by the Imperial Russian court and led by Adam Johan Krussertern in which Langsdorff took part. Before his trip with Florence in 1825, Langsdorff had added himself hastily and at his own expense to the Krussertern expedition as a second naturalist (the first was Wilhm Gottlieb Tilesius). Langsdorff, therefore, went into the Amazon at least two times, around 1803-1807.  These earlier expeditions could explain why the subsequent Langsdorff trip a few decades later was hardly noticed by the very Russians who funded it, considering it, perhaps, redundant. Indeed, the reports of the Langsdorff investigation languished in St Petersburg for over a century largely undiscovered.
Langsdorff's story is a reminder of how much these exploratory naturalist expeditions had in common with modern filmmaking. Langsdorff had, in effect, been to the Amazon first as a location scout (1803-1807), but his vision of the Amazon and the legacy of his expedition could not exist without artists to document the trip. For his 1825-1829 expedition - the one that would make him famous - Langsdorff only wanted the very best artists. He hired Johan Moritz Rugendas, but their relationship faltered when the Prussian commander sought to take ownership of the artist's original works. Rugendas, however, was aware of his own worth as an artist and would not bow to Langsdorff. The Brazilian diaries of both Rugendas and Langsdorff paint the latter in a negative light: Langsdorff was controlling and wanted Rugendas to assign him copyright, but the artist resisted and ultimately deserted the expedition. 
This is how Hercules Florence joined the trip as a second painter to first painter André Taunay. Traveling with Langsdorff, Hercules Florence experimented with photography (he called it "painting with light"). He claimed to be its first inventor, documenting his attempts using silver nitrate and natural acids like urea. Despite these claims, however, Dr Kaye found that Alexander Agassiz, also claimed to be the first to use photography through carbon printing for general illustrations of natural history. In 1871 Agassiz made this claim in the pages of the Bulletin of the Museum of Comparative Zoology at Harvard College (British Library shelfmark Ac.1736/26), where his father, Louis Agassiz, was an acclaimed professor. Agassiz argues that photography is likely to overtake lithography as a mode of illustrating natural history and includes two photographs with his work. His view that the new printing technology would withstand the test of time is born out by the archive; and 150 years later, we can look at these photographs at the British Library.
Did Agassiz know of Florence's efforts to make pictures by "painting with light"? Or was Florence unknown to his contemporaries, even those working as naturalists in Brazil? These questions beg answers. For now, we can only reflect on the fact that the London edition of the early Langsdorff travels (before his trip with Florence) is much more richly illustrated and complete than the American version. In the UK edition we find a lithograph of a Brazilian house (Fig. 3, below) and a musical score called "Brazilian Air" (Fig. 4, below). Both are accessible digitally, which makes comparing them possible. The US edition from 1817 has been digitized by the British Library and is in the public domain - the UK edition from 1813 is only available digitally inside the library, but the University of Alberta digitized their copy and made it publicly available. The London edition was published in two separate volumes, while the US edition has less images, is more cramped and in smaller format and is published as a single book. As a consequence the US edition would have been cheaper to produce and therefore more accessible to bigger audiences.
Another interesting item with connections to Brazil uncovered by Dr Kaye is a 1916 book of short stories by Edith Wharton, the American author, called Xingú, and Other Stories (London; New York printed: Macmillan, 1916; British Library shelfmark NN.4057). The "Xingú" text portrays a dialogue between elite ladies who cannot fathom what is meant by Xingú. They think Xingú is something mysterious or rude, which creates quite a lot of drama among them. Eventually they discover it's a Brazilian River. The text keeps you wondering, what would The Age of Innocence (Mrs. Wharton's vivid masterpiece) be like, if set in the Império do Brasil? A crossover of the directors Martin Scorsese and Joaquim Machado de Assis, with vast corridors of palms, would surely depict a young emperor obsessed with becoming a masterful photographer, like Dom Pedro II of Brazil once was. He would have been especially pleased about finding the British Library's digital versions of his photographs available today.
Pola Oloixarac is the author of the novels Savage Theories, Dark Constellations and Mona. She's the recipient of the 2021 Eccles Centre and Hay Festival Writer's Award.
1. Hercule Florence Diary: http://etnolinguistica.wdfiles.com/local--files/biblio:kossoy-1977-florence/kossoy_1977_hercules_florence.pdf
01 August 2019
Today – 1 August 2019 – marks 200 years since the birth of Herman Melville.
To celebrate we are sharing a few images from Lakeside Press's beautiful 1930 edition of Moby Dick (British Library shelfmark: L.R.50.b.1) illustrated by artist, printmaker, writer and voyager, Rockwell Kent. 
While now regarded as a masterpiece and one of the greatest American novels of all time, such acclaim could never have been predicted for Moby Dick when it was first published in 1851. Unlike Typee (1846) and Omoo (1847) in which Melville exploited his own sailing and whaling adventures to critical acclaim and commercial success, his sixth novel - published as The Whale in London and as Moby Dick; or, The Whale in New York shortly thereafter - garnered mixed reviews and poor sales. Indeed, Melville published his final work of prose just six years later and by his death in 1891 his reputation was in the doldrums.
Thankfully, his centenary in 1919 prompted a reappraisal of his work, so much so that in 1926 R. R. Donnelley and Lakeside Press chose Moby Dick as part of its 'Four American Books' campaign - the other three being Poe's Tales, Thoreau's Walden, and Richard Henry Dana Jr.'s 1840 memoir Two Years Before the Mast, which whilst little known today was one of America's first literary classics and a work Melville himself declared to be 'unmatchable'. 
For Donnelley and Lakeside Press, 'Four American Books' represented an opportunity to demonstrate the capacity of its modern machinery to produce fine press editions that would capture the imagination of the mass market. William A. Kittridge, the company's Head of Design and Typography who commissioned Rockwell Kent, believed their three volume version of Moby Dick to be 'the greatest illustrated book ever done in America' and nearly a century later it is still regarded as one of the finest books printed in the United States. Only one thousand copies of the three volume edition were published. However, a few months later Random House issued a one volume trade version that included all of Kent's illustrations, thereby bringing this incredible work to a wider and hugely appreciative readership. 
 Finally, and somewhat as an aside, readers might like to know that while Lakeside Press is included in Modern British and American Private Presses (1850-1965): Holdings of the British Library (London: British Museum Publications, 1976; shelfmark 2708.aa.36), the Eccles Centre is currently compiling a list of American fine presses established since 1965 that have works held by the British Library. Updates to follow in due course. 
18 October 2015
Our Animal Tales exhibition includes a lovely edition of Melville's Moby-Dick. Published by the Lakeside Press in 1930, it features illustrations by Rockwell Kent. I've always thought that Melville's powers of description render illustrations unnecessary, and in many ways prefer to maintain my own vivid internal pictures of Ahab, Queequeg, the Pequod, Moby Dick et al, conjured up by that wonderful prose. But there's still much to enjoy in some of the various illustrated editions of the book that have appeared over the years since the The Whale (as it was originally titled) was published in London on October 18, 1851. The more familiar title of Moby-Dick; or The Whale, came with the first U.S.edition, published in New York a few weeks later on November 14.  
The Rockwell Kent (1882-1971) illustrations are my favourite. Kent was a man of many parts - artist, writer, political activist, enthusiastic traveller. His long, varied and controversial career can't be covered in a simple blogpost (read his Wikipedia entry to get an idea), but in many ways, he would seem to be a perfect illustrator for Moby-Dick. Kent was no stranger to adventure, remote locations and sea voyages, and published a number of books and memoirs on his travels and experiences. During the period between WWI and WWII, he enjoyed a notable reputation as an artist, producing work in a variety of media, but his seascapes were particularly popular. In addition, although he was a resolutely realist painter, he frequently employed symbolism in his work – so who better to illustrate Moby Dick, 'a creature truly wild and open to any number of symbolic interpretations.' And the editors at Lakeside thought so too. They in fact first approached Kent to design an illustrated edition of Richard Henry Dana Jr.'s Two Years Before the Mast, but it was Kent himself who suggested Moby-Dick instead.
Lakeside Press was a publishing imprint under R.R. Donnelly, based in Chicago. Moby-Dick was to be one of its Four American Books Campaign, aimed at building its reputation as a printer of fine trade editions, as well as proving that it was capable of producing  illustrated books every bit as good as the best presses in Europe. Kent wrote to William A. Kittredge (Lakeside's Director of Design and Typography from 1922-1945) that he considered 'Moby Dick….. a most solemn, mystic work,' and that the 'whole book is a work that should be read slowly, reflectively; the large page and type induce such reading. The character of the type should be homely, rather than refined and elegant, for homeliness flavors every line that Melville wrote.' He wanted his illustrations to epitomise the mood of the book - the 'midnight darkness enveloping human existence, the darkness of the human soul, the abyss, -- such is the mood of Moby-Dick.' (Megan Benton, Beauty and the Book: fine editions and cultural distinction in America. Yale University Press, 2000, pp.105-107).
The editors were delighted with Kent's first submissions in 1927. Kittredge wrote, 'Your genius as a thinker, painter, and draughtsman was never more successfully demonstrated.'  Kent continued to work on the book for the next three years, alongside various other activities and expeditions, and finally completed the illustrations in Denmark in 1929. The book appeared in 1930 in a three-volume edition, housed in an aluminium slipcase, and limited to 1000 copies. Kittredge described it as, 'the greatest book done in this generation,' and said that, 'we will all go jump in the lake' if 'it is not the greatest illustrated book ever done in America.' (Benton, p.132, 200) The edition quickly sold out and was followed by an equally popular one-volume trade edition, published later that year by Random House and printed by Lakeside.  
Although Melville's epic tale wasn't exactly unknown in 1930, it wasn't considered the classic that it is now. The popularity of the Lakeside and Kent edition of Moby-Dick therefore played some part in helping to establish its status as a masterpiece of American literature. As John Lewis writes, 'There is a mystic streak that runs through [Kent's] work, enabling him, if not to match Melville's magnificent prose, at least to give some pictorial substance to this allegory. Maybe no sperm whale ever reached to the stars……Melville makes one feel it could and Kent has recaptured the mood.' (The 20th Century Book, The Herbert Press, 2nd rev ed. 1984, p.146)
Kent's illustrations for Moby-Dick are still in copyright but you can browse some of them on the Plattsburgh State Art Museum website.
[C.H.]
05 October 2015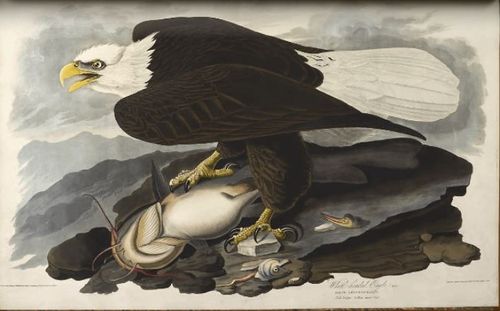 Bald Eagle (captioned 'White Headed Eagle'), from James Audubon's Birds of America [British Library shelfmark N.L.Tab.2]. Image: public domain.
For several years, a Floridian bald eagle has been the subject of a popular webcam. Fans of Ozzie could follow his day-to-day activities at the Southwest Florida Eagle Cam, observing the comings and goings of the bird along with those of Harriet, his partner of some twenty years.
But last week, we received the sad news that Ozzie is no longer with us. Discovered injured in a North Fort Myers backyard, the famous bird of prey died a few days later from infection from the wounds he received fighting off another bald eagle (as well as a possible entanglement with barbed wire). While such eagles are often said to partner 'for life', they do sometimes go their separate ways if they fail to breed. Courtship, notably, included dramatic displays of flight and free-fall, sometimes plummeting to a few feet off the ground before soaring into the sky once more. It is presumed that a final battle of aquiline love (or pride) finished him off.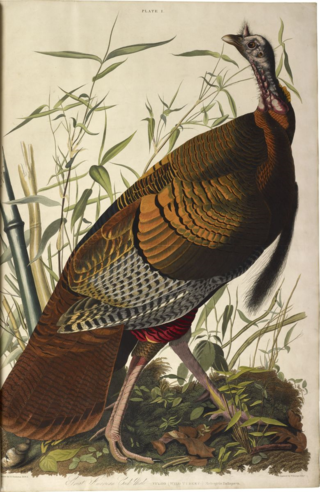 'Wild Turkey', from James Audubon's Birds of America [British Library shelfmark N.L.Tab.2]. Image: public domain.
The news of Ozzie's demise went global, but perhaps struck a particularly American chord.  As the Washington Post noted, the death 'sent shock waves through Ozzie and Harriet's loyal following, not only because of the eagles' regal beauty as a couple, but also for what they represented: America, of course, and strong family values.' Famously trumping Benjamin Franklin's turkey proposal, the Bald Eagle has been America's national bird since 1782, appearing on the original Great Seal of the United States, thirteen arrows grasped in one talon, and an olive branch in the other: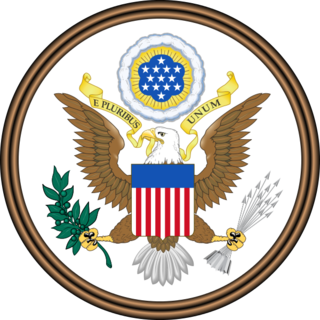 Great Seal of the United States. Image: public domain.
It's a fitting choice: the eagle also plays an important, sacred part in many Native American cultures (for some of the museological consequences of this, see this fascinating post on 'Birds of a Feather' at the National Museum of the American Indian). And, of course, the bald-headed eagle makes a striking appearance in that great monument to Anglo-American natural history printing, James Audubon's Birds of America (image at the head this post). Here, the eagle is surrounded by the head and entrails of the scavenged dead fish that forms a large part of the bald eagle's diet. (Like Franklin, Audubon favoured the Turkey as the national bird.)
We didn't include Audubon (or indeed his precursor, Alexander Wilson) in our Animal Tales exhibition. More about this and the reasons for it next time. You can also see some of Audubon's Birds of America as part of our Turning the Pages project. You'll need a big iPad or monitor to duplicate the impact of the the double elephantine folio, though.
-- Matthew Shaw
08 September 2015
If you've been to the Animal Tales exhibition (and if you haven't, you're in for a treat), you will have seen an edition of Crow, a collaboration between the poet, Ted Hughes, and the artist, Leonard Baskin. The two men were long-time friends and worked on numerous projects together, most of which can be found in the Library.
Baskin's life had many facets – he was a painter, sculptor, print-maker, illustrator, writer, teacher, book collector and book artist. He founded his own press in 1942 while a student at the Yale School of Art, naming it the Gehenna Press (from a line in John Milton's Paradise Lost – 'And black Gehenna call'd, the type of Hell.'). Gehenna became renown for its fine typography and superbly illustrated limited edition books, and it has a particular resonance for me in that the first fine press book I ever acquired for the Library was a Gehenna edition. And it was also a collaboration between Hughes and Baskin. Published in 1998, Howls & Whispers (BL shelfmark Cup.512.b.150) contains poems concerning Hughes' life with Sylvia Plath. At the time, these poems were not available anywhere else, having been excluded from Birthday Letters (also published in 1998).
Baskin met Hughes in 1958 when Hughes was teaching at the University of Massachusetts; their creative relationship began in 1959 with the Gehenna Press broadside Pike (BL shelfmark HS.74/1074. In addition to Pike and Crow, numerous of their projects involved animals – A Primer of Birds for example (BL shelfmark Cup.510.nax.13, 1981). This was published during the period Baskin and his family lived in Devon (they moved there in 1975), close to Hughes. As Baskin describes it, 'Proximity [we lived twenty miles from one another] & renewed intensity in our friendship led inevitably to the manuscript of 'A Primer of Birds', a penetrating Hughesian incursion into avian disparity, splendor & fancy. I cut a number of concomitant woodcuts.'
Their final collaboration was Hughes' version of The Oresteia of Aeschylus, a monumental three volume work, illustrated with woodcuts by Baskin. Hughes finished the Oresteia just shortly before his death in 1998 and Baskin had intended the Gehenna edition to be a memorial to his friend. However, he completed work on it only a few days before his own death in June 2000. Lisa Unger Baskin and Carol Hughes saw the edition through to publication in 2001, ensuring that it now stands as a memorial to both men. The Library was able to acquire a copy with the generous support of  The Friends of the British Library (BL shelfmark HS.74/2141).
In their various collaborations, Baskin's drawings should not be seen as mere illustrations to Hughes' text – in fact, in a number of instances the drawings preceded and inspired the poems.
The two men achieved a unique creative harmony, where poems and drawings combine to present a single, often terrifying vision. Their correspondence (also in the Library - Add MS 83684-83698) accordingly offers a very rich resource for research..
– Carole Holden
 #Animal Tales

Visit Animal Tales – a free British Library exhibition open until Sunday 1 November 2015 
14 August 2015
Animal Tales has been open for a week, and we're very pleased by the response so far.  We've had lots of requests for a list of what is on display, so here it is
1.       Looking at Animals
Gilbert White, The Natural history of Selborne and its antiquities, London, 1802. C.61.b.20 & Add. MSS 31852
Michel de Montaigne, Les Essais de Michel Seigneur de Montaigne. Paris, 1602. C.28.g.7
John Berger, draft of 'About Looking: Why look at animals', 1979–80. Add MS 88964/1/35 & John Berger, Why look at animals. London, 2009. Private collection
David Garnett, A Man in the zoo. London, 1924. 12631.h.14
Beatrix Potter, The Tale of Peter Rabbit. London, [1902]. Cup.402.a.4
Karen Bleitz, Dolly: edition unlimited. London, 1997. RF.2004.a.
2.       Traditional Tales
Esbatement moral des animaux. Anvers, [1578]. C.125.d.23
Jacob and Wilhelm Grimm, Kinder-und Hausmärchen. Berlin, 1875. 12431.bbb.55
Ronald King & Roy Fisher, Anansi Company. London, 1992. C.193.c.8
Wu Cheng'en, Journey to the West. 15271.c.13
Antonia Barber, The Mousehole Cat. London, 1990. LB.31.b.4374a
Ted Hughes & Leonard Baskin, Crow: from the life and songs of the Crow.
London, 1973. Hughes 11
The Very hungry lion: a folktale. Adapted by Gita Wolf. Chennai, 2000. YK.2004.b.224
3.       Tales for Children
Johann Amos Comenius, Orbis sensualium pictus. London, 1659. E.2116.(1.)
[Sally Sketch], An Alphabetical arrangement of animals for little naturalists.
London, 1821. 7207.a.11
History of the red-breast family: being an introduction to the Fabulous History written by S. Trimmer. London, 1793. C.193.a.126
Anna Sewell, Black Beauty: his grooms and companions: the autobiography of a horse. London, 1877. C.123.d.35
Anton Chekhov, Kashtanka. London, 1959. 12842.r.20
Anthony Browne, Gorilla. London, 1991. YK.1991.a.5346
Judith Kerr, The Tiger who came to tea. London, 2007. Private collection
John Agard, We animals would like a word with you. London, 1996. YK.1996.b.17152
SF Said, Varjak Paw. Oxford, 2003. Nov.2003/1912
T.S. Eliot, Old Possum's book of practical cats, illustrated by Nicolas Bentley. London, 1940. 11656.b.44 & Add. MS 71002, f. 53
Matthew Reinhart, The Jungle book: a pop-up adventure. London, 2006. YK.2011.a.15056
4.       Animal Allegories
Chinua Achebe and John Iroaganachi with Christopher Okigbo, How the leopard got his claws. Nairobi, 1976. X.990/9580
Mikhail Bulgakov, A Mongrel's Heart, adapted by Stephen Mulrine, 1994. MPS 6265: 1994
Art Spiegelman, 'Maus' in Funny aminals. San Francisco, 1972. JB Rund Collection
Richard Church, A Squirrel called Rufus. London, 1941. 12825.dd.33
Munro Leaf, The Story of Ferdinand. London, 1937. 012802.cc.54
CS Lewis, The Lion, the witch and the wardrobe. London, 1950. RF.2006.a.114
Laline Paull, The Bees. London, 2014. Nov.2015/1132
George Orwell, Animal Farm: a fairy story. London, 1995. YC.1995.b.7273
5.       Metamorphoses
Ovid, La Métamorphose d'Ovide figurée. Lyon, 1583. 11388.aa.24
Chris Ofili, Diana and Actaeon. London, 2012. LC.31.b.13013
Angela Carter, 'Courtship of Mr Lyon'. Add. MS 88899/1/34, f. 14
John Keats, Lamia, Isabella, the Eve of St. Agnes & other poems. Waltham St. Lawrence, 1928. C.98.gg.16
Philip Pullman, I was a rat!...or The scarlet slippers. London, 1999. Nov.2000/93
David Garnett, Lady into fox. London, 1922. 12630.pp.12
6.       Call of the Wild
Jack London, The Call of the wild. London, 1903. 012628.cc.18
Henry Williamson, Tarka the otter: his joyful water-life and death in the country of the two rivers. London, 1932. 012614.d.27
Richard Adams, Watership Down. Harmondsworth, 1973. H.73/667
Jules Renard, Hunting with 'The Fox'. With twenty-three lithographs by H. de Toulouse-Lautrec. Oxford, 1948. 12358.g.21
Barry Hines, A Kestrel for a knave. Harmondsworth, 1974. Private Collection
Helen Macdonald, H is for Hawk. London, 2014. Nov.2015/1817
Ouida [Maria Louise Ramé], A Dog of Flanders: a photoplay. New York, [1924]. YD.2015.a.313
William Burroughs, The Cat inside. New York, 1986. RF.2008.b.7
Herman Melville, Moby Dick or The Whale. Chicago, 1930. L.R.50.b.1
Guillaume Apollinaire, Le bestiaire, ou Cortège d'Orphée. New York, 1977. LR.430.e.10
Pablo Neruda, Bestiary/Bestario. New York, 1965
Dave Eggers, The Wild Things: a novel. San Francisco, 2009. Cup.935/1546
Mark Doty & Darren Waterston, A Swarm, a flock, a host: a compendium of creatures. San Francisco, 2013
Ted Hughes, Cows. North Tawton, 1981. HS.74/2121
 Sound Points
Mole and Rat begin to mess around in boats in Kenneth Grahame, The Wind in the Willows (1908), read by Alan Bennett (1989). 1CA0005431
Noël Coward reads 'Elephant' from Ogden Nash's series of verses for Camille Saint-Saëns, Le Carnaval des animaux (recorded in 1949). 1CD0239907.
John Agard reads his poem, 'Woodpecker' (recording published in 1981). 1CA0014306
Benjamin Zephaniah reads his poem, 'Talking Turkeys' (recorded in 1998). 1CA0006901
TS. Eliot reads his verse, 'Macavity the Mystery Cat' from Old Possum's Book of Practical Cats. 1LP0054600
Ted Hughes discusses the 'Crow' poems on Poetry Now (BBC3, 1970). 1CD0286783
Art Spiegelman discusses Maus at the Institute of Contemporary Arts (1987). C95/302
Ron King discusses the creation of the Anansi artist's book (recorded in 1996) C466/47/01-21
Sound Scape
Atmosphere with Goshawk
Rain with Red Fox
Blackbird
Frog atmosphere
Cattle with cowherd
Waves & Sperm Whale
Exhibition list for Animal Tales
A British Library Entrance Hall Exhibition
7 August – 1 November 2015
Exhibition Design by NortonAllison
Curators: Matthew Shaw, Alison Bailey, Barbara Hawes 
03 August 2015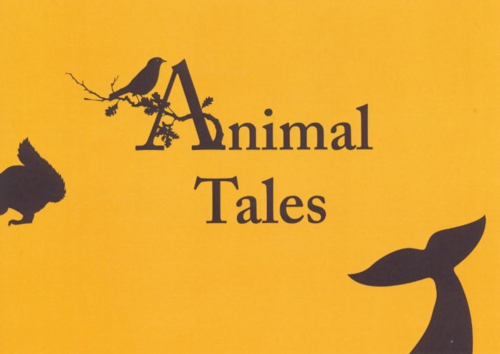 British Library Animal Tales exhibition
We're in the middle of the dog days of summer: school's out, there's a bit of heat in the air in London at least, and the press is doing its best with the current crop of 'man bites dog' stories: pink pigeons, owls with library cards, and the more serious commentary on the death of Cecil the Zimbabwean lion.
With all this in mind, it's fitting that our latest exhibition, Animal Tales, opens on Friday (7 Aug), offering a menagerie of wild beasts, companionable pets, and the sounds of aerial and aquatic creatures set among a mini-forest of trees, all nestling under the Grade I-listed King's Library Tower.  
(The exhibition space gets a lick of paint... and some longer ears)
As well as the refreshing cool of the Library's air-conditioning, we hope that the exhibition is a slightly bracing antidote to the languor of this time of year; offering what we think are the pick of best-loved animal stories mixed in with some surprising selections, all of which suggests some of the ways that we look at animals in the modern world.
Beatrix Potter, The Tale of Peter Rabbit. Cup.402.a.4. Image in the public domain.
In curating the exhibition, we've selected almost sixty items from across the Library's collections, as well as a brace of sound recordings. The exhibition is organised in six sections, starting with a section that asks how we've looked and written about animals over time, and ending with an area that looks at works that try and engage with the wildness that animals can represent, from Moby-Dick to Helen Macdonald's H is for Hawk. Along the way, we look at stories for children including Peter the Rabbit and Black Beauty, traditional tales from around the world, the use of animals as allegory or metaphor from Animal Farm to Maus and why writers from Ovid to Kafka have been fascinated by the possibility of transformation from human into beast, and vice versa.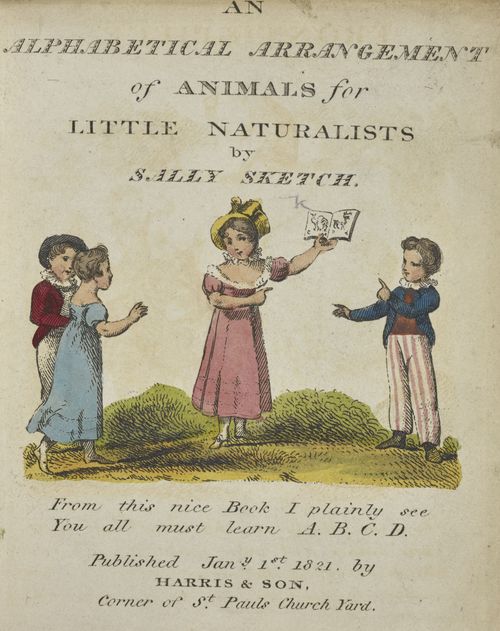 Sally Sketch, pseud., An Alphabetical Arrangement of Animals for Little Naturalists (London, 1821). 7207.a.11. Image in the public domain.
It's been a treat and a privilege to draw on the Library's collections to put the show together. As always in curating an exhibition, there wasn't room for everything, and some of the things we really wanted to put on display either didn't quite fit with the shape of the show or had conservation issues: we couldn't, for example, display items on parchment: the only sheep on display is an artist's book, Karen Bleitz' Dolly: edition unlimited, which is made of card.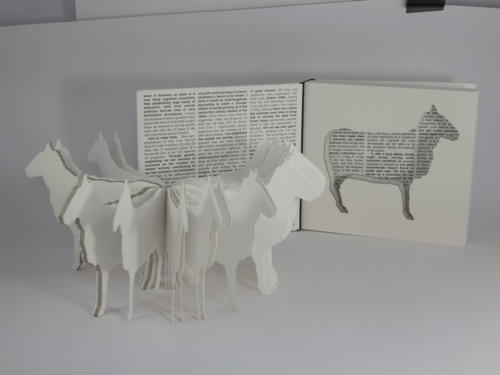 Image Dolly: edition unlimited © Karen Bleitz
We had to lose some of our favourite items along the way, as always happens in curating an exhibition, and there are great swathes of the history of human/animal relations that are missed.  It's also testament to the current scholarly 'call of the wild' in terms of the 'animal turn' in the humanities, the interest in eco-criticism and history, animal geography, food studies, neuroscience or a whole range of sociological animal studies, not to mention animal ethics, that we had to be ruthless in our curatorial focus. Natural history as a genre gets a look in, particularly how  amateur naturalists influenced writers of their day, but the focus is more on imaginative writing. 
This said, the blog and events programme give us the chance to open up some of these questions. As it is, the exhibition space is also filled to the gills: where else will you see Samuel Taylor Coleridge's annotations on Gilbert White's Natural History of Selburne (1802), bound in dress fabric by Mrs Wordsworth alongside John Berger's notes for 'Why Look At Animals' (1970s), David Garnett's Lady into Fox (1922), and Waterston's compelling aquatints for the modern bestiary, A Swarm, a Flock, A Host (2013)?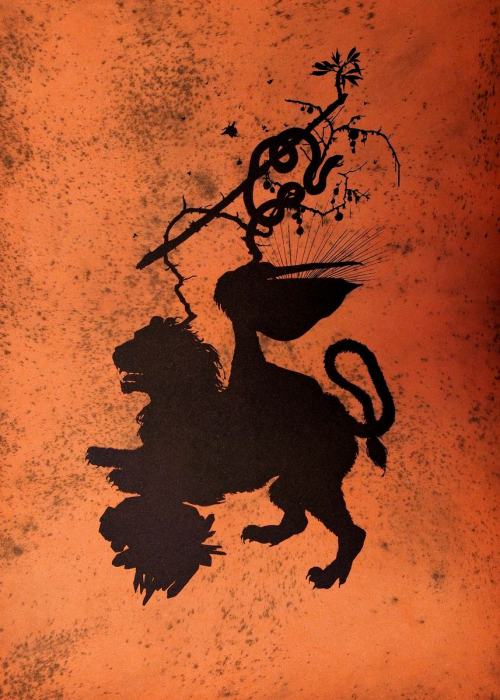 Courtesy of the artist, Darren Waterston, and the Achenbach Graphic Arts Council, Fine Arts Museums of San Francisco.
Playful, curious, and a little bit mysterious, we hope that adults will find the exhibition stimulating, as will younger visitors, who have their own reading area and a specially commissioned family trail and leaflet,  There is also at least one children's book to spot in each case. Maybe it's time to get a little bit wild in the Library?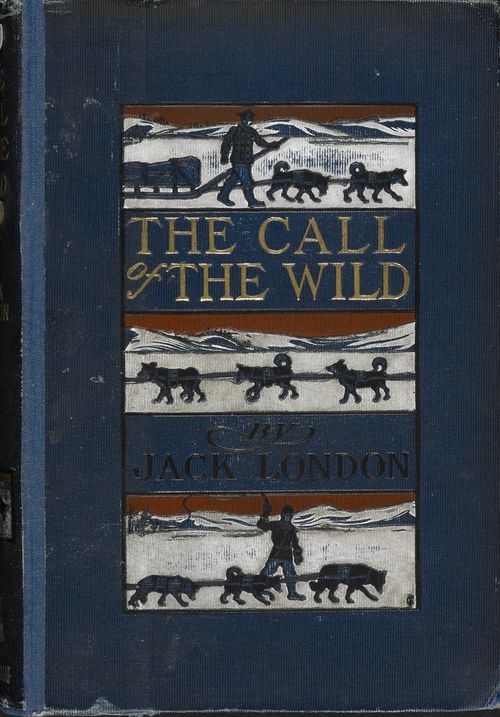 Jack London, Call of the Wild (New York, 1903).012628.cc.18. Image in the public domain.
Finally, what would a blog post be without a picture of a cat: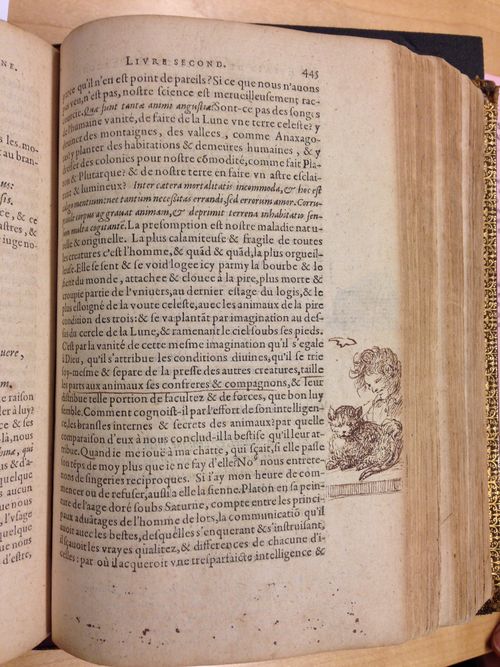 Montaigne's Essais (Paris, 1602) C.28.g.7 'when I play with my cat, how do I know she is not playing with me?'; marginal illustration by Pieter van Veen. Image in the public domain.
Animal Tales is free, and runs from 7 August to 1 November.
You can hear more about the exhibition at Second Home on 12 August as part of their Biophilia season.
And, following a preview, the Independent looks at beast in literature.
-- Matthew Shaw
11 March 2015
'A Polar-Bear Arch', Cosmopolitan Magazine, 1902 [P.P.6383.da].  Image now in the public domain.
This morning, with a forthcoming exhibition in mind, I was on the hunt for one of Jack London's dogs. Diable was duly tracked down to the June, 1902 edition of the New York Cosmopolitan, where he appears in 'Diable - a Dog' (pp. 218-226; it spurred London on to write The Call of the Wild).  Despite the primitive power of London's prose, it is hard not to be distracted by the other delights offered by this influential magazine. For starters, an illustrated Paul Laurence Dunbar poem ('Joggin' Erlong') faces the final lines of London's short story ('Diable's body twitched with the shock, thrashed to the ground spasmodically a moment, and went suddenly limpid.  But his teeth still held fast-locked.') Turn the page, and we learn of the eruption of Mount Pelée (with photographs), followed by information on 'How Fashions are Set' (with plates). 
But best of all, perhaps, are the pieces on animals, ranging from circus to diving horses in a piece on the 'Thrill of Speed', to the 'Diversions of Some Millionaires' (photographs include 'Mr E.H. Harriman behind his favourite trotter' and 'Mr Harry Payne Whitney with his beagles'). The lolcats of their day (with an added dash of animal cruelty)?
I can't, though, resist the image above, from a piece on training animals. And, a reminder that our own, very well-trained, polar bear exhibition is still running (Lines in the Ice, until 19 April). 
[Matthew Shaw]
Americas and Oceania Collections blog recent posts
Tweets by BL_Americas
Other British Library blogs