05 October 2015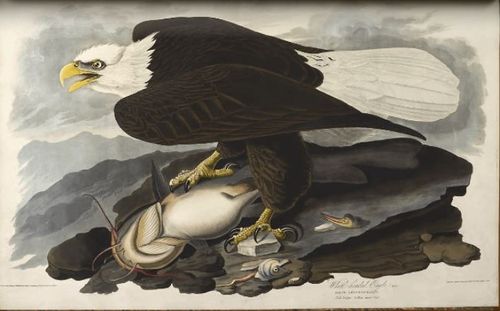 Bald Eagle (captioned 'White Headed Eagle'), from James Audubon's Birds of America [British Library shelfmark N.L.Tab.2]. Image: public domain.
For several years, a Floridian bald eagle has been the subject of a popular webcam. Fans of Ozzie could follow his day-to-day activities at the Southwest Florida Eagle Cam, observing the comings and goings of the bird along with those of Harriet, his partner of some twenty years.
But last week, we received the sad news that Ozzie is no longer with us. Discovered injured in a North Fort Myers backyard, the famous bird of prey died a few days later from infection from the wounds he received fighting off another bald eagle (as well as a possible entanglement with barbed wire). While such eagles are often said to partner 'for life', they do sometimes go their separate ways if they fail to breed. Courtship, notably, included dramatic displays of flight and free-fall, sometimes plummeting to a few feet off the ground before soaring into the sky once more. It is presumed that a final battle of aquiline love (or pride) finished him off.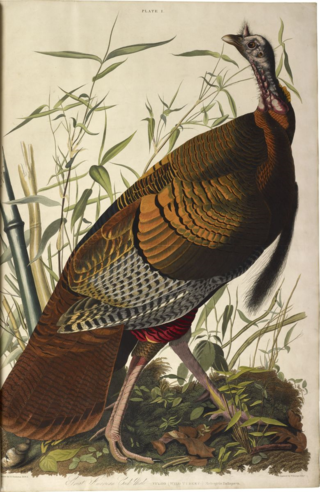 'Wild Turkey', from James Audubon's Birds of America [British Library shelfmark N.L.Tab.2]. Image: public domain.
The news of Ozzie's demise went global, but perhaps struck a particularly American chord.  As the Washington Post noted, the death 'sent shock waves through Ozzie and Harriet's loyal following, not only because of the eagles' regal beauty as a couple, but also for what they represented: America, of course, and strong family values.' Famously trumping Benjamin Franklin's turkey proposal, the Bald Eagle has been America's national bird since 1782, appearing on the original Great Seal of the United States, thirteen arrows grasped in one talon, and an olive branch in the other: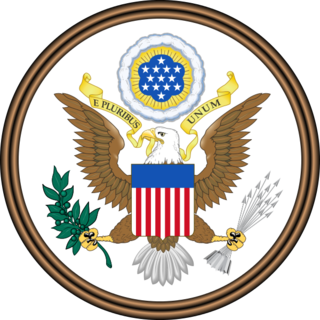 Great Seal of the United States. Image: public domain.
It's a fitting choice: the eagle also plays an important, sacred part in many Native American cultures (for some of the museological consequences of this, see this fascinating post on 'Birds of a Feather' at the National Museum of the American Indian). And, of course, the bald-headed eagle makes a striking appearance in that great monument to Anglo-American natural history printing, James Audubon's Birds of America (image at the head this post). Here, the eagle is surrounded by the head and entrails of the scavenged dead fish that forms a large part of the bald eagle's diet. (Like Franklin, Audubon favoured the Turkey as the national bird.)
We didn't include Audubon (or indeed his precursor, Alexander Wilson) in our Animal Tales exhibition. More about this and the reasons for it next time. You can also see some of Audubon's Birds of America as part of our Turning the Pages project. You'll need a big iPad or monitor to duplicate the impact of the the double elephantine folio, though.
-- Matthew Shaw
08 September 2015
If you've been to the Animal Tales exhibition (and if you haven't, you're in for a treat), you will have seen an edition of Crow, a collaboration between the poet, Ted Hughes, and the artist, Leonard Baskin. The two men were long-time friends and worked on numerous projects together, most of which can be found in the Library.
Baskin's life had many facets – he was a painter, sculptor, print-maker, illustrator, writer, teacher, book collector and book artist. He founded his own press in 1942 while a student at the Yale School of Art, naming it the Gehenna Press (from a line in John Milton's Paradise Lost – 'And black Gehenna call'd, the type of Hell.'). Gehenna became renown for its fine typography and superbly illustrated limited edition books, and it has a particular resonance for me in that the first fine press book I ever acquired for the Library was a Gehenna edition. And it was also a collaboration between Hughes and Baskin. Published in 1998, Howls & Whispers (BL shelfmark Cup.512.b.150) contains poems concerning Hughes' life with Sylvia Plath. At the time, these poems were not available anywhere else, having been excluded from Birthday Letters (also published in 1998).
Baskin met Hughes in 1958 when Hughes was teaching at the University of Massachusetts; their creative relationship began in 1959 with the Gehenna Press broadside Pike (BL shelfmark HS.74/1074. In addition to Pike and Crow, numerous of their projects involved animals – A Primer of Birds for example (BL shelfmark Cup.510.nax.13, 1981). This was published during the period Baskin and his family lived in Devon (they moved there in 1975), close to Hughes. As Baskin describes it, 'Proximity [we lived twenty miles from one another] & renewed intensity in our friendship led inevitably to the manuscript of 'A Primer of Birds', a penetrating Hughesian incursion into avian disparity, splendor & fancy. I cut a number of concomitant woodcuts.'
Their final collaboration was Hughes' version of The Oresteia of Aeschylus, a monumental three volume work, illustrated with woodcuts by Baskin. Hughes finished the Oresteia just shortly before his death in 1998 and Baskin had intended the Gehenna edition to be a memorial to his friend. However, he completed work on it only a few days before his own death in June 2000. Lisa Unger Baskin and Carol Hughes saw the edition through to publication in 2001, ensuring that it now stands as a memorial to both men. The Library was able to acquire a copy with the generous support of  The Friends of the British Library (BL shelfmark HS.74/2141).
In their various collaborations, Baskin's drawings should not be seen as mere illustrations to Hughes' text – in fact, in a number of instances the drawings preceded and inspired the poems.
The two men achieved a unique creative harmony, where poems and drawings combine to present a single, often terrifying vision. Their correspondence (also in the Library - Add MS 83684-83698) accordingly offers a very rich resource for research..
– Carole Holden
 #Animal Tales

Visit Animal Tales – a free British Library exhibition open until Sunday 1 November 2015 
06 August 2015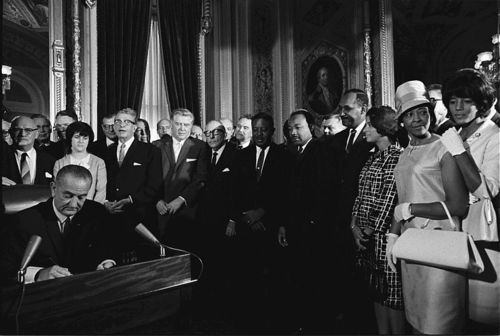 President Lyndon B. Johnson signs the Voting Rights Act of 1965 while Martin Luther King and others look on.  Image in the public domain and made available by the LBJ Library and Wiki Commons.
The Voting Rights Act Fifty years ago today, on 6 August 1965, President Lyndon B Johnson signed into law the Voting Rights Act – arguably the most successful piece of civil rights legislation ever passed by the US Congress. Yet the journey to this point was bitter and hard-fought.
In 1870 – five years after the Civil War – the Fifteenth Amendment had prohibited federal and state governments from restricting voting rights on the basis of race, colour or previous condition of servitude. By the 1890s, however, southern states were enacting laws that, while superficially colour blind, were explicitly designed to stifle black electoral participation and re-establish white political supremacy.
Six decades later the tide was finally beginning to turn: federal legislation passed in 1957, 1960 and 1964 included voting-related provisions; a series of Supreme Court decisions – most notably Baker v Carr (1962) – began applying the Constitution to overturn disenfranchisement via unfair redistricting practices; and public outrage at both the murder of the three voting rights activists in Mississippi in 1964 and the attack by state troopers on peaceful marchers at Selma, Alabama in 1965 persuaded Congress and the President that effective voting rights legislation could no longer be delayed.
We hold numerous databases that can be used to explore all of these issues further:
America: History and Life: indexes articles on US and Canadian history, culture and current affairs published in over 1800 journals. It began in 1964 but many of the journals have now been retrospectively indexed, including the American Historical Review (1895– ), Mississippi Valley Historical Review (1914– ) and Journal of Southern History (1935– ). It also provides citations to books and book reviews.
PAIS International: indexes journals, books, government and international agency reports, conference proceedings and web-based information sources covering social issues, economic issues, politics and international relations, environmental and energy policy. Its indexing dates back to the 1970s and it currently contains more than 600,000 records.
International Political Science Abstracts: contains details of articles in more than a thousand political science journals and yearbooks published worldwide, 75 of which are indexed in full. Social Sciences Full Text: includes full text articles from more than 330 journals and indexes over 750 periodicals, more than 700 of which are peer-reviewed.
Finally – and somewhat tangentially, though in keeping with the Animal Tales exhibition that opens here tomorrow – readers might be interested to know that we hold a 23 second recording of a domestic goat (capra hircus) living on the Lyndon B Johnson Ranch near Stonewall, Texas in 2010! It was a sunny 28 degrees on the day of the recording, insects can be heard in the background and the goat was apparently standing one metre from wildlife sound recordist, Richard Beard.
– Jean Petrovic
Americas and Oceania Collections blog recent posts
Tweets by BL_Americas
Other British Library blogs