31 May 2022
In the latest of our blogs on digital resources for Americas Studies, the Eccles Centre's Philip Abraham looks at the early period of European contact and invasion of the Americas. Remember, once you have your Reader Pass a number of these e-resources can be accessed remotely, from the comfort of your own home.
The emergence of what many scholars now think of as Vast Early America during the early modern period is one of the central pivots of global history. [1] The emergence of an Atlantic world during the two centuries after 1450 was a complex and truly transnational phenomenon, which involved the transfer and circulation (often violent and coerced) of peoples, plants, animals, goods and ideas between Europe, Africa and the Americas.
Because this moment involved so many different kinds of people and things scattered across three continents, it is also a subject that particularly benefits from the development of digital platforms. Digital technology allows researchers to bring together documents and sources from institutions and repositories from around the world in a way that was only possible for the most privileged researchers in the analogue age. These platforms often also include features like maps and infographics which help students and researchers to visualize the movements and voyages that are so fundamental to understanding these histories.
This blog is going to focus on some of the more specialized digital platforms and resources available through the British Library, but it is always worth remembering that some of the more general resources for the humanities (and early modern studies in particular) have a lot to offer. [2]
Bibliographies
For building a bibliography, general resources that have been mentioned elsewhere, like the Hispanic American Periodicals Index, America: History & Life and the Bibliography of British and Irish History (which, despite the name, also covers the British Empire in North America and the Caribbean, and Britain's military, economic and diplomatic relations with Latin America) are indispensable starting points. These platforms rely on keywords searches, however, which is great if you have a fairly specific idea of what you are looking for, but less useful if you're entering a subject for the first time and would like a bit more guidance. For those new to the subject, the best jumping off point for building a reading list are the annotated bibliographies in Atlantic History available through Oxford Bibliographies. Assembled by world-leading experts and covering 360 themes ranging from 'African Retailers and Small Artisans' to 'Dreams and Dreaming' in the Atlantic world, it is an eclectic but extremely inspiring way into the subject.
Primary Sources
Again, many of the general platforms for early modern studies offer important pathways into the subject of Europe's overseas expansion. Early English Books Online (which has a digitized copy of almost every book printed in the British Isles and North America before 1700) is invaluable if you are interested in the ideas that animated England's engagement with the Atlantic, as you can retrieve texts like Richard Hakluyt's foundational treatise, Principal Navigations, Voyages and Discoveries of the English Nation, at the click of a button.
EEBO (as those in the know call it!) is an amazing achievement but again, it rewards those that know what they are looking for. European Views of the Americas, 1493-1750 similarly does not easily facilitate browsing but is a really useful gateway into online primary sources for more experienced researchers. There are no comparable resources available through the British Library in languages other than English, however, so if you want to get a more pan-European, indeed pan-Atlantic, perspective, some of the specially curated platforms are very useful.
Its somewhat old-fashioned (indeed, some might say problematically euphemistic) title notwithstanding, Age of Exploration, c. 1420-1920 is a really dynamic and compelling way into the subject, and has a number of really useful features. It has hundreds of documents relating to Europe's colonization of the Americas (as well as Europe's colonization of other regions of the world, as it is not focused solely on the Atlantic), organized into collections and themes to make browsing much easier. A particularly useful feature are the interactive maps, which not only chart the routes taken by some of the most significant voyages of exploration during this period, but connects these to fascinating primary sources. For instance, the map plotting William Baffin's second voyage (March – August 1616) in search of the fabled Northwest Passage connecting the Atlantic and Pacific Oceans links to a full digitization of his account of the journey and the log of the voyage. [3]

Other documentary highlights include a digitized copy of Antonio de la Ascensión's 220 page account of Sebastián Vizcaíno's voyage along the coast of California in 1602-1603, and an equally long manuscript describing the conquistador Pedro de Valdivia's subjugation of Chile in the 1540s.
Age of Exploration also features videos by leading scholars introducing a number of topics, as well as essays and biographies of several major white European men involved in the exploration and invasion of the Americas. Other curated platforms that similarly offer in-depth access to select primary sources together with helpful editorial or secondary interpretive material include Global Commodities: Trade, Exploration & Cultural Exchange, which uses datasets, documents and maps relating to 15 raw and manufactured goods such as fur, silver and gold, sugar and coffee as ways into global history. Empire Online covers the British Empire from a broad range of perspectives. Obviously, the African and Indigenous experiences need to be brought into view before a full picture of the emergence of the early modern Americas can be made, but these resources on European travel, war-making, trade and early settlement are a good starting point.

[1] This notion was developed by the Omohundro Institute of Early American History and Culture, and is very well articulated by former Director Karin Wulf here.
[2] This blog will not deal in depth with digital resources concerned with the Atlantic slave trade, or the Indigenous American experience of European colonization. Look out for blogs that will deal with these themes in the future.
[3] This happens to a British Library manuscript. William Baffin, True Relation of his Fourth Voyage for the discovery of a north-west passage, in the year 1615; preceded by the Log of the voyage, Add MS 12206.
22 January 2022
Today we celebrate the 30th anniversary of Dr Roberta Bondar blasting off from the John F. Kennedy Space Center and becoming Canada's first female astronaut and the world's first neurologist in space!
Bondar had dreamt of this moment from an early age. As a child she showed an aptitude for science and when she was around 12 years old her father built her a laboratory in their basement. Following high school, she obtained a Bachelors degree in Zoology and Agriculture, a Masters degree in Experimental Pathology, and a PhD in Neurobiology. She became a medical doctor in 1977 and was admitted to the Royal College of Physicians and Surgeons of Canada (in neurology) in 1981.
When Canada's National Research Council set up the Canadian Astronaut Program, Bondar immediately signed up. She was selected in December 1983. In 1986 the Challenger disaster threatened the entire space shuttle programme. However, a three-year investigation resulted in its revival and in 1990 Bondar learned she would be the next Canadian astronaut to go into space. 1
Along with six colleagues, Bondar was on board the Space Shuttle Discovery from 22 - 30 January 1992 as part of the first International Microgravity Laboratory mission - the precursor to the International Space Station. The main goal of the mission was to study the effects of microgravity on a variety of organisms and the physiological changes that occur in a weightless environment. As 'Payload Specialist 1', Bondar conducted over 40 advanced experiments for 14 countries. Many of these focused upon the effect of weightlessness on the human body - for example, on eye motion, the inner ear, the elongation of the spine and back pain, and energy expenditure during a spaceflight. Others explored the effects of microgravity on other life forms, including shrimp eggs, lentil seedlings, fruit fly eggs and bacteria. 
Bondar's ground-breaking work enabled NASA to better prepare its astronauts for long stays on the International Space Station. Following her career as an astronaut, she collaborated with NASA and led a space medicine research team investigating the neurological symptoms seen after spaceflight and their connections to neurological illnesses on Earth, including Parkinson's disease and stroke. 
After many years working as a scientist, Bondar forged a new path and became an Honours student in Professional Nature Photography at the Brooks Institute of Photography in California; here, she was profoundly influenced by the work of renowned American photographer, Ansel Adams. She later created the Roberta Bondar Foundation and writes of this transition:
It took time, considerable reflection and detailed planning to build a Foundation focused on two of my passions, the environment and education. Following the razor-sharp focus and discipline involved in being an astronaut and scientist, I chose to apply my love of photography to foster sustainable development. Few get to view our earth from space. It puts unimaginable perspective on life and our stewardship of the planet. I made it the catalyst to a new career. My camera lens is my way of giving back in exhibits, seminars, schools across Canada and overseas.
For her book Passionate Vision: Discovering Canada's National Parks (Vancouver: Douglas & McIntyre, 2000; British Library shelfmark LB.31.b.21551), Bondar photographed Canada's 41 national parks from Gwaii Haanas in the west to Terra Nova in the east, and Point Pelee in the south to Quttinirpaaq in the north; the book includes 100 of her photos as well as six images from space.
Now in her mid-70s, Roberta Bondar remains tireless in her commitment to environmental and scientific education and to deepening humanity's love for planet Earth. She is an Officer of the Order of Canada, a Specially Elected Fellow of the Royal Society of Canada, holds the NASA Space Medal and has her own star on Canada's Walk of Fame. 
Footnotes:
1. On 5 October 1984, Marc Garneau became the first Canadian to go into space; he went on two further missions in 1996 and 2000. Roberta Bondar was the second Canadian in space.
26 July 2021
This blog by Richard Price is part of the Eccles Centre's special Summer Scholars blog series highlighting recent research by scholars and creatives working across the British Library's Americas collections. 
In a past life I was a researcher, studying for a PhD. I was investigating the novels and plays of the writer Neil M. Gunn who wrote in the interwar period and just beyond. I used the Lord Chamberlain's Plays collection in the Library to see what the state censor of the day had made of Gunn's play The Ancient Fire (1929). Gunn had located this drama in two politically sensitive places: post-war Glasgow, dependant on warship contracts for the British Empire, and a Scottish Highlands dominated by super-wealthy, super-absent landlords. I suspected there would be crossings-out in blue pencil, blustering annotations – any manner of indignation – and I was right. The Lord Chamberlain's office was not going to let that play pass across its desk without the sharpening of pencils.
I duly completed the PhD and to this day use "Dr", mainly to remind myself I actually did it. As it happens the revelations about censorship – it is still quite shocking to see a person's art damaged by systematic authority – didn't form much of my thesis. As often in research, specific information you glean doesn't always, or even usually, make it to the central argument. Mine was more about aesthetics and internal Scottish self-identity rather than British politics, though of course these three components have various kinds of critical relationship with each other.
And, bar a published paper here or there afterwards, that was it. Fairly soon I decided to settle for just two vocations rather than three – Librarianship and Poetry. I let Research go, continued to work for a certain national library then located in the Round Reading Room of the British Museum (among other places), and continued to work in my own time – yes, I have finally learnt to call it work – as a writer.
Or I thought I had left Research. As the years have gone on, I've realised that thing that is reading and thinking and conversing about a subject before making something from that activity is still, of course, Research. 
Here are some topics I've felt the need to study for creative projects over the years: medical and psychological interventions for insomniacs (Rays, poetry, 2009); airborne pathogens (The Island, novel, 2010); stroke and patient care (Small World, poetry, 2012); the Scottish Highlands in wartime (Wind-breakers, Sea-Eagles and Anthrax, radio, 2019); the history of little magazines (Is This A Poem?, essays, 2015); the music of Gil Scott-Heron and Brian Jackson (The World Brims by the Loss Adjustors, album, 2018); and, most recently, Inuit legends (The Owner of the Sea: Three Inuit Stories Retold, poetry, 2021). I've used a mixture of interviews with practitioners, straight-out purchases of academic books, and of course library-based study for all these.
Writing that paragraph I realise I've just missed the most significant segment of research that I have carried out: reading poetry. Contemporary poetry, yes, but poetry from all kinds of territories, times and directions, too; books and magazines about poetry which maintain context and skills knowledge; and of course conversations and correspondence with other poets and with readers including those who may not even know they could like poetry. Any writer, I imagine, is continually and voraciously reading works within their form and discussing them, so much so that they lose sight of it sometimes as study, as 'Research'. In some ways, I hope that they do lose sight of it. Play, pleasure, enjoyment – immersion – perhaps, these are under-rated qualities in a society driven, at times, by a mixing up of  education and the work ethic? In any case, all this is the circulating blood at the heart of research, creatively speaking.
I think there's another element, and perhaps that is also 'invisible' to many as labour, as researching activity. It is developing a practical understanding of the material demands, from physical form to people networks, that one's art moves in, through, and across. For visual artists this is, say, 'To know the gallery trade'. For a poet like me, who often works with book artists, it's knowing the artist's book market and the kinds of possibilities book artists explore in their work; it's working with book artists. The same is true for knowing the mainstream poetry publishing world: this doesn't happen instantly but takes years of finding-out (and luck). Some may say that these are compromising complications for a 'pure poet' or equivalent artist but I'm not so sure that one can ever escape the material nature of even such an apparently ethereal art.  I'd go further, that the nature of its material form and distribution is a big enough part of its meaning for a poet to devote time to learning it. 
This helps in a way to explain how The Owner of the Sea came about, and how it was that this 'invisible' aspect of research inspired its creation. It was integration within the materiality of one part of the poetry world – artist's books – that led to it. For well over twenty years I have, in my time away from the Library, been an appreciator of and collaborator with the Anglo-Brazilian artist Ronald King. Our first book was gift horse (Circle Press, 1999; British Library Shelfmark: Cup.512.b.232). It's a large off-white book with very few pages and striking images which are not inked – they are 'blind embossed'. The printing equipment has made an impression on a damped page whose paper has to be chosen carefully for its strength and stretchiness in the process. Because no ink is used on these images the eye relies on slight shadow and light differences to make them out. Ron 'animated' the image: he used the central figure of a horse starting from a standing position and gradually going into a gallop by the end of the book. The artist Karen Bleitz set the type of the poem in soft grey.
Decades later, after a series of King-Price collaborations, all duly and proudly now in the British Library collections, we joined up for a return to a blind-embossed book, Sedna and the Fulmar. Ron asked me to write a small set of poems based on one of the legends of Sedna, who is a major sea spirit or god, known by various names across different Inuit territories. As a young man, Ron had lived in Canada and had stumbled across her legend. He had never found a satisfying artistic way of responding until now when he would use blind-embossing as an analogy for Arctic white-space, the images imprinted as it were into the snow of the page.
Following his invitation to work with him again, the more conventional usage of 'Research' came into play for me. I began to read (and write) more about Sedna than the project required. I was particularly taken by Frédéric Laugrand and Jarich Oosten's The Sea Woman: Sedna in Inuit Shamanism and Art in the Eastern Arctic (University of Alaska Press, 2008; British Library shelfmark: YK.2009.b.8589) which offered not only information for me to make narrative outlines but a rich sense of traditions and beliefs surrounding Sedna, including shamanism.
Unlike my encounter with the Lord Chamberlain's plays, this time I wasn't going to let the extra research go to waste. I very quickly established a narrative for a poetry sequence which would, yes, incorporate the small number of poems I had been commissioned to write, but would tell a longer story. I sent the whole sequence to Michael Schmidt, my publisher at Carcanet but also editor of the poetry journal PN Review. He offered to publish it in its entirety in the magazine almost by return of email. He also encouraged me to write more poems based on Inuit figures.
My study took me to further mythic accounts, from the more fragmentary ones assembled from various nineteenth century accounts by the anthropologist Franz Boas to Kira Van Deusen's focussed and revelatory book Kiviuq: An Inuit Hero and His Siberian Cousins (McGill-Queen's, 2009), based on the stories of living storytellers. This helped me counterbalance the story of the female god Sedna with the one of the male hunter Kiviuq.
I also visited a now tragically defunct website, Kiviuq's Journey, which Van Deusen had also been involved in, and which featured summaries of the tales of the mythic hunter Kiviuq. Again, these were taken directly from living Inuit storytellers (sadly, at least some have since died). Being Canadian, the site was out of scope for the work of our own UK Web Archive, but it does survive thanks to the US-based Internet Archive.
So there were a range of focussed research resources I used for my poetry collection. But wait, I haven't given examples of the 'background research' (like beneficial background radiation) that I mentioned is a way of life for poets – the collections we read day in and day out and the conversations we have. As my readers will know I am a poet of the sequence – from Tube Shelter Perspective (1993) to Small World (2012) – my poems inhabit connected narratives poem by poem, building drama, jumping gaps whose significance the reader will see as they read on. That is in part from being influenced by and having an affinity with such writers as the Tom Leonard of nora's place or the Bernadine Evaristo of the verse novel The Emperor's Babe.
It was adding this, what?, sensibility? towards the poetry sequence to my understanding of the narrative structures in Inuit story (at times trance-like, shamanistic, structures) that was the 'breakthrough' for me. In fact, sometimes it felt like writing the poems was being in a trance: I look at The Owner of the Sea and I don't fully understand how these poems came to be written.
Conversations-wise I also shared my drafts with poet friends, including Nancy Campbell , author of Disko Bay and The Library of Ice, who has lived in Greenland and knows Inuit culture far better than I do. Nancy provides an afterword to the sequences in the book.
There is a key point about appropriation here, one that any researcher – creative or otherwise – needs to think carefully about when using the creative labour and common intangible heritage of indigenous cultures. I have, for example, been careful within The Owner of the Sea to acknowledge not just the authors I've mentioned but the many individually named storytellers who are cited in the key works. I've also emphasised distances in my introduction to the book, in asides contained within the poems themselves, in the jangle of contemporary UK language registers, and the distinctly un-traditional way the book proceeds. No reader could think that the book is anything but a contemporary collection from a Western poet, albeit based on the key moments of Inuit narratives. The original stories are not poems, they are in an entirely different form, the story of oral tradition, a tradition which has its own conventions and needs a set of sophisticated and localised skills for its rendering and which, though I imagine has some overlaps, must be very different from my own poetry tradition. My poems are also not translations and again I emphasise that.
It's important, I feel, that the reader understands that set of distances and hopefully enjoying the different textures of poetry in The Owner of the Sea can, if they want, lead to the stories the book pays tribute to. I liken this distancing not to scientific or anthropological activity, each fraught with the risks of dehumanisation in such a context where framing is important to the investigating process, but as the distancing that takes places when any one art form, and its culture, tries to relate to another, especially across very different societies and (because the stories are hundreds and probably thousands of years old) across time. Instead of framing, 'reaching towards' is what such an activity does. An analogy would be, say, a 16th century painting from Europe depicting the story of Christ's Nativity many centuries before in ancient Palestine. That artist, whether they are painting for devotion or for patronage or, as may be likely, both, cannot in the making of that painting, I believe, be seen as only 'appropriating' the teachings of and folklore around that religion. Rather they are responding in a way that is paradoxically distanced and dedicated: if they are an appropriator in some way they are also and, perhaps more firmly, an apostle.  They are also bringing in their contemporary world – the architecture of the stable, the nature of the snow – all European rather than Palestinian (in poetry, we would think of Peter Whigham's Catullus or Christopher Logue's Homer, where the world of now glances through the world of the past).
I am also aware that this painting analogy is itself a very Western one, and I use it here to give the  opportunity to pause to remember what trauma Christian organisations enacted on Inuit and other indigenous communities in Canada up until very recently, for example through the brutal residential schools systems. In fact in writing these poems I was driven by the sense that these stories -- where creatures are 'human'' and humans 'creaturely', all within a nature-space that depends on each and their relationship to each other -- were significant not just for their narrative interest but for their reflections on human behaviour. To write the tribute that The Owner of the Sea became was to place Inuit ideas, with all their unsettling challenges and breath-taking beauty, right into contemporary discourse, where they are much needed.
Richard Price is Head of Contemporary British Collections at the British Library. Richard's The Owner of the Sea: Three Inuit Stories Retold is available here.
16 April 2020
Above: 'HMS Assistance and Pioneer in Winter Quarters', from A Series of Fourteen Sketches Made during a Voyage up Wellington Channel [BL1781.a.23]
It feels like it has been years since I wrote something for the Americas blog (actually, I think it has been) but recent days have got me thinking about old research and getting back to writing. Unfortunately, this is because I've spent the last two weeks pretty much staring out the same window. I've been holed up in bed getting over what seems to have been a bout of Coronavirus. I have been fortunate in terms of how hard it has hit and I'm lucky to be on the mend now. So, this turned my mind to getting better physically and getting active mentally, which reminded me about my work on the search for the Northwest Passage.[i]
Why? Well, for many Europeans and Americans who visited the North American Arctic in the nineteenth century overwintering was part and parcel of the expedition. Sometimes this was deliberate, in the case of multi-year voyages of exploration, and sometimes it was accidental, for unfortunate crews that had bad luck or worse plans. For every expedition that spent the winter in the Arctic one thing was essential, keeping mind and body active in often confined and restrictive conditions. I think you can see where this is going.
Winter in the Arctic was a time when expeditions could get important survey and exploration work done but for most, spending winter in the Arctic was about one thing: waiting out the dark, cold months so the sun would return, the ice might melt and activity could resume again. These sailors, then, were isolated, alone together and with limited space in which to do all they needed in order to thrive. Yet, many crews successfully navigated these winter months and, not only that, came to summer feeling fit and enthusiastic for the back-breaking work ahead. Which leads me to wonder, what did these crews in the Arctic do to thrive in the winter months of isolation and can we learn anything from them? Here are the best and, sometimes, simplest things captains and crews did to make the most of the winter:
Get dressed
First off, the absolute fundamental. It was easy for discipline to break down in the early months of winter, especially in crews who were not expecting to be stuck in the Arctic, and one of the first signs of trouble was the crew refusing to dress and clean. In the winter of 1897, the crews of eight American whaling vessels were trapped in ice off Point Barrow when winter came early. Later, when a crew from the US Revenue Cutter Bear reached them it became immediately clear that discipline had broken down as no one had cleaned or changed their clothes for months.[ii] As a result, the first thing the commander of the relief expedition did to rebuild morale was to order everyone to wash and change their clothes on a regular basis. Which probably means I should transition out of sweatpants at some point.
Above: a game of Arctic cricket. From, Journal of a second voyage of discovery for a North-West Passage [BL G.7394]
Exercise
Almost all Navy expeditions to the Arctic recognised the importance of exercise during the winter months. However, not everyone had the luxury of the space and conditions that allowed Capt. Parry's crews to organise games of cricket on the Arctic ice, as pictured. For those stuck on their ship, focus turned to things like tests of strength, indoor athletic competitions and so on. All of which means that running a marathon on your balcony probably isn't a new phenomenon.
Learn
Stretching your mind was crucial during the winter months. When Sir John Franklin's ill-fated expedition departed for the Arctic, it took equipment for evening schools in the winter months. On top of the exercise books, work slates and other materials, each of Franklin's ships carried a library of 1,200 publications ranging from magazines to best-selling novels, to technical manuals.[iii] So if you're starting a new book or learning a new language right now then you are following in the footsteps of many Arctic over-winterers before you.
Above: Arctic entertainments, Illustrated Arctic News [BL: 1875.c.19]
Play
Crews bound for the Arctic also frequently took instruments with them and during the winter months these could form an integral part of the plays, balls and farces organised on ship. These entertainments, such as the 'Grand Bal Masque' shown here in the Illustrated Arctic News were an important way of relaxing discipline and, most importantly, blowing off steam.[iv]
Write
Finally, writing. Capt. Parry's first command in the Arctic, 1819, saw his crew stuck in the ice for months and overwintering in the Arctic. Science Officer Edward Sabine decided the crew should write and print a newspaper on board ship, giving rise to the North Georgia Gazette and Winter Chronicle.[v] Sabine's idea was so successful it was replicated on many later expeditions, including that of the Resolute (see The Illustrated Arctic News, above) and subsequent Antarctic expeditions under Scott and Shackleton.
These five ways of getting through the Arctic winter may even help in the coming months. I plan on trying them all out as soon as I can, although exercise may have to wait a while. However you approach it, take care and stay well.
[PJH]
[i] Lines in the Ice, BL Publishing 2016 [BL LC.31.b.17528]
[ii] Report of the Cruise of the U.S. Revenue Cutter "Bear" and the overland expedition for the relief of whalers in the Arctic Ocean, from November 27, 1897, to September 13, 1898. [With maps and illustrations.], Washington, 1899 [BL General Reference Collection A.S.538]
[iii] Michael Palin gives a detailed account of the equipment taken for the expedition in, Erebus (2018) [BL General Reference Collection DRT ELD.DS.317564]
[iv] Facsimile of the Illustrated Arctic News  published on board H.M.S. Resolute: Captn. Horatio T. Austin, in search of the expedition under Sir John Franklin. Published in London on 15 March 1852 [BL 1875.c.19]
[v] The North Georgia Gazette and Winter Chronicle, reprinted in London by John Murray, 1821 [BL P.P. 5280]
10 August 2015
In case you missed Friday's lecture, we're re-posting this piece from our BL Science colleagues' blog. Over the summer the British Library Americas Blog and U.S. Studies Online will be publishing a series of posts as part of the Eccles Centre's Summer Scholars 2015 series of talks. The articles are based on talks given by a range of writers and scholars conducting research at the British Library thanks to generous research fellowships and grants awarded by the Eccles Centre. This post is by Marionne Cronin, University of Aberdeen, on how aviation changed the nature of polar exploration. A schedule for the remaining Scholars talks can be found here]
For Americans, the spring of 1926 was an exciting time in long-distance aviation.  The newspapers were full of thrilling tales of pioneering flights, including three aerial expeditions aiming for the North Pole.  The excitement came to a head on 9 May 1926, when Richard E. Byrd, a young American naval aviator, returned to his expedition's base at King's Bay, Spitsbergen (Svalbard), after a flight of just over 15 hours, proclaiming that he and his co-pilot Floyd Bennett had become the first people to reach the North Pole by air.  Byrd's announcement triggered a patriotic outpouring in the American press, with headlines trumpeting the United States' polar conquest.  Byrd returned home a national hero, where he was met by cheering crowds and public accolades, including the Congressional Medal of Honor.
But what exactly were these crowds cheering? 
In part, they perceived Byrd's feat as evidence of America's technological progress and as a symbol of their nation's modernity.  Celebrating the mechanical triumph, however, also risked undercutting the heroic nature of exploration, particularly when the flight was compared to previous expeditions, which had produced images of intrepid fur-clad explorers battling their way across the dangerous polar ice.  By lifting the explorer high above the ice and shielding him within the body of a machine that carried him towards the pole, the airplane seemed to make the process far too easy to be considered heroic.  Much as it jeopardized the explorer's heroic status, the airplane also threatened to domesticate the Arctic, thereby destroying its imaginative potential as a space for heroic adventure.  In particular, the use of aircraft seemed to shatter the Arctic's image as a theoretically untouched wilderness cut off from the modern industrialized world.
How was it, then, that Byrd continued to be seen as an exceptional man, even when ensconced in the machine's protective shell soaring high above the polar ice?  The process of creating a polar hero in this context was not straightforward and the result was not a single stable image.  This heterogeneity, however, offers a window into how Americans in the interwar period sought to reconcile a celebration of mechanical progress with ideas about heroic masculinity.
On the one hand, many narratives rehearsed various longstanding romantic images of polar exploration in order to buttress Byrd's heroic status.  But, perhaps more interestingly, several of these narratives also reimagined the practice of exploration itself.  These accounts extended the landscape of exploration vertically, imagining the skies as a new field to explore.  By underscoring the dangers present in the Arctic atmosphere – its extreme temperatures, unpredictable weather, and unknown aerial currents – newspaper stories created a new environment that could test both the polar explorer and his machine.  Much as the deep oceans and space would emerge as new frontiers later in the century, in these accounts the air became a new wilderness for a modern society to explore.  These stories also drew on popular interwar images of aviation, which imagined it as a technology of wonder and grace that enabled aviators to escape the quotidian mundaneness of everyday life and to enter a new, transcendent world.  Thus, much like the polar explorers of earlier eras, the pilot became a daring pioneer who stepped into the unknown and was transformed into a heroic figure.
To remain a polar hero, however, Byrd needed to be more than a mere passenger on this aerial adventure.  Instead, his ability to control the machine, to bend its power to his will, became a key component of what it meant to be an aerial explorer.  In particular, coverage emphasized the flight's mental challenges, specifically the intense concentration demanded by the mathematical calculations required to navigate over the polar ice.  Thus, aerial exploration became as much a mental as a physical challenge.  By demonstrating the mental ability necessary to control the machine, Byrd acquired the power to penetrate previously inaccessible areas, to see further than terrestrial explorers, and therefore to pierce the Arctic's secrets.  At the same time, risks from technology itself, in the form of mechanical failures, offered a new set of hazards for the technological explorer to overcome.  The technology itself thus became a site of exploration as the venture into new arenas tested both the explorer's and the machine's limits. The explorer's willingness to brave these dangers and his ability to control the machine under difficult conditions became important signs of his heroic masculinity.
Through the newspaper stories covering Byrd's flight, we can see their authors exploring the question of how to successfully incorporate the machine into exploration narratives without abandoning the hero's central place.  By reimagining the nature of exploration and reconceiving of the air as a new frontier, these authors sought to create an image of heroic exploration that could accommodate the presence of the machine.  In doing so they articulated a vision of the technological explorer that would influence later depictions of figures such as Charles Lindberg and the first astronauts, and would continue to influence perceptions of heroic masculinity across the 20th century.
Dr Marionne Cronin is a Postdoctoral Research Fellow in the Northern Colonialism Programme at the University of Aberdeen, where her research investigates the place of technology in the culture of polar exploration. She is currently working on a book examining how interwar polar explorers' use of new technologies – particularly airplanes – was incorporated into popular images of heroic exploration, masculinity, and modernity. She will be an Eccles Centre Visiting Fellow in North American Studies in June-August 2015.
If you want to learn more about science in extreme environments you can watch the video of our recent TalkScience event here.
22 July 2015

The written word, as we all know, is a bit passé. But Team Americas is keeping with the now, and putting some spoken-word Americana on Soundcloud, thanks to the Eccles Centre (they were all recorded at various events organised by the centre).
The latest is the Future of the Arctic, marking the United States' 2015 role as Chair of the Arctic Council with a panel discussion on this now precarious region. 
[MJS]
13 April 2015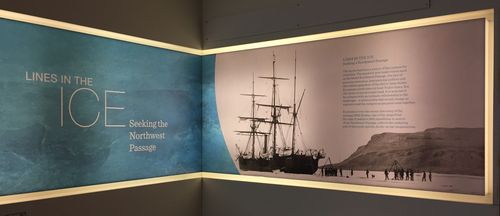 Above: a lightbox from Lines in the Ice [image by PJH]
Two things you won't find in 'Lines in the Ice: seeking the Northwest Passage' are a map showing the route of the Passage and an authoritative statement as to who, in the end, discovered this fabled path. As for the map, this is because there is no one route that can be rightly called the Northwest Passage, instead there are myriad channels scattered throughout the archipelago of northern Canada. Similarly, discerning exactly who discovered the Passage is akin to navigating a path through an archipelago of competing claims and achievements.
First things first, a rhetorical question; who do you think discovered the Northwest Passage? If you're British you probably think of Franklin himself, lost in the twilight years of his career in an attempt to fill in the last few blanks on the map of the Canadian Arctic. The evidence for what Franklin did or didn't discover is patchy but by reaching the north of King William Island Franklin did connect the exploration done in the Melville Sound with that done on the north Canadian coast (in which he too was involved). As a result, Lady Jane Franklin felt able to argue he and his crew should receive the honour. However, this is not the whole picture and, indeed, a story lies behind Lady Franklin's motivations.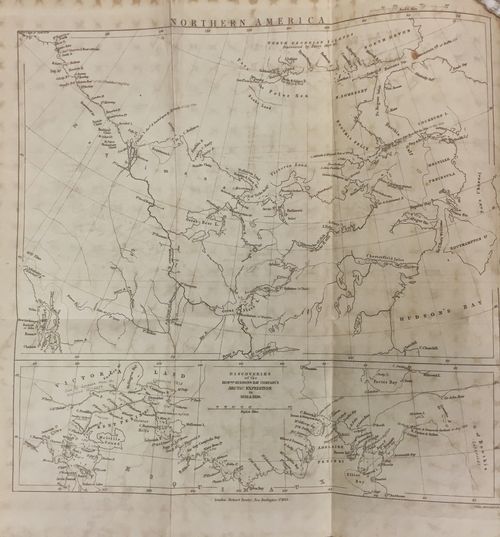 Above: the work done by Simpson and Dease for the hudson's Bay Co. up until 1839 [BL: 1424.h.2]
Before we discuss this, mention must be made of an oft-forgot expedition instigated not by the Navy but by the Hudson's Bay Company. The expedition of Simpson and Dease was an attempt to fill in the blanks on Canada's north coast and it did so very differently from the Navy's standard practice; meaning they travelled overland and lightly in small teams. Thomas Simpson, cousin of the director of the Hudson's' Bay Company, Sir George Simpson, made great strides in completing the charting of Canada's north coast and also claimed, after an expedition in 1839, to have, 'secured for our ... Company the indisputable honour of discovering the north-west passage...'. Closer analysis suggests Simpson may have been referring, peculiarly, to the completion of the western part of the passage, especially as he wished later to finally complete the survey of the Passage over land. Ultimately Simpson was denied the chance as he died in mysterious circumstances but his and Dease's work, which came so close to completing a charting of the Passage, reminds us how many endeavours were involved in the completion of this work of centuries.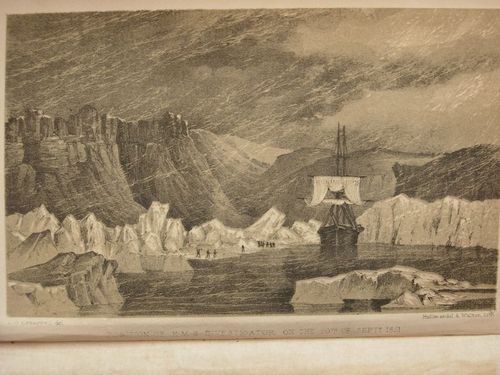 Above: HMS Investigator to the north of Banks Land, from where McClure would spot the Melville Island [BL: 10460.e.10]
Two other names of note in the final chapters of the discovery of the Northwest Passage are those of Captain Robert McClure and Dr. John Rae. McClure, at this time a Commander, was involved in the search for Franklin and ended up being the first commanding officer to complete the Passage. Having entered from the Pacific and reached Banks Island (before being frozen into the ice) McClure could see Melville Island and the site of Parry's furthest west of 1819. By travelling overland McClure linked the two points of exploration in 1851 and his expedition was the first to connect together a complete Northwest Passage. As a result, on his return home, overlooking having lost a ship and disobeyed the orders of his superior officer, McClure was given a hero's welcome and awarded £10,000 by Parliament.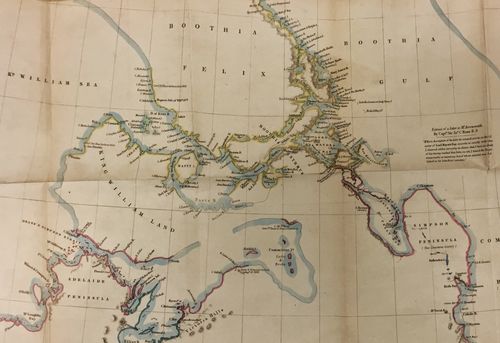 Above: a map from the account of Rae's 1848 and 1849 voyage. The blank area to the east of 'King William Land' would be charted as sea by Rae in 1854 [BL: 2370.e.4]
Despite the efforts of McClure and his crew, the Northwest Passage discovered in 1851 was, for all intents and purposes, useless due to the amount of ice found there each summer. An ice free route was discovered by Dr. John Rae in 1854, the same year as he discerned the fate of Franklin and his crew from the accounts of Inuit he encountered. Rae discovered that 'King William Land' was actually King William Island. Franklin had become stuck in the ice attempting to navigate the western side of this landmass but the strait discovered by Rae is frequently free of ice and was used by Amundsen during his navigation of the Passage from 1903-1906.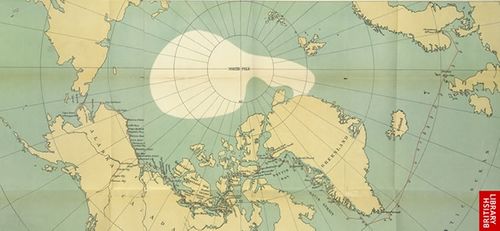 Above: the route of Amundsen's navigation between 1903 and 1906, using the areas charted by Rae, Franklin, Simpson and Dease [BL: 2352.f.4]
Both McClure and Rae's discoveries can be regarded as phenomenal achievements and each are regarded, by various historians, as being the true pioneers of the Northwest Passage. And yet, their names are less well-known than Franklin's. This is, in part, because of the political and popular agency of Lady Jane Franklin who, after McClure's award and Rae's return with a story involving death and cannibalism, sought to salvage what she could of her husband's reputation. While discrediting McClure and Rae, Lady Franklin also set about developing the popular idea that Franklin perhaps navigated the Passage first or at the very least connected together its few remaining dots through his overwintering at King William Island.
Above: Franklin's statue in Waterloo Place [image by PJH]
Such ideas would subsequently be set down in print and memorialised in statues. Franklin's statue today stands tall in Waterloo Place, a site of memorialisation for some of the British Empire's most notable apostles and martyrs, where the accompanying plaque reads, 'They forged the last link [of the Passage] with their lives'. While the inscription does not explicitly state that Franklin and his crew discovered the passage that could instead be interpreted as a testament to the efforts of both Franklins and the many other individuals who, in these last years, navigated the archipelago and charted, 'a Northwest Passage to the sea'.
'Lines in the Ice' is, sadly, now in its last week. To see more items from the expeditions of Franklin, McClure and Rae, not to mention myriad rare maps and unique historical accounts, be sure to visit the Library before closing on April 19th.
[PJH]
08 April 2015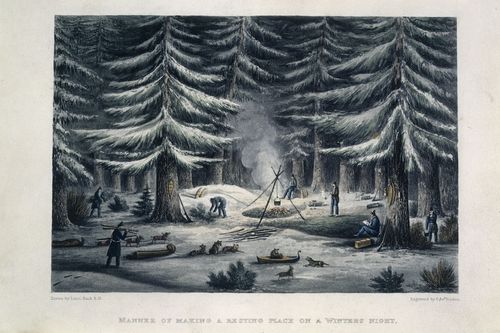 Above: A winter camp during Franklin's famously hungry first expedition [BL: 10460.c.34]
When we first pitched Lines in the Ice as an exhibition idea one thing was clear from the start, this could only ever hope to be an introduction to the Library's polar and even Northwest Passage related collections. As a result all the individual stories that form the whole of the exhibition are notes in wider narratives which could be further expanded by looking deeper into the Library's collections. Even Franklin, who receives so much attention on the gallery floor and was one of the drivers for putting on the exhibition, has a larger story to tell through the Library's collections.
As the exhibition draws to a close (we've now got less than a fortnight to run) I'm thinking about Franklin again and all that the collections here can tell us about his role in the search for the Northwest Passage. As a result of his fate and the humorous sound bites about his overland expeditions Franklin is often popularly remembered as a failure. Lines in the Ice has sought to raise questions about this perspective and my recent work on our materials relating to Franklin has only affirmed my opinion that a man (and a team) of such determination and who achieved such monumental feats of endurance cannot be so easily dismissed.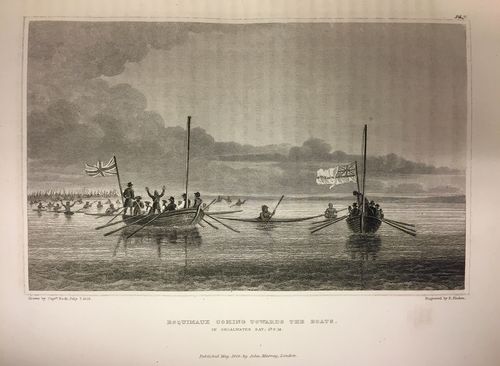 Above: Franklin's team are approached by Inuit kayaks during his second overland voyage [BL: G.7398]
The appendices to Franklin's published accounts illustrate the fact. Not only did he and his team chart large tracts of the Arctic coast of North America while enduring some of the worst weather on record they also recorded the climate, geological observations and the flora and fauna of the areas they crossed. The result is a detailed record not just of the expedition but of the ecology and climate of northern Canada in the early nineteenth century. On top of this, other members of the expedition left behind records of the individuals and cultures they encountered on the journey, most notably in the form of Lieutenant Back's translation of voyageur songs, 'Canadian Airs'.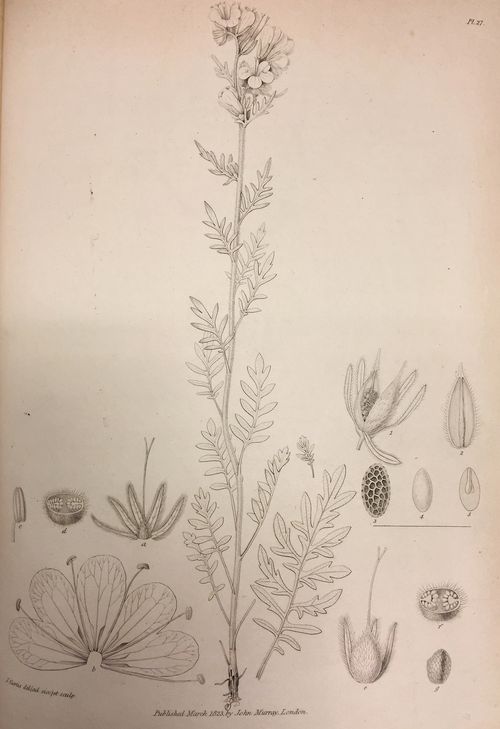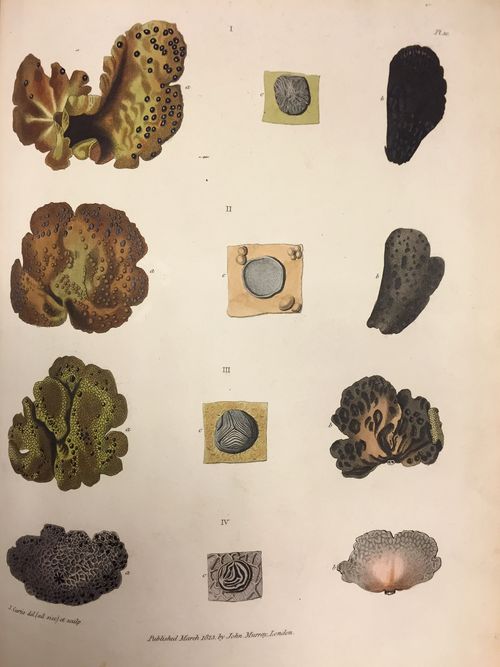 Above: some of the illustrations from the zoological appendix to Franklin's first account, compiled by Joseph Sabine [BL: 569.f.16]
In the context of the first expedition all of this was achieved in the face of not only extremely bad weather but an ongoing feud between the North West and Hudson's Bay companies that all but deprived Franklin and his team of the required support. While the expedition was a disaster and this led to a high rate of death (and unsavory incidents) amongst the men the significance of factors originating outside of the expedition must be noted, as should the achievements the expedition managed to make. That men survived and produced an insightful record of the journey makes it less easy to dismiss Franklin's overland expeditions just as poorly-conceived follies. Instead, we should perhaps view them within the context of Franklin's life as a whole, one marked by distinguished service, postings around the world and an ability to survive the worst war and exploration could throw at him. At least until his later, fateful, journey.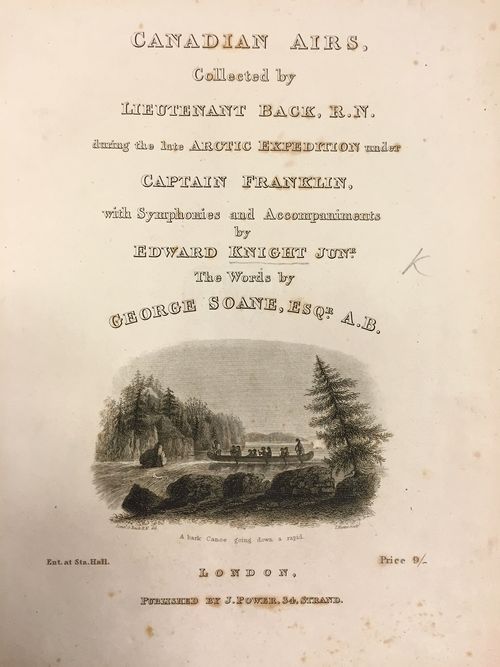 Above: Frontispiece of 'Canadian Airs' produced from songs compiled and translated by Lieut. George Back during Franklin's first overland expedition [BL: G. 416]
With this in mind, why not pop on your boots and come to see Lines in the Ice before it closes on April 19th? You'll not only learn more about Franklin and the search for the Northwest Passage, you'll hopefully get a taste to find out more in our reading rooms too.
[PJH]
Americas and Oceania Collections blog recent posts
Tweets by BL_Americas
Other British Library blogs