24 March 2020
American poet, painter, activist, pioneering figure in the Beat movement, and co-founder of City Lights Bookseller, Lawrence Ferlinghetti turns 101 on March 24 2020

The Library's collections are rich in Beats and Ferlinghetti material (take a look at our Beats bibliography if you're interested to see a comprehensive overview of holdings). But with so many pages of ground-breaking content to leaf through, what would be appropriate to feature to mark the artist's 101st birthday?


Pictures of the Gone World seemed like a good option (fifth printing edition held at BL shelfmark 011313.t.3/1.). This was Ferlinghetti's first book, published in 1955 by his own City Lights Books, in a 500-copy letterpress edition (City Lights Booksellers & Publishers website). Two years earlier, he had co-founded City Lights Bookstore in San Francisco together with college professor and editor of City Lights magazine, Peter D. Martin. The store was the first all-paperback bookshop in the United States (The Guardian online, Interview with a Bookstore: San Francisco's historic City Lights) and would become 'the launching pad for the San Francisco Writers Renaissance' (Douglas Street in the Southwest Review, Vol. 66, No. 2 [Spring 1981], p. 228. Access via JSTOR, available in British Library Reading Rooms). For more than 60 years, City Lights "has served as a 'literary meeting place' for writers, readers, artists, and intellectuals to explore books and ideas." (City Lights Booksellers & Publishers website).


Pictures of the Gone World was Number One in the Pocket Poets Series launched by the City Lights Books. One of the series focuses was to provide paperback, and thus more affordable, content to readers, and the book's publication helped to extend Ferlinghetti's 'concept of a cultural meeting place to a larger arena.' (City Lights Booksellers & Publishers website). With mentions of London, Paris and the harbour of San Francisco in the poems' titles, the collection not only documented Ferlinghetti's artistic development but also acted as a kind of 'travel journal of the place in which he had lived' and visited (Ferlinghetti: A Biography by Neeli Cherkovski, page 82), taking readers around the world as they dipped in and out of his work, while the small design allowed for them to carry Ferlinghetti around with them on their own travels.

The Pocket Poets series went on to include several Beat classics including Allen Ginsberg's Howl and other poems (1959 edition held at BL shelfmark 011313.t.3/4) – Number Four in the series – which was published in October 1956 and met with immediate, if controversial, success. The landmark poem's concept, together with Ginsberg's powerful delivery at group readings, made it 'a crucible of cultural change. Except for the response to Dylan Thomas' readings in America, never before had a modern audience reacted so passionately, or identified so completely with a poet's message.' (Naked Angels: The Lives & Literature of the Beat Generation by John Tytell, page 104). You can read more about the reaction to, and impact of, Howl in our blog from 2013. Other early items in the Pocket Poets series included William Carlos Williams's Kora in Hell: Improvisations, Marie Ponsot's True Minds and Poems of Humor & Protest by Kenneth Patchen.
The little paperback held by the British Library features the unassuming, yet at the same time, striking black and yellow cover – the style of which would be replicated through the Pocket Poets series and at just 75 cents a pop, whose simplicity made it something that could be available to many. As the series' name implies, the collection 'can be carried in a pocket, and read in less than an hour.' (Beat Poetry by Larry Beckett, page 17)

Between the pages readers are greeted with some of Ferlinghetti's most memorable works including 'The world is a beautiful place' – a melancholy and ironic ode to one's bittersweet existence on earth. In Ferlinghetti's style, readers are ping-ponged across the page, yo-yoing between scenes of beauty and happiness, 'smelling flowers' and 'swimming in rivers', then thrown into despair: 'if you don't mind a touch of hell' and 'some people dying all the time'. Swayed back and forth, the reader is constantly reminded of being destabilised each time something comforting is mentioned: 'The design… reflect[ing] Ferlinghetti's continuing concern with the way the poem looked on the page… [he] was satisfied that the arrangement of the words enhanced the meaning of the poem.' (Ferlinghetti: A Biography by Neeli Cherkovski, page 82)

Many of the poems in this collection are said to 'reveal…the quiet struggle of ordinary people. The unusual distribution of lines on the page, and the inventiveness with word play and rhyme, show Ferlinghetti's sense of freedom, itself a key notion in his work.' (Beat Culture: Lifestyles, Icons, and Impact edited by William T. Lawlor, page 106)

'The world is a beautiful place' can certainly be seen to exemplify such a statement.
Despite being written in the mid-20th-century, this timeless poem doesn't feel out of place when read in 2020. It's a testament to Ferlinghetti's skill and intuition; to be able to tap into subject matter and raise questions that feel as relevant today as when he first wrote them some 65 years ago.

Happy birthday, Lawrence Ferlinghetti.

The British Library holds a number of items from City Lights Books Pocket Poets Series and publications from Ferlinghetti, including first editions, some inscribed by the poet himself. Below is a selection of suggested reading. Follow the link to our Beats Bibliography for a more complete overview of Library printed holdings on the subject.
[Blog by RSC]

Bibliography and suggested reading
A Coney Island of the Mind: poems by Lawrence Ferlinghetti; portraiture by R.B. Kitaj (San Francisco: Arion Press, 2005) shelfmark RF.2007.b.21. Note: A fine press special edition of Ferlinghetti's famous work from Arion Press.

Beat Culture: Icons, Lifestyles, and Impact edited by William T. Lawlor (Santa Barbara, California; Oxford: ABC-CLIO, 2005) shelfmark YC.2007.b.56

Beat Poetry by Larry Beckett (St. Andrews, Scotland?: A Beatdom Books Publication, 2012) shelfmark YK.2014.a.4349

City Lights Booksellers & Publishers website (accessed 11 March 2020) 

Ferlinghetti's Greatest Poems by Lawrence Ferlinghetti; edited by Nancy Peters (New York: New Directions Publishing, 2017) shelfmark YD.2018.a.4686

Ferlinghetti: A Biography by Neeli Cherkovski (Garden City: Doubleday, 1979) shelfmark X.950/10246

Open eye, open heart by Lawrence Ferlinghetti (New York: New Directions, 1973) shelfmark RF.2002.a.49. Note: Inscribed by Ferlinghetti with cover photograph of Ferlinghetti by Ilka Hartmann.

Pictures of the Gone World (Fifth Printing) by Lawrence Ferlinghetti (San Francisco: City Lights Books, 1955) shelfmark 011313.t.3/1.

Naked Angels: The Lives & Literature of the Beat Generation by John Tytell (New York; London: McGraw-Hill, c1976) shelfmark YA.2000.a.11944

The Guardian, Interview with a Bookstore: San Francisco's historic City Lights (accessed 16 March 2020)

The Guardian, San Francisco's City Lights: the bookshop that brought us the Beats (accessed 16 March 2020)

Review of Ferlinghetti: A Biography by Neeli Cherkovski in Southwest Review, Vol. 66, No. 2 (SPRING 1981), pp. 228-230, by Douglas Street. Accessed via JSTOR, available from Britsh Library Reading Rooms (accessed 12 March 2020)

Who are we now? by Lawrence Ferlinghetti (New York: New Directions, 1976) shelfmark YA.2002.a.19832. Note: Signed and inscribed by Ferlinghetti.
23 September 2019
And who would disagree with Jack Kerouac's assessment of the Swiss-born American photographer, who died at the age of 94 on 9th September. There have already been numerous obits etc on Frank by others more expert on the subject than me, so I thought I would just take a brief look at the publishing history of Frank's most well-known book -The Americans.
Frank was awarded a Guggenheim fellowship in 1955 for his project 'to photograph freely throughout the United States, using the miniature camera exclusively…,' his application having gained support from a number of photographer luminaries such as Walker Evans and Edward Steichen. The funding enabled him to make several trips from New York over 1955/56, including one 8 month trip to the West Coast in a 1950 Ford Coupe. Frank took over 20,000 images on nearly 800 rolls of 35 mm film, many of them being processed and contact printed en route, which no doubt enabled him to more easily review and develop some of the themes which recur in his work – symbols of popular culture, race and class, religion, music etc. Frank later wrote "I have attempted to show a cross-section of the American population. My effort was to express it simply and without confusion. The view is personal…." (quoted in The Book of 101 Books, edited by Andrew Roth, PPP Editions, New York, 2001, p.150).
Thirty-three of these photos appeared at the end of 1957 in US Camera Annual, but Frank's intention had always been to produce a book. From his huge collection of images, he somehow managed to select just eighty-three photos, but finding a publisher proved to be even more difficult. It was Frank's friend Robert Delpire, the influential Paris-based art publisher, editor and curator, who was eventually to publish 'Les Américains' in 1958. It's interesting to take a closer look at this first edition since it's a very different book to the later and much better known American edition, even though the photos and the sequence of them is exactly the same. Delpire had a strong interest in documentary photography - and his own distinct vision for the book. In addition to contributing his own writing, Alain Bosquet (poet, novelist and translator) gathered together texts by writers as diverse as Simone de Beauvoir, Erskine Caldwell, John Dos Passos, Benjamin Franklin, Abraham Lincoln, Richard Wright, Walt Whitman and many many more to accompany the photos. Appearing in Delpire's Encyclopédie Essentielle series in 1958, Les Américains also includes sections on significant dates in US history, population statistics, and encompasses themes such as politics, religion and so on. Frank's photographs therefore become more like illustrations to a sociological and political text. Each photo faces a page of text and our reading of the photos is inevitably influenced by what appears in that text. As David Levi Strauss has commented, 'That powerful image from Dolores Park in San Francisco where the African American couple turns toward the camera in anger is wholly influenced by the facing page quotes from Faulkner and John Brown (The Book of 101 Books as above). As you will also see from the below image, no photograph was included on the cover, rather it has some drawings by Saul Steinberg.
It's not surprisingly that Frank wasn't overly happy about this edition, and sought to persuade Grove Press to publish an American edition. Fortunately he was successful and this time all the texts were removed, not least because some of them were considered too critical of the US, un-American in fact. For this we can be thankful. As already mentioned, the eighty-three photos and their sequencing remain the same, but now each photo is opposite a white page, blank save for a small caption which provides the location of each image (much like the format of Walker Evans' earlier and influential American Photographs, which Frank so admired). Now we have the space to appreciate the photographs and we can interpret just as we want all those images of flags, funerals, cars, jukeboxes and so on. The one other difference is that this edition, of course, carries an introduction by Jack Kerouac. The two men had met at a party in 1957 and Frank had shown Kerouac some of the photos from his road trips. It's not hard to imagine why they had appealed to Kerouac, whose novel On The Road appeared in September of that year. 'The humor, the sadness, the EVERYTHING-ness and American-ness of these pictures!' The introduction is an almost perfect accompaniment, and also helped to situate Frank as a part of the Beat Generation. In fact, by the time the edition appeared in 1959, Frank was already exploring the medium of film and was making Pull My Daisy with Kerouac, Allen Ginsberg, Gregory Corso et al.
Surprising as it might now seem, the reception of The Americans on publication was quite mixed. Some people loved it, but it also attracted a lot of criticism, both for the quality of the images (described as blurry and grainy) but also some considered it to promote a too negative view of America. It is also hard to believe that the MOMA bookshop even refused to stock it at first. Of course now it has become one of the most influential and celebrated photobooks of the Twentieth Century. As David Campany has written, it was a survey of 'all that seemed uncomfortable in the American psyche, captured by a photographer with a rare ability to turn the most unpromising moments into new symbols,' describing it as the 'visual equivalent to jazz'. (David Campany, The Open Road, Aperture, 2014, p.25). The jazz analogy often appears in writing on the book, and I particularly like this sentence on the sequencing of the photos from Martin Parr and Gerry Badger's The Photobook: a history, vol. 1. 'Ideas ebb and flow, are introduced, discarded, recapitulated, transfigured, transposed, played off and piled up against each other with the exuberant energy of a Charlie Parker saxophone solo.' (Phaidon 2004, p.247).
Sadly the BL does not have a copy of the first edition of The Americans since what we now refer to as photobooks were usually not considered for acquisition for the old reference collections in the past. Consequently, the only copies of many American photobooks that we have are often in what used to be the old lending collections. Some gaps have been filled more recently but first editions are usually too expensive these days as they have become so collectable. At the end of the day, it's the images that you want so reprints still work for many purposes.  In this case, the Library has an Aperture edition from 1969 (shelfmark AL69/4991) which includes a section of filmstrip images at the end (Frank comments that they 'represent for me the continuation of my work') plus several later reprints and editions. We do, however, have Les Américains (Shelfmark RF.2017.a.63). David Levi Strauss has said that 'The French edition is sociology, the American edition is poetry.' You can look at them both and decide for yourself.
I started with Kerouac so I'll end with him too:
'Robert Frank, Swiss, unobtrusive, nice, with that little camera that he raises and snaps with one hand he sucked a sad poem right out of America onto film, taking rank among the tragic poets of the world!'
(above copy of The Americans is my own copy of the 50th anniversary edition, published by Steidl in 2008)
By Carole Holden
07 October 2013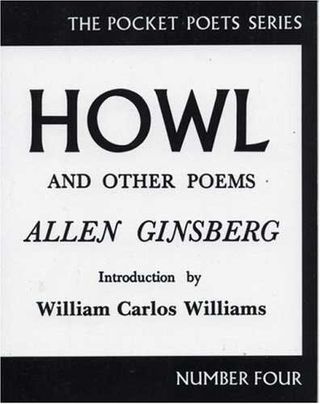 San Francisco: City Lights, 1956
Literary history was made on 7 October 1955, when Allen Ginsberg performed the first reading of his poem Howl (addressed to his friend Carl Solomon, "intuitive Bronx Dadaist and prose-poet"), at the Six Gallery in San Francisco. Kenneth Rexroth presided over the reading (other poets to recite their works that night were Philip Lamantia, Gary Snyder, Michael McClure and Philip Whalen) and Rexroth's wife Marthe published a limited mimeographed edition of Howl and other poems to give to friends. This edition led to the larger selection of poems that was published in October 1956 to immediate and controversial success by Lawrence Ferlinghetti (also present at the reading) as number 4 in his City Lights Pocket Poets series. In March 1957, Customs and police seized copies of Howl when they arrived in the U.S. from their British printer, on the grounds of obscenity. Further sales were banned until a long court case, with Ferlinghetti as defendant, finally decided that material with "the slightest redeeming social importance" is protected by the First and Fourteenth amendments.  This legal precedent was to allow later publication in the U.S. of such works as Lady Chatterley's Lover and Henry Miller's Tropic of Cancer.  Ginsberg's first collection of poems remains one of the best-selling volumes of American poetry.
Bibliographies of our printed and sound Beat holdings are available on our resources blog page (including our recordings of Ginsberg reading Howl), and all our Beat-related blogposts can be found here.
[C.H.]
25 September 2013
This time last year Matt and I were frantically trying to get our labels done in advance of the opening of our On the Road exhibition, not to mention eagerly awaiting the arrival of Jim "keeper of the scroll." We were really pleased that the exhibition proved to be so popular over the following three months, although it's perhaps not too surprising with such a star item on display. But we were also pleased with the "look" of the exhibition, much of which was down to our great designer of course, but also to the fact that we were given permission to use some wonderful photographs by both Allen Ginsberg's Estate and Carolyn Cassady. In our view, Carolyn took the best photo of Kerouac and Neal Cassady together (though she often doesn't seem to get credited) and we were delighted to have a big reproduction of it in the exhibition (it now lives in our office). In fact, she was hugely supportive throughout our preparation for the exhibition, as she had been with another Kerouac event we had held a few years earlier to mark the 50th anniversary of the publication of On the Road.  She had been on great form that evening (a recording "An evening for Jack Kerouac" was made and is available in the reading rooms) and she had also donated to us a tape made in the Cassady's home in San José in 1952, of Neal and Jack in conversation (an excerpt of Neal Cassady reading Proust featured on the soundpoint in the exhibition). So we were really looking forward to seeing her again at the opening of On the Road, but unfortunately, Carolyn was unable to make it as she had been having problems with her leg and the journey up to London from Berkshire would have been too taxing. And now we won't have another chance to see her – we were really saddened to hear the news of her death last Friday. Of course she was 90 years old, but some people you expect to live forever. We'll all miss her.
For more on her eventful and extraordinary life, here are the obits from The New York Times; The Los Angeles Times, and The Guardian; a lovely, much more personal tribute from Brian Hassett; and an interview with Carolyn by Polina Mackay from July 2011. And we of course have her books in the collections, in particular, Off the Road.
And if you've noticed that we're not blogging as much usual – I'm afraid it's because we're a bit thin on the ground at the moment. Beth is on maternity leave, poor Phil had a cycling accident and has broken his arm and hand, and Matt is very preoccupied with Europeana Collections 1914-1918. Oh, and we have a massive office move too. But stick with us – we'll be back!
P.S. You can still read all our On the Road exhibition and other Beat-related blogposts here.
[C.H.]
06 December 2012
 It won't be too long before Jim 'Keeper of the scroll' returns to roll up On the Road and take it back home to Indiana. I've no idea how many visitors have come to see it while it's been on display at the Library but it's A LOT. And it's been a real pleasure to see so many people, of all ages, carefully scrutinising the scroll.
When he was over in October, Jim told me that the scroll had recently been scanned -once he had managed to source a big enough scanner! This was an important step for the future preservation of the manuscript and is a demonstration of the careful stewardship of its owner. But scanning had also enabled Jim to locate particular passages more easily and to generally become even more familiar with the scroll, whilst also reducing wear and tear at the same time.
Digitisation is, of course, great – I love the way that we're starting to open up our collections and make them more accessible, particularly to those who will never get the chance to come here to use them. But, to state the obvious, digitisation doesn't make the original redundant. It can make something more accessible (both in terms of audience and also in revealing 'hidden' content);  it can help preserve a frail or incredibly valuable original; and we're only really just beginning to get our heads round the potential of digitisation for new modes of scholarship and research. But never underestimate the power of the object.
When Jim started to unroll the scroll in its specially built case, I was surprised at the wave of emotion that hit me. It's a really amazing textual object, and for a moment I felt like I was in that apartment in Chelsea, standing at the shoulder of Kerouac and watching him pound the keys of his typewriter in that manic burst of creativity.
For someone who really only cared about being considered as a writer but who was destined to be forever burdened with the tag of King of the Beats during his short life, Kerouac couldn't have imagined in his wildest dreams that thousands of people would take the time to come to look at his manuscript, - not only here, but in numerous exhibitions across the U.S. and Europe (and by the way, let's hear it for the owner of the Indianapolis Colts, also owner of the scroll, who has allowed it to travel and not kept it locked in a private vault). So, whatever the wonders that digitisation can bring us, would getting up close to a digital version of the scroll bring a lump to my throat and a tear to my eye? I doubt it. You only have until 27 December to come and see it for yourself.
http://www.bl.uk/whatson/exhibitions/kerouac/index.html
 [C.H.]
24 October 2012
 In Matt's last blog Film and On the Road, he referenced Truman Capote's quote (often misquoted),'That's not writing. That's typewriting.'  At the time, a dim memory surfaced in my foggy brain, only to disappear again almost immediately. But it reappeared at the weekend, when a friend and I were browsing in the wonderful bookshop at the Whitechapel Gallery. My friend suddenly waved in front of me a copy of Kenneth Goldsmith's Uncreative Writing: managing language in the digital age. And then I remembered – Goldsmith includes a piece in the book entitled 'Retyping On the Road.' He talks of meeting some students who had been given assignments to write a piece in the style of their favourite author. One had chosen Kerouac and complained at how meaningless the exercise had seemed. Goldsmith thought she would have been better off going on her own road trip, - but then came to a another conclusion. He recalled often seeing art students engaged in copying old masters – and wondered if such 'copying' could be applied to literature, quoting from Walter Benjamin's Reflections 'the power of the text is different when it is read from when it is copied out.' Perhaps the student could retype some (or even better, all) of On the Road, and she might thereby succeed in getting 'inside the text.'
The British artist Simon Morris came across Goldsmith's suggestion and decided to carry it out. Using the scroll edition of On the Road, he began to retype one page a day from the book on his blog Getting Inside Jack Kerouac's Head. He began on May 31, 2008 with that first sentence 'I first met Neal not long after my father died,' (of course, I immediately wondered why he had omitted the second met – it should be 'I first met met Neal'), and continued to the end of the page (ending in mid sentence), then continued the next day with the next page and so on. Every day he would spend c.20 minutes typing a page, finally completing his task in March 2009. Morris says that he would proofread each page, checking for mistakes (so how did he miss that met met?). Having never read the book before, he describes it as 'the most thrilling read/ride of my life,' and talks of the insights he gained into Kerouac's writing. Goldsmith picks up on the fact that Morris found himself accidentally adding his own words – as Kerouac's 'shorthand' allows the reader to complete sentences in their heads. Morris would then delete his own additions in the checking process, but acknowledges that he might have missed some. Goldsmith suggests that Morris's appropriation of the text 'need not be a mere passing along of information,' but something more creative which could lead to 'producing different versions and additions – remixes even- of an existing text.'  Appropriation and re-purposing are of course recurring themes in Goldsmith's writing – often controversial but always challenging and thought-provoking (see for example, his piece in The Chronicle of Higher Education).
The web was the perfect conduit for Morris's performative project – predigital it would have been an altogether different proposition. So the rather surprising culmination to the project was the publication – in print – of Morris's Getting Inside of Jack Kerouac's Head. The book mimics almost exactly the design and typography of the Penguin edition of On the Road (google it), and includes Morris's blog, but commences with the last blog and works backwards. As Goldsmith comments, 'it was jarring to see a blog-driven project reborn as print.' For me, it's a step too far - the blog I get, but not the book.
So has the project been a success for Morris? 'One would hope for some truly profound response but really there is none. I don't feel anything at all. A bit like Jack Kerouac's own journey on the road and into himself in search of something he never really finds…… all I can really say with any certainty is I've never spent such a long time with a book or thought about any book as much.'
For those of you wishing to engage with Kerouac's own typing, the On the Road scroll is on display at the Library until December 27.
[C.H.]
12 October 2012
Truman Capote famously dismissed Jack Kerouac's On the Road in two pithy – and rather tart – lines, 'That's not writing.  That's typewriting'.  (The quotation was later often boiled down to 'that's not writing, that's typing'; a subtly different set of words.  Neither epigram would look good as a blurb.)
Capote, of course, had the honour of having several of his books and stories turned into films and TV shows (indeed, two films inspired by the writing of In Cold Blood were released in the same twelve months).  And, as George Costanza could tell you, a book can be much more easily digested in video form, particularly if you join a bookclub to impress your girlfriend ('If it's not about sports, I find it very hard to concentrate!').  The novella that George was trying to get through – and even fails to watch to the end because he spills grapejuice over the couch and has to flee the appartment – was, of course, Capote's Breakfast at Tiffany's.
The film of Breakfast at Tiffany's, as George failed to notice, takes certain liberties with Capote's typed text.  As Time magazine noted, 'for the first half hour or so, Hollywood's Holly (Audrey Hepburn) is not much different from Capote's. She has kicked the weed and lost the illegitimate child she was having, but she is still jolly Holly, the child bride from Tulip, Texas, who at 15 runs away to Hollywood to find some of the finer things of life—like shoes... after that out-of-Capote beginning, Director Blake Edwards goes on to an out-of-character end'.  The film is also set in the 1960s, rather than the more austere 1940s. 
In contrast, Walter Salles' adaptation of On the Road is pretty authentic, cutting things out of necessity here and there; combining bits of the published novel with the unpublished scroll (such as the reinsertion of the death of Jack/Sal's father at the start of the film, replacing the split with his wife that opens the novel, and by so-doing, emphasising the sense of loss and spiritual search of the novel), and bringing in other bits and pieces (such as Joan Vollmer's marital advice, which is discussed in Ted Morgan's biography of William Burroughs); the scroll itself (which, need I remind you, is on display in the British Library at St Pancras, London until 27 December), makes a brilliant appearance towards the end of the movie.  Indeed, at the previewing screening at the Library this week, members of the audience let out a yelp of delight at this point.  (And, unlike Carole and I, you probably won't be jarred by the Sal/Jacks' correct typing of 'I first met Neal' rather than 'I first met met Neal' or the crisp whiteness of the paper.)  Like the reception of Breakfast at Tiffany's, a lot of critics and viewers have commented on the casting (The New York Times found Hepburn as 'implausible as ever', Capote thought the studio had double-crossed him, and wanted Marilyn Monroe all along), particularly Garrett Hedlund as Dean and Kristen Stewart as MaryLou.  For me, both were more than fine, but Tom Sturridge almost stole it as Carlo Marx/Allen Ginsberg, and has the best 'beat' moments.  Salles also does a good job at drawing out the female characters' roles, something that readers of the book often find troubling, and also in following the structure of the book, which places Denver as the heart of the narrative structure.
I'm not sure what George would make of it; he may find two hours a little long, given his need to visit the bathroom.  And, taking into account his unease with bookclubs, he might resort to a line suggested by a friend of mine, 'that's not filming, that's CCTV', but, that would be wrong of him.  It's a very artful film (with I expect a future nomination for the cinematography by Éric Gautier).  If anything, it's overly true to the book, which does not really make for comfortable viewing or reading; a view nicely summed up in this review by The Scotsman.
[M.S.]
09 October 2012
So did Kerouac really write the scroll in 3 weeks? Well, the answer is both yes - and no. And that's not a cop out – it's really quite complicated!
I don't think there's any doubt that the scroll was indeed typed over 3 weeks in April 1951. But did Kerouac just sit down at the typewriter and the story suddenly came to him? No, definitely not. He'd had the idea for a road novel for a long time – years, from his own first solitary road trip in July 1947 in fact. In a journal entry from August 1948 he wrote, "I have another novel in mind – 'On the Road' – which I keep thinking about: - about two guys hitch-hiking to California in search of something they don't really find, and losing themselves on the road, and coming all the way back hopeful of something else. Also, I'm finding a new principle of writing." The last sentence is particularly significant, referring to Kerouac's desire to find his 'own voice,' to get away from the standard prose of his first novel The Town and the City, and to find a new, more immediate and authentic way of expressing experience – the style that was to become known as 'spontaneous prose.'
As early as autumn 1948 Kerouac had completed the first draft of a road novel he later referred to as 'Ray Smith,' (a name he subsequently gave to the narrator of Dharma Bums, - a character based on himself). And this is just one of numerous road drafts of varying lengths that can be found in Kerouac's archive at the New York Public Library. Elements of some of those drafts would eventually become part of On the Road, whilst others ended up in other novels (e.g. Pic).
Kerouac's journals covering 1949/50 document his later road trip with Neal Cassady, Luanne Henderson and Al Hinkle, and demonstrate how he was constantly writing about what he was seeing and feeling. In fact, one of the things that struck me when I started reading about Kerouac is that anyone who knew him would inevitably say at some point that he was always writing, - always scribbling in notebooks and journals (if you check out some of the images of him in the exhibition, you will spot notebooks poking out of his pockets). Not only was he a very disciplined writer, but he was also very methodical – the perfect self archivist in fact. And the writing of drafts and notes was clearly an essential part of the creative process for Kerouac – his way of exploring both himself and his friends.
Something else that also always pops up when you read about Kerouac is that everyone remarks on the fact that he had a phenomenal memory. And that's the final point to add before going back to that Chelsea apartment in April 1951. So, various drafts, chapter outlines, 'cast of characters' already exist, Kerouac is sitting at the typewriter with his coffee (and ok, maybe Benzhedrine too), and, in a truly extraordinary burst of creativity, everything comes exploding out of his head on to that scroll over the next 3 weeks.
Many more drafts were to follow of course, and the title of the novel would also go through many variations, including, for example, The Beat Generation (in 1955/56), but it would return to On the Road at the insistence of Viking's editor, Matthew Cowley.
And that's the short version. If you want to read more on the complex story of all the pre and post scroll drafts, I would recommend Isaac Gewirtz's excellent (and beautifully written) Beatific Soul: Jack Kerouac On the Road, which was published to accompany the exhibition of the same title at New York Public library in 2007.
On the Road: Jack Kerouac's manuscript scroll is on at the British Library until 27 December.
[C.H.]
Americas and Oceania Collections blog recent posts
Tweets by BL_Americas
Other British Library blogs