06 October 2012
 I've enjoyed doing the research for our On the Road exhibition over the past couple of months, but inevitably, a lot of that research didn't make it in to the exhibition. The scroll is the star and we didn't want to spoil your viewing of it by cramming too much in to the gallery. As I've already mentioned on the blog, we decided instead to include just a few books and focus on our great sound holdings. But we had very little space for words too; some topics fell out completely, or we were able to just briefly allude to others. So, over the next few months, while the scroll is still in residence with us, Matt and I will be blogging about some of the things that got left out.
One of the questions that has already come up a lot concerns the differences between the scroll and the published novel. Well, you could write a book on the subject, but I thought I'd add a few more details to the limited panel and label text, even though I'm still presenting a very simplified view. Essentially, you can put the differences in to at least 4 categories, 3 of which are down to the publishers.
Viking's main concerns had to do with the obscenity and libel laws of the times. In 1956, just the year before publication of On the Road, Lawrence Ferlinghetti had found himself involved in a long court case when copies of Allen Ginsberg's Howl (published by Ferlinghetti's City Lights Books publishing house) were seized for obscenity by U.S. Customs. Viking were anxious to avoid the same fate, so Kerouac was obliged to tone down or take out the more explicit language and sex. On top of that, he had used real names in the scroll, and Viking were worried that anyone who took exception to the way they had been portrayed might sue. So for the novel, Ginsberg becomes Carlo Marx, Neal Cassady is Dean Moriarty and so on.
The other category of enforced changes involves the publisher's attempts to deal with Kerouac's 'spontaneous prose.' It's a myth that he used no punctuation, but there aren't standard paragraphs or chapters, a lot of his sentences are LONG, and clearly the style was an issue for Viking (though I can't help think, why publish then?). If I remember correctly, Kerouac wasn't even sent a final set of proofs so he didn't know just how much unsympathetic editors had hacked his sentences until after publication. No wonder he was annoyed!
But the final category is the changes that Kerouac made himself. By 1957 he was an older, more experienced writer and it's unsurprising that he would want to make revisions which he thought improved on the original. In fact, even on the scroll you can see where he's already started to make changes. And the subject of Kerouac's numerous drafts for the novel, both pre and post scroll, is a whole new can of worms which will have to wait for another blog.
On the Road: Jack Kerouac's Manuscript Scroll is on at the British Library until December 27.
[C.H.]
03 October 2012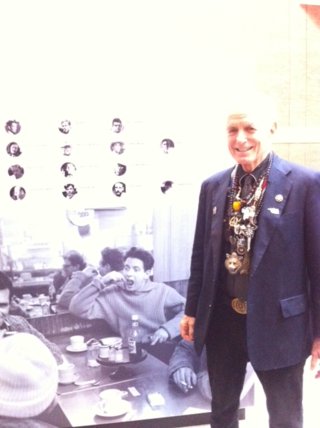 A beat moment this morning: at the press preview of our On the Road exhibition, David Amram - the composer and musician - spotted a younger version of himself, as he helped with the film Pull My Daisy (1959).  Kerouac can also be just about seen in the photo on the left.  The exhibition opens tomorrow (Thursday, 4 Oct.)
[M.S.]
25 September 2012
It's been a busy month for all of Team Americas, with much of my and Matt's time in particular taken up with activities relating to our forthcoming exhibition On the Road: Jack Kerouac's manuscript scroll. Yes, we're excited at the prospect of the arrival next week of Jim ('keeper of the scroll') with the typed manuscript, which will exhibited from 4 October until 27 December in our newly re-launched Folio Society Gallery in the Library's Front Hall.
The scroll will be taking centre stage in a specially designed 16 metre case so we decided that the accompanying BL material should focus on our sound recordings and Steve has put together a great 'soundtrack' to the scroll and the Beat Generation. You will be able to hear several contributions from Kerouac, including an excerpt of On the Road, jazz recordings which echo references in the novel, plus Allen Ginsberg reads Howl, and there are contributions by William Burroughs, Herbert Huncke, Joyce Johnson, Carolyn Cassady et al. Oh, and there's Neal Cassady reading Proust too!
And the exhibition should look great, thanks to Fiona's design and the generosity of Carolyn Cassady, the Allen Ginsberg Estate and the Kerouac Estate in letting us reproduce some wonderful images. So, schedule your visit now. The exhibition is free and there's also an excellent events programme, including a preview screening of Walter Salles' new movie.
Regular readers of the blog will know that we've highlighted our sound recordings relating to the beats before, but if you're a new reader, here's the link to a bibliography Steve put together some years ago. We also have really strong printed collections, and here's a bibliography of those (be warned, it's BIG). Picking just a few of these books to put in the exhibition was very difficult so we've opted for the holy trinity of Kerouac, Ginsberg and Burroughs, with just a couple of others.
Apart from writing Kerouac labels, I was also involved in our Inspired by Artists' Books event on 4 September, at which we showcased some of our wonderful artists' books and fine press holdings (here's Fran's blog on the event).  I suppose it was inevitable that my brain would end up connecting the 2 themes so I started to think about whether we had any beat-related books which fall in to this category. Of course we do, and I featured Bill Burroughs and David Bradshaw's Propagation Hazard at the event. But for this blog, I've chosen a Kerouac title. It's by Mark McMurray, a colleague who is Curator of Special Collections and University Archivist at St. Lawrence University, teaches courses on the history of the book and printing, and who set up his own Caliban Press in 1985 - how he finds the time I don't know! Anyway, Mark has made a couple of jazz-related titles, small, but perfectly formed and lovingly made, and here is an image of his History of Bop by Jack Kerouac.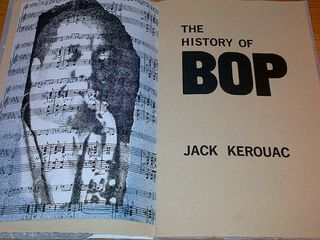 Caliban Press, 1993
14 August 2012
We've been feeling decidedly down in the mouth after the Olympics - we've all enjoyed the last couple of weeks so much that it was inevitable that things would suddenly feel a bit flat. But we've now perked up considerably since we find ourselves not only very busy but with a lot to look forward to over the next couple of months. Matt and Carole are wearing their Beat hats as they prepare for the arrival of Jack Kerouac's On the Road manuscript scroll in early October - how exciting is that! And then there is the accompanying programme of events, featuring a preview screening of Walter Salles' new film of On the Road, and an evening with Amiri Baraka to mention just two. The full programme can be found on the BL's website under events (check under each month), and details of the exhibition will be up very soon.
In addition to supporting some of the On the Road events/exhibition, our wonderful Eccles Centre for American Studies is sponsoring a fantastic range of autumn talks, including our Summer Scholars series (featuring e.g. Naomi Wood and Sheila Rowbotham, our 2 Eccles Writers in Residence), as well as events with Liza Klaussman (who, incidentally, happens to be Herman Melville's great-great-great granddaughter!), Andrea Wulf, and Lord Putnam to pick out just a few. And how could we forget that there happens to be a big election coming up in the U.S. in November, and we of course have that covered too. For the full range of Eccles events see http://www.bl.uk/eccles/events.html/.
And as if that wasn't enough, we'll be showcasing some of our artists' books on 4 September at Inspired by Artists' Books, we have David H.Treece speaking about The Meanings of Music in Brazilian Culture for Brazil World Music Day on September 7, and we'll be celebrating Jamaican Independence on October 5th . Finally, the Olympics are still in our thoughts as we look forward not only to Rio, but to our conference Social Change and the Sporting Mega-event on November 5, organised in collaboration with our Brazilian colleagues.
Whew! Hopefully, you'll find at least some of these events of interest and we hope to see you at the Library in the near future.
23 March 2010
Having been thinking about the Beats over the last week, I was pleased to come across a nice piece on Barry Miles in The Guardian's weekend review. He, of course, features prominently in the bibliography of our holdings by and about the Beats that I put up last week. And he also features in the checklist of our audio-visual material which I promised would follow. Well, here it is. Not quite as massive this time, but still pretty substantial, and an aspect of our collections that you might not have thought about. It has been compiled by Steve, our Curator for Drama and Literature in the Sound Archive, and this part of the bibliography is bang up to date. So you will find, for example, some Brion Gysin tapes that were acquired very recently. The material is predominantly sound recordings but there are some films too (such as Robert Frank's Pull My Daisy), mainly on videotape but also on DVD. We hope that you find the checklist useful.
Download BL beats bibliography audio-visual
[C.H.
18 March 2010
I'm a bit sceptical about the usefulness of bibliographies in these days of online searching. What's the point of just creating a subset of your catalogue which anyone can do for themselves? You either have to go for a very short list of key titles, or add some value by having some useful commentary and/or bring to light material that can't easily be found.
More years ago than I care to remember, Jim (a now long retired ex member of the team) started to compile a bibliography of our holdings of items by and about the Beat generation of writers. He did provide those useful analytical entries, and in the process of compilation, he also came across material we didn't have – and acquired it, substantially enriching the collections in the process. I should also emphasise the 'and friends' of the title, since this bibliography extends well beyond the usual suspects. It should have been published about 5 years ago, but for reasons I won't bore you with, it wasn't. It was a real labour of love for Jim and I hate to see good work go to waste, so I've decided to put up a pdf of the original bibliography, warts and all.
You won't find any material published in the last few years, which is a shame since there have been so many 'anniversaries,' leading to a big rise in the critical literature on Kerouac, Burroughs, Ginsberg et al. But you might be surprised by the amount of original material that we have. Of course, the bibliography wasn't originally intended as an online resource, so the order, index and numerous other things now leave a lot to be desired. But the amount of work needed to revamp it is beyond me or anyone else in the team at the moment (although it remains on our 'to do' list). Be warned though – it's a big document of over 4MB and 745 pages. And this is only the first part (printed material) - we also have a listing of all our relevant sound recordings which hopefully will be an even bigger revelation in terms of just how much we have in the collections. The Sound Recordings pdf should appear next week. In the meantime, do let us have your comments on the bibliography – either direct to the blog or you can email us at Americas@bl.uk.
Download BL beats bibliography printed collections
[C.H.]
Americas and Oceania Collections blog recent posts
Tweets by BL_Americas
Other British Library blogs