20 December 2021
This third - and deliberately brief - instalment of our e-resources blog series focuses on the Library's 'bibliographic' e-resources!
By and large, searching this kind of e-resource will not bring up the full-text of books and articles. Instead, you will be given a list of citations which you then need to track down elsewhere. For example, if your search brings up a journal article that looks interesting, you will need to see if the British Library or another institution subscribes to that journal in order to be able to read the article itself.
While this might at first glance seem disappointing, the unique and utterly brilliant selling point of these databases is their capacity to stop you from ever again needing to note down and follow-up footnotes as you attempt to uncover all the previous research on your topic.  Instead, in a matter of moments, you will be provided with accurate, up-to-date information about everything that has already been published in your field.
So, how do they work?
In brief, they are compiled by teams of highly-skilled indexers whose role it is to assign multiple index-terms to every article in a particular journal, thereby providing you with the greatest possible chance of retrieving citations that are relevant to your research.
All mainstream subjects – history, literature, politics, sociology, economics, art, music etc – have at least one dedicated bibliographic e-resource and these can be found by using the Subject search facility on the Library's portal. These subject-specific e-resources include, for example:
America History and Life, which currently indexes articles in 1,648 journals covering United States and Canadian history and culture
MLA International Bibliography, which currently indexes 6000+ journals in literature, language and linguistics, literary theory and criticism, and folklore, and which adds over 66,000 citations every year
HAPI Online (Hispanic American Periodicals Index Online), which currently indexes 400+ journals and includes 335,000+ citations in total
Other bibliographic e-resources cover multiple subjects, for example: Humanities Index; Arts and Humanities Citation Index; and Social Sciences Full Text (selective full-text coverage since 1994).
And some bibliographic e-resources focus on a particular type of content, for example:
Proquest Dissertations and Theses and EThOS index, in different ways, doctoral dissertations and Master's theses 
Poole's Index to Periodical Literature, 1802-1906 offers digitized access to William Frederick Poole's ground-breaking attempt to make accessible the vast amount of magazine and journal content published in the 19th century. 
Below are some of the bibliographic e-resources with Americas content that are currently offered by the British Library, but please take a look at the full range of these resources on the Library's website as there will be at least one database that will make your literature search both quick and comprehensive; some of  these resources will include books as well as journal articles, and an increasing number of them are, happily, offering full-text access:
ABELL (Annual Bibliography of English Language and Literature)
America: History and Life
Anthropological Index Online
Applied Social Sciences Index and Abstracts
Art Index
Arts and Humanities Citation Index
Book Review Digest Plus (1983- ) & Book Review Digest Retrospective, 1903-1982
Chicano Database
EconLit
EThOS
HAPI Online
Humanities and Social Sciences Index Retrospective, 1907-1984
Humanities Index, 1962 – present
International Political Science Abstracts
MLA International Bibliography
Music Index
PAIS International
Policy File Index
Poole's Index to Periodical Literature, 1802-1906 (Part of Eight Centuries)
Proquest Dissertations and Theses
RLIM Abstracts of Music Literature
SciELO Citation Index
Social Sciences Citation Index
Social Sciences Full Text
Wishing you a wonderful festive season and all the very best until 2022 when the next blog in this series will highlight everything you need to know about Americas-focused Women's Studies e-resources!
26 October 2021
We are delighted to let you know that the Eccles Centre has just published a new Americas-focused bibliographic guide: US Fine Presses Established after 1945: A Guide to the British Library's Holdings (just scroll down a little to find it!)
This guide grew out of a conversation in late 2019 with then-Head of the Centre, Phil Hatfield, who had recently pledged financial support towards the cataloguing of a backlog of US fine press publications. A large number of these works – produced on old-fashioned hand-presses by contemporary printers – had been acquired by our curatorial colleagues in the previous 15 years. Phil rightly noted that without some kind of check-list or guide, it would be almost impossible for Library Readers, now or in the future, to appreciate the depth and richness of these holdings.
Initially, the guide was just going to list the works that were then being catalogued. This suited me perfectly since at that point I honestly didn't understand the time, money and effort that my colleagues had devoted to obtaining these items! Thankfully, as I immersed myself in this world, my appreciation grew – both for the beauty, originality and boundary-pushing nature of the items themselves, and for the imagination and skill of their printers. And as my appreciation increased, so too did the scope of this project. After discovering P.A.H. Brown's Modern British and American Private Presses (1850-1965): [catalogue of the] holdings of the British Library (London, 1976) it seemed sensible to push our own guide's start date back to 1965.1 And as it became apparent that several post-war presses had been omitted from Brown, so we pushed that date back even further, to 1945.
The first step in tracking down these presses was to search the Library's catalogue. Covid-19 related Library closures, combined with often-minimal cataloguing data, made it difficult to verify many of the items' fine press credentials in person. Thankfully, however, online access to rare bookseller and auction websites made it possible, slowly but surely, to determine whether an item was hand-printed and whether a press had been founded after World War II.
In total, items by more than 180 such presses were found in the Library's collection. More than 160 of these presses started after 1965 and – incredibly – more than 90 were established between 1965-1980. This fifteen-year period truly was a golden era for hand-press printing in the United States – a cultural phenomenon which seems entirely in-tune with that counter-cultural moment. Crucially, too, this was the point at which graduates from the recently established university book arts programmes began founding fine presses of their own.
Researching the emergence and development of these presses was absolutely fascinating. Time and again it showed me the profound impact that great teachers can have not only on individuals, but on an entire creative landscape. For this reason, in addition to listing the names of these presses and some of their works, the guide offers a short 'biography' of each of press, including, where possible: the name of the press's founder(s); the founder's training and/or education and mentor; how long the press was in operation; how it developed over time; any speciality in subject matter or genre; any change in location; the type of equipment used; and whether it made its own paper. After this 'biography', the full details of up to ten works are listed for every press. And at the end of the guide there is a geographic index to the presses, arranged by US state.
I hope this guide will prove useful to all those working in this field. And for those who are not, I hope it will offer an insight into a lesser-known aspect of the Library's Americas holdings.
Jean Petrovic
References
Philip A.H. Brown, Modern British and American Private Presses (1850-1965): [catalogue of the] holdings of the British Library. London: British Museum Publications Ltd for the Library, 1976. Shelfmark: Open Access Rare Books and Music 094.4016 ENG; General Reference Collection 2708.aa.36; Document Supply 78/9820. 
24 March 2020
American poet, painter, activist, pioneering figure in the Beat movement, and co-founder of City Lights Bookseller, Lawrence Ferlinghetti turns 101 on March 24 2020

The Library's collections are rich in Beats and Ferlinghetti material (take a look at our Beats bibliography if you're interested to see a comprehensive overview of holdings). But with so many pages of ground-breaking content to leaf through, what would be appropriate to feature to mark the artist's 101st birthday?


Pictures of the Gone World seemed like a good option (fifth printing edition held at BL shelfmark 011313.t.3/1.). This was Ferlinghetti's first book, published in 1955 by his own City Lights Books, in a 500-copy letterpress edition (City Lights Booksellers & Publishers website). Two years earlier, he had co-founded City Lights Bookstore in San Francisco together with college professor and editor of City Lights magazine, Peter D. Martin. The store was the first all-paperback bookshop in the United States (The Guardian online, Interview with a Bookstore: San Francisco's historic City Lights) and would become 'the launching pad for the San Francisco Writers Renaissance' (Douglas Street in the Southwest Review, Vol. 66, No. 2 [Spring 1981], p. 228. Access via JSTOR, available in British Library Reading Rooms). For more than 60 years, City Lights "has served as a 'literary meeting place' for writers, readers, artists, and intellectuals to explore books and ideas." (City Lights Booksellers & Publishers website).


Pictures of the Gone World was Number One in the Pocket Poets Series launched by the City Lights Books. One of the series focuses was to provide paperback, and thus more affordable, content to readers, and the book's publication helped to extend Ferlinghetti's 'concept of a cultural meeting place to a larger arena.' (City Lights Booksellers & Publishers website). With mentions of London, Paris and the harbour of San Francisco in the poems' titles, the collection not only documented Ferlinghetti's artistic development but also acted as a kind of 'travel journal of the place in which he had lived' and visited (Ferlinghetti: A Biography by Neeli Cherkovski, page 82), taking readers around the world as they dipped in and out of his work, while the small design allowed for them to carry Ferlinghetti around with them on their own travels.

The Pocket Poets series went on to include several Beat classics including Allen Ginsberg's Howl and other poems (1959 edition held at BL shelfmark 011313.t.3/4) – Number Four in the series – which was published in October 1956 and met with immediate, if controversial, success. The landmark poem's concept, together with Ginsberg's powerful delivery at group readings, made it 'a crucible of cultural change. Except for the response to Dylan Thomas' readings in America, never before had a modern audience reacted so passionately, or identified so completely with a poet's message.' (Naked Angels: The Lives & Literature of the Beat Generation by John Tytell, page 104). You can read more about the reaction to, and impact of, Howl in our blog from 2013. Other early items in the Pocket Poets series included William Carlos Williams's Kora in Hell: Improvisations, Marie Ponsot's True Minds and Poems of Humor & Protest by Kenneth Patchen.
The little paperback held by the British Library features the unassuming, yet at the same time, striking black and yellow cover – the style of which would be replicated through the Pocket Poets series and at just 75 cents a pop, whose simplicity made it something that could be available to many. As the series' name implies, the collection 'can be carried in a pocket, and read in less than an hour.' (Beat Poetry by Larry Beckett, page 17)

Between the pages readers are greeted with some of Ferlinghetti's most memorable works including 'The world is a beautiful place' – a melancholy and ironic ode to one's bittersweet existence on earth. In Ferlinghetti's style, readers are ping-ponged across the page, yo-yoing between scenes of beauty and happiness, 'smelling flowers' and 'swimming in rivers', then thrown into despair: 'if you don't mind a touch of hell' and 'some people dying all the time'. Swayed back and forth, the reader is constantly reminded of being destabilised each time something comforting is mentioned: 'The design… reflect[ing] Ferlinghetti's continuing concern with the way the poem looked on the page… [he] was satisfied that the arrangement of the words enhanced the meaning of the poem.' (Ferlinghetti: A Biography by Neeli Cherkovski, page 82)

Many of the poems in this collection are said to 'reveal…the quiet struggle of ordinary people. The unusual distribution of lines on the page, and the inventiveness with word play and rhyme, show Ferlinghetti's sense of freedom, itself a key notion in his work.' (Beat Culture: Lifestyles, Icons, and Impact edited by William T. Lawlor, page 106)

'The world is a beautiful place' can certainly be seen to exemplify such a statement.
Despite being written in the mid-20th-century, this timeless poem doesn't feel out of place when read in 2020. It's a testament to Ferlinghetti's skill and intuition; to be able to tap into subject matter and raise questions that feel as relevant today as when he first wrote them some 65 years ago.

Happy birthday, Lawrence Ferlinghetti.

The British Library holds a number of items from City Lights Books Pocket Poets Series and publications from Ferlinghetti, including first editions, some inscribed by the poet himself. Below is a selection of suggested reading. Follow the link to our Beats Bibliography for a more complete overview of Library printed holdings on the subject.
[Blog by RSC]

Bibliography and suggested reading
A Coney Island of the Mind: poems by Lawrence Ferlinghetti; portraiture by R.B. Kitaj (San Francisco: Arion Press, 2005) shelfmark RF.2007.b.21. Note: A fine press special edition of Ferlinghetti's famous work from Arion Press.

Beat Culture: Icons, Lifestyles, and Impact edited by William T. Lawlor (Santa Barbara, California; Oxford: ABC-CLIO, 2005) shelfmark YC.2007.b.56

Beat Poetry by Larry Beckett (St. Andrews, Scotland?: A Beatdom Books Publication, 2012) shelfmark YK.2014.a.4349

City Lights Booksellers & Publishers website (accessed 11 March 2020) 

Ferlinghetti's Greatest Poems by Lawrence Ferlinghetti; edited by Nancy Peters (New York: New Directions Publishing, 2017) shelfmark YD.2018.a.4686

Ferlinghetti: A Biography by Neeli Cherkovski (Garden City: Doubleday, 1979) shelfmark X.950/10246

Open eye, open heart by Lawrence Ferlinghetti (New York: New Directions, 1973) shelfmark RF.2002.a.49. Note: Inscribed by Ferlinghetti with cover photograph of Ferlinghetti by Ilka Hartmann.

Pictures of the Gone World (Fifth Printing) by Lawrence Ferlinghetti (San Francisco: City Lights Books, 1955) shelfmark 011313.t.3/1.

Naked Angels: The Lives & Literature of the Beat Generation by John Tytell (New York; London: McGraw-Hill, c1976) shelfmark YA.2000.a.11944

The Guardian, Interview with a Bookstore: San Francisco's historic City Lights (accessed 16 March 2020)

The Guardian, San Francisco's City Lights: the bookshop that brought us the Beats (accessed 16 March 2020)

Review of Ferlinghetti: A Biography by Neeli Cherkovski in Southwest Review, Vol. 66, No. 2 (SPRING 1981), pp. 228-230, by Douglas Street. Accessed via JSTOR, available from Britsh Library Reading Rooms (accessed 12 March 2020)

Who are we now? by Lawrence Ferlinghetti (New York: New Directions, 1976) shelfmark YA.2002.a.19832. Note: Signed and inscribed by Ferlinghetti.
22 August 2018
August 23 marks the date on which the British Museum opened the Newspaper Library in Colindale to the public for the first time, in 1932.  This week, in a series of posts, we will look at the Library's rich newspaper and magazine holdings from the Americas.
To help celebrate the Colindale anniversary the Eccles Centre for American Studies is delighted to announce that its guide to the Library's US and Canadian newspapers is finally available in digital format!
Download PDF British Library Newspapers US & Canadian holdings
This guide was first published in hardcopy in 1996. 
At that time the catalogue at Colindale only offered access to these newspapers by title and town: searching for these publications by state or province was completely impossible. To address this, the Eccles guide listed the newspapers by title – the US newspapers first, followed by those from Canada – and then provided an index to these holdings by state/province and town.
In the years since the guide's publication there have obviously been updates to the Library's holdings. Some titles are no longer received, while others have been added. All of the titles in the guide, and more recent acquisitions, are included in the Library's online catalogue Explore.  Yet, in spite of these changes the guide still provides the easiest and most effective way into these collections.  It is constantly used by the curators themselves, who find it invaluable, so please do take a look!  And do remember that you can always ask for help from reading room staff in the Newsroom, and from reference services.
We'll be posting more about newspapers in the Library's collections over the coming days, so be sure to watch this space.
- Jean Petrovic (née Kemble)
04 September 2017
Greetings from Darwin! I am currently very fortunate in that I am travelling around Australia for PhD research and learning about life and culture directly from the Aboriginal designers in the Northern Territory that I am interviewing. Prior to coming out to Australia I had to conduct most of my research online. In this post I have put together a list of websites that I recommend to anyone who is interested in gaining further understanding of Indigenous Australia. I have also included a list of books from the British Library that I found useful.
There are several hundred different Indigenous language groups with differing cultures and beliefs. In my list below I have tried to provide more general information, rather than represent each group. If you are interested in a specific community, many do have their own websites which will provide information on their beliefs and history.
I welcome any suggestions of other online and offline resources that are helpful for educating unknowing outsiders, I am sure there will be many I do not know about yet. I hope to put together a similar list for Maori culture and politics so would appreciate any recommendations for that. Just tweet me - @JoannePilcher1
Websites
The Guardian Online, Indigenous Australians:
https://www.theguardian.com/australia-news/indigenous-australians
This page provides a range of articles on different issues related to Indigenous politics and culture. There are exhibition reviews, personal essays and commentary on current affairs.
@Indigenous X:
A blog run and written by Indigenous Australians covering anything from current affairs to a history of Indigenous representation in comic books. They also have a twitter account (@IndigenousX) where different Indigenous Australians are invited to host and run the account and tweet about things related to their expertise.
NITV:
National Indigenous TV is a channel on SBS that is made by and for Indigenous Australians. While the channel may not be available internationally, their website and Facebook page share lots of information on current affairs.
Menzies Centre For Australian Studies:
https://www.kcl.ac.uk/artshums/ahri/centres/menzies/index.aspx
Part of King's College London, The Menzies Centre does not focus specifically on Aboriginal and Torres Strait Islander Australia but does have a range of interesting talks and events that sometimes relate to this area, such as a recent talk by Marcia Langton on Indigenous art. They also have a twitter (@menziescentre) and Facebook page (https://www.facebook.com/AusNetwork/) that regularly have information shared on them.
Australian Government:
http://www.australia.gov.au/about-australia/australian-story/austn-indigenous-cultural-heritage
The Australian government website has an overview of the heritage of Australian Indigenous culture.
Facebook Groups
Many of the above websites have Facebook pages that are worth following. The two listed below do not have websites.
Blackfulla Revolution:
https://www.facebook.com/ourcountryourchoice/?hc_ref=ARSENjrSyYj8gYEUr-tttpgbQIJ1tVh8SqARY7pMiX7uM4Am_TR-vTz7x7bOCpvw2w8
This group shares a wide range of posts and articles related to life as an Indigenous Australian.
Aboriginal News – Australia:
https://www.facebook.com/AboriginalNewsAustralia/
This page regularly posts articles related to Indigenous Australian current affairs. They collect articles from a range of sources.
Podcasts
It's Not a Race:
http://www.abc.net.au/radionational/programs/itsnotarace/
This podcast covers a variety of topics surrounding racial identity within Australia and discusses issues Indigenous Australians face in several episodes.
Books
There is a wealth of information available within the British Library on the Aboriginal and Torres Strait Islander peoples of Australia. There are too many topics to go into specific areas on this list so I have selected ones that give a 'whistle-stop tour' of Indigenous Australian culture and history. All of the below are available in the British Library collections and I have included their shelfmarks.
Rachel Perkins and Marcia Langton, First Australians: An Illustrated History, Carlton, Vic.: Miegunyah, 2008, [Asia, Pacific & Africa LD.31.b.2662]
This book was produced as an accompaniment to a nine part series on the history of Indigenous Australia. I have selected this as it gives a general overview but anything by Marcia Langton is worth reading, she is considered to be one of Australia's most important Indigenous historians and is the Foundation Chair in Australian Indigenous Studies at the University of Melbourne.
Australian Aboriginal Studies Journal, Australian Institute of Aboriginal Studies, Melbourne, 1983 –
[General Reference Collection X.0525/685, General Reference Collection ZD.9.a.1762, Document Supply 1796.654990]
Some printed copies of this journal are in the British Library collections, the rest are available online through the library database.
Stephen Mueche and Adam Shoemaker, Aboriginal Australians: First Nations of an Ancient Continent, Thames and Hudson, London, 2004. [General Reference Collection YK.2011.a.3122]
This short book gives a general introduction to different beliefs and histories across various communities within Australia.
David Unaipon, ed by Stephen Muecke and Adam Shoemaker, Legendary tales of the Australian aborigines, Melbourne University Press, 2001 [General Reference Collection YC.2002.a.21382]
Unaipon is credited with being the first published Aboriginal Australian author and appears on the fifty-dollar note. He toured Australia collecting the local stories of various communities and translating them into English in the 1920s; initially his publishers sold his work to an English man who published it in his name instead. Unaipon's original manuscript was found and republished in his name in 2001 by Muecke and Shoemaker
Pauline E.McLeod, Francis Firebrace Jones, June E. Barker Gadi Mirrabooka: Australian Aboriginal Tales from the Dreaming, Englewood,Colo. [Great Britain] : Libraries Unlimited, 2001
 [General Reference Collection YK.2003.b.2308]
Many compilations of Indigenous Australian stories can be considered as exploitative as they are sharing stories that could be sacred without permission from the communities the stories are from. This compilation has been produced by the story custodians themselves who have permission to share them. 
By Joanne Pilcher
Joanne Pilcher is currently carrying out a PhD placement project at the British Library, exploring contemporary publishing in Australia. If you would like to know more about placement opportunities at the Library for doctoral students please click here.
02 May 2017
I'm using my 2017 Eccles British Library Writer's Award to research and write my second novel, Catspaw, which follows two women from Chicago to the Sierra foothills during the California Gold Rush. Women are largely excluded from the mythic-historic narrative of the Gold Rush. Those that do appear are marginal, stereotypical characters: the long-suffering, godly pioneer mother (Sarah Royce), or the savvy prostitute (Belle Cora). I want to tell a story of two women who don't conform to these stereotypes.
Portrait of Helen Carpenter (Courtesy of the Edward E. Ayer Collection, the Newberry Library, Chicago), from Ho for California!: Women's Overland Diaries from the Huntington Library, edited and annotated by Sandra L. Myres. San Marino: Huntington Library, 1980 Shelfmark: 80/24701
Women were in the minority in the 1849 migration west; but they were there, and they encountered difficulties and opportunities that were unimaginable back east. I wanted to understand the experiences of these women in their own words. Sarah Royce's renowned memoir, A Frontier Lady (New Haven: Yale University Press, 1932; shelfmark 010409.ee.40) left me with more questions than answers. Written at the urging of her philosopher son Josiah Royce, it tells the story he wanted her to tell—one of Christian fortitude as foundational to California. It left me wondering how she really felt as she left Iowa with her somewhat hapless husband and toddler daughter, bound for the unknown. John Irving wrote that "all memoir is fiction"; but I wanted to read female first-hand accounts that weren't so starkly in service of a higher narrative.
Portrait of Mary Jane Megquier, from a daguerreotype about 1853, from Apron Full of Gold: The Letters of Mary Jane Megquier from San Francisco, 1849-1856. Edited by Robert Glass Cleland. San Marino: Huntington Library, 1949. Shelfmark: W.P.9803/40
The Eccles Centre's bibliographical guide, Women in the Trans-Mississippi West, 1840-1900 (London: British Library, 1999; shelfmark YC.2000.a.575 ), helped me locate these accounts. From the letters of the outspoken Mary Jane Megquier, with her longing for "a line" from home and her good-natured complaints of "jiggers in [her] feet, a small insect that lays its eggs in your flesh"; to the witty journal of Helen Carpenter ("there is nothing in sight to merit the name Rocky Mountains—no rocks"); to the letters of Louise Clappe, with her sheer enchantment with "this solemnly beautiful wilderness"—these first-hand accounts are invaluable in helping me develop the voices of my female protagonists. I can't imagine writing my novel without them.
Hannah Kohler
References: Apron Full of Gold: The Letters of Mary Jane Megquier from San Francisco, 1849-1856. Edited by Robert Glass Cleland. San Marino: Huntington Library, 1949. (Shelfmark: W.P.9803/40); California in 1851: The Letters of Dame Shirley, introduction and notes by Carl I. Wheat. San Francisco: Grabhorn Press, 1933. 2 vols. (Shelfmark: YD.2004.a.1634 & YD.2004.a.1493); Ho for California! Women's Overland Diaries from the Huntington Library, edited and annotated by Sandra L. Myres. San Marino, CA: Huntington Library Press, 1980. (Shelfmark: 80/24701
07 October 2016
The last three months of my PhD placement at the Eccles Centre here at the British Library have flown by. There is much I will miss about being here on a daily basis – and not just the very good, helpfully subsidised, staff canteen! Hopefully this blog post will shed some light on what I have been doing and prompt others to apply for the placement scheme in the future.
In all honesty, probably the greatest benefit of the placement has been working so closely with the Americas collections. Before coming to the British Library, I had what I thought was a good understanding of the collections. Having used them daily for three months, I now realise that I was only aware of a fraction of what exists. In particular, whilst I knew that there would be some useful American foreign policy documents available, it was only when I explored the Social Sciences Reading Room that I began to realise just how vast an archival collection was available. From Presidential papers through to specific primary collections on everything from Civil Rights to the Joint Chiefs of Staff, there is a treasure trove of material for researchers and it's all available without those costly flights to the United States!
 [General Reference Collection OPL 973.0076]    
                  [General Reference Collection OPL 973.03]
Aside from archival collections, there wasn't one secondary text which I searched for that I couldn't gain access to in under 48 hours. Finally, the digital collections which the Library has access to are unparalleled compared to any of the university libraries' I have used. In particular, the Digital National Security Archive (DNSA) and Readex Congressional Records are invaluable resources and well worth a trip to the Library to access.
The vastness of the collections led to the first project I undertook during the placement. Realising that, like me, most researchers only knew of a few of the Americas collections available, I compiled two guides to make the collections more accessible for future researchers. The first guide is on the political archival collections the Library holds, such as Presidential papers, whilst the second is a guide dedicated to the Congressional documents available. As well as telling readers how to access the collections, the guides provide examples of what materials can be found in each collection to illustrate the utility of said collection. Hopefully these guides will help fellow researchers take as much from the collections as I have.
A second project I have undertaken involved the organisation of an academic symposium. One of the Eccles Centre's key roles is to promote the Americas collections to the academic community; often this is done through the hosting of specific events, which are sometimes linked to the Library's public exhibitions. The British Library's next major exhibition, which opens on 4 November, is titled 'Maps of the Twentieth Century: Drawing the Line.' As the American-Soviet Cold War dominated the geography of the twentieth century, this offers an excellent opportunity to host an event focusing on the geography of the Cold War. The 'Cold War Geographies' symposium in January 2017 will bring together international academics to explore and assess how the Cold War changed boundaries, restructured terrain and redefined concepts of space and place.
The placement at the British Library also exposed me to the practicalities of working in a large cultural institution. In particular, this occurred with a planned digital exhibition I was hoping to curate. The Library is going through some significant changes to improve its website and digital exhibitions. This meant that the three short months I was at the Library was not enough time to implement the project. The matter was also complicated by my desire to focus on twentieth century materials which brought in a whole raft of issues relating to copyright! Whilst the project did not materialise in the way I envisioned, I was able to gain access to excellent research material and develop a more practical understanding of the processes involved in curating an online exhibition within a large cultural institution
That said, I feel that the three month placement at the British Library has been an unqualified success. I have developed a far greater understanding of the collections, both for my own research and produced materials to assist others with their future research. Unexpected benefits also emerged in the form of using these blog pages to further disseminate my work, as well as taking part in Eccles Centre events which have greatly enhanced my academic networks. These new connections look likely to lead to positive future collaborations. Fortunately, the end of this placement is not the end of my affiliation with the Library. The symposium in January means that I will remain in contact for the foreseeable future, providing longer-term benefits of undertaking the placement.
From both a research and experience perspective, the PhD placement has been a highly rewarding and beneficial one. I hope that the outputs produced during this placement will be as beneficial to my fellow researchers.
Mark Eastwood
25 March 2014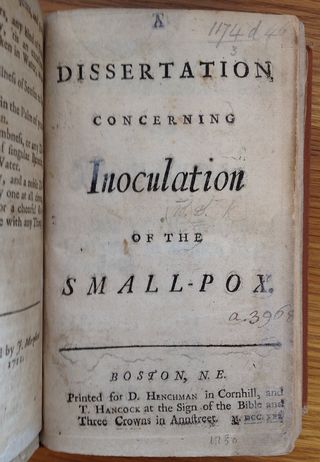 William Douglass, Boston, 1730. BL shelfmark: 1174.d.46 (3) 
By the early 18th century the American colonies were well established along the eastern seaboard; indeed, their political, economic and cultural development had been remarkable. Yet without the libraries, universities and endowed institutions of Europe their capacity to participate in the new scientific thinking was distinctly disadvantaged. Nevertheless, the ideas of the Enlightenment enthused many throughout the colonies, and their observations and descriptions of natural phenomena – including earthquakes, meteors, comets and the 1761 and 1769 transits of Venus – supported the greater scientific community.
The cause, prevention (for example, by inoculation) and cure of a wide variety of diseases also received much attention in colonial and early American scientific tracts, particularly the Boston smallpox epidemic in 1721 and the Philadelphia yellow fever epidemic in 1793. Other topics of special interest included the climate and the natural environment, with observations about the unfamiliar weather and the challenging landscape appearing in the earliest colonial writings and being frequently linked to implications for human health and the ability to develop the land.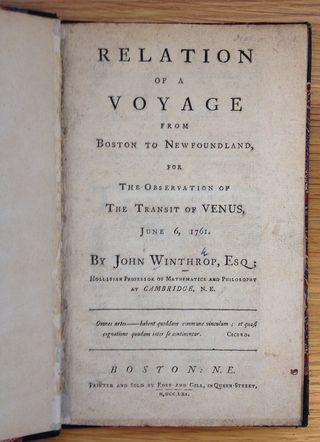 Boston, 1761. BL shelfmark: 8561.bb.19 
 A bibliography of our holdings of early American scientific writing on these and other topics may be found here.
[J.P.]
Americas and Oceania Collections blog recent posts
Tweets by BL_Americas
Other British Library blogs