19 April 2011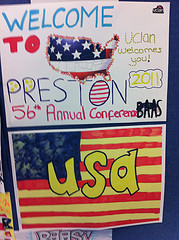 Back from BAAS, but I can't resist posting the image above, which was one of a collection produced for the conference by local schoolchildren.
Saturday and Sunday included more high-quality papers, and Heidi MacPherson's plenary on the transnational in literature - a concept that appears in a lot of other presentations as well.  For a does of pop culture, I attended the comics session, which looked at the 'dreamspace' might work as a way of interpreting graphic novels, Superman's colonisation of key moments of American history (and hence the American collective imagination), and ethnic cartoons in the early twentieth century.  It also gave me a chance to plug the Library's new acquisition, Underground and Independent Comics, Comix and Graphic Novels, available in our St Pancras, Colindale and Boston Spa reading rooms.
The conference wound up by Sunday lunchtime, but Alan Rice had organised a tour of places related to Lancaster's slave-trade history, including a visit to the grave of a cabin boy near Sunderland Point.
[MS]
15 April 2011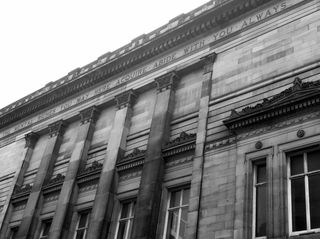 'The mental riches you may here acquire will abide with you always'
I'm in Preston for the annual British Association for American Studies conference.  We've heard about the politics of attacks on 'black homophobia', the current state of American Studies in India, Roosevelt's decision to run for a third term (reached in 1939, rather than 1940 as generally held), Truman's use of the rhetoric of the founding fathers, the use of Web 2.0 in teaching and mentoring students overseas, and - in the Eccles Centre lecture by Nigel Bowles - a bracing run through the recent banking crisis and the consequences and prospects for public policy.  And it's only the third session.
We also had a drinks reception this evening, which was a chance to hear about what people are working on in an informal setting, and what they want from a library to support their work (resources for student dissertations, visual materials, remote access, newspapers, newspapers, newspapers), as well as learning a little more about American Studies in China.
The reception, which was sponsored by Manchester University, next year's host, took place in Preston's Harris Library, a photo of which is above.  The inscription is wonderful.
Here's a short account of last year's conference.  And Phil, of course, has just been to BACS.
[MS]
05 April 2011
The British Association for Canadian Studies conference is held each year in one of a number of universities with a reputation in the discipline. This year the conference is in Birmingham and I find myself feeling deeply comfortable wandering around the mill-inspired, red-brick buildings between sessions.
For me the conference is an opportunity to make sure I am up to speed with the currents of research in Canadian studies, make new acquaintances and talk to people about how the British Library can help them with their research. It is also an opportunity to listen to some very interesting papers. The whole session devoted to the shorter works of Margaret Atwood was an enjoyable discussion of the intimate details of her portfolio. It also reminded me how significant our collections of Atwood's work (which cover her many early pieces and international editions) are to researchers across the U. K. and Europe.
I've been pleasantly surprised to see how much attention has been paid to Canada's borders in the conference so far, especially in light of my recent post for the Americas Blog. There has been a lot of discussion about Canada's relationship to international law, with a focus on cases involving Canadian nationals committing offences abroad. This, in turn, has led to a lot of interest in the Library's legal studies materials and official publications, meaning it might be a busy time for Jerry when I get back!
The day's papers were brought to a close with a lecture sponsored by the British Library Eccles Centre. I have to confess this was my highlight for the day, not because I'm being partisan but because the lecture was on the geopolitics and history of Vancouver Island – an interest of mine over the last few years. Professor Stephen Royle, who researched part of this work as an Eccles Centre Fellow, drew out the fractious peace which existed between the British Government, the United States and the administration of Vancouver Island during the mid-nineteenth century. The papers of James Douglas, governor on the island at the time, are part of the British Library's collections and if you would like to know more about this part of British colonial history, Royle's Company Crown and Colony is a good place to start.
[PJH]
03 February 2011
The H-Histbibl listserv reminded me that several sessions from the American Historical Association were filmed, and are up on YouTube.  The following is the first of several clips from session 191, which I attended, and is full of interesting things about how the academy is and isn't embracing digital developments.  Worth a watch. [M.J.S.]
12 January 2011
Back from Boston, and the behemoth that is the American Historical Association meeting - a chance to take the pulse of the historical profession, visit a dozen or more publishers in the exhibition hall, as well as to catch up with former Eccles Fellows and present a paper on Growing Knowledge: the evolution of research.  Expect a few posts on this theme over the next few days.
The AHA was also the venue for the announcement of the 'Cliopatria Awards' (link to 2010 awards), as judged by the History New Network.  I'm familiar with Georgian London, Best Individual Blog and Best New Blog in 2009 ('It's a really nice blog that balances popular history and some decent research. The posts are uniformly good, and the blogger, Lucy Inglis, uses images that enhance and frame the posts', said the judges), as well as the NY Time's brilliant Disunion.  I look forward to investigating the other winners (the best blog post title, by the way, must go to 'What Would Natalie Zemon Davies Do?').
 Update (19/1/11): 2011 winners announced here: http://hnn.us/blogs/entries/135179.html (and text altered above)
(M.J.S.)
14 May 2010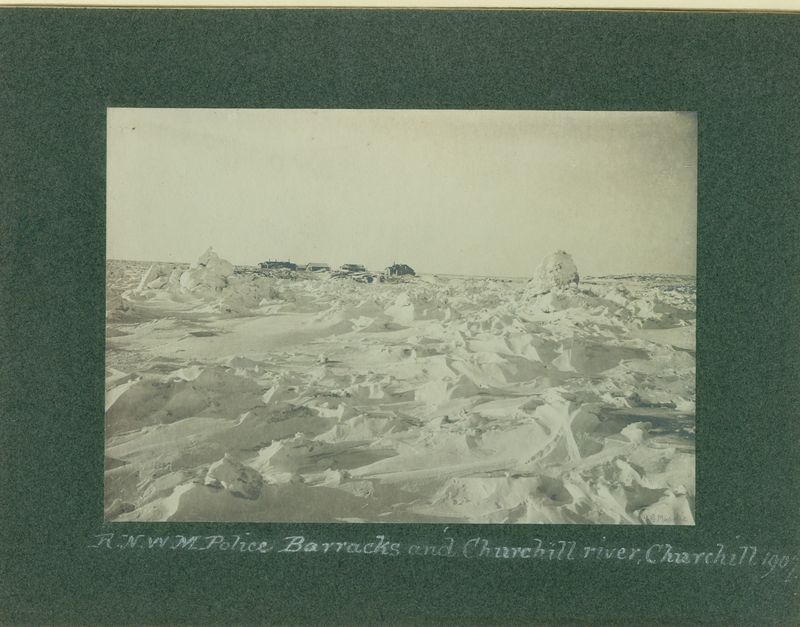 Mounted Police Barracks, Churchill (Geraldine Moodie, 1907): Building Arctic Canada
Recently the British Library was host to a panel discussion on 'The Future of Antarctica.' Chaired by Dr Gabrielle Walker, with Professor Klaus Dodds, Robert Culshaw and Sara Wheeler contributing, the event focused on what the 21st century might hold for Antarctica.
The panellists discussed the significance of the Antarctic as a wilderness, site of science and exemplar of international co-operation. They also highlighted the potential threats facing the continent, from global warming to resource exploitation and tourism, as well as the challenge of maintaining international co-operation, and the high standard of science done there in the 50 years since the Antarctic Treaty of 1959.
My thoughts were inevitably turned to how the Arctic can provide clues as to how things may turn out in Antarctica, since it has been explored and used by humans for much longer. Accounts such as William Baffin's journal of a search for the North West Passage, which is to be found, along with many other accounts, in Purchas' Pilgrimes (1625, Shelfmark 679.h.13), or John Barrow's Chronological History of Voyages into the Arctic Regions (1818, shelfmark 303.i.4) illustrate just how much probing has been done of the Arctic in the last 400 years.
One need only look at how the massive 20th-century developments in geo-mapping and submarine technologies have affected access to the Arctic to envisage how further advances could begin to affect a Pole considered more inaccessible. The increasing exploitation of the Arctic (not to mention flag planting), facilitated by environmental and technological change, is a persistent reminder of how even the most remote of places are inexorably drawn under human influence.
With this in mind, historical collections on the Arctic, such as those at the British Library, provide insight and even warning about how dramatically humans can impact on these most inhuman of environments. Over the coming months, the Library will host ESRC-supported discussions of the 'New Geopolitics of the Polar Regions'  and this interaction of thinkers and relevant historical materials will continue to be invaluable.   
[P.J.H.]
09 April 2010
As Carole mentioned in her latest post, Team Americas are on the road.  The 55th British Association for American Studies conference is underway at the University of East Anglia, and we have just returned to the dorms after a reception and talk at the Civic Centre at The Forum.  It offered a chance to chat with some other delegates, admire the Lord Mayor of Norwich's chain (and listen to her tales of being a war baby), and a remarkable lecture by Professor Wai-Chee Dimock (Yale) entitled 'Who's Irish? Henry James, Colm Toibin, James Joyce, Gish Jen'.  The Forum was rather open plan, so the professor gamely spoke on as Pizza Express eaters were treated to an exploration of how identities are made, and often as not made through language.  Here's a photo: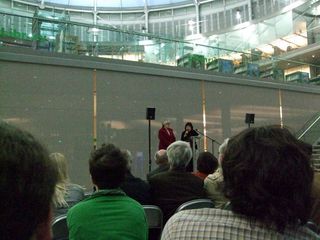 The Forum also has some very impressive projection equipment.  This was used to show off a some images produced as part of UEA's School of American Studies outreach project - a collection of schoolchildren's responses to and thoughts on the USA.  We also received a copy of their work in a book in the conference pack.  Another photo: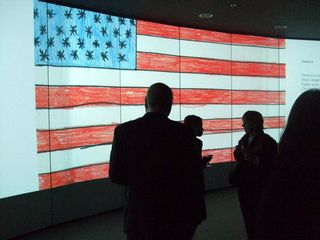 I am now trying to find something for supper.  More papers tomorrow...
[M.S.]
06 April 2010
April is conference season for Team America. Phil is on his way to Cambridge for the British Association for Canadian Studies annual conference; Matthew and I will be heading to Norwich and the University of East Anglia on Thursday for the British Association of American Studies conference, and on Friday, Aquiles will be off to Bristol for the Society for Latin American Studies conference. For some reason, the Society for Caribbean Studies has its conference in July – but that's just as well or we probably wouldn't be able to fit it in. So, it's a busy time, but apart from enjoying seeing old friends (and making new ones), the conferences are a great opportunity for us to do what we all love doing – telling people about our collections and pointing them in the direction of material that they might not have thought about. The range of papers on offer also provide us with a good pointer on trends in research, always invaluable when we have to anticipate what materials people might want, both now and in the future. Matthew and I are also looking forward to celebrating the official opening of the Thomas Paine Study Centre at UEA. And as usual, our Eccles Centre for American Studies will be sponsoring a lecture at both BACS and BAAS. Tomorrow, Dr Danielle Fuller will be delivering "Citizen Reader: Canadian literature, mass reading events and the promise of belonging" at BACS, and on Saturday 10th at BAAS, Professor David Reynolds will speak on "America, Empire of Liberty: the challenges of 'popular' history."
[C.H.]
Americas and Oceania Collections blog recent posts
Tweets by BL_Americas
Other British Library blogs