05 June 2015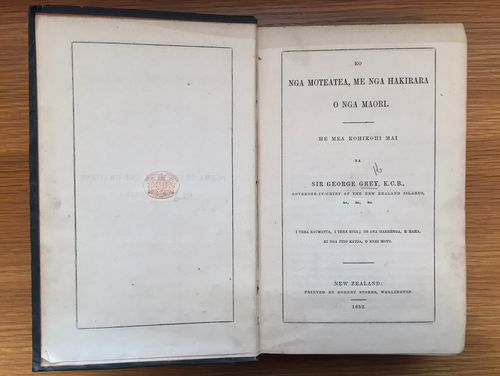 Above: title page for, 'Ko nga Moteatea, me nga Hakirara o nga Maori' [BL: 12431.k.13]
Last week various members of the team found their way to King's College for events from the Australia & New Zealand Festival of Literature and the Arts, a fantastic annual event which always generates subsequent digging in the collections. The opening night captured all the festival is about, promoting Antipodean arts and culture through a mix of literature, music and comedy, often served with a side of political commentary.
Above: 'Portrait of a New Zealand Man' (1769), one of the Library's numerous items from Cook's expeditions [BL: Add MS 23920]
I've visited the festival twice now and always come back with an enthusiasm to dig into the Library's Australasian literature collections. These continue to grow, with the Library collecting a wide range of publishing from Australia and New Zealand every year, but the collections are also historically deep, something out 'Help for Researchers' page gives you a taste of. For many, the highlights of the collection are the various maps, manuscripts and publications relating to Cook and various other early explorers. However, if you dig a little deeper there are lesser-known gems to be found.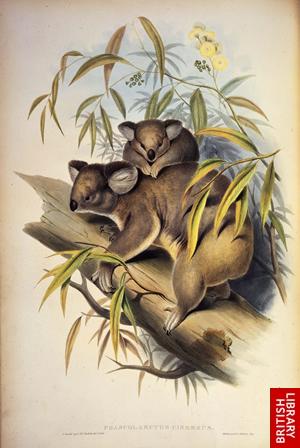 Above: illustration from, 'The Mammals of Australia' [BL: 462*.e.4]
The Library holds a number of significant early books about Australia and New Zealand, their settlement, and natural history, including the beautiful, 'The Mammals of Australia' [BL: 462*.e.4], but many of these are published in the UK. There are also examples of some of the first original literature published there. 'Quintus Serviton, a tale founded on real events' was published anonymously in Hobart c.1830, the author being convict Henry Savery who had already written sketches of Van Diemen's Land life for the newspapers but now became Australia's first novelist.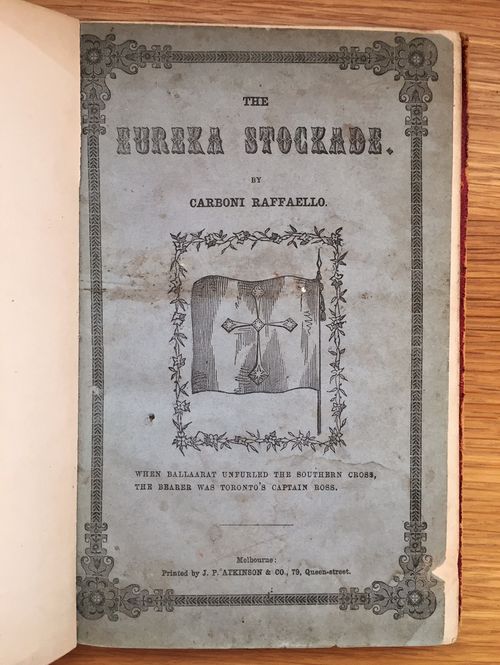 Above: cover for, 'The Eureka Stockade: the consequence of some pirates wanting on quarter deck a rebellion' [BL: 8154.b.35]
Later works found in the collection include the poetry of Henry Kendall [BL: 11651.aaa.44] and accounts of early historic events, such as the wonderfully titled, 'The Eureka Stockade: the consequence of some pirates wanting on quarter deck a rebellion' [BL: 8154.b.35]. There are also early examples of attempts to lay down the stories and songs of Aboriginal and Maori peoples in print, such as, 'Ko nga Moteatea, me nga Hakirara o nga Maori. He mea Kohikohi mai na Sir G. Grey' (Poems, traditions, and chants of the Maoris, collected by Sir George Grey) [BL: 12431.k.13].
Since the Festival has now finished these works and the many others acquired by the Library will have to keep us going until next year, but hopefully you'll find plenty of inspiration.
[PJH]
01 April 2015
A slight deviation from the usual posts focussed on our collections today. It is the 1 April, which means that as well as the discovery of unicorn cook books and other tall stories, it is the start of the financial year; and, at the Library, the introduction of a new configuration within the Collections and Curation department (which is where Team Americas sits). Team Americas used to be formally styled 'Americas & Australasian Studies'. We are now American Collections, which incorporates Canada, the US, Latin America, the Caribbean, and also Australasian and English-language Asian collections (not to mention some polar regions). We are now also pleased to be part of the European and Americas team, who also have their fascinating European Studies blog.
All  this probably won't mean much to the readers of our blog (or, indeed, Library readers in general), which we've always kept pretty much to American Studies, but you may notice a slight expansion of our geographical (and thematic) range. We're also delighted that Carole will still be posting from time to time.
We hope you enjoy what you find here. In any case, let us know what you think of the blog, either in the comments, via americas @ bl . uk or @_americas.
- Matthew Shaw
23 January 2015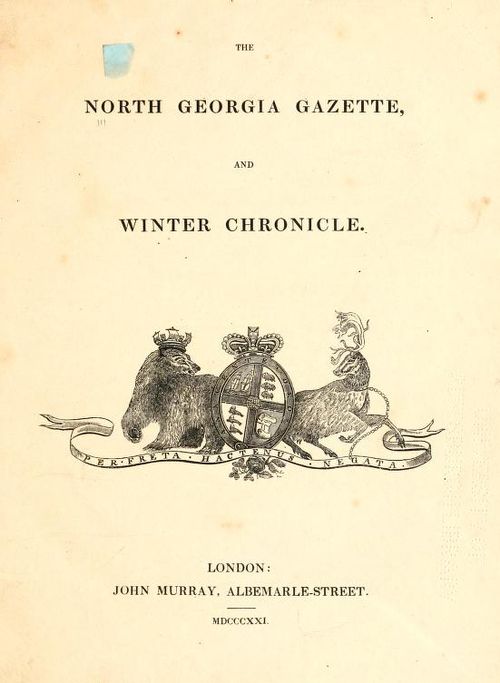 Above: 'The North Georgia Gazette and Winter Chronicle', image from Archive.org. BL copy at: P.P.5280.
January may be almost over but, just in time, here is Team Americas' first blog post of 2015 (and so Happy New Year to you all). This lapse is despite writing, just before Christmas, about the positive health benefits of spending the winter creatively - especially when stuck in the ice. So, with that in mind, let's pick up where we left off, with more on the power of print in the Arctic and the Antarctic.
While the last post focussed on the 'Illustrated Arctic News' this was far from the only publication assembled near the poles. Some were even printed and formally published. One early item that almost made it into Lines in the Ice was, 'The North Georgia Gazette and Winter Chronicle' written, assembled and circulated on board Capt. W. E. Parry's 1819 voyage in search of the Northwest Passage. Parry was actively concerned about the mental well-being of his crew during the over wintering and convinced his officers and surgeon that a newspaper focussing on events and entertainments would be a good way to alleviate the boredom.
As well as warding off boredom and stimulating the mind these papers also provide a record of the voyage, one that is markedly different in content and tone from the official narratives published upon a ship's return to home. Humour, poetry, some irreverence and, later, whimsical illustration were all hallmarks of these publications, as shown by the 'Illustrated Arctic News' on display in the Lines in the Ice gallery.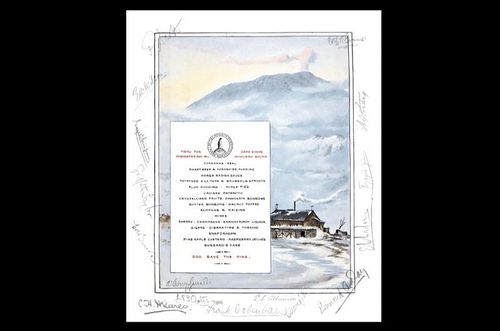 Above: 'The South Polar Times', September 1911, copyright British Library. Manuscript and print copies held at the British Library.
Since Parry's time these newspapers and magazines have become a permanent feature of polar exploration and have subsequently featured in the search for both Poles. 'The South Polar Times' was arranged during both the expeditions of Capt. Scott. Meanwhile, in a feat of imperial splendour Shackleton took a letterpress to Antarctica in order to publish the continent's first book, 'Aurora Australis'.
The act of publishing on Antarctica is significant too. It fixes the British imperial presence on the continent, by noting the place of publication in the book, and as such makes a claim to some sort of limited mastery of the space. As with the planting of flags the publication of this book has overtones not just of claiming the space but of bringing British civilisation to and further developing its culture from the ice of Antarctica.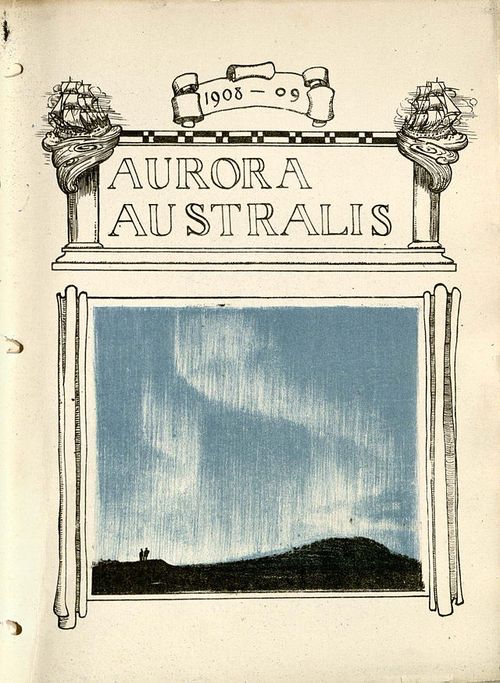 Above: 'Aurora Australis', cover, 1907, image from Wikipedia. BL copy at: C.175.h.11
Needless to say, this was not a new idea either. As writing and publishing had long been done in the Arctic so the idea that these acts somehow laid claim to space were also implicit within the act. Instead, Shackleton's method merely takes this process to a new level. This short history of writing on the ice reminds us how much is shared between Arctic and Antarctic exploration, as individuals, ships and methods of survival were transferred between the Arctic and Antarctic circles. The prsence of 'Aurora Australis' also provides an opportunity for a neat(ish) nod towards Australia Day, rapidly approaching on Sunday 25th. 
P.S. one last thing, Lines in the Ice is now extended until April 19th! So even more time for you to come and enjoy the show.
[PJH]
30 August 2013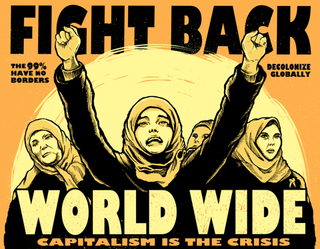 Colectivo Cordyceps, Mexico City, Mexico (website: Justseeds Artists' Cooperative)
If you've been to our Propaganda exhibition (and if you haven't, you only have until 17 September), you might have spotted the above print. It's in a fairly dark corner, so unless you looked at it carefully (or read the accompanying label) you might not have realised that it is a relatively recent poster coming out of the Occupy Movement. It was interesting to me that Ian, one of our Propaganda curators, should choose that particular poster out of a portfolio of prints that we acquired from Occuprint last year. Viewed up close, the text  'the 99% have no borders' is a bit of a give-away, but from a distance it looks like a fairly traditional political poster which could come from more or less anywhere (in fact it's from Mexico) and from any period.
The use of prints and posters to disseminate views on political issues and causes is nothing new of course, – they've been employed pretty much ever since the invention of printing, but they really came in to their own in the early twentieth century as technological developments enabled the relatively cheap mass production of posters. And they remain a simple but effective way of reaching the public and getting a message or viewpoint across.
I've been fascinated by the sheer volume, diversity and creativity of printing that has come out of the global Occupy movement. The portfolio alone is a good example of this – 31 hand silk-screened prints by 31 artists/groups, chosen out of hundreds of submissions from across the world, but all reflecting the values and many concerns of the movement. A fundraising initiative for Occuprint (a non-profit group affiliated to but independent from the Occupy Movement), the portfolio has been issued through the Booklyn Artists' Alliance in an edition of 100. It is curated by Booklyn's Marshall Weber and Occuprint organiser Jesse Goldstein, together with various other Occuprint editorial committee members. The portfolio also includes a copy of issue 4 (November 2011) of the Occupied Wall Street Journal, a special folio issue on the poster art of the Occupy movement, the curation of which led to the establishment of Occuprint itself. Occuprint's website was also launched in November 2011 and now hosts hundreds of images, including the portfolio prints and submissions, all of which can be freely downloaded for non-commercial purposes. More posters continue to be added and the website offers not only a wide range of support materials for local activists, but a fantastic resource for studying the art of Occupy (and much more besides).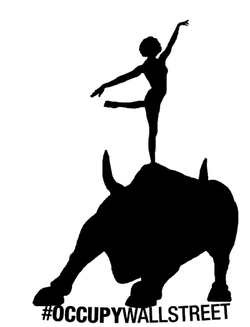 Creator: lots of people  #Occupy Wall Street NYC General Assembly
When Occupy Wall Street (OWS) sprang up in September 2011 with the occupation of New York City's Zuccotti Park, its birth was announced with a particularly arresting and now iconic image – that of a ballerina on top of the Wall Street bull, which appeared in Adbusters, the Vancouver-based anti-consumerist magazine. The bull is just one of the many new symbols that has emerged out of Occupy graphic art, and it is joined by more traditional images (e.g. the raised fists in Fightback), plus appropriations and re-interpretations (e.g. the Guy Fawkes mask, and David Loewenstein's underground 'inverted' fist ).  As Marshall Weber has noted, there is evidence of a variety of historical art influences in the imagery -from Russian Constructivism to Latin American political graphic art to Pop. Although the quality of imagery varies enormously, there are some wonderful, memorable and humorous posters, and it is clear that poster-making is an important strategy for participants of the Occupy movement.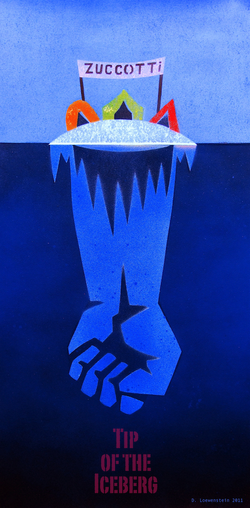 David Loewenstein, Lawrence, Kansas. http://www.davidloewenstein.com
Occuprint organiser Jesse Goldstein describes the graphic work coming out of Occupy as 'social movement culture,' quoting Dara Greenwald and Josh MacPhee's definitition of this as work 'born from a context in which large numbers of people mobilized to achieve transformation goals.' He says that perhaps the single cohesive thread of Occupy's cultural work is 'a self-assured dismissal of corporate media channels and the confidence that alternatives can be, and are being, built.' The graphic work is just one aspect of a growing number of cultural practices which include social media, public camping etc., and Goldstein goes on to say that, 'While it's too early to tell, there does seem to be the possibility that Occupy will successfully reclaim a portion of the cultural commons from a media sphere that has thoroughly infected our everyday lives with ubiquitous branding, messaging, news cycles, and stylized uniformity.' He notes that many of the images on the Occuprint website were created for local use and then passed on to Occuprint, whilst others only exist in the virtual world -'copies without originals.'  He also emphasises the importance of the idea of imagining the future in this social movement culture. 'If anything, the work focuses on the future of the movement itself, and the constituent power that will be required to make the world anew.' - Alexandra Clotfelter's poster The Beginning is Near, being a perfect example of this.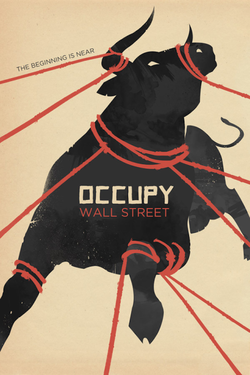 Alexandra Clotfelter, Savannah, GA  Website: http://www.ladyfawn.com
Goldstein acknowledges that 'The images on our site will one day be important, collected, preserved and themselves referenced, as the past is referenced today….The Occupy movement has become conscious of itself as an active producer of history, and this future potential permeates the social movement culture that is beginning to take shape. This, I believe makes the collection at Occuprint an archive of the future.' For me, there was never a doubt that we should have at least some of this material in our collections since it would be important for future researchers studying a whole range of subjects. Aside from the portfolio, we have collected placards, leaflets and other ephemera that help bring to life the movement, culture and a wide variety of political, social and economic issues. The images have in fact already appeared and been discussed and debated in a number of journals and blogs (see below for a few examples). So perhaps not only is the beginning near, the future is now.  
Jesse Goldstein, Occuprint: Archiving the Future, Socialism and Democracy vol.26, no. 2, July 2012 (available online in the library's reading rooms)
Sarah Kirk Hanley Ink: Political Art for a Contentious Time art:21 September 14 2012
Nato Thompson, "Debating Occupy," Art in America 100, no. 6, July/August 2012, pps. 99-103 (includes several images from the portfolio accompanied by statements from artists, curators, writers, and critics on the impact of the Occupy Movement).
[C.H.] 
12 April 2013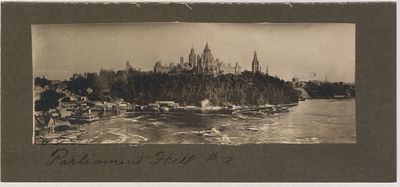 Miniature panorama of Parliament Hill, Ottawa [copyright number 22264, shelfmark: HS85/10]

This work is free of known copyright restrictions.
So, the day is here when Andrew and I get to show the first fruit of the Picturing Canada project to the world. Friday sees us present the initial outputs from the project to attendees of the GLAM-WIKI 2013 conference and it only seemed right to share it with our Americas blog readers too.
Digitisation is almost complete, with just the largest images still to come (a nice treat to end the project with), and while a few things need putting in place before we can host the images on the Library's Digitised Manuscripts page they are being gradually uploaded to Wikimedia Commons. Here the collection has a dedicated area which will soon have an introductory blurb and you can browse the collection as it grows over coming weeks.
That said, what have we got to show you? I briefly described the history and content of the collection a few weeks ago on the Americas blog but here are some fun extra facts. First off, we have so far mapped the collection's contents to over 300 different locations in Canada and you can browse this on the map above. This time it's a vector map so you can zoom in and out, clicking on the buttons for details on the location, how many photographs there are from each area and what time period they cover. I'm afraid there's no direct link to the photographs yet, as we're still uploading, but it will be available in the coming months.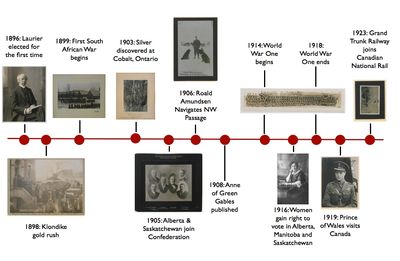 I've also got back to thinking about how the collection reflects the history of Canada. It provides a dynamic (and sometimes irreverent) lens on the many significant events that occurred between 1895 and 1924, both inside and outside of Canada. The above is one of the slides from Friday's presentation and it gives a highly selective and somewhat hap-hazard view of Canada's history during the period - but hopefully it provides a sense of some of the significant and / or interesting events of the period.
Over the course of the project Andrew and I have worked hard to make the metadata attached to these photographs usefully available as well as refining it and putting it to new uses. Hopefully the result of this will be a collection of photographs of use to historians of Canada, historians of photography, the writers of myriad Wikipedia articles and - you never know - the creator of the next cat-based meme.
I can live in hope... That said, if you put the photographs to any interesting uses please let us know.
[PJH & AG]
18 January 2013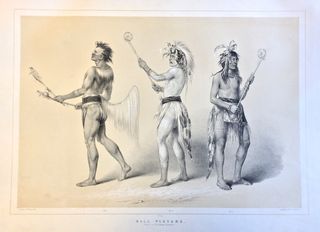 'Ball Players', by G. Catlin [plate 21, shelfmark: 74/651.b.8]

This work is free of known copyright restrictions.
Lacrosse was something of an unknown to me until my student days, but given my fondness for most things with an origin in the Americas I've maintained a passive interest in it since. I'm often struck by the fact that many UK-based Lacrosse players are unaware of its origins as a sport played, under various names, by many Native American communities prior to contact with Europeans.
However, I must confess I was somewhat vague on the exact style and form the sport took in Native American communities until I was enlightened earlier this week by George Catlin's, 'North American Indian Portfolio' [1844, BL Shelfmark: 74/651.b.8]. Catlin's work contains a wonderful plate of a game of 'Indian Ball' (to use the author's terminology) in full swing and with hundreds of participants competing on the field of play.
It comes as little surprise that Lacrosse has been much adapted to fit the norms and values of the community it was appropriated to and much of Catlin's account of the games he witnessed illustrates the scale of change. As well as the volume of players the game was also much greater in length (often lasting up to a day) and higher in score (most games ran up to at least 100 goals).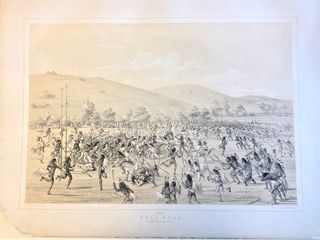 'Ball Play' by G. Catlin [plate 23, shelfmark 74/651.b.8]

This work is free of known copyright restrictions.
Catlin also notes that the games were an important way for communities to compete with one another and, as a result, individuals were known to find as much fame for their exploits on the sporting field as others found at war (the illustration at the top of the post is a testament to this). Another unique by-product of this import was that wives were also allowed onto the field of play in order to 'encourage' their husbands to defend the honor and possessions of their community more effectively.
I won't claim to know that the Library's collections are a fantastic resource on the history of Lacrosse but Catlin's work provides extensive notes on its Native American heritage. There are also supplementary materials, such as writings by Jean de Brébeuf who is attributed with using the term 'la crosse' when describing the Native American game. An 1877 reprint of 'Hurons et Iroquois' is available at shelfmark 4864.bbb.6 while the work of the Jesuits in Canada is recorded in various items, including a French digest at shelfmark G.4260.
[PJH]
08 January 2013
Phil has been helping our office neighbours in the UK Web Archive team by putting put together a collection of websites on slavery and abolition. Since we know these are subjects of interest to our readers, we thought we'd flag up his latest blogpost. You can read his thoughts on web archiving and the selection process here, and you can go straight to the selected sites here.
07 September 2012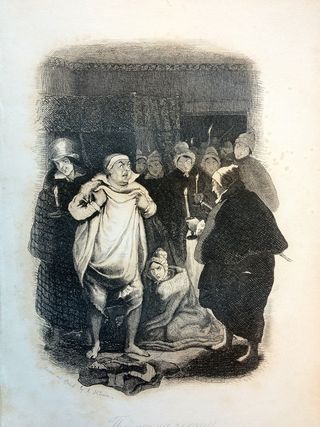 'The Wrong Room', an illustration from Thomas Hutchinson's, The Clockmaker [1838, Second London Edition; BL Shelfmark 12654.c.6]
I've been reading Reingard Nischik's, History of Literature in Canada and, with the Giller Prize Longlist also just announced, thought I would try and inspire a few of you to come and use the Library's collection of Canadian literature. Team Americas have written about early Canadian writings before, although these were published in France rather than the country with which they were concerned. Whether published in Europe or Canada Francophone Canadian writing features strongly in the collections in the form of newspapers, periodicals and books, the below, Une de Perdue, being just one example.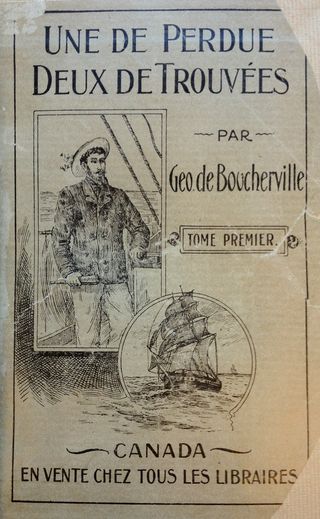 Front cover from an early Francophone Canadian adventure novel, George de Boucherville's, Une de Perdue... [1874 edition' BL Shelfmark: 1509/3550]
Despite this depth of Francophone material the Anglophone collections are stronger historically, largely due to the possibility of obtaining English language publications via copyright deposit. That said, the Library's Anglophone Canadian materials display the same format strengths as the Francophone materials, with newspapers (dating back to the eighteenth century), periodicals (such as the Acadian Recorder) and books being the main sources.
The collection also reflects the development of Canadian literature's international scope as the copies held of important early works such as Goldsmith's, The Rising Village [BL Shelfmark: 11644.bbb.40(2.)] and Haliburton's The Clockmaker [BL Shelfmark: G.17989] are London rather than Canadian editions. Further, because of the linguistic scope and historical depth of the collection you can also perceive how Canadian literature develops, positions itself in relation to prevailing trends and reacts to the winds of national and international politics.
Such things are still true today as the Library continues to collect (by copyright deposit and purchase) Canadian work in a variety of languages – which now stretches far beyond a simple Anglophone / Francophone split. I'm also pleased to say we occasionally manage to be part of the CanLit scene, something illustrated by the fact that Giller Prize winner Elizabeth Hay is speaking here next Wednesday lunchtime. If you are interested the event is free (with hot drinks and biscuits provided) and there are more details here.
[PJH]
Americas and Oceania Collections blog recent posts
Tweets by BL_Americas
Other British Library blogs