20 March 2020
In the early 1980s this thing called hip hop suddenly arrived in the UK from North America through videos like Malcolm McLaren's Buffalo Gals (1982) and films such as Wild Style (1983).  It marked the start of a global cultural change and, unbeknown to me, would help develop my future world as a choreographer, researcher and teacher.
In time, my curiosity would take me beyond the South Bronx of the 1970s to '50s jazz dance, Whitey's Lindy Hoppers and, eventually, minstrelsy.
Minstrelsy and blackface was something I was aware of growing up in the 1970s as a mixed race child in the North East of England: The Black and White Minstrel Show was still on TV and racial relics were never far away.  Years later I began looking past the racially charged media of minstrelsy, seeing instead an innovative dance form which laid the foundations not only for hip hop dance but for entertainment as we know it today.  And so I began to ponder on the question: What happened before minstrelsy?  Which is what brought me to the Eccles Centre and the British Library.
My approach at the Library was to explore African diaspora dance practices in the United States from the early 1800s.  My prior knowledge of African based social dances was mostly limited to the 20th century and I knew there was so much more: More threads and meeting points detailing the myriad ways in which the African diaspora experience was carried to the US, became fractured and disrupted through slavery, and morphed into gospel, blues, ragtime, jazz, funk and hip hop.  My research enabled me to understand how African dance, including Gelede and Calenda, were exchanged and disrupted through gatherings such as corn shucking meets, leading in turn to secular dances like the turkey trot and the camel walk. 
The key thing I realised through this research, however, wasn't even about dance.  It was about how information was passed, gathered and coded through slavery.  It was about the interactions between different African practices. I began looking beyond West African traditional dance forms to broader African practices.  This led me to explore the Muslim experience within Africa, the United States and slavery.  One story I came across was that of a 35-year old male Muslim slave in Sierra Leone during the eighteenth century. Waiting in irons for departure, sometimes he would sing a melancholy song and sometimes a Muslim prayer.  The song would eventually arrive in America to be heard by other Africans who may not have understood Arabic. Yet the cadence, experience and emotion enabled an experience of empathy that transcended words.  It was decoded through human consciousness as emotional unity through sound and movement.  It was understood, or misunderstood, and developed identity, social communication and African American culture.  These rhythms and experiences would resurface and be remixed into early blues; a remix that I suggest echoes into the sampling culture of hip hop.
Traces of Muslim practice may also relate to the Ring Shout (ceremonial dance) and the Kaaba and walking anti clockwise as prayer.  These exchanges of different African cultures, through shared experience and slavery, led me to think more about the subtleties and nuances of human exchange, gesture, symbolism and the cadence of both sound and movement: how scales of emotion and the body being read and misread is very much part of human learning, social patterns and coded cultures.
The African diaspora experience of slavery is one of the most heartless in human history and yet people survived, grew and emerged.  Of course, resilience in itself is a built-in human trait but how many times must it be tested and inflicted from one human to another to the degree of slavery and many other forms of violence, where carried trauma and disrupted African experiences seem to be in constant recovery and where culture acts to navigate and find better ways of living.
I think this research more than anything has led me to a deeper understanding of cultural development, human exchange, histories (my own) and the traces of experience that we carry and that are passed through generations.  Which brings me to the present, to my own creative practice and towards Afro futurism and how one can begin to develop African diaspora history(s) through speculation as a way to navigate future possibilities.  My hope is to develop projects embedded in my Eccles Centre research through dance, hip hop, visual art and education, exploring the question: What is hip hop's place in the twenty first century?
Robert Hylton, Eccles Fellow, 2019
Suggested Reading:
Abbott, L and Seroff, D. Ragged but Right: Black Traveling Shows, "Coon Songs," and the Dark Pathway to Blues and Jazz. Jackson: University Press of Mississippi, 2007. (Shelfmark: m07/.15598 DSC)
Austin, A. African Muslims in Antebellum America: Transatlantic Stories and Spiritual Struggles. New York; London: Routledge, 1997. (Shelfmark: YC.1997.a.3453) 
Diouf, S. Servants of Allah: African Muslims Enslaved in The Americas. New York University Press, 1998. (Shelfmark: YC.1999.a.80)
Emory, E. Black Dance: From 1619 to Today. London: Dance, 1988. (Shelfmark: YM.1989.a.111) 
Gay, K. African American Holidays, Festivals, and Celebrations: the History, Customs, and Symbols Associated with Both Traditional and Contemporary Religious and Secular Events Observed by Americans of African Descent. Detroit, MI: Omnigraphics, 2007. (Shelfmark: YD.2007.a.7641)
Glass, B. African American Dance: An Illustrated History. Jefferson, N.C; London: McFarland & Company, Inc., Publishers, 2007. (Shelfmark: m07/.12508 DSC)
Hammer, J. Safi, O. The Cambridge Companion to American Islam. Cambridge University Press, 2013. (Shelfmark: YC.2014.a.828)
Robinson, D. Modern Moves: Dancing Race During the Ragtime and Jazz Eras. (Oxford; New York, NY: Oxford University Press, 2015) (Shelfmark: YC.2015.a.12024)
Thompson, K. Ring Shout, Wheel About: the Racial Politics of Music and Dance in North American Slavery (Urbana: University of Illinois Press, 2014) (Shelfmark: m14/.11623) 
Visual References:
Ring Shout: https://www.youtube.com/watch?v=NQgrIcCtys0
Buzzard Lope: https://www.youtube.com/watch?v=3dGamWaYcLg
Audio Reference:
Alan Lomax Recordings - Levee Camp Holler: https://www.youtube.com/watch?v=5EH3jsnUo38
17 December 2019
Inspired by George Goodwin's recent American Collections blog and its reference to A Christmas Carol – and ignoring Jill's protestations in a recent episode of 'The Archers' – now is the perfect time to indulge in some ghost stories. And if the indulgence is going to be American, there are few better choices than Shirley Jackson's The Haunting of Hill House (1959).
Jackson first came to the public's attention with 'The Lottery', a short story published in The New Yorker in June 1948.1 With its hopeful title and shocking twist, it resulted in cancelled subscriptions for the magazine and hundreds of letters for Jackson. Many of these expressed bewilderment or speculation about the story's meaning, but a good proportion were downright abusive. Jackson was surprised by the strength of this reaction, yet seems to have remained unfazed. Indeed, you can almost hear the smile in her voice as she tells Hugh Henry Jackson, literary editor of the San Francisco Chronicle: 'The number of people who expected Mrs Hutchinson to win a Bendix washing machine at the end would amaze you'.2 
While 'The Lottery' has been a fixture of American school curricula for decades, the rest of Jackson's work has, until recently, been largely overlooked.3 Even her biographer, Ruth Franklin, admits that it was not until Library of America's Shirley Jackson: Novels and Stories (2010) – edited by Joyce Carol Oates – that she started reading beyond 'The Lottery' and The Haunting of Hill House, despite the latter having long been one of her favourite books. And critics and writers concur with Franklin's assessment. In 1959 The New York Times Book Review rated The Haunting among the year's Best Fiction; it was a 1960 National Book Awards finalist, alongside works by Saul Bellow, John Updike and Philip Roth; in Danse Macabre (1981),  Stephen King argues it is one of the best horror books of the twentieth century; and last year, Neil Gaiman named it the scariest book he'd ever read, ahead of  'The Turn of the Screw', Salem's Lot and The Shining.4   
Far be it from us to spoil the plot, of course. Suffice to say that as with all great ghost stories, it is never clear whether the supernatural manifestations in The Haunting of Hill House are real, or whether they are the projections of the protagonist's psyche. Either way, the effect is chilling and irresistible.
Happy reading ... and happy Christmas!
References
[1]. The New Yorker, 26 June 1948; shelfmark P.903/858.
[2]. Ruth Franklin, Shirley Jackson: A Rather Haunted Life. New York: Liveright Publishing Corp., 2016, pp. 232-33; shelfmark YK.2017.a.29. 
[3]. The recent Netflix adaptation of The Haunting of Hill House is helping to change this!
[4].  Stephen King in Stephen King's Danse Macabre. London: Futura Books, [1981]; sheflmark H.82/1022; Neil Gaiman in The New York Times, 16 July 2018; shelfmark MFM.MA3.
06 August 2019
In the midst of the very sad news that author Toni Morrison passed away on 5 August 2019, aged 88 years old, we shine a light on one of Morrison's many items held in the Library's collection: the beautiful, 'Five Poems' – a fine press book with illustrations by Kara Walker.
Toni Morrison was born Chloe Anthony Wofford on 18 February 1931 in Lorain, Ohio. Her portrayal of the black female experience through her writing has moved readers around the world for more than 50 years, and will continue to do so. The Bluest Eye was published in 1970 and would become a Nobel Prize winner, and further bestselling novels would follow, namely Song of Solomon (1977), Beloved (1987) and Jazz (1992). It was not long before Morrison and her work were established firmly as 'part of the fabric of American life … woven into high school syllabuses up and down the country' (Richard Lea, The Guardian). Alongside her Nobel Prize, Morrison would be honoured with the Pulitzer Prize and a Presidential Medal of Freedom in celebration of her literary achievements during her lifetime.
Upon joining the Americas Team just one month ago, one of the first treasures a colleague introduced me to was Five Poems (RF.2019.b.96) – a breath-taking fine press book compiled of Toni Morrison's words and illustrations by Kara Walker. As I began to turn the pages, I was intrigued (and blown away) to say the least. 'I never knew Toni Morrison wrote poetry' I thought, careful not to share out loud for fear of making a fool of myself in front of my new team of experts. But upon closer investigation of the book, I realised there was perhaps a reason for this oversight of mine…
Published in a limited run by Rainmaker Editions of Las Vegas, between the large books' pages readers will be entranced by 'Eve Remembering', 'The Perfect Ease of Grain', 'Someone Leans Near', 'It Comes Unadorned' and 'I Am Not Seaworthy'. Five short poems which compile Morrison's only poetry book, alongside them are silhouette illustrations from the New York-based artist, Kara Walker.
Reading an article by Stephanie Li ('Five Poems: The Gospel According to Toni Morrison') in a bid to find out more, it transpires that, at the time of Li's research, 'in the numerous interviews Morrison has given since the publication of Five Poems she [Morrison] has never mentioned the book or discussed her approach to writing poetry' (p 899).
The book is said to have come about thanks to Wole Soyinka (the playwright, poet and essayist) who invited 'Morrison … on behalf of Rainmaker Editions to submit an original unpublished manuscript. Morrison sent five short poems, the full text of the collection' (p 899). Upon receiving the manuscript, the book's designer, Peter Rutledge Koch, suggested that illustrations be included as well. Si explains that Kara Walker, whose work explores themes of gender, race and ethnicity, has often praised Morrison and the influence the author had on Walker's own creativity; Koch saw the potential for the two artists' work to complement each other in this endeavour. Walker was contacted and the book was made with Morrison's words and Walker's five relief prints side by side.
This edition is one of the 425 issues printed and has been signed by the author, illustrator and binder. It really is a fusion of skill, care and total masterfulness from across the United States. Alongside the contributions from Morrison and Walker, Peter Koch Printers printed letterpress from digital imaging and photo-polymer plates in Berkley, California, while the binding and housing was done by Jace Graf at Cloverleaf Studio, Austen, Texas. It's a work of art in every sense.
It is with great sadness that we have lost one of the world's, not just America's, most prolific writers. As chance would have it I'm currently reading Jazz and I'll be sure to savour Morrison's storytelling even more than normal during the commute home this evening, on a train journey that will be tinged with more than a little melancholy.  
[RSW]
01 August 2019
Today – 1 August 2019 – marks 200 years since the birth of Herman Melville.
To celebrate we are sharing a few images from Lakeside Press's beautiful 1930 edition of Moby Dick (British Library shelfmark: L.R.50.b.1) illustrated by artist, printmaker, writer and voyager, Rockwell Kent. 
While now regarded as a masterpiece and one of the greatest American novels of all time, such acclaim could never have been predicted for Moby Dick when it was first published in 1851. Unlike Typee (1846) and Omoo (1847) in which Melville exploited his own sailing and whaling adventures to critical acclaim and commercial success, his sixth novel - published as The Whale in London and as Moby Dick; or, The Whale in New York shortly thereafter - garnered mixed reviews and poor sales. Indeed, Melville published his final work of prose just six years later and by his death in 1891 his reputation was in the doldrums.
Thankfully, his centenary in 1919 prompted a reappraisal of his work, so much so that in 1926 R. R. Donnelley and Lakeside Press chose Moby Dick as part of its 'Four American Books' campaign - the other three being Poe's Tales, Thoreau's Walden, and Richard Henry Dana Jr.'s 1840 memoir Two Years Before the Mast, which whilst little known today was one of America's first literary classics and a work Melville himself declared to be 'unmatchable'. 
For Donnelley and Lakeside Press, 'Four American Books' represented an opportunity to demonstrate the capacity of its modern machinery to produce fine press editions that would capture the imagination of the mass market. William A. Kittridge, the company's Head of Design and Typography who commissioned Rockwell Kent, believed their three volume version of Moby Dick to be 'the greatest illustrated book ever done in America' and nearly a century later it is still regarded as one of the finest books printed in the United States. Only one thousand copies of the three volume edition were published. However, a few months later Random House issued a one volume trade version that included all of Kent's illustrations, thereby bringing this incredible work to a wider and hugely appreciative readership. 
 Finally, and somewhat as an aside, readers might like to know that while Lakeside Press is included in Modern British and American Private Presses (1850-1965): Holdings of the British Library (London: British Museum Publications, 1976; shelfmark 2708.aa.36), the Eccles Centre is currently compiling a list of American fine presses established since 1965 that have works held by the British Library. Updates to follow in due course. 
28 August 2015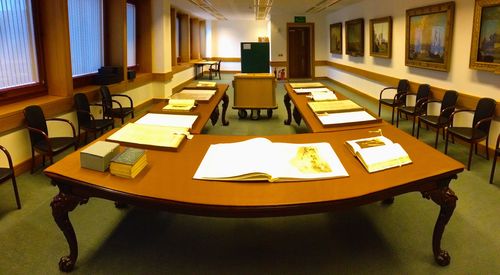 Above: displays have always been a highlight. This was of our Edward Curtis materials, for students from NYU (image: PJH)
Well, after five years as part of Team Americas (nine, if you count my time as an MA and PhD student) I'm moving on to new pastures - even if they are still part of the British Library. Next week I'll be taking up the post of Lead Curator, Digital Mapping, and will be based with colleagues in the Contemporary British team.
It's a return to my founding discipline, as I'm a Geographer originally, but I will miss working with the Americas collections. Over the last five years I've learnt a lot through the Library's collections and the chance to wallow in their breadth has been fascinating. I can safely say there is more material here than you could ever possibly imagine. In many ways, and in contrast to doing a PhD, this is the joy of working as a curator; getting to stretch yourself out over a vast range of information about the history and present of the Americas and their place in the world.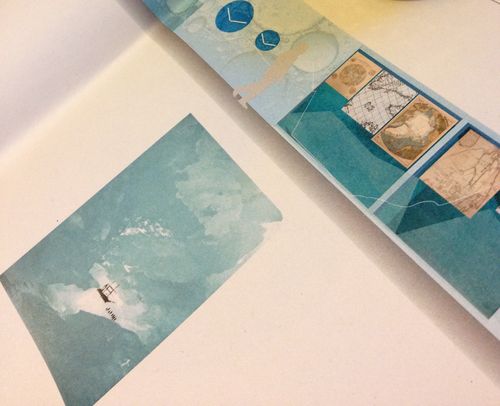 Above: looking over exhibition design proofs for Lines in the Ice (image: PJH)
This being the case I thought it would be a shame to leave without noting down some of my highlights working for Team Americas, mostly for nostalgia but also because some of it might interest you. So, here we go;
Y'all: I wrote last week about it being an honour to meet Reverend Jesse Jackson but, while this is true, I can honestly say it's been my absolute pleasure to work with each and every one of you. The main joy of my role has been getting an inside view of what questions researchers on all levels are asking about the collections. As our Summer Scholars show, you're all doing great work.
The Eccles Centre: most of you reading the blog know this already but many of us in American, Canadian and now Caribbean Studies would get an awful lot less done without them.
Students: we hear a lot about how awful it is being a graduate student and, yes, the hours are long and the subsequent employment prospects are less than great. However, the amount of brilliant work PhDs in Americas studies are doing is astonishing and adds a huge amount to their fields and the broader understanding of the Library's collections. On top of this my own PhD students have been fantastic and a guaranteed highlight to any week I've worked with them.
Events and exhibitions: I've been lucky during my time in the Americas collections and have run a number of events and displays, as well as one exhibition. Lines in the Ice was a privilege to put on but for all the academic praise it received the biggest achievement was getting younger children interested in the Arctic. Seeing young folk (be they 5 or 15) every day enjoying listening to the sounds of walruses under water or Inuit throat singing was a delight. The events have been great too, Summer Scholars was a hoot (especially when Naomi Wood was blasting out music next to the Conservation Centre) and events like 'Our Memories of the Uprisings' brought communities together.
The societies: be it BAAS, BACS or SCS, the Americas area studies societies are an important hub for their respective disciplines. Make no bones about it, times are tough for area studies scholars and departments but the members of these groups keep bringing people together, innovating and, along with the Eccles Centre, providing a hub to keep on raising important questions.
Australasia: my adopted charge. I took on these collections while we were without an Australasia curator and it was an immensely rewarding experience. I learnt that I knew as good as nothing about Australia, New Zealand and Pacific Island history and got to rectify that by using original historical documents. A unique and exciting adventure.
The collections: I'll be working with physical collections a lot less now but, even in a digital age, it's impossible to over-stress how important these are. Be they books, photographs, newspapers, maps or manuscripts each of these objects, produced yesterday or a thousand years ago, is a connection to the past. This connection is partial, obscured, provocative, confusing and many other things that stop it being (as we too often say) a 'window' onto the past but the fundamental truth that some other person touched this object, be they another reader, an eighteenth-century mapmaker or King George III, makes that connection tangible and personal.
This blog: last but not least. Writing on here about what Team Americas has found, who has visited and what we're up to has always been enjoyable. It's tough to find the time, as it always is with writing, but the blog both inspires research and acts as a record of what has happened to Team Americas since late 2009. Hopefully I'll pop back up occasionally, but for a while it will carry on without me.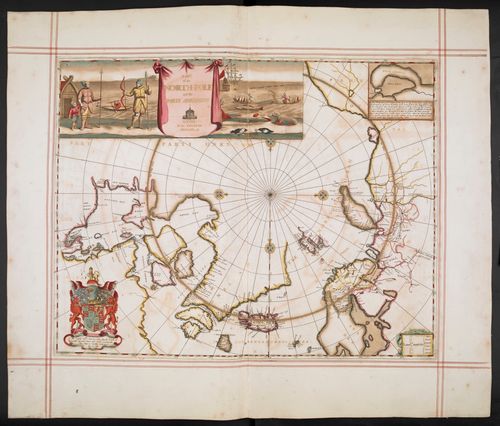 Above: hopefully, I'll still be working with the originals of these. Occasionally.
This, of course, isn't everything and nor should it be as I'm not leaving the Library. There is a lot I still get to do and, thankfully, that includes working with the Americas team and the Eccles Centre, even if this doesn't happen quite as often. However, for now, this is goodbye to our time working together with the Americas collections.
I'm off to find some [digital] dragons.
[PJH]
24 August 2015
Above: portraits from the works of William Wells Brown [BL: 10880.a.6] and Olaudah Equiano [BL: 1489.g.50], two items displayed for the Rev. Jesse Jackson.


Last week Team Americas had the pleasure of putting on a small show of collection items for Reverend Jesse Jackson, who visited the Library's Magna Carta show ahead of his event on Friday evening. I've done more than a few collection displays while I've been a curator and it's always entertaining to collate a selection of material, usually on a tight timescale, from the Library's vast collections and making a narrative that will interest the audience and illuminate the significance of the objects on show.
For Reverend Jackson's display I focussed on the long march to abolish slavery and attain racial equality in the Americas, which is extensively detailed in manuscript, book, newspaper and other collections held here. It was an opportunity to look at a number of items I know of but have not spent time with and also to show some of the notable interconnections between the items, collections and ideas that make up the wider Americas collections.
Spending time with material you've not read before is always fascinating and the Library's holdings of manuscript letters between King Henri Christophe of Haiti and Thomas Clarkson, written in 1816, are particularly so. Consisting mostly of a lengthy letter from Christophe to Clarkson there are two main threads to the message: Christophe explaining why the Haitian revolution was so necessary and also thanking Clarkson for dispatching some (reading between the lines) British teachers to support education in this new free state. The arrival of these teachers raises a question as to exactly what is going on here. Christophe is undoubtedly pleased with their arrival ('the greatest benefit' he calls them) but why, above all things, did Clarkson send teachers? Was he asked to? Did he decide they were an important part of, perhaps, shaping free Haiti into a recognisably European state? Or did he think educating free Afro-Caribbeans would make a useful case for his own abolitionist work?
Whatever the case, the letters remind us of a few important points: that the networks involved in promoting the end of slavery and subsequent racial equality in the Americas were international in nature; that they involved a large number of individuals with prodigious global contacts; that each party in these networks had their own aims and objectives; and that activism in these networks could spring up in the most unlikely of places. Another item on display was a copy of Olaudah Equiano's 'Interesting Narrative' and a glance at the subscribers in this work illustrates the above nicely. A recent blog post by our student Ellie Bird (whose research was also on display) illustrates the surprising locations involved, as authors promoting Underground Railroad publications found their way to the Lake District.
The only problem with these displays (as with these blogs) is that people are busy and there's never enough time to talk about absolutely everything that piques one's interests. Sadly, my time of doing these displays is coming to an end too as, at the beginning of September, I'll be taking up the post of Lead Curator, Digital Mapping, here at the Library. Given this will be one of my final displays I've decided to leave it on the blog for future reference and so the handout can be downloaded below. 
Download Freedom and Equality in the Americas (Rev Jackson display, final)
[PJH]
24 June 2015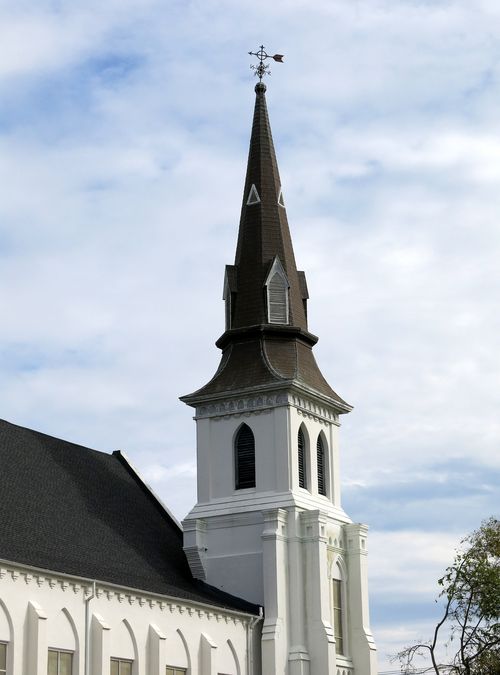 Above: steeple of the Emanuel African Methodist Episcopal Church, Charleston, SC. Image from Wikipedia.
As you will no doubt know by now, the British Library holds a vast collection of written material from all of the world. It is historically deep and continues to grow to this day and our North American collections are no exception to this. Why do I mention this now? Well, you might have seen on the web and social media the #Charlestonsyllabus circulating and you may have thought, 'it's an important reading list but how do I get access to its sources in the UK?'
Team Americas have been saddened by the tragic events of last week and we would like to do our bit to show solidarity with the Emanuel African Methodist Episcopal Church, the families affected and the community of Charleston in general. We can't do much, but we can give access to books and materials to help people learn more about the context behind this crime - and this brings me back to the #Charlestonsyllabus.
The Library is one of the few locations in the UK where a reader can get access to many of the books, papers and articles listed in the syllabus, by virtue of our long history of North American collecting. There are gaps (and I've been busily finding them today) but we will try and fill them as best we can in the coming weeks and months.
So, should you wish to know more about the history of the American South, Charleston and the context behind last week's events the British Library is open to all who provide the appropriate forms of identification (more info here) and many of the books in the list can be found using our catalogue. If you have any questions, you know where we are.
[PJH]
05 June 2015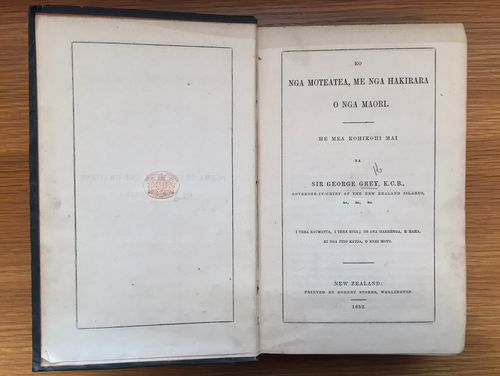 Above: title page for, 'Ko nga Moteatea, me nga Hakirara o nga Maori' [BL: 12431.k.13]
Last week various members of the team found their way to King's College for events from the Australia & New Zealand Festival of Literature and the Arts, a fantastic annual event which always generates subsequent digging in the collections. The opening night captured all the festival is about, promoting Antipodean arts and culture through a mix of literature, music and comedy, often served with a side of political commentary.
Above: 'Portrait of a New Zealand Man' (1769), one of the Library's numerous items from Cook's expeditions [BL: Add MS 23920]
I've visited the festival twice now and always come back with an enthusiasm to dig into the Library's Australasian literature collections. These continue to grow, with the Library collecting a wide range of publishing from Australia and New Zealand every year, but the collections are also historically deep, something out 'Help for Researchers' page gives you a taste of. For many, the highlights of the collection are the various maps, manuscripts and publications relating to Cook and various other early explorers. However, if you dig a little deeper there are lesser-known gems to be found.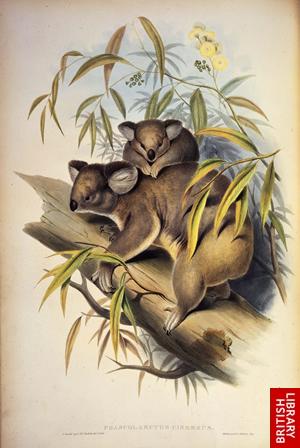 Above: illustration from, 'The Mammals of Australia' [BL: 462*.e.4]
The Library holds a number of significant early books about Australia and New Zealand, their settlement, and natural history, including the beautiful, 'The Mammals of Australia' [BL: 462*.e.4], but many of these are published in the UK. There are also examples of some of the first original literature published there. 'Quintus Serviton, a tale founded on real events' was published anonymously in Hobart c.1830, the author being convict Henry Savery who had already written sketches of Van Diemen's Land life for the newspapers but now became Australia's first novelist.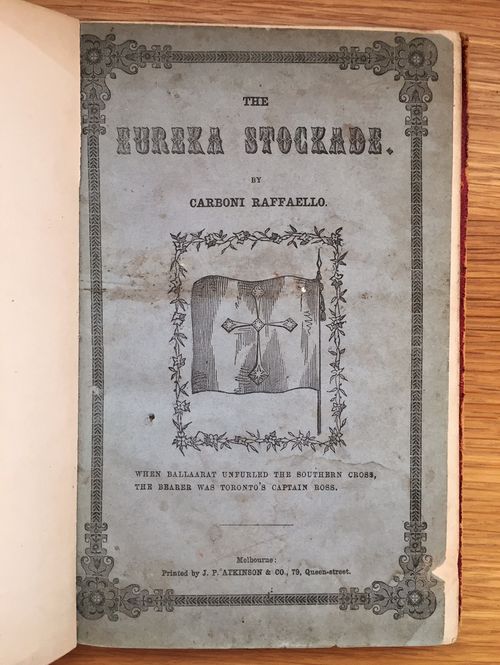 Above: cover for, 'The Eureka Stockade: the consequence of some pirates wanting on quarter deck a rebellion' [BL: 8154.b.35]
Later works found in the collection include the poetry of Henry Kendall [BL: 11651.aaa.44] and accounts of early historic events, such as the wonderfully titled, 'The Eureka Stockade: the consequence of some pirates wanting on quarter deck a rebellion' [BL: 8154.b.35]. There are also early examples of attempts to lay down the stories and songs of Aboriginal and Maori peoples in print, such as, 'Ko nga Moteatea, me nga Hakirara o nga Maori. He mea Kohikohi mai na Sir G. Grey' (Poems, traditions, and chants of the Maoris, collected by Sir George Grey) [BL: 12431.k.13].
Since the Festival has now finished these works and the many others acquired by the Library will have to keep us going until next year, but hopefully you'll find plenty of inspiration.
[PJH]
Americas and Oceania Collections blog recent posts
Tweets by BL_Americas
Other British Library blogs