01 July 2013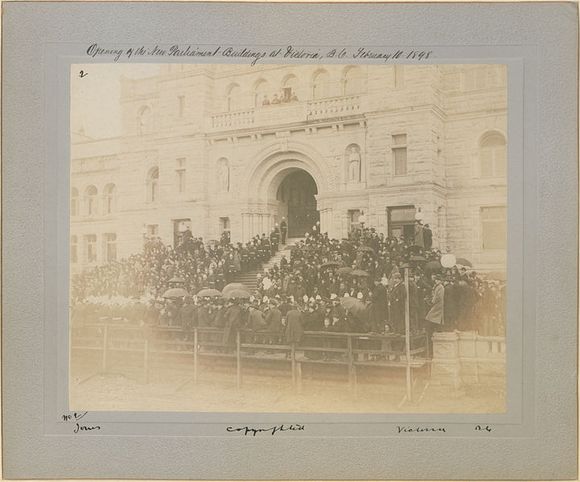 Above: the opening of the Victoria parliament buildings, 1898. From Wikimedia Commons, copyright number 9752 

These works are free of known copyright restrictions.
Many happy returns, Canada, and congratulations on your 146th year. Team Americas has made a habit of marking the occasion but this year is a little different - this year we have arranged a little present.
You see today is the official 'go live' day of the Picturing Canada project. Since I last posted on the blog about it we have completed the digitisation, uploaded over 2,000 new files to Wikimedia Commons and started hosting the images on the Library's Digitised Manuscripts viewer as well. As we mentioned before, the files uploaded onto Commons have all been released under a public domain license and it's great to see that some have already been used in various new contexts.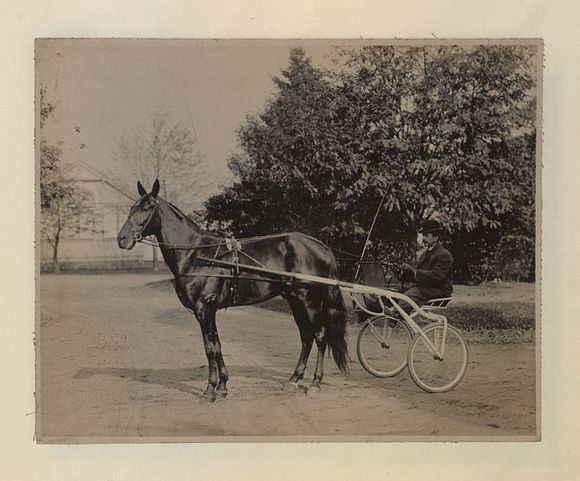 Above: Dan Patch in one of the collection's many photographs of animals and sports (not always combined...). From Wikimedia Commons, copyright number 16532
For those of you who missed the previous posts, the Picturing Canada project has sought to digitise the Library's collection of colonial copyright photographs. These were accumulated between the years 1895 and 1924 with over 4,000 photographs being part of the final collection. The photographs come from across Canada and the collection covers a dynamic time in Canada's history through the lens of amateurs, as well as some of Canada's more well-known photographers.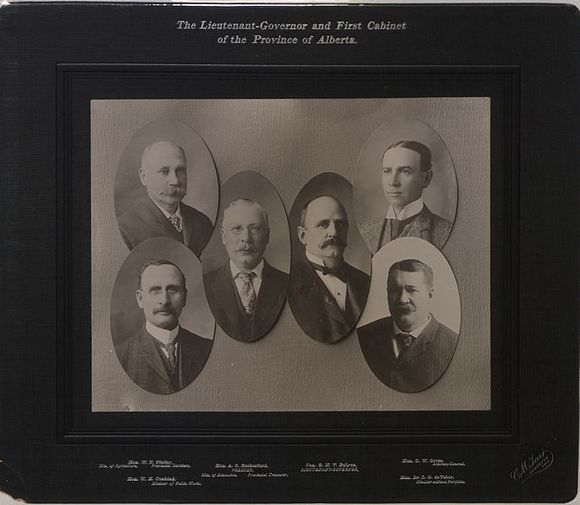 Above: composite portrait marking the first cabinet of the Province of Alberta. From Wikimedia Commons, copyright number 16448. 
To illustrate the point, the collection holds photographs of Wilfrid Laurier, the opening of the parliament buildings in Victoria, commemorative photographs marking Alberta and Saskatchewan joining the Confederation, as well as many other photographs of Canadian politics in action.  Canada Day related politics are not the only theme though, expanding lines of communication, wars, migration, growing cities, major sporting events, notable foreign visitors and many other subjects are covered (often from multiple angles) in the collection.
So, with celebrations to attend to (do catch the annual Trafalgar Square party if you have time) I'll sign off with a reminder that you can find and use the images from Wikimedia Commons or browse and view them in fantastic detail on the Library's Digitised Manuscripts viewer (just type 'hs85/10' in the manuscripts search bar). One quick disclaimer on the latter, we're still in the process of getting the photographs onto this so do keep checking back and you'll see more everytime.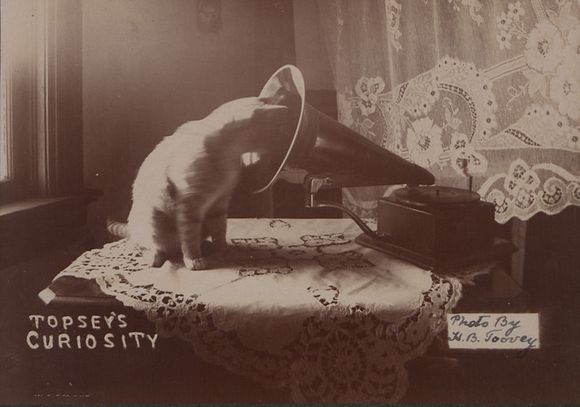 Above: one more cat picture! From Wikimedia Commons, copyright number 20757
With all that said, enjoy the day and the photos - and if you do anything exciting with them be sure to let us know!
[PJH]
04 June 2013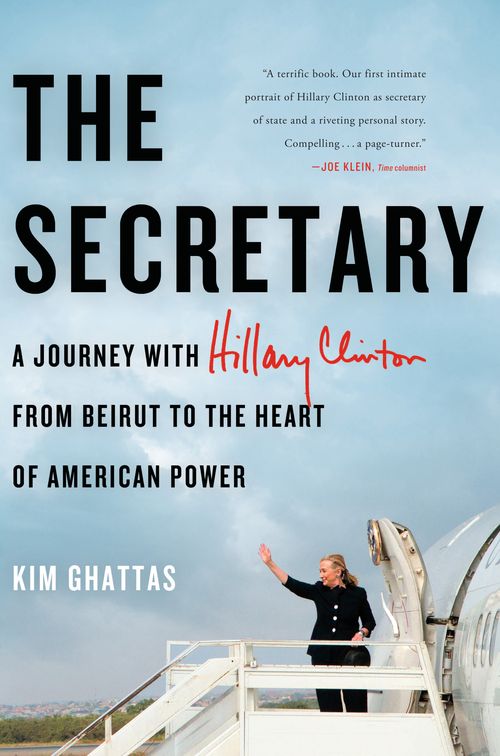 Above: the cover of Ghattas' book, 'The Secretary: a journey with Hillary Clinton from Beirut to the heart of American power'
As the sun bathes central London it seems like the best possible time to start this year's Summer Scholars programme. On Friday Kim Ghattas, BBC State Department Radio and TV Correspondent, will open the season with a talk drawing from her new book, 'The Secretary'.
Ghattas, who grew up in Beirut during the civil war, has worked as the BBC's State Department Correspondent since 2008 and has drawn on her earlier personal experiences as well what she has seen from the front row of U.S. diplomacy to open up this world to a new audience. With Hillary Clinton as the main focus the book looks at how she handled a range of issues in the first Obama administration, from the relationship with Asia, to the Arab uprisings, to crisis spurred by the diplomatic cables revealed by WikiLeaks. Friday's talk will provide an introduction to the book, as well as a Q&A session and a chance to discuss the issues raised with other attendees over a tea or coffee at the end.
For Team Americas this is a timely talk to be hosting as our intern, Catherine, wades through political letters relating to the Civil War, part of the final steps of the Civil War digitisation programme. If you would like to attend the talk is this Friday lunchtime, places are free and you can find full details here.
[PJH]
01 May 2013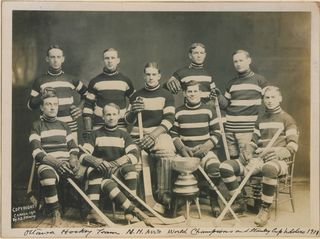 The 1911 Stanley Cup holders, Ottawa. Photographed by A. G. Pittaway [shelfmark HS85/10, copy. num. 23753]

These works are free of known copyright restrictions.
After a dramatic season on and off the ice the NHL playoffs start tonight. Since long before I was a curator I've taken an interest in most North American team sports and so I'm the one in the office who's been losing sleep to the NBA playoffs and, from tonight, the NHL.
The impending playoffs also reminded me that the Picturing Canada project has digitised a number of hockey photographs I should share on the blog. Included in this are photographs of the 1909 and 1911 winning teams from Ottawa, taken by local photographer Alfred George Pittaway who it would seem specialised in sports-related photography.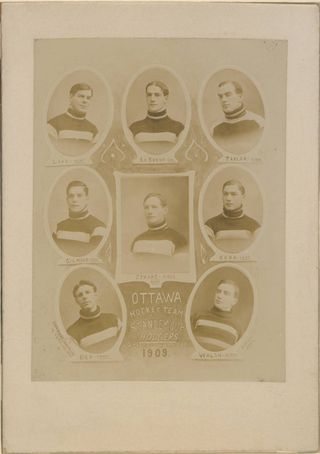 The 1909 Stanley Cup holders, Ottawa. Photographed by A. G. Pittaway [shelfmark HS85/10, copy. num. 20618]
Sports feature quite heavily in the collection, with everything from lacrosse and hockey to rugby and football photographed (alas, no cricket). Hockey though is unusual as a number of the photographs in the collection have more joviality in them than the usual photos of games in process or deeply serious team photos. It's also the only sport in the collection represented by women, as seen below (although I bet that assertion comes back to bite me). As with many sports the Library holds a surprising amount of material relating to hockey and its various influencing games, although that's a post for another time.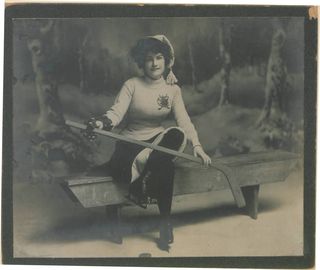 'Canadian Hockey Girl, Benched'. Photographed by W. E. Maw [shelfmark HS85/10, copy. num. 15498]
While all of this is very interesting I'd be surprised if any hockey fans reading this will be too concerned with researching the history of the sport in coming weeks. That said, there are historically significant notes dotted through this year, not least with two Original Six members facing off when Boston and Toronto meet. So, good luck to all your teams, enjoy the end of season spectacle and I hope you've enjoyed these glimpses into hockey's past.
[PJH]
20 February 2013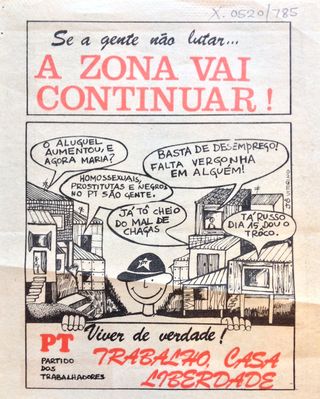 Partido dos Trabalhadores Election Pamphlets [BL shlefmark X.0520/785]
I recently had the privilege to attend a talk by the Brazilian Minister of External Relations at King's College London. During his talk the Minister discussed among other things how the process of democratisation in Brazil has informed its domestic and foreign policy. In particular, how the transition from military dictatorship (Brazil's current president Dilma Roussef was herself a victim of torture under the dictatorship) has shaped the country's emphasis on multi-lateral and peaceful diplomacy, reduction of social inequality, and democratic reform of international organisations such as the UN security council.
The minister's talk plus the upcoming conference 'Democratic Brazil Ascendant' and seminar on affirmative action in Brazilian universities inspired me to take another look at some of the Brazilian political pamphlets and ephemera that we hold from the 1980s onwards, when Brazil began its transition from military dictatorship to electoral democracy.
Taking a look at the collections we have here at the BL you immediately appreciate the popular groundswell that brought an end to the dictatorship in Brazil and the social goals that are still coming into fruition today.  The collection includes pamphlets promoting gay rights, affordable housing, agrarian reform, full employment, and an end to poverty and racial discrimination. The various collections of pamphlets and ephemera cover national and municipal elections as well as organising campaigns. They date from the early 1980s through the late 1990s.

Partido dos Trabalhadores Election Pamphlets [BL shlefmark X.0520/785]
The collection also includes items from Lula's 1982 campaign for governor of São Paulo, the work of the Central Única dos Trabalhadores (which Lula help to found) and the Direitas Já! campaign for direct popular presidential elections in Brazil. In addition to political ephemera we also hold fascinating publications by the Brazilian trade unions (Miscellaneous collection of publications on trade unions – BL shelfmark ZL.9.d.3). As well as a special microfilm collection of documents and ephemera on the origins and evolution of the PT that you will find at shelfmark SPR.Mic.A.287.
[ENC]
11 January 2013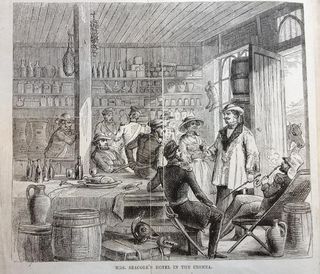 'Mrs. Seacole's Hotel in the Crimea', insert from, 'The Wonderful Adventures of Mrs. Seacole in Many Lands' [BL Shelfmark: 12601.h.20]
[Update] For International Nurses Day 2020 we are revisiting this post on Mary Seacole, her work and the book, 'The Wonderful Adventures of Mrs. Seacole in Many Lands'.
When something from the news catches my eye I occasionally have time to pull some relevant items up from the Library's collections. The recent stories about Mary Seacole's place in the curriculum pointed out to me, someone who didn't have the privilege of learning about Mrs. Seacole at school, that I didn't know enough about someone who had an important place in British military history.
The major work we hold on Seacole is her autobiography, 'The Wonderful Adventures of Mrs. Seacole in Many Lands' [1853, BL Shelfmark: 12601.h.20]. It is a fascinating little book and many things about it caught my eye, not least the introduction from W. H. Russell (correspondent for the Times in the Crimea, he also covered the US Civil War). This glows about Seacole and notes, 'If singleness of heart, true charity, and Christian works; if trials and sufferings, dangers and perils, encountered bodily by a helpless woman on her errand of mercy in the camp and in the battle-field, can excite sympathy or move curiosity, Mary Seacole will have many friends and many readers.' (p.vii)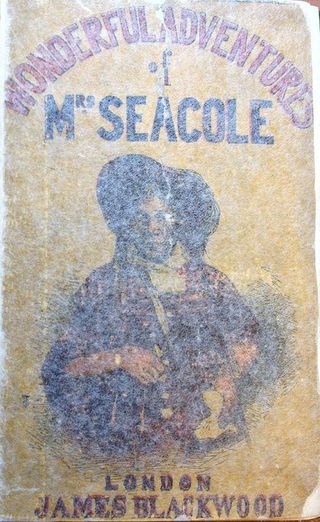 Cover of, 'Wonderful Adventures of Mrs. Seacole in Many Lands' [BL Shelfmark: 12601.h.20]
I have always taken an interest in such dedications as they illustrate something of who took an interest in such books and perhaps say something of the underlying purpose of the publication. As an aside, in earlier works I find subscriber lists to be equally interesting, showing who took an interest in the contents of historically significant works. A good example here is Olaudah Equiano's, 'Interesting Narrative' which counts the Prince of Wales, Duke of York and entrepreneurs such as Josiah Wedgwood among its 9 pages of subscribers [1789, 1st edition; BL Shelfmark: 615.d.8]. I would suggest then that the dedications and subscribers found in these works speak to the importance of these individuals and their publications in their own time, even if we have since forgotten.
Both Mary Seacole and Olaudah Equiano have had much written about them in the intervening centuries and many of these works can be consulted here at the Library. However, for anyone wishing to become aquianted with Mary Seacole, Olaudah Equiano and other historical figures currently being discussed in the news I would recommend viewing their history from their own perspective as a first port of call.
[PJH]
06 November 2012
The University of Penn runs a great series of seminars on 'Material Texts'. Yesterday, I left the Library Company early and headed across the Schuylkill to University City, with the plan of doing some writing, and then hearing Dan Hobbins (Notre Dame) discuss the early history of the colophon.  
But, on the way towards the Van Pelt library, we spotted a bunch of TV crews, and thought we'd take a look.  There were long lines of people, and lots of young people with clipboards and Obama badges.  I asked what was up.  The answer:
"Bill Clinton"
The 42nd President of the United States was doing a rally in a couple of hours.  This was at once exciting, and troubling, as it underlined how much Pennsylvania is a swing state (apologies if this reveals my political bias).  We followed the line (there are no queues in America).  It swept around the sports stadium.  There were thousands of people.  Taking a punt, we decided to see if we could get in before the colophon talk started.  An hour later, and we were in, as participant observers.
As expected, we got political razzmatazz.  I was disappointed by the lack of straw boaters and puzzled by the oddly low-key security, but there was a band, sousaphones, banners, a huge US flag (Philly is the home of Betsy Ross after all), and lots of call-and-response shouting.  We were whooped into action by a couple of congressmen, the governor, Mayor Nutter, swore allegiance to the flag, got a stunning rendition of the Star Spangled Banner, and were urged to go 'Forward!'.  Then, Bill arrived, and delivered a masterful half-hour of political wonkery and homely homilies.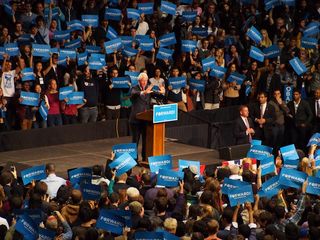 A few people drifted out before the end. Perhaps they had trains to catch.  But the buzz was real enough afterwards, as people mobbed Clinton, asking for autographs, photographs and to sign their placards (one guy delightedly showed us his afterwards).
We walked back across the Market Street Bridge, and spotted the 'Beast' waiting to whisk the ex-President away, on to the next engagement, next to a pile of snow cleared from the Class of 1923 Ice Rink.  Some pumpkin beer, onion rings, and a quarter of the Philly 76ers, and it was a very American night.  The colophon talk, by all accounts, was great, too. 
It appears that the 2012 U.S. election is going down to the wire.  There are obviously many reasons why the race is so close, but political commentators also always argue that a second term election is there to be lost by the incumbent.
 George Bush came a cropper in the 1992 election when his public approval ratings nose-dived due to (amongst other things) his apparent confusion over the pressing economic issues of the day. In 1980, the 39th President, Jimmy Carter, ran for a second term in what is often cited as the most disastrous campaign in US Presidential history. Carter had to fend off attacks from an effective campaign on the right by Ronald Reagan, the Republican nominee, whilst also defending his position against Edward (Ted) Kennedy, the Senator for Massachusetts, on the left of his own Democratic Party. Kennedy had refused to drop out of the Democratic Primary after the first vote, leading to a dirty and prolonged mud slinging match before Carter secured the nomination. Somewhat ironically Carter found himself running against his own economic record, with high inflation causing stagnation in economic growth and unemployment remaining stubbornly high.            
Many factors will play a part in influencing the outcome of this election - money and 'Obamacare' to name just two. Enormous campaign contributions have been amassed by both the Obama and Romney campaigns, and this has been made possible the Supreme Court decision which states that Federal Government cannot curtail independent expenditure for political purposes by groups, corporations and committees. The primary purpose of these political action committees or Super PACs, is to influence elections via corporations, unions or wealthy individuals. There is no limit on the amount of money they can raise as long as it is spent independently of the candidate's campaign.
Obamacare, or the Patient Protection and Affordable Care Act has been a particularly contentious and divisive piece of legislation. The Act became law in March 2010 and the Republicans have already raised no fewer than 33 Bills in an attempt to repeal it. Why would the Republicans continue to raise bills which seem doomed to failure? It could be argued that this strategy is less about having Obamacare repealed in the first instance (although that clearly is a goal), but more a case of using these continuous legislative attacks on the Act in order to keep the issue at the top of the political agenda (and thereby subvert the Democrats own campaign agenda).
I was planning to finish off this post with a few light-hearted remarks on much smaller factors which potentially could influence the vote  (- such as the latest incarnation of the Halo series computer game Halo: 4 which is due for release today). But following the devastation that Hurricane Sandy has inflicted on the eastern seaboard, it is clear that many Americans are now faced with huge issues which may well have an impact on a knife-edge election where every vote really does count.
Matt is still in Philadelphia, and our Eccles Centre Professor Davies is now in Boston for the election, so they will have front row seats. But I and the rest of Team Americas will be glued to our TVs tonight to see how things unfold. There will no doubt be a few sleepy curators in the office tomorrow.
And you might like to know that we have a number of databases relating to U.S. Official Publications.
[J.J.]
30 October 2012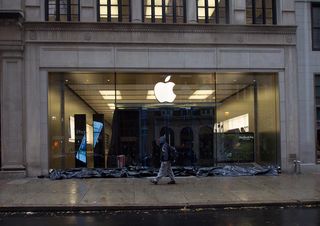 Thankfully my fellow
Fellows' predictions
didn't come to pass, and we kept power during the storm (although some in south Philly lost theirs). The cops came out to check some jerry cans left in a truck opposite the repository of some of the nation's most precious books and manuscripts, but deemed them safe. A chunk of metal got blown down from somewhere, and then clattered about the street for the night. The merlot was disappointing. But, that, thankfully was it. We were lucky.
It was another story for pretty much everything east of the Delaware (and, indeed, elsewhere). You will have seen the reports from New York that look like a slide from an Al Gore presentation. Several million are still without power. People have died. The governor of New Jersey has proposed delaying Halloween, and absentee ballots have been extended in several of the worst-hit counties. Long Island will have some tales as bad as 1938, if not worse.
Twitter, I think, told the most telling story, as the snark drained from people's timelines as news from the several feeds reporting on police scanners spread across the internet (the NYTimes's David Carr called it right). Earnest debunking of rumours and hoaxes (a shark in New Jersey, anyone?), along with expressions of concern, verified reports, and official updates instead filled up the timeline. Usually active friends and colleagues fell silent as power outages, server fails and iPhone batteries drained. They'll be back soon enough; that's the American way, as politicians and governors have been keen to say. And they are right.
Here's just one tweet from the night. I like the screen grab.
The eye of Sandy is over Philadelphia. twitter.com/KathyOrrCBS3/s…
— Kathy Orr (@KathyOrrCBS3) October 30, 2012
And, the last word from
Joshua Lyman
.
[@_MattShaw]
Americas and Oceania Collections blog recent posts
Tweets by BL_Americas
Other British Library blogs