15 March 2011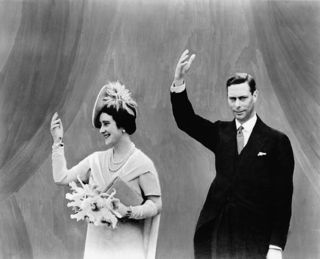 King George VI and Queen Elizabeth at the Canada Pavilion of the New York World's Fair, 1939. Image courtesy of Wikimedia Commons and Library and Archives Canada 
The Guardian has published a fun piece for audiophiles (and pretty much everyone else) today regarding the Queen Mother's record collection. What grabbed my attention was the inclusion of Wilf Carter (the Canadian Country and Western singer), the Desperadoes Steel Orchestra (the Trinidadian calypso steel band) and a general Commonwealth presence.
Given the fondness the Queen Mother expressed for Canada and the times she spent in the Caribbean we should not be surprised to find this affected her musical taste and collection. Apparently, it was visits to Jamaica which resulted in the Queen Mother developing a taste for Ska, illustrating this point quite neatly. Personally, I would love to know what the Queen Mother thought of some of the musical 'heirs' to the above, such as Canada's Stan Rogers or the Ska influenced No Doubt. I suspect, however, the record collection will provide few clues to this.
If you want to find out more about the Royal family the British Library collections are a great resource, as suggested by my previous post on King Edward VIII. In parallel, the British Library Sound Archive provides a rich resource for music from across the globe, as well as interesting oral histories about the spoken word and music in the Caribbean. Needless to say, our monographs on this subject would be well worth a look too. 
[PJH]
28 October 2010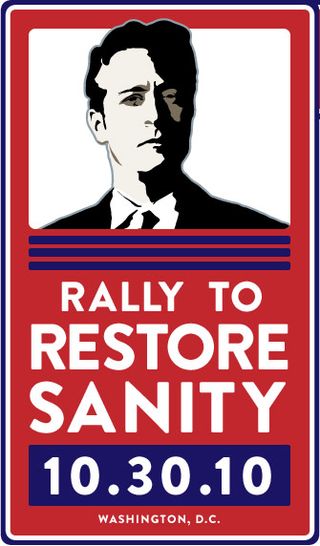 Team Americas are likely to be glued to More4 this evening, as President Obama makes his first appearance on the Daily Show as POTUS.   We are also waiting for reports on the Million Man March - March for Sanity/to Keep Fear Alive on Saturday.  We can't decide whether this is all a good thing of Swiftian brilliance, or some sort of post-Baudrillard ridiculousness, and are slightly troubled as to how historians of the future will get hold of the online and television materials that document/create this phenomenon.  Something else to worry about/keep fear alive, I suppose.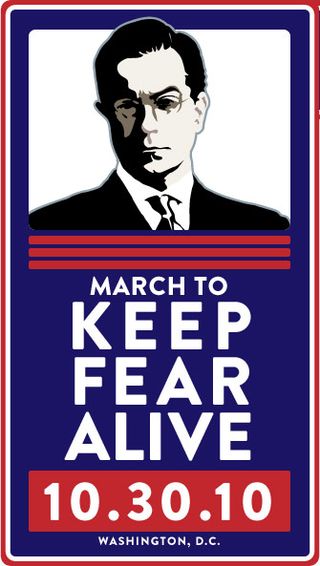 [M.S.]
14 October 2010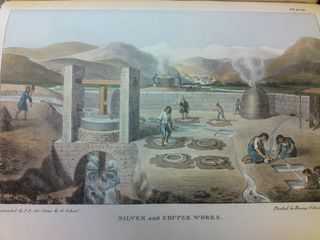 Peter Schmidtmeyer, Travels Into Chile, Over the Andes, in the Years 1820 and 1821. London: Longman, 1824 [BL 567.h.22]
We're so used to seeing bad news on TV or in the papers that it was a real delight to watch the Chilean miners emerging slowly but safely into the arms of their families and loved ones (though I do wonder if the miner who asked both his wife and mistress to meet him might have been better off staying down there). I'm not sure that I would have wanted such a media frenzy to welcome me up but everyone seemed to cope with it pretty well, and these days the notion of privacy doesn't carry much weight. And who can deny such a national, if not global cause for celebration, particularly after the impact of the February earthquake on the country. I also enjoyed the newspapers vying for punning headlines (my favourite has to be 'The Freed Hot Chile Fellas,' which is probably the only time you will ever get me quoting from The Sun).
Mining of course has a very long history in Latin America – just consider all the Inca and Aztec gold. And, as usual, I can't help but relate events to our collections. When we were researching for our recent exhibition on Spanish American Independence, we came across images of mines in many of the travellers accounts, particularly of the silver mine in Potosí (in present day Bolivia but then in the Viceroyalty of Peru) and also in Mexico. Mining was a very lucrative enterprise for the Spanish Crown in its American colonies, but many of the mines were destroyed or abandoned in the period after the wars of independence. The new republics then revived the industry by attracting foreign investment, expertise and technology. As early as the 1820s, British entrepreneurs were starting to invest capital in the modernisation of Spanish American mines, sending machinery and specialised workforces. Copper, one of the main natural resources of Chile, was a very profitable metal at that time. Aware of the financial opportunities on offer, many British miners started to emigrate to the country and Chile now has the largest population of British descent in Latin America.
But mining continues to be a dangerous business - read Ariel Dorfman on the subject of mining in Chile in The Guardian
 [C.H.]
03 August 2010
The Londonist alerts us to the news that the journalist Matthew Parris came to an embarrassing, but thankfully not tragic, end to his attempt to swim the Thames at Rotherhithe (we quite like the tunnel there).  As the Londonist reports:
But the normally level-headed correspondent mixed up his tide tables and, slipping into the water before high-tide, ended up three-quarters of a mile upriver.
The Port Authority of London was apparently not impressed.
Nonetheless, we like his pluck, and call to mind an earlier visitor to London's fondness for watery expeditions.  When Benjamin Franklin found himself in London as a young man, he took to swimming (at least according to his rather puffed-up pages of his Autobiography) like a fish to water:
At Watts's printing-house I contracted an acquaintance with an ingenious young man, one Wygate, who, having wealthy relations, had been better educated than most printers; was a tolerable Latinist, spoke French, and lov'd reading. I taught him and a friend of his to swim at twice going into the river, and they soon became good swimmers. They introduc'd me to some gentlemen from the country, who went to Chelsea by water to see the College and Don Saltero's curiosities. In our return, at the request of the company, whose curiosity Wygate had excited, I stripped and leaped into the river, and swam from near Chelsea to Blackfryar's, performing on the way many feats of activity, both upon and under water, that surpris'd and pleas'd those to whom they were novelties.
Before returning to Philadelphia, a gentleman apparently heard of Franklin's aquatic abilities and asked him to remain in London to teach his sons how to swim. Ben, however, had to return (no doubt to invent something), and the Franklin School of Swimming remained unopened, and alas, unable to assist future natatory journalists.
[M.S.]
Postscript: the cause of Parris's trouble was a muddle between GMT and BST in the tide tables; as ever, Franklin was here first, and came to London with recommendations for a more sensible daylight saving plan (and continued to promote his plan in Paris in 1784).
18 June 2010
President Sarkozy is passing through St Pancras International today, in order to celebrate his predecessor Charles de Gaulle's historic war broadcast. 
But here's a picture and verse to celebrate another form of Entente Cordiale (perhaps recent events in the Gulf of Mexico are a reminder that the 'special relationship' is subject to downs as well as ups):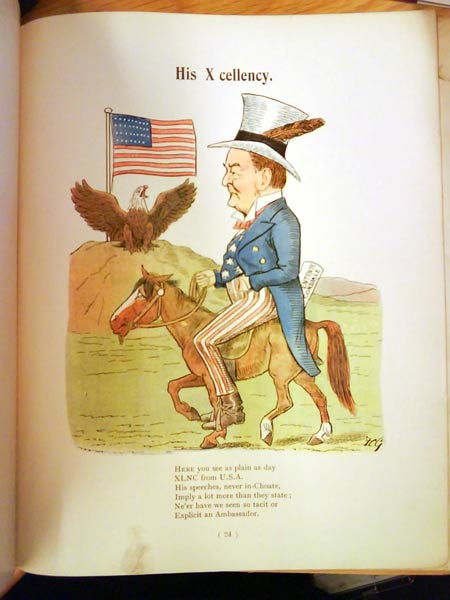 It's from The Struwwekpeter Alphabet(illustrated by F. Carruthers Gould and versified by Harold Begbie [12315.k.15).  The humour doesn't travel down the ages well (it dates from 1900), although the images perhaps do: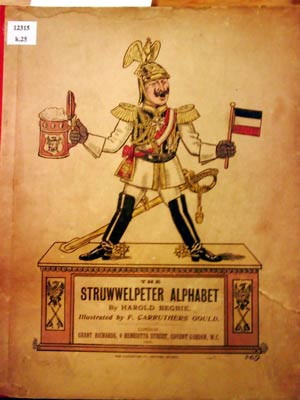 In 1899, President McKinley appointed Choates as ambassador to the UK. In the words of the American National Biography he
was instrumental in working out the remaining differences between the two states and cementing Anglo-American friendship in the years before World War I. During his years at the Court of St. James's, Choate arranged for the United States and Great Britain to settle the Alaska-Canada boundary dispute by arbitration; won Britain's consent to abrogate the Clayton-Bulwer Treaty, allowing the United States to proceed with the Panama Canal unilaterally; and secured Britain's implied assent to the Open Door policy in China.
More about this in Bradford Perkins, The Great Rapprochement: England and the United States, 1895-1914 (1968).
[M.S.]
 
08 June 2010
Since Stephen Harper's visit to No 10, the UK coalition government has signalled an intention to mimic the cuts implemented in Canada during the 1990s. Many view Canada's programme of cuts as having been successful, especially on the bottom line, but there are other reasons to look at Canada's deficit reduction scheme.
In particular, it is easy to consider in detail. The Canadian government collates and produces significant amounts of statistical data from across the administration and the main responsible body, Statistics Canada, is world renowned for the quality of statistical data it produces. Therefore, the Canadian case study can provide a comprehensive overview of what measures were taken and the effects during the fifteen years after they were implemented.
Government bodies are not unique in their access to this material and it is readily available to the public on the web and here at the British Library. Those interested in looking in detail at how the Canadian measures were implemented will find a significant amount in our collections. For example, Paul Martin's Economic Update, 2001 (Shelmark: YA.2001.b.2680) can be contrasted with items such as the Department of Finance's Economic and Fiscal Update, 1995 (Shelfmark: CSE.81/3970) (Martin was Minister of Finance, 1993 – 2002).
When looking at statistics and legislation from a specific period, the Weekly Checklist of Canadian Government Publications (Shelfmark: OPF.9.x.321) provides a good place to start. From here Canadian government publications can be found using either the Integrated Catalogue or the Canadian government's substantial online resources. In this context, the Department of Finance Canada and Statistics Canada websites are very useful.
[J. J. & P. J. H.]

Google Books does some interesting things, and the cloud of 'common terms' is often one of them, as this rather saddening image attests.  I happened to be looking up some resources on oil spills in the Gulf of Mexico.  Environmental effects of offshore oil production: the buccaneer gas and oil field study (New York: Plenum Press, 1981) looked promising. Google Books has just a snippet view; it's held by the Library's Document Supply service at v14 5378.132000 if you want the whole thing.
Elsewhere, an electronic resource looks useful: French, Christopher D. Map showing geology, oil and gas fields, and geologic provinces of the Gulf of Mexico region (Denver, Co.: U.S. Geological Survey, 2005), and this may offer helpful lessons: Long-term assessment of the oil spill at Bahía Las Minas, Panama : synthesis report ( 1993, New Orleans, La.: U.S. Department of the Interior, Minerals Management Service, Gulf of Mexico OCS Region). 
The wider political and economic context is investigated by Juan Carlos Boué, A question of rigs, of rules, or of rigging the rules?: upstream profits and taxes in US Gulf offshore oil and gas (Oxford: Oxford University Press, 2006)
[M.S.]
16 April 2010
We Londoners are enjoying quiet skies at the moment, as the Continent (and the rest of the world, except for a few spots that can be reached from Glasgow) are cut off in Iceland's Vulcanian revenge on the UK.  This will no doubt cause some problems for scholars, librarians, and curators coming to London, or heading, say, to New York.  However, there is a silver lining, and that may be the ocean liner.
A recent column in the New Yorker by Ben McGrath ('Here to There Dept.: Cruise Control', 22 March 2010) carried a short interview with Bill Miller, the curator of the South Street Seaport Museum (and one of the world's great authorities on ocean-going liners).  Miller has written seventy-five books on the subject; McGrath notes: ' Transatlantic passengers tend more towards the bookish and scholarly... while tropical passengers prefer bingo.'
However you travel, bon voyage from Team Americas.
[M.S.]
Americas and Oceania Collections blog recent posts
Tweets by BL_Americas
Other British Library blogs