17 May 2021
Imaobong Umoren is the co-winner of the 2021 Eccles Centre and Hay Festival Writer's Award. Here she explores some of the digital resources which have supported her research so far.
________________________________________________________________
With access to the British Library restricted due to lockdowns, taking advantage of the wealth of primary source material available electronically has offered me the chance to work on my current book project, Empire Without End: A New History of Britain and the Caribbean, which explores the entangled connections between the Anglophone Caribbean and Britain from the 1600s to today. I trace the history of colonialism and neo-colonialism considering especially the role they play in shaping structural and persistent inequalities facing both Britain and the Anglophone Caribbean.
My focus, for now, is centred on the seventeenth, eighteenth, and nineteenth centuries. The British Library's subscription to the British Online Archives (remotely accessible for registered BL Readers) have provided me the chance to dig into rich collections that document the history of slavery and the post-emancipation era. I have found a wealth of material in collections such as Slavery in Jamaica, Records from a Family of Slave Owners, 1686-1860; Antigua, Slavery and Emancipation in the Records of a Sugar Plantation,1689-1907; Caribbean Colonial Statistics from the British Empire, 1824-1950; Slave Trade Records from Liverpool, 1754-1792; The West Indies in Records from Colonial Missionaries, 1704-1950; and The West Indies: Slavery, Plantations and Trade, 1759-1832.
E-books and digitised pamphlets relating to pro- and anti-slavery debates have also been valuable. Many of these can be accessed freely online without a British Library Reader's Card. I have found the following especially useful: James Ramsay's, An Essay on the Treatment and Conversion of African Slaves in the British Slave Colonies (1784) [BL Digital Store RB.23.a.1199], Elizabeth Heyrick's 'Immediate, not Gradual Abolition' (1824) [available in the Reading Rooms as part of the 'Slavery and Anti-Slavery: A Transnational Archive Part I' e-resource; also available on Google Books], Thomas Cooper's Facts illustrative of the condition of the Negro slaves in Jamaica (1824) [BL Digital Store 8156.c.30.], and Joseph Sturge and Thomas Harvey's The West Indies in 1837 (1838) [BL Digital Store 1050.l.22.]. (The British Library's digitisation collaboration with Google Books has made nearly 470,000 volumes, including these, available for free online. Find out more on the Google Books project page of the British Library website.)
Useful too has been the Caribbean Newspapers Collection (also remotely accessible for registered BL Readers) which has afforded me insight into the broader context of this period from the perspective of elites especially the St Lucia Gazette, Bahamian, Nevis Guardian, Dominica Chronicle, Bermuda Gazette, and the Port-of-Spain Gazette. These newspaper collections span, for the most part, the period 1786-1876. I have also explored fascinating material in the African American Newspapers, Series 1 and Series 2 and the South Asian Newspapers collection, all available via remote access for registered Readers.
The Endangered Archives Programme has also given me access to a wide range of sources, freely available online, related to the history of the Turks and Caicos Islands, St Kitt's and Nevis, Montserrat, and material from The Barbadian Newspaper, The Barbados Mercury Gazette, and the Deed Books in St Vincent during slavery.
All of these sources have proved rich and fruitful and once the British Library's doors begin to open wider I am looking forward to diving deep into non-electronic sources especially on Black British political and artistic movements.
-- Imaobong Umoren, May 2021
30 July 2019
We are delighted to share the following blog by Jamie Gemmell. Jamie is a third year undergraduate at the University of Edinburgh and was awarded a Carnegie Vacation Scholarship to produce a partial digital edition of James Knight's "History of Jamaica", focussing on its account of the social and cultural aspects of enslaved Africans. He recently presented his work at the British Library as part of the Eccles Centre's Summer Scholars season.
Here is the blog:
When I first came across James Knight's "History of Jamaica" (1742) I was unsure what I would find. Historians have often neglected British Jamaica during the early eighteenth century. Instead, they have focused on the later seventeenth century, when the British conquered and established themselves on the island, or the later eighteenth century, when the slavocracy was at its peak. This meant it was difficult to have any expectations about Knight's manuscripts, although it did provide an opportunity to develop new insights.
My primary concern was to see whether Knight could provide new information on the debate surrounding the origins of enslaved people's cultures. Following a first read, I was disappointed. Like most European planter-historians, Knight's primary focus was on the political debates between the metropole and colony or great acts of piracy committed by the likes of John Davis or Henry Morgan. I began to realise why most historians of Atlantic slavery begin their analyses by discussing the fragmentary nature of the evidence.
However, whilst Knight was by no means concerned with enslaved people, they appear throughout the manuscript. In the first volume, predominantly a narrative history of the island dating from the Spanish discovery, Knight described several rebellions by enslaved people as well as a relatively detailed account of the Maroons, communities of people who had escaped slavery. For Knight, the leader of the Leeward Maroons, Cudjoe, was a "very sensible fellow," whilst the enslaved people who rebelled at Guanaboa in 1685 were "desperate Villains."
The second volume takes the form of an ethnography, covering subjects ranging from the climate to the legal system in Jamaica. Knight dedicates a significant portion to his views on enslaved people within the chapter describing the inhabitants of Jamaica. He discusses enslaved physicians, and advices Europeans to learn their "many secrets." He embarks on a long discussion of slavery, fighting accusations of the "Inhumanity of and Cruelty of the planters," which may prove useful to scholarship in the way that it deals with early criticisms of slavery. For my own research, Knight's description of the traits of the various African ethnic groups proved most pertinent.
Despite not being Knight's primary focus, his manuscript raises new questions about enslaved cultures. Currently, the historiography has been primarily concerned with tracing cultural connections between enslaved groups in the Americas and specific regions of Africa. Over time significant research has been undertaken, such as James Sweet's work on Portuguese Brazil.[1] After reading Knight's manuscripts, I believe new questions can be raised. It seems inappropriate to accept Knight's links between ethnicity and behaviour. Instead, further work must be done to understand the origins of these stereotypes and how they functioned in the European worldview. If we can grasp why Knight thought it pertinent to associate "particularly Eboes" with suicide or "Angolas" with the consumption of human "flesh," we may come to a greater understanding of how the system of Atlantic slavery maintained itself.
Jamie Gemmell
Reference and further information:
[1] Sweet, Recreating Africa (2003).
http://www.jamesknightjamaica.com/
10 July 2015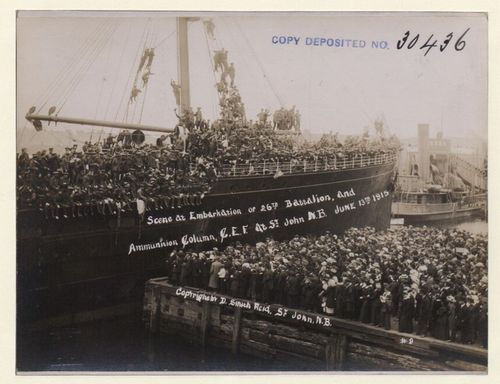 Above: Canadian troops leave New Brunswick for Europe [BL: HS85/10 30438, from the Picturing Canada project]
We've not talked about Europeana 1914 - 1918 for a little while here on the Americas blog but their work continues and we're still digging around our First World War collections, so here's a little update. You'll remember that last year we launched the Library's contributions to Europeana, as well as an Entrance Hall Gallery exhibition and an in-depth learning resource and the online elements of this are still open for use. But the work, digging and research involved inevitably opened up new questions for those of us curating the material.
For me the research highlighted my personal proximity to sites associated with Canadian troops in the First World War. While I lived in South West London I learnt that my nearby green space, Bushy Park, hosted Canadian troops and medical facilities during the First World War. This is often forgotten in the face of the more dramatic presence of US Air Force base 'Camp Griffiss' in the park during the Second World War but Royal Parks commemorate Canada's place here with a totem pole installed in 1992.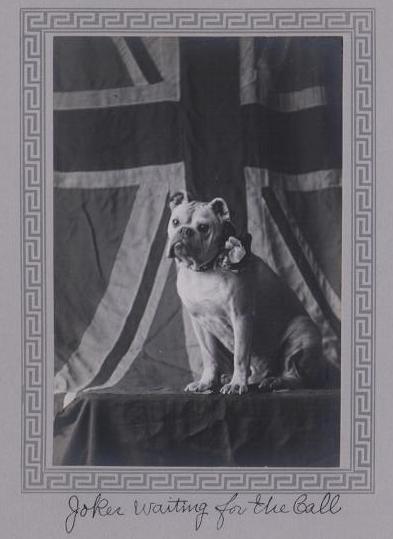 Above: 'Joker, a patriotic fund collector', looking delighted by his job [BL: HS85/10 29607, from the Picturing Canada project]
Having now fled London's cramped trains and busy roads I find I've inadvertently moved to the epicentre of the Canadian presence in the UK during the First World War. After being originally posted to Salisbury Plain Canadian reserve troops, hospitals, engineers and other corps were moved to garrisons around Kent, particularly the Folkestone and Shorncliffe areas. From here the reserve regiments were sent to various training sites around Kent, including some small trench operations based on a common just down the road from where I live.
By now you can guess where this is going. Spurred by this knowledge, I've been digging through Europeana and our physical holdings to see if we hold anything about the Kent camps and, most especially, the training centre near where I live. There are various items about the Kent camps on Europeana including photographs and personal letters sent home to Canada from Shorncliffe. It also turns out there are films of some of the Shorncliffe based training, courtesy of Canada's NFB. Unfortunately, I've not been so lucky trying to find material about places a little closer to home but I'll keep digging at the weekends.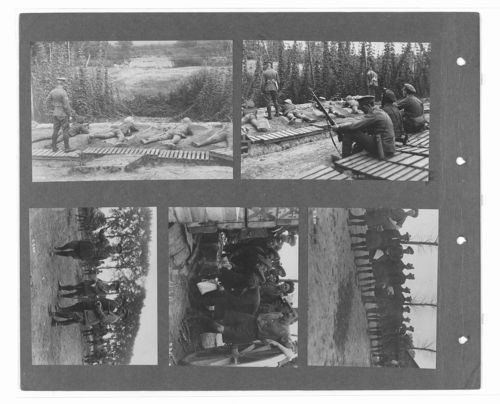 Above: photographs of snipers in training from the Canadian War Records Office photographs. There's a small chance these are taken in Kent, near my home. Or, they were taken in France... [BL: L.R.233.b.57, from the Picturing Canada project]
The best hope is a collection of Canadian War Records Office photographs submitted to the Library in 1923. These photographs were sponsored by Lord Beaverbrook in an attempt to document, as well as promote, Canadian achievements during the war and these contain a number of photographs of reserve regiments training in and around Kent. I've not found anything astounding yet but here are a lot of them and the location data in the title isn't always helpful. However, digital copies are available from ourselves and Library and Archives Canada so there's plenty of scope for sitting with a drink and sifting through the mass.
One final note, if this has caught your interest the Eccles Centre is hosting a #BLScholars talk about, 'Cliveden, Canadians and the First World War', by Martin Thornton, on 27th July at 12:30. As for me, I'll let you know if I find anything!
[PJH]
08 May 2015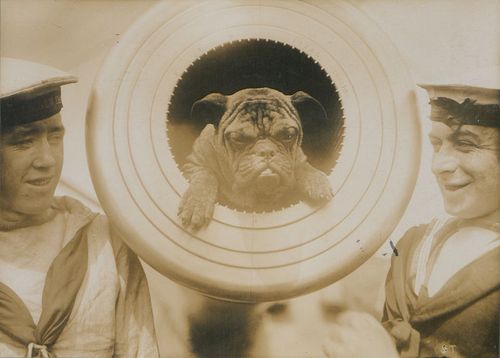 Above: Pelorus Jack, mascot of HMS New Zealand, looking none-too-pleased. From Picturing Canada and the Library's Colonial Copyright Collection [BL: HS85/10/29327]
Another Friday image, however you feel this morning Jack should raise a smile.
[PJH]
01 May 2015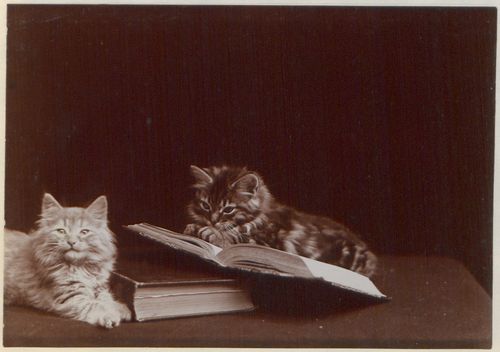 Above: the Globe kittens, from our 2012 Picturing Canada work [BL: HS85/10/13446]
The end of the week will see something a little different on the Team Americas blog from now on. We've got a whole heap of digital content that rarely sees the light of day because we've not had a chance to do further research on it yet so as of now we're posting it for your enjoyment and interest. There won't be much interpretation from us but expect something quirky and often amusing to get you talking about the Library's Americas and Australasian collections.
With that in mind, today we bring you kittens with books - enjoy!
[PJH]
23 April 2014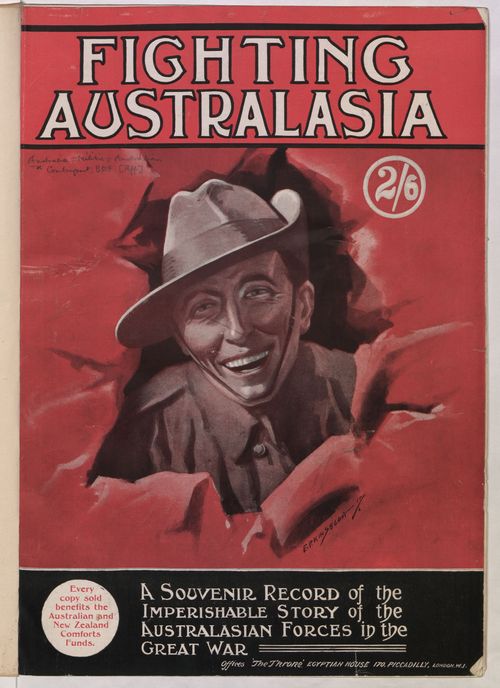 Front cover from, Fighting Australasia. You can see more on the Library's item viewer.

These works are free of known copyright restrictions.
As Friday marks ANZAC Day Team Americas and Australasia dig into the Library's Europeana contributions and look back on Australia and New Zealand in the First World War.
Quoting from from the Australian War Memorial Website, 'ANZAC Day – 25 April – is probably Australia's most important national occasion. It marks the anniversary of the first major military action fought by Australian and New Zealand forces during the First World War.' To mark the event, the British Library's 'Item of the Week' is currently, Fighting Australasia: a souvenir record of the Imperishable story of the Australian Forces in the Great War.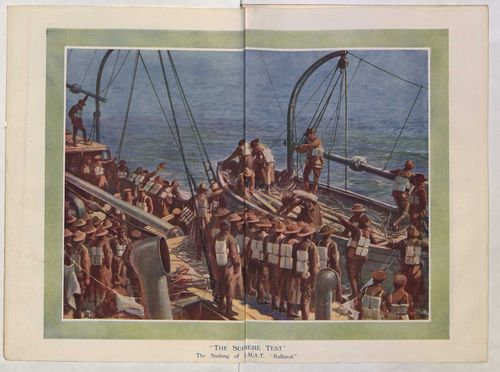 Sinking of R. M. A. T. "Ballarat", from Fighting Australasia. You can also view the item on the Library's World War One learning resource.
Published in London in 1917 the publication sits alongside other works such as, The Anzac Book, which commemorate the actions of Australian and New Zealand forces in the war, often while working as a means to raise money for the soldiers' Comfort Funds. While publications such as The Anzac Book were written and assembled by members of the Australian and New Zealand fighting corps (in this case, in Gallipoli itself) Fighting Australasia is very official in tone and was produced and printed in London's Piccadilly. Inside the publication is fascinating for a number of reasons, not least the wealth of advertising material the flanks the main text, which includes a Bovril advert using the text of letters from Gallipoli before proclaiming, "Bovril Gives Strength to Win!" (p. 89). The account is heavily photographically illustrated and contains a number of artist's illustrations, including one of the sinking of R.M.A.T. Ballarat.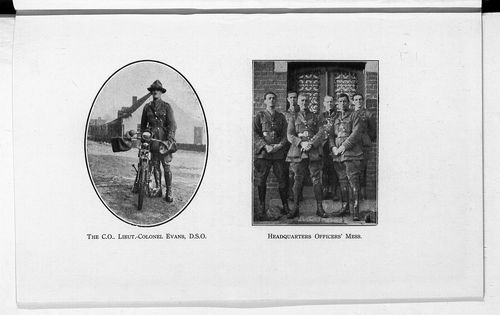 Photographs from, Regimental History of the New Zealand Cyclist Corps.
Both Fighting Australasia and The Anzac Book have been digitised as part of the library's contribution to 'Europeana Collections, 1914 – 1918' where they form part of a large selection of material detailing how people from the then British Empire contributed to the First World War. Within this there is a wide range of Australasian materials from, Australia in the Great War: the story told in pictures; to, The Maoris in the Great War: a history of the New Zealand Native Contigent and Pioneer Battalion and; Regimental history of New Zealand Cyclist Corps in the Great War, 1914-1918 (seen above). Some of this material can be found with further details in the British Library World War One learning resource and the rest can be found on the Library's Image Viewer.
[PJH]
13 January 2014
The latest set of maps on the BL Georeference project has been completed; these include a fascinating collection of maps from the US Civil War (many of which include some fine portraits of bewhiskered generals).
These have now been given their appropriate latitude and longitude and overlaid on Google Maps (below - scroll to the right and you will find a selection of First World War maps: perhaps we need a chronology project, too).  I particularly like the map of Fort Monroe.  Amazingly, even Prang's Bird's-eye view of the Seat of War has been rectified.  Many thanks to all involved, particularly the volunteers who have worked on the project.
All the maps are listed here; there is also an online exhibition that accompanies the Civil War project.
You can read more about the Georeference project on the Maps blog.
16 December 2013
Above: one of the many images that caught our eye (hover over the image for details)
Last week our colleagues from Digital Scholarship announced the uploading of 1 million British Library images onto Flickr Commons and into the public domain. In amongst all these images are a significant proportion of material from the Americas and Australasia, so naturally we lost a chunk of Friday sifting through them. Above and below are some of our current favourites from across the Americas and Australasia; we'll share even more as and when things catch our eye.
Keep an eye out for more announcements about public domain images in the new year, Team Americas should have some interesting things to share with you soon too...
[PJH]
Americas and Oceania Collections blog recent posts
Tweets by BL_Americas
Other British Library blogs