06 August 2021
This blog by Pola Oloixarac is part of a special Summer Scholars blog series highlighting recent research across the British Library's Americas collections by scholars and creatives associated with the Eccles Centre, including those supported by the Centre's Awards.
Travel has changed a lot since the early naturalists voyaged through the Amazonia, and it continues to change today thanks to Covid restrictions. While I've been unable to foray in person into the archives of the British Library as I was hoping - summer, London, arcane tomes - I've had the luck of encountering the mighty digital explorer, Dr Aleksandra Kaye. Dr Kaye knows her way around the British Library's vast digital  archives and like any sensible 19th century naturalist seeking help from a guide, I secured her expertise in unearthing their intricate holdings.
 
In the first written accounts of the Amazon, the anthropological gaze is under-developed. Though entranced by the power of landscape, the earliest naturalists typically didn't consider the human culture they encountered. The richness of the human Amazonian world typically escape their notice. Indeed, where Amazonian people are referenced, early accounts by European naturalists are explicitly racist. One explorer, however, who did take some account of indigenous people was the French painter Hercules Florence, although how he saw them was problematic. He travelled to the Amazon from 1825 to 1829 and ended up spending his life in Brazil.
What excited Florence was undiscovered places and he was uninterested in indigenous village life. He remarked in his diary that the jungle is repetitive and that, "to see a Brazilian village, is to see them all"1. He became obsessed with capturing the unchartered territory and capturing it through sound and image with pioneering technology. Florence experimented making photographs in Brazil in 1833 and wanted to record the sounds of what surrounded him. This led him to devise a method to record wild bird song in the Amazon. While looking for a way to record sound, he stumbled into photography. Indeed, while trying to publicise his experiments in sound recording he managed to devise the first printing machine in Sao Paulo.
In the first page of his diary he mentions the expedition slaves, noting that all humans become the same bundle of flesh under the severity of the Amazonian environment. When the expedition's commander, Gregory Langsdorff (Fig. 1, below) succumbs to yellow fever, Florence notes that illness made no distinction about social class in the context of the Amazon.
Langsdorff claimed to be the first to attempt the fluvial crossing of Brazil, from Pantanal to Belum. Until now it was believed that the first trip was in 1825 but Dr Kaye's research has revealed a precursor: there was a previous trip funded by the Imperial Russian court and led by Adam Johan Krussertern in which Langsdorff took part. Before his trip with Florence in 1825, Langsdorff had added himself hastily and at his own expense to the Krussertern expedition as a second naturalist (the first was Wilhm Gottlieb Tilesius). Langsdorff, therefore, went into the Amazon at least two times, around 1803-1807.  These earlier expeditions could explain why the subsequent Langsdorff trip a few decades later was hardly noticed by the very Russians who funded it, considering it, perhaps, redundant. Indeed, the reports of the Langsdorff investigation languished in St Petersburg for over a century largely undiscovered.
Langsdorff's story is a reminder of how much these exploratory naturalist expeditions had in common with modern filmmaking. Langsdorff had, in effect, been to the Amazon first as a location scout (1803-1807), but his vision of the Amazon and the legacy of his expedition could not exist without artists to document the trip. For his 1825-1829 expedition - the one that would make him famous - Langsdorff only wanted the very best artists. He hired Johan Moritz Rugendas, but their relationship faltered when the Prussian commander sought to take ownership of the artist's original works. Rugendas, however, was aware of his own worth as an artist and would not bow to Langsdorff. The Brazilian diaries of both Rugendas and Langsdorff paint the latter in a negative light: Langsdorff was controlling and wanted Rugendas to assign him copyright, but the artist resisted and ultimately deserted the expedition. 
This is how Hercules Florence joined the trip as a second painter to first painter André Taunay. Traveling with Langsdorff, Hercules Florence experimented with photography (he called it "painting with light"). He claimed to be its first inventor, documenting his attempts using silver nitrate and natural acids like urea. Despite these claims, however, Dr Kaye found that Alexander Agassiz, also claimed to be the first to use photography through carbon printing for general illustrations of natural history. In 1871 Agassiz made this claim in the pages of the Bulletin of the Museum of Comparative Zoology at Harvard College (British Library shelfmark Ac.1736/26), where his father, Louis Agassiz, was an acclaimed professor. Agassiz argues that photography is likely to overtake lithography as a mode of illustrating natural history and includes two photographs with his work. His view that the new printing technology would withstand the test of time is born out by the archive; and 150 years later, we can look at these photographs at the British Library.
Did Agassiz know of Florence's efforts to make pictures by "painting with light"? Or was Florence unknown to his contemporaries, even those working as naturalists in Brazil? These questions beg answers. For now, we can only reflect on the fact that the London edition of the early Langsdorff travels (before his trip with Florence) is much more richly illustrated and complete than the American version. In the UK edition we find a lithograph of a Brazilian house (Fig. 3, below) and a musical score called "Brazilian Air" (Fig. 4, below). Both are accessible digitally, which makes comparing them possible. The US edition from 1817 has been digitized by the British Library and is in the public domain - the UK edition from 1813 is only available digitally inside the library, but the University of Alberta digitized their copy and made it publicly available. The London edition was published in two separate volumes, while the US edition has less images, is more cramped and in smaller format and is published as a single book. As a consequence the US edition would have been cheaper to produce and therefore more accessible to bigger audiences.
Another interesting item with connections to Brazil uncovered by Dr Kaye is a 1916 book of short stories by Edith Wharton, the American author, called Xingú, and Other Stories (London; New York printed: Macmillan, 1916; British Library shelfmark NN.4057). The "Xingú" text portrays a dialogue between elite ladies who cannot fathom what is meant by Xingú. They think Xingú is something mysterious or rude, which creates quite a lot of drama among them. Eventually they discover it's a Brazilian River. The text keeps you wondering, what would The Age of Innocence (Mrs. Wharton's vivid masterpiece) be like, if set in the Império do Brasil? A crossover of the directors Martin Scorsese and Joaquim Machado de Assis, with vast corridors of palms, would surely depict a young emperor obsessed with becoming a masterful photographer, like Dom Pedro II of Brazil once was. He would have been especially pleased about finding the British Library's digital versions of his photographs available today.
Pola Oloixarac is the author of the novels Savage Theories, Dark Constellations and Mona. She's the recipient of the 2021 Eccles Centre and Hay Festival Writer's Award.
1. Hercule Florence Diary: http://etnolinguistica.wdfiles.com/local--files/biblio:kossoy-1977-florence/kossoy_1977_hercules_florence.pdf
22 May 2019
Where does the personal reside in our understanding of history, social issues and human experience? And what does the form of the memoir distinctively illuminate?
In 2018 novelist Tessa McWatt used her residency as an Eccles British Library Writer's Award holder to work on a memoir on race and story-telling which traced the hybridity of her genetic make-up and the issues of racism she has faced on both sides of the 'divide'. Her practice-based research is engaged in issues of colonialism and the historical and structural underpinnings of the creation of race and how her personal experience has been embedded in those structures.
On 3 June, Tessa will be speaking at the British Library in conversation with two historians, Sarah Knott and Norma Clarke, chaired by Erica Wagner, to talk about how embracing their own experiences and investing in the memoir form has enabled them to develop and extend their work as scholars and writers.  In preparation for their event, we asked them to given an example of how an historical item from the archive helped inform their projects: Sarah on maternity, Norma on family and Tessa on race.
Sarah Knott:
1949 New York. Otis Burger wanted to stop each contraction and see what it felt like. It was odd having an entirely new sensation inside. She had been reading the English doctor Grantly Dick-Read, who thought childbirth should be painless ‒ disliking his determination to reduce women to their biology, but appreciating his tenderness. Her fear was the hospital feeling of being naked, and at the mercy of strangers, like a specimen of some sort. Male doctors were condescending; they seemed to think the difficulty was all in the mother's mind and that birth was too much of a commonplace for the mother to make such a silly fuss.
Otis Burger wrote her remarkable maternal memoir, An Interesting Condition, some decades before the women's liberation movement encouraged others to pick up their pens and make maternity properly visible. The book was unusual enough that it was printed not just in her New York but also in London, thus making its way into the hands of ordinary English readers as well as the collections of the British Library. That she published under a pseudonym was some indication of the taboos that needed to be broken.
In writing Mother: An Unconventional History, I plundered personal writings like these to understand past experiences of pregnancy, birth and being with an infant. And I took inspiration, too, from what happens when you think, like Otis Burger, in a memoir form. Blending memoir into history, and history into memoir, I found myself asking questions I might otherwise have overlooked. In bleary sleeplessness and with an infant close at hand, I wondered, what was the history of the maternal night? Or, what were the new sensations of feeling continually interrupted, or hearing the sound of an infant's cry? I found answers not just in past memoirs but in a host of other kinds of materials to be found in libraries and archives, from leather-bound how-to guides to slave narratives and social scientists' surveys, to private letters and scribbled diaries.
Sarah Knott, Mother (Penguin Viking, 2019)
***
Norma Clarke:
Not Speaking tells the story of a family quarrel and it does so partly through conventional narrative, partly through oral history interviews and partly by means of investigations into literary subjects: Homer's Iliad with its quarrelling heroes features throughout, Pope's poem, The Rape of the Lock, has traction (brother hairdressers Nicky and Michael Clarke are at the heart of the story) and Robert Graves and George Sand in Majorca figure because Majorca is one of the settings, along with Athens and London. I had no intention of researching Maria Callas and it was only by accident that she became included. But asking my mother questions about her life as a girl growing up in Athens led me down unexpected byways. The mother of Prince Philip, for example, Princess Alice, had remained in Athens during the war, and spoke very good Greek; my mother admired her. Maria Callas was also in Athens. Maria left Greece in 1945 and turned her back on her mother and sister, declaring that they hated her and she them. The women were no longer on speaking terms. And then I read a quote from Callas that riveted me: 'I know my mother wrote a book about me, but I never read it.'
Her mother wrote a book about her! Books by daughters about mothers are ten a penny, but books by mothers about daughters? I couldn't wait to read it. I rushed to the British Library, and within 70 minutes I had in my hands, My Daughter – Maria Callas, by Evangelia Callas (1960). It's a book that vibrates with fury, and I reflected that Maria was probably right to keep it at a distance, but for me it was revelatory.
Norma Clarke, Not Speaking (Unbound, 2019)
***
Tessa McWatt:
"What Are You?"
It's a question I was asked as an eight-year old in a suburban Toronto classroom by my teacher, after the word "Negro" came up in a book the class was reading. It was a word that none of the kids in the room – all 'white' except for me -- knew the meaning of.
Shame on Me began as a journey to understand how to answer the question. It looks at all of the strands of my genetic make-up – Scottish, African, English, Irish, Chinese, South Asian -- to find some kind of meaning in biology. But when I began to research the history of race, of the particular 'miscegenations' that formed me, it occurred to me that it's all down to story-telling. I might as well ask an oracle.
Then I came across the Chinese Oracle Bone (dating from between 1600 BC and 1050 BC) in the British Library. I was hooked. I started to frame my book around the idea that 'knowing' is storytelling. I saw the Chinese oracle bone as an ancient 23&Me. Diviners used them to answer the elite's questions about health, birth and death; about crops, the weather; about the outcome of battles or simply whether a particular ancestor was causing a king's headache. The shoulder blades of ox, sheep, boars, horses and deer, or the shells of tortoises were cleaned of flesh, scraped, polished, and then diviners carved questions into them using a sharp tool. During a divination session, the bone was anointed with blood before questions were posed to ancestors. The diviner then applied such intense heat that the bone or shell cracked, and he interpreted the pattern of the fractures to answer the questions posed.
A bone with the power to provide these kinds of answers would surely provide an answer to 'What are You?'
If only.
Tessa McWatt, Shame on Me: An Anatomy of Race and Belonging (Scribe UK, forthcoming, October 2019)
***
To find out more, join Sarah, Norma and Tessa in conversation with Erica Wagner at the British Library on Monday 3 June. More details: https://www.bl.uk/events/memoir-identity-experience
09 May 2018
Above: John Rocque's, 'A General Map of North America' [Maps K.Top.118.32]
Our colleagues from the Americas Collections have kindly allowed us a slot on the blog, so we thought we would let you know about some changes that are coming to the Eccles Centre. Spring is a particularly exciting time of year for the Eccles Centre as we welcome our new Visiting Fellows. Our Fellows are drawn from across the UK, Europe and North America and the Centre provides them with a financial award to support research using the North American collections of the British Library, plus a one-year membership of the Library.
Our Visiting Fellowships announcement marks the end of our 2018 awards and so our attention is now turning to calls for applications for our 2019 cohort. An invitation to apply for the Centre's Fulbright Scholarship is now available on the Fulbright website and we will soon be advertising the next round of our Writer's Award. Those of you who read The Bookseller will have seen Catherine Eccles's recent piece about the award and noted that the scope of works eligible will stretch across the whole Americas during 2019. Watch this space for more details.
Further changes to our awards will be obvious when our call for 2019 Fellows comes out this summer. We are keen to help applicants see the potential of the Library's collections more clearly and so from 2019 there will be a series of research priorities championed by the Centre. These are not meant to be exclusive, we still want to hear about all research the Library's North American collections can support, and instead provide a window into areas where the collections are particularly strong. The priorities will also shape the Centre's events schedule for the coming year and, hopefully, create a cohort of fellows working in similar areas. With this in mind the priorities for April 2018 – April 2019 will be:
North American and Caribbean Indigenous Studies
Literary, theatrical and artistic connections in Canada, the Caribbean and the US
Book history and arts in North America
Pacific politics and geopolitics
Migration in/from/through Canada, the Caribbean and the US
LGBTQ histories and culture in Canada, the Caribbean and the US
Should anyone wish to discuss possible research projects, collaborations or events that tie in with these priority areas please get in touch with us at eccles-centre@bl.uk.
Evidence of our research priorities can be seen in the Centre's upcoming events for the spring and summer, with 'Buffalo Bill Goes to China' and 'The Death of Captain Cook' speaking directly to our new priorities. So too does the Centre's support of the British Library's, 'Windrush: Songs in a Strange Land' and the season of events that accompanies the exhibition. We are also excited to be supporting an, 'In Conversation' with The Last Poets; Sarah Churchwell's critical history of 'America First'; and our two Black Lives Matter events, 'From Black Lives Matter to White Power Presidency' and 'Black Lives Matter in the US and UK Today', amongst our packed schedule
We hope the changes to the Centre excite you as much as they do us and we look forward to seeing you at one of our events soon.
Phil Hatfield, Head of the Eccles Centre for American Studies
25 September 2017
In 1849, Sarah Royce left her Iowa home and set off with her husband and daughter for California. Reading Royce's stoic memoir, A Frontier Lady (New Haven: Yale University Press, 1932; shelfmark: 010409.ee.40) I wondered how she really felt as she crossed America in pursuit of her husband's dreams. My curiosity evolved in my second novel, which follows two women from Chicago to California during the Gold Rush.
 Sarah Royce. A Frontier Lady: Recollections of the Gold Rush and Early California. New Haven: Yale University Press, 1932. (Shelfmark: 010409.ee.40) 
I've been studying first-hand accounts of other women who made that very journey—from the good-natured letters of Mary-Jane Megquier to the pessimistic journal of Mary Bailey. But though these accounts are often vivid, I've struggled to imagine the landscapes they describe—the blankness of the plains, the bitter waste of the desert, the steep green relief of the Sierras. So, with the support of the Eccles Centre, I decided to make the journey myself.
The California Zephyr train travels the 2,438 miles from Chicago to San Francisco. It broadly follows Royce's route; but where Royce's journey took six months, the train takes fifty-two hours. It was a thrill to watch scenery I'd previously encountered only in books—the lonely prairies, the great bloody sunsets, the strange sunken rivers of the high desert.
The prairies of Iowa. Image, author's own.
Seeing the landscape first-hand made a journey that was previously only an idea, a reality. And while I often encountered the unexpected—I hadn't grasped that the trail was continuously flanked by mountains from the onset of the Rockies, nor had I anticipated that the Utah desert would look so like the moon—much of the landscape was as I had pictured it in the library.
A sunken river in Utah. Image, author's own.
The trip was revelatory; but it also gave me confidence to write what I'd already imagined. For me, confidence is one of the most important outputs of researching fiction. As Zadie Smith said, "It's such a confidence trick, writing a novel. The main person you have to trick into confidence is yourself."
Hannah Kohler
Hannah is a joint winner of this year's Eccles British Library Writer's Award. More information about this Award, and all of the Eccles Centre's activities, can be found at www.bl.uk/eccles-centre 
Sources: Apron Full of Gold: The Letters of Mary Jane Megquier from San Francisco, 1849-1856, edited with an introduction by Polly Welts Kaufman. Albuquerque: University of New Mexico Press, 1994 (shelfmark: YA.1995.a.22660); Ho for California!: Women's Overland Diaries from the Huntington Library, edited and annotated by Sandra L Myres. San Marino: Huntington Library, 1980 (shelfmark: Document Supply 80/24701).
02 May 2017
I'm using my 2017 Eccles British Library Writer's Award to research and write my second novel, Catspaw, which follows two women from Chicago to the Sierra foothills during the California Gold Rush. Women are largely excluded from the mythic-historic narrative of the Gold Rush. Those that do appear are marginal, stereotypical characters: the long-suffering, godly pioneer mother (Sarah Royce), or the savvy prostitute (Belle Cora). I want to tell a story of two women who don't conform to these stereotypes.
Portrait of Helen Carpenter (Courtesy of the Edward E. Ayer Collection, the Newberry Library, Chicago), from Ho for California!: Women's Overland Diaries from the Huntington Library, edited and annotated by Sandra L. Myres. San Marino: Huntington Library, 1980 Shelfmark: 80/24701
Women were in the minority in the 1849 migration west; but they were there, and they encountered difficulties and opportunities that were unimaginable back east. I wanted to understand the experiences of these women in their own words. Sarah Royce's renowned memoir, A Frontier Lady (New Haven: Yale University Press, 1932; shelfmark 010409.ee.40) left me with more questions than answers. Written at the urging of her philosopher son Josiah Royce, it tells the story he wanted her to tell—one of Christian fortitude as foundational to California. It left me wondering how she really felt as she left Iowa with her somewhat hapless husband and toddler daughter, bound for the unknown. John Irving wrote that "all memoir is fiction"; but I wanted to read female first-hand accounts that weren't so starkly in service of a higher narrative.
Portrait of Mary Jane Megquier, from a daguerreotype about 1853, from Apron Full of Gold: The Letters of Mary Jane Megquier from San Francisco, 1849-1856. Edited by Robert Glass Cleland. San Marino: Huntington Library, 1949. Shelfmark: W.P.9803/40
The Eccles Centre's bibliographical guide, Women in the Trans-Mississippi West, 1840-1900 (London: British Library, 1999; shelfmark YC.2000.a.575 ), helped me locate these accounts. From the letters of the outspoken Mary Jane Megquier, with her longing for "a line" from home and her good-natured complaints of "jiggers in [her] feet, a small insect that lays its eggs in your flesh"; to the witty journal of Helen Carpenter ("there is nothing in sight to merit the name Rocky Mountains—no rocks"); to the letters of Louise Clappe, with her sheer enchantment with "this solemnly beautiful wilderness"—these first-hand accounts are invaluable in helping me develop the voices of my female protagonists. I can't imagine writing my novel without them.
Hannah Kohler
References: Apron Full of Gold: The Letters of Mary Jane Megquier from San Francisco, 1849-1856. Edited by Robert Glass Cleland. San Marino: Huntington Library, 1949. (Shelfmark: W.P.9803/40); California in 1851: The Letters of Dame Shirley, introduction and notes by Carl I. Wheat. San Francisco: Grabhorn Press, 1933. 2 vols. (Shelfmark: YD.2004.a.1634 & YD.2004.a.1493); Ho for California! Women's Overland Diaries from the Huntington Library, edited and annotated by Sandra L. Myres. San Marino, CA: Huntington Library Press, 1980. (Shelfmark: 80/24701
15 February 2017
Hannah Kohler is one of this year's Eccles British Library Writer's Award winners. She is researching her novel, Catspaw, which follows two women during the California Gold Rush. In researching female criminals and vigilante justice in California, she came across the tale of Josefa.
Josefa Segovia—also known as Juanita and Josefa Loaiza—was the first and only woman to be hanged in California. A Mexican woman living in the mining town of Downieville, she was accused of murdering Frederick Cannon, a miner, on 5 July 1841, and was summarily hanged from a bridge over the Yuba River.
William Downie, Hunting for Gold. San Francisco: California Publishing Company, 1893. Shelfmark: X.809/2834
Contemporary accounts are conflicting, but suggest Cannon entered Josefa's house on 4 July, possibly assaulting her.  The following day, Josefa and José Loaiza, with whom she lived, confronted Cannon. Cannon called Josefa a whore; she challenged him to insult her inside her own home; he followed her inside, whereupon Josefa fatally stabbed him. An impromptu judge and jury were assembled, but the man defending Josefa was rolled down the hill in a barrel. Within hours, Josefa was executed.
The story first appeared in the Daily Alta California four days later. Referring to Josefa only as 'the Spanish woman', it noted her extreme anger, stating that when Cannon came to her door to 'apologize,' she met him with a 'large bowie knife, which she instantly drove into his heart'. Subsequent accounts called her by the generic Mexican name 'Juanita'; most dwelled on her beauty; many implied she was a prostitute. Underlying these narratives was an assumption of Josefa's culpability, implicitly or explicitly linked to her ethnicity and sexuality. In his memoir, Hunting for Gold (San Francisco, 1893; shelfmark X.809/2834), William Downie lamented the incident in a chapter named 'Lynching a Beauty', calling it 'one of those blots that stained the early history of California'.
William Downie, Hunting for Gold. San Francisco: California Publishing Company, 1893. Shelfmark: X.809/2834
Josefa's treatment – both her lynching and the way in which her identity and version of events were obscured – reflects the oppression of and violence towards Mexicans in mid-nineteenth-century America. However, in recent years, Chicano scholarship has sought to restore Josefa's identity and reputation. In 1976, Martha Cotera demonstrated that Josefa's last name was Segovia. Further scholarship contested the notion that she was a prostitute, and established that she was likely married to Loaiza, who appears to have filed a claim in 1868 against the United States for the murder of his wife (he lost).  The remaining details of Josefa's experience are likely lost to history. She is consigned to Gold Rush lore, and on websites dedicated to the Old West, she has become a ghost story, her specter drifting along the Yuba River, haunting the old gold country.
 C. D. Gibbes, A New Map of the Gold Region of California. Stockton, CA. & New York, 1851. (Shelfmark: Maps 71865 (3)) 
Hannah Kohler
Sources: Irene I. Blea, U.S. Chicanas and Latinas Within a Global Context: Women of Color at the Fourth World Women's Conference. Westport, Conn; London: Praeger, 1997 (Shelfmark: Document Supply 98/02749); William Downie, Hunting For Gold. San Francisco: California Publishing Company, 1893 (Shelfmark: X.809/2834); Ken Gonzales-Day, Lynching in the West, 1850-1935. Durham, NC: Duke University Press, 2006 (Shelfmark: Document Supply m06/42195); F. Arturo Rosales, Chicano! The History of the Mexican American Civil Rights Movement. Houston, TX: Arte Publico Press, 1996 (Shelfmark: YA.1997.b.3535); Maythee Rojas, 'Re-Membering Josefa: Reading the Mexican Female Body in California Gold Rush Chronicles', Women's Studies Quarterly, 35: 1/2  The Sexual Body (Spring/Summer 2007) pp. 126-148 (Shelfmark: Document Supply 9343.705700); Kerry Segrave, Lynchings of Women in the United States, The Recorded Cases, 1851-1946. Jefferson, NC: McFarland & Company, 2010 (Shelfmark: YC.2011.a.9418).
Eccles British Library Writer's Award: For more information, please see www.bl.uk/ecclescentre
07 May 2015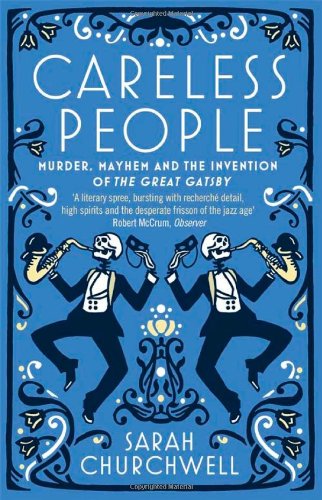 Above: The cover for Careless People, by Prof. Sarah Churchwell (2013).
[As a prelude to an upcoming Eccles Centre event, Prof. Sarah Churchwell writes for us on 'The Great Gatsby'. You can hear more at her talk, 'Inventing the Great Gatsby: 1922 - 1925' on May 18th]
The Great Gatsby has made countless readers feel as if the Jazz Age were a party to which they have not been invited. Like the party-goers at Gatsby's revels, the reader of Gatsby is drawn there by word of mouth, looking for glamour and personality, in search of celebrated and interesting people. We want to know F. Scott Fitzgerald, whom we have met through his books: we want to meet his wife, and know whether she was really mad, or destroyed him, or whether he destroyed her. We want to know how much she made herself up, or he made her up, or we've made them both up. Although many literary critics still insist that this impulse is unworthy, a deplorable preference for gossip over art, it is also true that our social personality is a creation of the minds of others, as Proust observed. Scott Fitzgerald understood that better than most, and it is one of the themes of The Great Gatsby. 
Many people respond by throwing their own Gatsby-themed parties, a response with which I sympathize. But because I am an academic (i.e., a professional geek), my idea of throwing a Gatsby party is not to mix a few tasty cocktails and suggest that people put on a pretty dress that approximates one that might have been worn in the 1920s. No, my response is to spend years and years intensively researching what life would have been like in 1922, what Scott Fitzgerald could have known when he was sat down to write the novel, what he guessed—and what he had no way of knowing.
In April 1925, when Gatsby was published, it was a contemporary novel. It had been written in 1924 and set in 1922: so it would work in exact parallel if we imagine a novel published this year, that was written in 2014, and set in 2012. It would be a contemporary novel: we would understand all of its references, without need of translation, explanation, or glossary. The Great Gatsby was certainly a "modern" novel—so modern that its first readers could not see any meanings beyond the ones that were entirely manifest in 1925. Most of these meanings are entirely lost upon us now—but it turns out that they are not entirely lost to us. They are there, waiting to be found, if we're patient, or dogged, or both. And it is those meanings—the meanings that would have been available to Fitzgerald, and his readers, in 1925—that I set out to recover in researching my book about Gatsby, if I could. The analogy, to my mind, is like trying to do an historically sympathetic renovation of a beautiful old art deco house. Of course you can cover it over with all kinds of layers from other eras, and there are arguments to be made in favor of updating (just as few of us would want to actually live with an historically authentic bathroom from 1925, so few of us would want to return to an historically authentic 1925 attitude toward, for example, anti-Semitism). But there are also arguments to be made in favor of creating something historically sympathetic, and aesthetically consonant, and that's what I tried to do in the book I eventually wrote, called Careless People.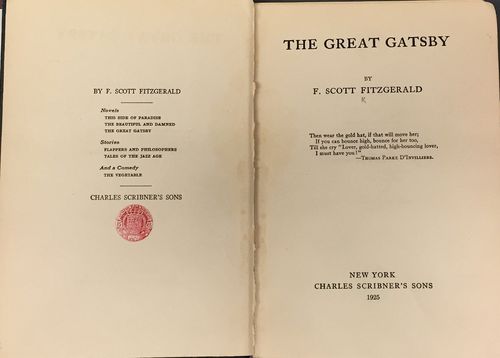 Above: first pages of the 1925 New York edition of The Great Gatsby [BL:Cup.406.I.13]
One of the unexpected results of this research project was that I came to see much more clearly than I'd ever predicted why The Great Gatsby was not a great critical or commercial success when it was published in 1925; it didn't flop, but its sales were sluggish, its reviews largely uncomprehending. Along the way I learned a great deal about what New Yorkers in 1922, when Gatsby is set, actually wore (skirts were much longer than we think), what they drank (bathtub gin and bootleg gin are not the same thing), what they danced (not the Charleston), what they listened to, what they ate, even what perfumes were available. (The great French house of Caron produced both Narcisse Blanc and Nuit de Noël in 1922, for example; both are still available for any historical die-hards who do not have to survive on an academic salary.)
Such a critical, and I hope creative, endeavor necessarily raises a series of question about what it might mean to try to recover the past. And as fate would have it, this is the great question asked by the great Gatsby, and by The Great Gatsby. "You can't repeat the past," Nick Carraway warns Jay Gatsby. "Can't repeat the past?" Gatsby responds, incredulously. "Why of course you can!" And then Fitzgerald adds, with one of the hundreds of touches of mordant humor that pepper the novel, that Gatsby "looked around him wildly, as if the past were lurking here in the shadow of his house, just out of reach of his hand."
Is the past just out of reach of our hand? For Nick, as for Fitzgerald, this is a facetious remark—and yet the idea that it might be is just the response that the novel has inspired in thousands of readers since Fitzgerald's death in 1940. But in 1925, as I've said, Gatsby was a purely contemporary novel: its ideas about the past were negligible, and its vision of the future was indiscernible, undetectable to jazz-age eyes, as blind as the eyes of Dr. TJ Eckleburg, pointlessly lording it over the ashes of history.
What past we have is an invention. There was a past, and we certainly did not invent it, although other people did; but that past has made its exit and it will not return. Our myths, our legends, our false memories and mistaken historical assumptions, our anachronisms, our egotistical projections of our own values—these are the invented past.
What I discovered is that the hectic absurdity of the past takes us by surprise; we are accustomed to invent only that past that seems useful to us, by and large: rare is the effort to accommodate the present to the past, rather than the other way around. We may not believe that we can repeat the past, but we do tend to believe that we can recover it, although God knows what havoc we would wreak if we found ourselves accidentally grasping it.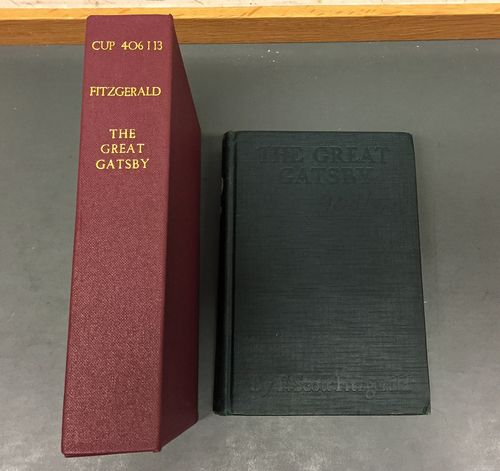 Above: cover and modern preservation box for the 1925 edition of The Great Gatsby [BL: Cup.406.I.13]
I think most of us expect history to display a certain dignity, as befits its age; but what I learned is that the past is not a venerable old man, an eminence grise: it is an unabashed adolescent, with no understanding or fear of the consequences of its own idiotic behavior. Its carelessness proves, in the end, rather winning, but we should not mistake a survivor's instinct for sanity.
The history of 1922 reads not like history, but like a rather madcap novel—and that novel is by Scott Fitzgerald, because it was his novel that taught us how to read this story. The sources turn out to have a tremendous story to tell themselves: but we would not know what it was about if Fitzgerald had not told us how to read it in the first place.
Memory is an imaginative reconstruction of the facts. So is history. So is The Great Gatsby. They are not the same things, of course, memory, history, fiction. But they have more in common than we like to think. They're all a story about the art of exhilaration, about a glittering, gin-drenched, time-drenched world, whether we are dealing with fiction or with history. In either case the theme is the peril and brevity of such vision—that is the theme of Gatsby, and it is the starting point for any serious conversation about it.
[SC]
[Prof. Sarah Churchwell will be speaking about 'The Great Gatsby' at the British Library on May 18th, you can find more information here]
10 May 2014
When I was growing up on the Upper West Side of Manhattan, and setting out on a weekend run in Central Park, I knew I was doing okay when I passed Cleopatra's Needle, just west of the Metropolitan Museum. If I got that far I'd already done a loop around the lower Park, and would be heading up and around the Reservoir before pounding my way back home. 
Cleopatra's Needle is in the news; back in 2011, Zahi Hawass, who was then the minister of Egypt's Supreme Council of Antiquities, threatened to attempt to take the monument back to Egypt, alleging that the City wasn't taking care it properly. Well, now they've agreed to clean it, very carefully, with a laser. The restoration will take a few months, and will cost half a million dollars – paid for not by the City, but with money raised privately by the Central Park Conservancy.
The Needle has nothing at all to do with Cleopatra, having been raised in Egypt many centuries before her birth to honour the Pharoah Thutmose III – just like its sister obelisk in London on the banks of the Thames. But the name has stuck: people remember what's most convenient for them to remember, and forget what's convenient to forget. And so, for the most part, they've forgotten the name of the remarkable engineer who brought the obelisk from Egypt to Central Park, and saw it safely erected in 1881.
His name was Charles Roebling; and when I saw the story in The New York Times I was, as it happened, at Rutgers University in New Jersey, where much of the Roebling family's archive finds it home. (The other part of archive is at RPI, in Troy, New York, where my last blog post emanated from. I'm at work on a biography of his older brother, Washington, who built the Brooklyn Bridge – completed two years after the obelisk was installed in the park. Washington outlived his younger brother – who he viewed as the greatest engineer in a family of great engineeners. Charles had been running the family firm when he died – John Roebling's Sons Co, of Trenton, New Jersey – the family's fortune was founded on the manufacture of wire, wire rope being the most important invention of Washington and Charles father, who had come to America from Prussia in 1831. At the time of Charles's death his older sibling wrote: 
'He was the directing head, the man who looked ahead, planned and worked and designed and executed with tireless energy year in and year out, and usually successfully — He never copied, was always original even when at times it might have been wise to attain those results in some other way, but it all helps to strengthen one for future efforts.'
It's always struck me as strange how the names of engineers tend to vanish from history. Do we know the name of the engineer who first raised the obelisk Thutmose III in Alexandria? I don't think so. But we know Charles Roebling's name – let's not allow it to fade. 
Erica Wagner is a 2014 Eccles Centre Writer-in-Residence at the British Library.