28 September 2022
This month's e-resources blog explores five wonderful resources offering full-text access to a wide variety of magazines and comics. 
Please note: all of these resources can be accessed remotely with a British Library Reader Pass.
Entertainment Industry Magazine Archive, 1880-2015 covers the history of the film and entertainment industries, from the era of vaudeville and silent movies through to the 21st century. It includes numerous trade magazines which have effectively provided the main historical record for their subject areas throughout the 20th century – Variety (1905-2000), The Hollywood Reporter (1930-2015), Billboard (1894-2000) and Broadcasting (1931-2000) – as well as more specialist titles, such as American Cinematographer (1930-2015), Backstage (1961-2000) and Emmy (1979-2015). The inclusion of consumer and fan magazines enables researchers to retrieve industry news items, features on technological breakthroughs and in-depth interviews with major artists, together with photographs and illustrations, gossip columns, listings, reviews, charts and statistics. Items such as advertisements, covers and short reviews of films, music singles or other works have been indexed as separate documents enabling researchers find all the relevant material for their search topic.
Men's Magazine Archive contains a handful of US titles, with two being particularly notable. Founded in 1845, the tabloid-style National Police Gazette was in print for over 120 years and initially covered matters of interest to the police – in particular, lurid murders and Wild West outlaws. It also focused on sport, and its plentiful images of burlesque dancers and strippers meant it was a fixture of nineteenth and early twentieth century barber shops. In many ways, the Gazette was a forerunner to illustrated sports weeklies, girlie magazines, celebrity gossip columns, and sensational journalism. Published in New York, The Argosy/Argosy was one of the "big four" pulp (all-fiction) magazines. It had many different iterations, and its writers included Upton Sinclair, Zane Gray and the former dime novelist William Wallace Cook. From the early 1940s, much of its fiction content was replaced by "men's magazine" content. The magazine ceased publication in 1978.
Trench Journals and Unit Magazines of the First World War contains over 1,500 journals and magazines written and illustrated by service personnel in the infantry, artillery, air force, naval, supply and transport units, military hospitals and training depots of all combatant nations. Not only did these magazines create a sense of esprit de corps and raise the spirits of the unit through humorous stories, poems, jokes and parodies, but they also documented the unit's unique circumstances and experiences. The vast and previously unrecognised corpus of war poetry, written by a multitude of hitherto unknown poets, offers a vital counterpoint to the more established authors who emerged from the Great War. NB – a similar resource, Service Newspapers of World War II, was covered in our e-resources blog in November 2021.
Underground and Independent Comics, Comix and Graphic Novels is the first-ever scholarly online collection for researchers and students of adult comic books and graphic novels. From the first underground comix of the 1960s, to the work of modern sequential artists to the present day, it covers the full spectrum of this visual art form and offers 200,000 pages of original material alongside interviews, commentary, criticism, and other supporting materials. Please note that it contains graphic material that some may find offensive.
Vogue Archive contains the entire run of US Vogue, from its founding to the present day and includes all text, graphics, ads covers and fold-outs, indexed and in colour. Vogue was founded in New York in 1892 as a weekly society paper catering for Manhattan's social elite. After being purchased by Condé Nast in 1909, not only did the quality of the paper, printing and illustrations all improve, but there was a new focus on fashion and the magazine quickly became one of the icons of the modern age. The Archive's contents represent the work of the greatest designers, photographers, stylists and illustrators of the 20th and 21st centuries and are a primary source for the study of fashion, gender and modern social history.
16 May 2018
It is always a great pleasure when you find your research coinciding with that of your colleagues. There has been a recent spike in discussions around American music and World War I in the Eccles Centre as Jean Petrovic is currently developing an online exhibition showcasing the British Library's excellent collection of American sheet music, whilst I am researching American musicals of the early 1940s which looked back at World War I and vaudeville. 
As part of her project, Jean has been focusing on World War I, which saw an explosion in printed music. At the turn of the twentieth century – prior to the rise of radio and the phonograph – pianos were still the main source of home entertainment. Recent innovations in production had bought about a sharp decline in prices and an inevitable rise in demand. Not surprisingly, this was a boom-time for song-writers and music publishers. Print runs of top-selling songs frequently exceeded hundreds of thousands and between 1900 and 1910 more than 100 songs sold over one million copies.
More than 10,000 songs about World War I were published in the United States during 1914-18. In the early days, many of these songs echoed the non-interventionist stance of President Woodrow Wilson and most Americans.
Within days of the US declaration of war in 1917, George M Cohan, already one of the country's most successful songwriters, penned 'Over There'. With its patriotic call to arms, its optimism and its references to liberty and the American flag it went on to become the nation's favourite war song. It was performed and recorded by many artists and eventually sold more than two million copies.
Above: George Michael Cohan. Over There. New York: Wm Jerome Publishing Corp., c1917.  British Library shelfmark a.318.(5) (other versions, h.3825.z.(52); h.1562; H.1860.i.(8); h.3825.ff.(7)); image courtesy of the Library of Congress https://www.loc.gov/item/ihas.100010518
In 1936, President Franklin D Roosevelt presented Cohan with the Congressional Gold Medal in recognition of his contribution to US morale during World War I.  He was the first person in an artistic field to receive this honour.
And this is where I come in. During America's participation in World War II, a notable body of musical films were produced which reflected on the current crisis through the historical metaphor of America's role in World War I. By binding these wartime stories with settings concerned with vaudeville and performance, these films conveyed patriotic messages and made entertainment culture central to American values. 
Above: promotional poster for Yankee Doodle Dandy (dir. Michael Curtiz, 1942, Warner Brothers)
In 1942, director Michael Curtiz made Yankee Doodle Dandy, a biopic about Cohan's life. The narrative is framed by Cohan, in the present day, going to visit President Roosevelt at the White House where he discusses his career and receives the Congressional Gold Medal (despite the award actually being made 6 years previously). In the urgent context of World War II the film places Cohan (but also by extension Hollywood itself) as vital agents in America's cultural mythmaking: the inclusion of his famous, popular songs ('Over There', 'Give My Regards to Broadway', 'The Yankee Doodle Boy' and 'You're a Grand Old Flag') and production numbers involving a lot (and I mean A LOT) of flags, allow the fictional President Roosevelt to comment to Cohan that "your songs were weapons as strong as cannons and rifles in World War I."
Interesting, whilst the film was certainly an important part of Warner Brothers Studio's commitment to the war effort, aimed partially at legitimizing their own work in the context of the war, the unashamedly patriotic film also served an interesting purpose for its star, James Cagney, who had personally struggled to deny Communist links.
Cagney had initially been opposed to making a Cohan biopic as he'd disliked Cohan since the Actor's Equity Strike in 1919 when Cohan had sided with the producers. However, during the late 1930s and early 1940s Cagney had run-ins with the Dies Committee (the House Un-American Activities Committee): in 1940 he was named along with 15 other Hollywood figures in the testimony of John R Leech (an LA Communist Party leader) and the New York Times printed the allegation that Cagney was a Communist on its front page (August 15, 1940).
Although Cagney refuted the allegations and Martin Dies made a statement to the press clearing him, his brother, William Cagney, who managed his business affairs is reported to have said that "we're going to have to make the [most] goddamndest patriotic picture that's ever been made. I think it's the Cohan story."[1] The film certainly achieves this aim: Cagney went on to win an Oscar for the role (and the film was a huge box office success for Warners).
For those interested in learning more about the American sheet music collection at the British Library, Jean's web exhibition will go live later this summer.  In the meantime, an older incarnation of the project can be found here.
I will be discussing 'American Film Musicals and the Reimagining of World War I' as part of the British Library's Feed the Mind series on Monday 21 May at 12.30 in the Knowledge Centre. I can promise clips of Gene Kelly, which must rate as one of the best ways to pass a lunch break. I hope you'll be able to join me.
By: Dr Cara Rodway, Deputy Head of the Eccles Centre for American Studies, with thanks to Jean Petrovic, Bibliographical Editor.
[1] Patrick McGilligan, Cagney: The Actor as Auteur (New York & London: Tantivy Press, 1975), pp145-8 [shelfmark: General Reference Collection X.981/20794]
24 February 2017
The 89th Academy Awards are almost upon us, and Natalie Portman has received a nomination in the best actress category for her portrayal of Jacqueline Bouvier Kennedy in the film Jackie (2016, Pablo Larrain).  An unflinching portrayal of the first lady in the traumatic days following the assassination of her husband, President John Fitzgerald Kennedy, Jackie asks what it means to be a woman in a public position of power.  Given the office's lack of definition, this is an especially pertinent question for a first lady who has to learn to balance the role's often unsolicited obligations and public exposure, and to negotiate the distinction between her own personal and political identity and that of her husband.[1]
In Jackie we are shown how Bouvier Kennedy reshaped the role to her interests, taking on responsibility for the preservation and restoration of the White House as a historic building, and introducing cultural activities into the Presidential calendar. 
James A. Abbott and Eleaine M. Rice, Designing Camelot: The Kennedy White House Restoration. New York: Van Nostrand Reinhold, 1998. [YC.2001.b.760]
While these are now considered to be standard responsibilities of the office, she was on the receiving end of contemporary criticism as some considered these activities to be a misuse of public funds.  However, Bouvier Kennedy was by no means the only first lady to interpret the role in this light.  Indeed, one of the most popular first ladies in American history, Dolley Payne Todd Madison, was appreciated precisely because she infused the role with non-partisan nationalist sentiment at a precarious moment in the young nation's history – the War of 1812.
As official host for receptions in Jefferson's White House during her husband's tenure as Secretary of State, Dolley Madison assumed the position with substantial prior experience and a higher public figure than her predecessors and many of her successors.  Such was her popularity and profile that James Madison's political opponents complained that they had to "run against both the Madisons."[2]  Once her husband assumed the Presidential office, together with White House architect Benjamin Latrobe, Dolley took on the project of decorating and furnishing the bare building to a standard designed to impress foreign dignitaries.  Believing her role to be one of public service to her husband's citizenry, she mastered the ceremonial and social aspects of the position.  She placed substantial weight on fashion, and dressed in a manner that demonstrated a keen understanding that her public presentation would help her to forge an independent identity and, at official occasions, also reflect positively on the nation. 
The Editors of American Heritage Magazine and the 1969 Inaugural Book Committee, The Inaugural Story 1789 – 1969. American Heritage Publishing Co., 1969.
It is perhaps unsurprising, then, that Dolley Madison organised the first inauguration ball.  Additionally, she expanded activities in the White House to include a weekly formal banquet, and a regular informal gathering at which political colleagues with opposing views were able to meet and converse socially outside the restrictions of their office.  Much praised for her diplomatic manner, social grace, and non-interference in political matters, by the time of their departure from the position, she was widely referred to as 'Queen Dolley'.
The esteem in which she was held, and the political influence she had, is perhaps most visible post-mortem.  Under the refrain "Liberty and union, now and forever, one and inseparable" the notice of her death published in The Daily National Intelligencer reveal quite clearly how traditional feminine values were aligned to the virtues of nationalism: "she continued until within a few weeks to grace society with her presence, and lend it those charms with which she adorned the circles of the highest, the wisest, and best, during the bright career of her illustrious husband.  Wherever she appeared, every one became conscious of the presence of the spirit of benignity and gentleness, united to all the attributes of feminine loveliness."[3]  Much like for President Kennedy, her funeral was attended by political and Military and Navy officials including the President and the Cabinet, and included a "very large and imposing" funeral procession through Washington to the Congress Cemetery.[4]  Dolley Madison's funeral remained the only instance of a woman's funeral being treated as a state occasion until Rosa Parks' lying in honor ceremony in the Capitol Rotunda in 2005.
The parallels with Bouvier Kennedy's approach to the office are clear and, given the latter's keen sense of history, occasion, and public duty it is conceivable that she drew on Madison's legacy although perhaps not consciously.  At no point were these underlying tenets more visible than in the four days following the assassination of her husband, and particularly at his state funeral.
United Press International, Four Days: The Historical Record of the Death of President Kennedy. American Heritage Publishing Co., 1964. [YA.1990.b7099]
A Catholic who had experienced personal loss and with a respect for the healing power of ritual, a journalist by training, a fashion icon, and instilled with a rich appreciation for the arts, Bouvier Kennedy had a heightened awareness of how the performative and visual aspects of the state funeral ceremonies would be received.  Drawing on these strengths, she challenged military protocol, political will and the Kennedy family in order to achieve her vision for her husband's final rites.  By marshalling the collective manpower of her husband's political allies to carry out her instructions, and with whom she had forged loyal and useful political relationships, she assumed her position as iconic mourner-in-chief for the nation.
Diagram 58: Main funeral procession, St. Matthew's Cathedral to Arlington National Cemetery.  B.C. Mosmman and M.W. Stark, The Last Salute: Civil and Military Funerals, 1921 – 1969. Washington, D.C.: Department of the Army, 1991. [A.S.573/59]
Of course, the category of 'widow' has a similarly weighted set of gendered expectations around social decorum, and carries inflections of motherhood.  In this respect, and as cultural critic David M. Lubin has pointed out, Bouvier Kennedy had a 'neoclassical aura' at the funeral. [5]  Larrain captures and explores these connections in the most interesting scene in Jackie: on a mixture of tranquilisers and alcohol the clearly traumatised widow Kennedy wanders through the now desolate rooms of the White House she redesigned, alternating between her many ballgowns to the soundtrack of 'Camelot.'  It is a powerful anti-montage that deconstructs the foundations upon which the former First Lady built her identity.  In doing so, Jackie examines the constraints of femininity and inter-dependent subjectivity that are imposed on first ladies and more broadly women in public positions of political power, and enquires what this means for our understanding of American nationalism.
Jacqueline, Caroline, and John Kennedy Jr. leave the White House for the final time. United Press International, Four Days: The Historical Record of the Death of President Kennedy. American Heritage Publishing Co., 1964. [YA.1990.b7099]
Fran Fuentes
[1] Such was the uncertainty over the role of early presidential spouses that there wasn't an accompanying title.  Early presidential spouses were occasionally referred to as 'Presidentress' and the now commonly used 'First Lady' did not have wide usage until Charles Nirdlinger's play The First Lady in the Land popularised it in 1914.
[2] Dorothy Schneider and Carl J. Schneider, First Ladies: A Biographical Dictionary 3rd Edition, p.vi. New York: Facts on File, 2010.  p.28.  [YC.2011.a.1553]
[3] Daily National Intelligencer, July 14, 1849. [NEWS12419]  Also, The Dolley Madison Project http://www2.vcdh.virginia.edu/madison/exhibit/widowhood/img/art1.html
[4] Daily National Intelligencer, July 17, 1849.  [NEWS12419] Also, The Dolley Madison Project http://www2.vcdh.virginia.edu/madison/exhibit/widowhood/img/art3.html  
[5] David M. Lubin, Shooting Kennedy: JFK and the Culture of Images.  Berkeley, London: University of California Press, 2003.  p.256. [YC.2005.a.5008]
09 January 2014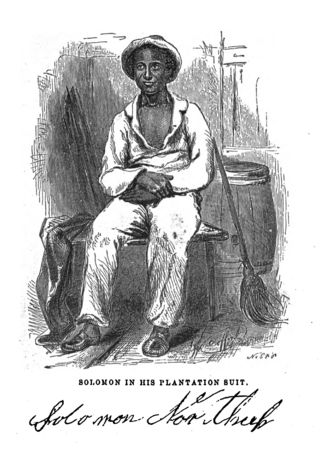 Above: a portrait of Solomon Northup from, Twelve Years a Slave. Image from Wikimedia Commons, for reasons that will become apparent below.
With Steve McQueen's '12 Years a Slave' seeing general release in the UK on Friday we in Team Americas thought we should call up the Library's copy of Northup's 1853 published account (Shelfmark: 10881.b.38). Forming part of the Library's large collection of Canadian, UK and US published accounts of slavery throughout the Americas Northup's Twelve Years a Slave is a harrowing portrayal of Northup's trials after his kidnapping in Washington DC in 1841.
Calling up the book, however, was surprising. The Library holds a microfilm copy of the New York published version and a first edition print of the London version. Unfortunately the London copy, containing a blue stamp and therefore collected via legal deposit, was submitted to the Library prior to the addition of the plates (representing incidents that also play a key role in Steve McQueen's film). There was however, the rather wonderful note (reproduced below) which states the plates, 'are not yet ready, the book is published without them'.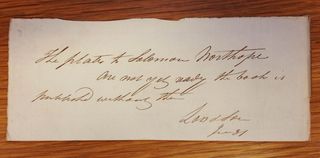 Above: the note contained in the British Library's London published copy. The rest of the book, par the spine, is free of embellishments [Shelfmark: 10881.b.38]
The rest of the book is faithful to the US version's account, depicting Northup's horrendous story in grim detail. There has been an accusation in some parts of the printed press that McQueen has over asserted the horror and violence of American slavery during Northup's time but the text contained in the book contradicts this. Northup's account is every bit as violent and terrifying as its interpretation in McQueen's film seems to be (as you'll guess, I've seen nothing but trailers, clips and interviews thus far so I'll confirm next week).
If you go and see the film and would like to know more about the book or slavery in the Americas in general then reading Northup's work is a good place to start, you can find it for free over at Archive.org. The Guardian also ran a fantastic article and interview with Henry Louis Gates that is well worth a read for further background and information, as is a later article by the BBC. Should you still want more after that there are a number of publications by Henry Louis Gates in the Library's collections.
[PJH]
04 October 2013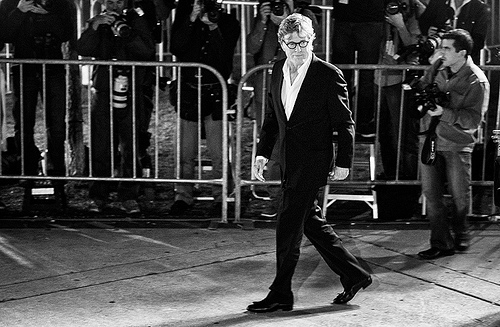 Robert Redford at The Company You Keep premiere. Photograph by Sam Javanrouh, 9 September 2012 via Flickr, CC BY-NC 2.0
I've seen it three times now and Robert Redford's The Company You Keep is mostly a fine mix of thriller and (mainstream) political reflection. Based on the 2004 novel of the same name by Neil Gordon, the film tells the story of Jim Grant, a widower with a young daughter, whose secret past with the Weather Underground – and his alleged role in a botched bank robbery during which a guard was murdered – unexpectedly comes to light after three decades of living a socially useful aboveground life, forcing him to go on the run to prove his innocence. It's an enjoyable thriller, with fine leads in Redford, (who also produced and directed) and Shia Labeouf, and standout cameos from Susan Sarandon, Chris Cooper, Nick Nolte, Brendan Gleeson and relative newcomer Brit Marling. Enjoyable – and (hopefully) thought provoking, which was surely Redford's intention when he bought the rights to Gordon's book and put so much of himself into making this project happen. For, if any period in American history needs a rewrite and a total re-evaluation it's "The 60s" – and this film may well drive curious souls to read some of the non-fiction histories of American dissent during that time, (my own recommendation would have to be Dan Berger's excellent Outlaws of America: The Weather Underground and the Politics of Solidarity, which is both honest and very moving).

However, as much as I enjoyed the movie, I was prompted to wonder just how much has to be conceded in order to talk about the realities of the 60s and 70s to a wider public than would normally be interested in radical politics. Where Gordon is clear that "only property was destroyed" in Weather Underground actions (a point made, early in the book, by a Republican whose husband was killed in Vietnam), it also refers to "the Bank of Michigan robbery", supposedly committed by a Weather splinter group, in which a guard was murdered - and both film and book show Jim Grant going on the run to prove his innocence in that crime. The trouble is, there was no such action at the Bank of Michigan in 1974. The robbery - and, of course, the murder of the guard – is a fiction. Compounding the problem is the fact that, in both novel and film, three Weather Underground members are shown as being present at this fictional robbery, effectively undermining the point made earlier – which was that the Weather Underground targeted property (mostly symbolic buildings, like the Pentagon), not people. These were pacifists whose principal ethos was the opposition of violence against human subjects - any human subjects. Weather bombings were preceded by ample warnings that allowed buildings to be evacuated, and in their entire history, the only people killed were the three Weather members who died in the infamous Town House Bombing, when a bomb they were building accidentally exploded.

Is this important? Isn't a writer permitted to invent things, even in the course of a historical novel? Should a film not be ready to make some factual concessions, in order to set up a mature political debate and, perhaps, educate people in the subtler details of radical politics? Well, yes: up to a point. Yet there is a point and, for me, the invention of the Bank of Michigan robbery is a concession too far. I think I know why both Gordon and Redford made that concession: to get their other points across, they probably felt the need to meet mainstream opinion halfway, (and mainstream opinion, sadly, still clings to a more comfortable and hazy view of the 60s and 70s than can be justified). And if that is the case, then at least we can be grateful that those other points got made. Leaving the cinema, however, anyone with even a rudimentary awareness of that era (or of the political corruption our own time, for that matter) and of the background of intolerable violence in which these events unfolded, would not feel that the central character has to prove his innocence of a crime that never happened, when the wider society has done so little to set right the injustices that it perpetrated then, and continues to perpetrate today.
John Burnside is an Eccles Centre Writer in Residence for 2013
11 September 2013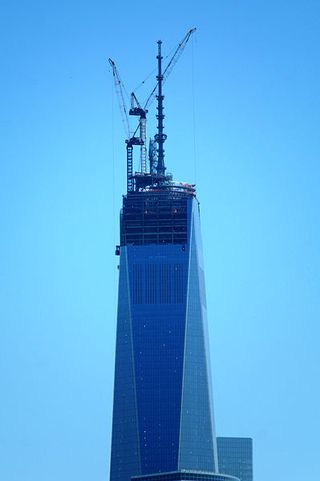 Spire installed at the top of One World Trade Center by Alec Perkins 

It hardly seems possible that it's 12 years since the horrors of 9/11. As usual, over the last week or so the TV networks have been showing numerous programmes relating to the events of that day but it's been good to also see some stories which focus on post 9/11 developments in New York. I would recommend in particular that you try to catch Belfast-born artist and film-maker Marcus Robinson's Rebuilding The World Trade Center, an artistic project "about reconstruction, ambition and humanity."
In 2006, when Ground Zero had finally been cleared and the numerous disputes around the rebuilding resolved, Robinson was given permission to document (through film, photography, drawing and painting) construction on the  World Trade Center site, which must be one of the most scrutinised building projects in the world. Through time-lapse photography (with 13 cameras taking a frame once every 30 minutes), we get to see exactly what goes in to the construction of  a skyscraper (the focus is on Tower One), as beautifully edited sequences distill over 7 years work to almost the blink of an eye. Interspersed with the time-lapse photography are numerous interviews with the army of people who are needed for such a massive building project – surveyors, site managers, engineers, construction workers and a whole host of others, many of whom wanted to be involved in the project for very personal reasons.  And although the photography is stunning, it is the construction workers and riggers who are the real stars (and heart) of this story of epic architecture and engineering (they are aptly described as a kind of Greek chorus by one reviewer). In particular, it's amazing to watch the legendary iron workers as they walk across open girders hundreds of feet in the air in the world's most dangerous circus. "I see a lot of things up there, I get chills, see shadows. I don't know if you call them ghosts or whatever, but you feel stuff. They're trying to tell you something." comments Joe "Flo" McComber, one of a long line of Mohawks who have been involved in building New York's skyscrapers since the early twentieth century.  And look out for the wonderful Chantelle Campbell, an ex-secretary but now concrete carpenter, who isn't content with doing "light work" but says "I want to be seen on the same level as the men… I don't have the type of personality where I'm going to back down. That gets me a lot of respect." And you really can't imagine anyone arguing with her.
Ending (well almost, but not quite) with a joyful party on the roof, Rebuilding the World Trade Center is an uplifting film in every sense.  The actual end and final stage of the build was in fact the incredibly complex and dangerous crowning of Tower One with a huge metal spire earlier this year. The Tower, standing at a symbolic 1,776 feet, is now the tallest building in the U.S. But it was never just going to be about building a new skyscraper - for the crew, or New York. As Marcus Robinson says, "They are healing a scar in the bedrock of the city, in its skyline, and in many ways what they are doing is part of a much greater act of rebuilding and healing."
The documentary is currently still available on the Channel 4OD website and we'll acquire a copy on dvd for the collections when it becomes available.
 [C.H.]
21 July 2013
At last, dear reader, we can announce the end of the inconsistencies that have plagued this blog since the early, exploratory days. BL or British Library; 'digitize', 'digitise' or 'digitalise'; to Oxford Comma, or not; Vampire Weekend or 'Vampire Weekend'; The New Yorker-esque coöperate or the plainer co-operate; 11, eleven or XI. Pipping to the post the Times Literary Supplement's long-awaited and updated style guide, which still remains in their basement, we are working on applying some in-house suggestions that have been drawn up. (It's British Library and 11 from the list above.  'It's-es' can flourish – but we can say farewell to 'digitize' and its longer cousin, while also shouting a welcoming 'hey!' to the en-dash).
There is a very American tradition of this sort of thing.  Noah Webster did his best to reinvigorate the language in the republican United States with his dictionary of 1806. This was a land that had need for 'squash' and 'skunk', and no truck for fancy, tyrannical (and complicated) vowels in 'color'. The MLA and Chicago Manual of Style continue to dominate the scholarly apparatus of student essays and academic monographs (as well as causing fearsome programing (or is it programming) in citation management tools such as Endnote or Zotero). But the big beast in the land of the style guide – and one that is as much loved as Big Bird or Liberty Enlightening the World – is that perennial publication: The Elements of Style, also known as 'Strunk and White' after its two authors/editors. 
This work, now used and held in affection by students and writers for a couple of generations, may be said to have had two lives, a lifecyle charted in Mark Garvey, Stylized: A Slightly Obsessive History of Strunk and White's The Elements of Style (2009).* In 1957, the New Yorker published a piece by EB White about a textbook he had used at Cornell as a student, known as the 'little book': a 'forty-three page summation of the case for cleanliness, accuracy, and brevity in the use of English'. Written by William Strunk, it had been privately printed in 1918 and reprinted and revised a few times, the last of which was published in 1935. According to the essay, Strunk had been White's 'friend and teacher' at Cornell, and the book had always made an impression on him.   White had been sent a copy of the 'little book' by a former classmate, Howard Stevenson (editor of the Cornell Alumni News), after the two had reminisced about it the previous summer. (Stevenson obtained a copy from the university library – not, as White put it, 'filched from the library', but with the permission of the librarians (Garvey: 57-59)). The New Yorker essay, published in the 2 July 1957 issue under the title 'Letter from the East', reflected on White's move from a mosquito-plagued apartment in Turtle Bay to a farm in Maine, and the need to 'simplify my life... burning my books behind me, selling the occasional chair, discarding the accumulated miscellany'. He could not, however, part with Stevenson's recent gift, in part because of his memories of the eccentric and confident Professor White, and in part because of 'its sharp advice'. Jack Case, an editor at the Macmillan Company, was struck by the piece, found the textbook, and reissued it, along with the essay and revisions and additions by White as The Elements of Style in 1959. Within a year, 200,000 copies had sold; and the injunction 'omit needless words' was drummed into the popular consciousness.
White, the author, of course, of Charlotte's Web (1952) and Stuart Little (1945) (as well as Is Sex Necessary? Or, Why You Feel the Way You Do with James Thurber (1929), has his biographers in Scott Elledge, E. B. White: A Biography (New York, 1984) and Isabel Russell, Katharine and E. B. White (1988) and has had many of his letters and essays republished; his papers are at the Cornell University Library. Strunk, on the other hand, only has 'a small number of letters to him by William Dean Howells' in Cornell (American National Biography). Neither is he similarly remembered in print if we put aside The Elements of Style and White's final version of his essay in The Points of My Compass (1962).   
This is a shame. But we will do what we can in this post. In our office, fresh from the stacks, is a copy of J Fenimore Cooper, The Last of the Mohicans, published as a Chambers Standard Authors  in 1911.  Strunk had edited it 'for school use'. The temptation, of course, is to search Strunk's prose for evidence of his stylistic advice, and more particularly transgressions of them.* This is a little cruel; instead, there is evidence of his lively awareness of language and the effects of style.  From the first page of preface we find this: 'with this preliminary explanation of his reasons for introducing so many unintelligble words in the very threshold of his undertaking...'. A proto-'omit unnecessary words'! But, alas, this is not Strunk, but Cooper.  For the professor, we must turn to the notes at the back. Ballston gets it in the neck: 'watering-places.  Saratoga and Ballston. The latter has long lost its former prominence'. He helpfully explains to the student: 'In Coooper's day, the old practice of prefixing quotations to essays and to chapters of novels was still in voyue.' We like this efficient, and allusive, explanation: 'Horican... nearly all of their appellations were descriptive of the object. Thus, a literal translation of the name of this beautiful sheet of water, used by the tribe that dwelt on its banks, would be "The Tail of the Lake"'. Elements of the 'little book': 'children which. "Which" was formerly often used where we now say "who,W, but in other passages Cooper shows that he was careless in his use of relatives'; 'admiration. Wonder.  Now obsolete in this sense'; 'should know. Note the form'; 'they moved.  Note the unfortunate result of the carelessness in the use of the pronoun'; 'On the contrary, etc. Badly constructed sentence' [see, again, the note for p. 427].
We now jump forward from 1911 to 1936, and MGM's vision of the Italian Rennaissance: 'Romeo and Juliet', a no-expense-spared prestige adaptation of Shakespeare during Hollywood's Golden Era. Produced by Irving Thalberg, directed by George Cukor (and staring John Barrymore, Leslie Howard, Violet Kemple Cooper, Basil Rathbone and C. Aubrey Smith – and, with above the title billing, Norma Shearer, the director's wife), and with costumes by the young English designer Oliver Messel, the film made much of its attempts at authenticity, with special study guides prepared for schools.*** In order to present a genuine vision of Renaissance Verona, Jacob Burckhardt-reading researchers were employed, and genuine ducats  were even used as props. For Thalberg, it would be the play Shakespeare would have made if he had access to film, MGM's coffers and south Californian sunlight  (See Russell Jackson, Shakespeare Films in the Making: Vision, Production and Reception (Camdridge, 2007). The script was by Talbot Jennings, who had recently written Mutiny on the Bounty (1935) and went on to write The Good Earth. And, William Strunk Jr, of Cornell University, as the credits at the start of the film proudly proclaimed, acted as 'literary advisor'. Strunk, who went to Hollywood for six weeks and stayed for a year (and where he was fondly known as 'the Professor'), offered up notes on Renaissance Italian customs, and even 'additional dialogue', following Jenning's departure (quoted in Jackson: 130).  Each set is 'crammed with period detail' (Jackson: 133), suggesting that the director paid attention to the suggestions of the researchers, including Strunk. We are sad to note that the dove-house suggested for the Capulet garden did not make it into the final set. 
Here, Strunk was perhaps ahead of the game. He suggested, 'with some hesitation', whether the famous prologue might be delivered 'from the stage of the Elizabethan theatre (The Swan),' anticipating, Jackson suggests, Olivier's famous opening to 'Henry V' (1944).
The film opened in the autumn, with the press relieved that 'there is nothing deep, or classic, or highbrow about it. Nothing to frighten you away.' (New York American, 21 August; Jackson: 156).****  The film, despite a good turn of phrase, lacked what Variety liked to call 'box-office socko'.
Strunk went on to omit needless scenes elsewhere: cutting Anthony and Cleopatra to a two-act Broadway play in 1937. Theatre-goers missed Enobarbus's suicide, among other things, and the show went dark early.
[MJS]
* 'For an Elements of Style disciple, [the typescript of the 1959 edition] is an inspiring sight, imparting something like the electric thrill of proximity to history I felt when leaning over the Magna Carta in the subdued lighting of the British Library.'  (Garvey: 77)  [N .B., surely 'leaning over Magna Carta?' - ed]
** Do not apply this approach to this blog
*** See Romeo and Juliet.  With designs by Oliver Messel (London, 1936).  The colour plate edition is at shelfmark 11767.d.15
**** The age of the two principals caused some comment, not least by Joan Crawford: 'Christ, I couldn't wait for those two old turkeys to die, could you?' (Jackson: 160).
07 February 2013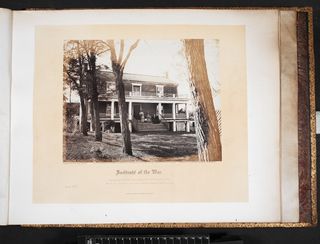 This work (Gardner's Photographic Sketch Book of the War, Washington, 1865) identified by British Library, is free of known copyright restrictions. [BL Shelfmark: 1784.a.13]
One of the many joys of American Studies is that it's very easy to argue that you're watching a particular TV programme or going to a movie because, well, it's work isn't it? Just recently we've had a few films that we all felt compelled to see, and not least because they've provoked numerous debates on Twitter and in the press. Fortunately, we've enjoyed at least two of them – Django Unchained and, of course, Lincoln. A lot of words have already been generated about both so I've no intention of reviewing either, but I did want to just touch on a couple of things in Lincoln. 
In one scene Abe discovers his son looking at 2 glass plates of 'slaves for sale' and tells him that they should be returned to Mr Gardner. This of course is a reference to the photographer Alexander Gardner. And there were numerous points in the film when it was if Gardner's (and his associated photographers) images had sprung to life, particularly when Lincoln and entourage are touring the battlefields late on in the film. Sadly our 2 volume set of Gardner's Sketchbook of the War is not quite complete and is missing the iconic photograph of Lincoln in the field. But we do have the image at the top of the blog, taken by Timothy H. O'Sullivan. If you've seen the film, you will recognise it as the Appomattox Court House in Virginia 'where the Capitulation was Signed between Generals Grant and Lee.' I've already blogged about Gardner and the sketch book so I'm not going to say anything further, other than to flag up that both volumes have now been digitised as part of Matt's Civil War project and you can peruse them here (vol. 1) and here (vol. 2).
But let's go back to that scene at the Appomattox Court House. You might also have noticed that a tall Indian in Union uniform walks across the frame at one point. He had also appeared briefly earlier on when we first encountered General Grant. He has no lines at all but a close scrutiny of the credits confirmed my assumption that he was intended to represent Colonel Ely Parker (Tonawanda Seneca), adjutant and military secretary to Grant, drafter of the final terms of surrender, and who became, amongst many other things, the first Native American to be appointed Commissioner of Indian Affairs. I can't do justice to the extraordinary (and sometimes controversial) life – and many careers of the talented Ely Parker in a blog, but you can read about him in this piece from the American Indian Magazine. We also have a number of books on him in the Library, including Warrior in Two Camps: Ely S. Parker Union General and Seneca Chief, William H. Amstrong, 1978, BL shelfmark: X:950/31002.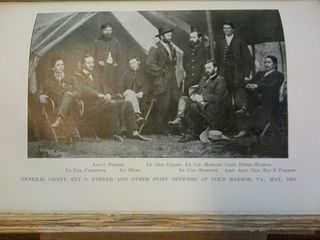 This work (The Life of General Ely S. Parker, by Arthur Caswell Parker. Buffalo Historical Society, 1919) identified by British Library, is free of known copyright restrictions. [BL Shelfmark: AC.8367/3, vol.23]
It's a shame that Parker doesn't merit any dialogue in the film. There is a much repeated story that, at the surrender, General Lee first mistook Parker as a black man. Realising his mistake, he then shook his hand, saying 'I am glad to see one real American here.' Parker's response was 'We are all Americans, sir', which, you have to admit, is a pretty good line. I can't vouch for the authenticity of the story, but the lines do occur in the movie - but between Lee and, I think, Grant. And incidentally, Parker is played in the film by Asa-Luke Twocrow (Oglala Sioux), a member of the Lincoln rigging crew, who, much to his surprise, was asked to take on the part.
Americas and Oceania Collections blog recent posts
Tweets by BL_Americas
Other British Library blogs