22 March 2016
Langston Hughes is well known as one of the leading figures of the Harlem Renaissance, primarily for his poetry. However, there is a side to his work which has received comparatively less attention: his literary translations.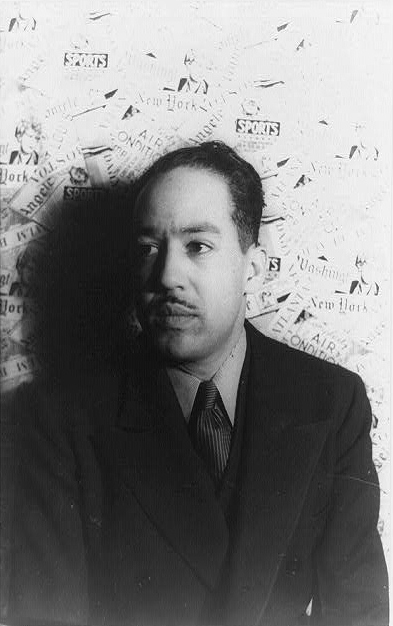 Langston Hughes in 1936, by Carl Van Vechten
Hughes was not a professional translator, and indeed most of his translations did not do very well commercially. His translations were driven by his interest in writers with whom he felt a connection, particularly authors who explored the representation of black identity beyond European literary models. Hughes felt a kinship with writers of the African diaspora in the Americas, whom he saw as linked by a similar cultural heritage and history of racial oppression. These included the Haitian writer Jacques Roumain, whose posthumous novel Masters of the Dew (Gouverneurs de la Rosée) was translated by Hughes circa 1947.
In 1948, Hughes (together with Ben Frederic Carruthers) translated a selection of poems by the Cuban writer and activist Nicolás Guillén. They were published under the title of Cuba Libre by the American Ward Ritchie Press, in a beautiful limited edition of 500 with illustrations by Gar Gilbert.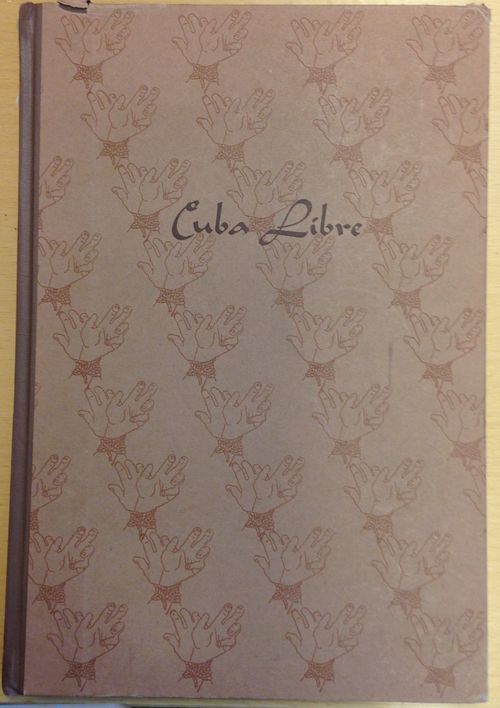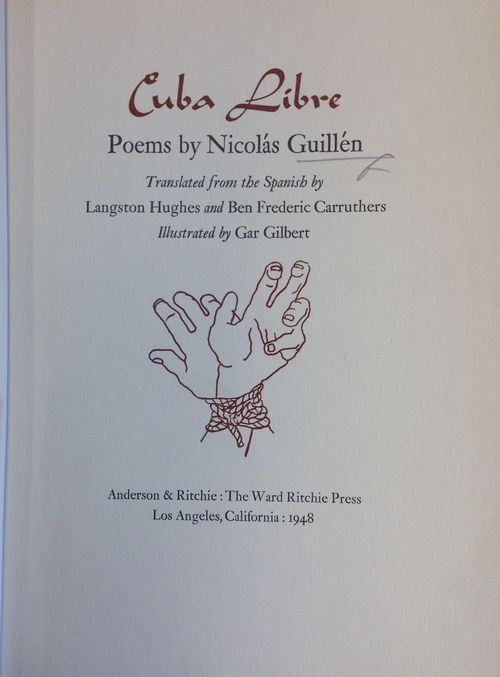 Cover and title page of Cuba Libre (1948)
Hughes met the poet Nicolas Guillén in 1930 in Cuba and they soon developed a friendship. Both men travelled together to Spain during the country's civil war as war correspondents, an episode that Hughes narrated in his autobiography I Wonder as I Wander (1956). While the extent to which Hughes influenced Guillén's style is still up for debate, their works have many aspects in common. Their poetry is a celebration of black folk culture, music and use of language. Often described as 'poets of the people', both men were concerned with representing class inequality and racial injustice.
Below is an extract from Guillén's well-known poem 'Tu no sabe inglé', translated by Hughes as 'You don't speak no English'. Hughes's translation used the African American vernacular to reproduce Guillén's experimentation with the Cuban criollo (Creole) dialect in his poetry:
Con tanto inglé que tú sabía,
Bito Manué,
con tanto inglé, no sabe ahora
desí ye.
La mericana te buca,
y tú le tiene que huí:
tu inglé era de etrái guan,
de etrái guan y guan tu tri.
        Nicolás Guillen, Motivos de son (1930)
All dat English you used to know,
Li'l Manuel,
all dat English, now can't even
say: Yes.
'Merican gal comes lookin' fo' you
an' you jes' runs away
Yo' English is jes' strike one!
strike one and one-two-three.
Langston Hughes's translation, published in Cuba Libre (1948)
Further Reading
Guillén, Nicolás. Cuba Libre, translated by Langston Hughes and Ben Frederic Carruthers (Los Angeles: The Ward Ritchie Press, 1948) [Cup.510.naz.3.]
Kutzinski, Vera M., The Worlds of Langston Hughes: Modernism and Translation in the Americas (Ithaca, NY: Cornell University Press, 2012) [YC.2013.a.1917]
Martin-Ogunsola, Dellita, 'Introduction'. The Collected Works of Langston Hughes. Vol 16: The Translations: Federico Garcia Lorca, Nicolas Guillen, and Jacques Roumain, ed. by Arnold Ra``mpersad (Columbia and London: University of Missouri Press, 2003) [YC.2005.A.3285]
Scott, William, 'Motivos of Translation: Nicolas Guillen and Langston Hughes'. CR: The New Centennial Review, 5:2 (2005): 35-71. [3486.443000]
 —Mercedes Aguirre
25 September 2012
It's been a busy month for all of Team Americas, with much of my and Matt's time in particular taken up with activities relating to our forthcoming exhibition On the Road: Jack Kerouac's manuscript scroll. Yes, we're excited at the prospect of the arrival next week of Jim ('keeper of the scroll') with the typed manuscript, which will exhibited from 4 October until 27 December in our newly re-launched Folio Society Gallery in the Library's Front Hall.
The scroll will be taking centre stage in a specially designed 16 metre case so we decided that the accompanying BL material should focus on our sound recordings and Steve has put together a great 'soundtrack' to the scroll and the Beat Generation. You will be able to hear several contributions from Kerouac, including an excerpt of On the Road, jazz recordings which echo references in the novel, plus Allen Ginsberg reads Howl, and there are contributions by William Burroughs, Herbert Huncke, Joyce Johnson, Carolyn Cassady et al. Oh, and there's Neal Cassady reading Proust too!
And the exhibition should look great, thanks to Fiona's design and the generosity of Carolyn Cassady, the Allen Ginsberg Estate and the Kerouac Estate in letting us reproduce some wonderful images. So, schedule your visit now. The exhibition is free and there's also an excellent events programme, including a preview screening of Walter Salles' new movie.
Regular readers of the blog will know that we've highlighted our sound recordings relating to the beats before, but if you're a new reader, here's the link to a bibliography Steve put together some years ago. We also have really strong printed collections, and here's a bibliography of those (be warned, it's BIG). Picking just a few of these books to put in the exhibition was very difficult so we've opted for the holy trinity of Kerouac, Ginsberg and Burroughs, with just a couple of others.
Apart from writing Kerouac labels, I was also involved in our Inspired by Artists' Books event on 4 September, at which we showcased some of our wonderful artists' books and fine press holdings (here's Fran's blog on the event).  I suppose it was inevitable that my brain would end up connecting the 2 themes so I started to think about whether we had any beat-related books which fall in to this category. Of course we do, and I featured Bill Burroughs and David Bradshaw's Propagation Hazard at the event. But for this blog, I've chosen a Kerouac title. It's by Mark McMurray, a colleague who is Curator of Special Collections and University Archivist at St. Lawrence University, teaches courses on the history of the book and printing, and who set up his own Caliban Press in 1985 - how he finds the time I don't know! Anyway, Mark has made a couple of jazz-related titles, small, but perfectly formed and lovingly made, and here is an image of his History of Bop by Jack Kerouac.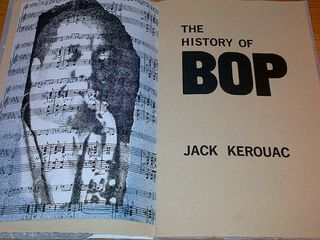 Caliban Press, 1993
08 May 2012
A secret delight of being in a great library is the arrival  on one's desk of a book which is not really what you are looking for, but proves completely fascinating.
I was pursuing J. William Lloyd an American anarchist-socialist who believed in free love and drugless medicine, when I ordered Joseph Ishill's, Free Vistas: An Anthology of Life and Letters, Oriole Press, 1933.
I had come across Lloyd while writing my biography of Edward Carpenter. He visited Carpenter's home at Millthorpe near Sheffield in 1913 while on a knapsack tour of Britain, dropping in on the Bolton followers of Walt Whitman en route.
Left politics and the many varieties of love were causes Lloyd embraced with enthusiasm , so he arrived as a pilgrim at the home of the advocate of homosexual freedom. He was, however, shocked to find Edward Carpenter smoking a cigarette!
It was David Sachs, a profoundly knowledgable second hand book dealer in Oakland,  who told me that one of the women I am currently researching, Helena Born, was in contact with Lloyd after she migrated from Bristol to Boston in the 1890s. Helena ,along with her friend Helen Tufts, went to meetings of Lloyd's Comradeship of Free Socialists in Boston.
Initially an anarchist, Lloyd became convinced that both anarchism and socialism were needed in society.  Liberty, and individual variation needed to combine with 'cooperation, sympathy and solidarity' (Anarchist Socialism).
In his novel, The Dwellers in Vale Sunrise, Lloyd's dwellers are 'simplicists' who dress in brilliant colours and wear strange barbaric jewellery, growing their hair long. They are early twentieth century hippies who live Lloyd's ideal  of free socialism.
Well there was no sign of Lloyd in the 1933 edition of Ishill's, Free Vistas. There were, however, fascinating traces of Carpenter's networks: the vegetarian Henry Salt who influenced Gandhi, the radical journalist, Henry Nevinson, the French novelist Romain Rolland as well as his friend who translated Walt Whitman's Leaves of Grass into French, Leon Bazalgette.
Ishill gathered together a series of pamphlets, all of differing shapes and sizes and all lovingly crafted. So it was a magical experience to turn the pages decorated with woodcuts by John Buckland Wright as well as drawings by Bernard Sleigh and Lucienne Bloch, not to mention linoleum cuts and drypoint.
I found myself pausing to marvel that I could sit in a library and be able touch such a book. William J.Lloyd may not have been in that particular edition but his Free Socialism was there nonetheless in spirit.
[S.B.]
Sheila Rowbotham is an Eccles Centre for American Studies Writer in Residence at the British Library.  Selections from most of Ishill's major works published by the Oriole Press can be seen online via the University of Michigan library.  Read Sheila's first post here.