25 October 2012
I am in Philadelphia at the moment, spending four weeks at The Library Company thanks to a short-term fellowship.  While I'm here, I'll try and post the occasional update, partly about Philadelphia and the U.S. (it is election month, after all) and also about some of the research I'm doing on the production and consumption of early American newspapers.
There are a number of Fellows here at the same time, and the Library has a very sensible tradition of a regular seminar in which we present our programme of work. I heard about a fascinating project to follow how the image of Confucius was spread and shaped in the Antebellum period, and spent twenty minutes talking through my own project.  However, I couldn't help but have my attention drawn to something that was starting me in the face in the bookshelf on the left: a golden lion's face.
This was the famous 'Lion's Mouth' suggestion box, introduced by Benjamin Franklin as one of the founders of the Library in about 1750.  You can see a picture of it here.  The text reads, 
GENTLEMEN
ARE REQUESTED
To deposit in the 
Lion's Mouth
THE
TITLES OF SUCH BOOKS
As they may wish to have
IMPORTED
I am rather jealous of this.  At the British Library, we welcome suggestions for acquistions (from Gentlewomen as well as Gentlemen), but by the far more prosaic method of an email to [email protected] or via the Reading Rooms' 'pink slips' as they are known.  I hereby start a campaign for the St Pancras equivalent of the Lion's Mouth.  But what creature would be suitable for our own reading room?
Suggestions below, or Tweet them to @_Americas.
[M.S.]
21 February 2011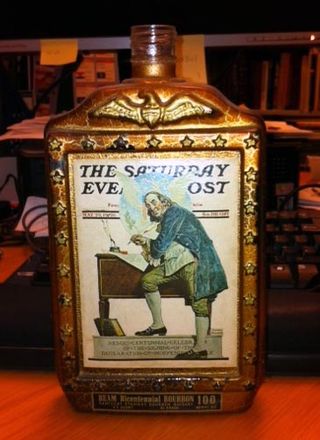 The Dulwich Picture Gallery is celebrating its 200th anniversary this year; I recently visited to take in the very-packed Norman Rockwell exhibition (on until 27 March).  The collection of Saturday Evening Post covers reminded me of this artefact, which ornaments our office, and makes use of Rockwell's Franklin cover.  I picked it up online in 2006, when we were doing an exhibition for Benjamin Franklin's tercentenary.  It dates from the sesquicentennial of the signing of the Declaration of Independence.  Sadly, when the whiskey bottle arrived, it already lacked its 4/5 quarts of 100 month-old Beam Bicentennial bourbon.
[M.S.]
30 October 2009
There's a very interesting chapter, indeed the germ of the book, in William Doyle's recent Aristocracy and its Enemies in the Age of Revolution (Oxford, 2009) titled 'Aristocracy Avoided: America and the Cincinnati'.  It's about the controversy that ensued following the establishment of an Order, the membership of which would be extended to the generals and colonels of the French army in gratitude for 'the generous assistance this country has received from France' during the American War of Independence.  A quasi-chivalric order caused quite a stink on both sides of the channel. 
It's a fascinating tale, but what particularly caught my eye was the opening paragraph, which quoted our old friend Ben Franklin, writing as a very young man in his brother's Boston paper, the New England Courant (1722):
In old Time it was no disrespect for Men and Women to be call'd by their own Names: Adam was never called Master Adam; we never read of Noah Esquire, Lot Knight, nor the Right Honorable Abraham, Viscount Mesopatamia, Barron of Carran.
Carran is footnoted sic. It is rendered as Canaan in several editions of Franklin's works, and Doyle suggests it is indeed a misprint in the note.  We have a marked-up run of the Courant in the Burney Collection of newspapers - Franklin, it seems, initialled the anonymous columns by such figures as Silence Dogood.   It has been digitized here at the BL (and available elsewhere via JISC), so I called it up on line.  No helpful initials.  But is is definitely Carran - a misprint.  It is also Baron, too.
A conference, on much bigger matters, is planned for 14-15 December at the British Academy:  The Crisis of the Absolute Monarchy: An international conference in honour of Professor William Doyle, FBA.  Franklin would have enjoyed it.
[M.S.]
23 October 2009
What's the collective noun for blogs?  A fond?  A bundle? A roll?  Whichever you prefer, there are quite a few now being hosted at the British Library, including several by curators or collection areas.  One of these is written by our colleagues in the German collections – Dach-Blog. 
So, in the interests of curatorial harmony, I've been looking at an item from the German collections: Johann Christian Mueller's Anleitung zum Selbstunterricht auf der Harmonika... (Leipzig, Siegfried Lebrecht Crusius, 1788).  Looking out from the title page, slightly mischievously as ever, is that great American tinkerer, printer and statesman, Ben Franklin.  He's clearly in full-on european sensation mode, and is depicted with his 'state of nature' beaver-skin hat. 
The volume itself is a guide to playing the Glass Armonica, Franklin's somewhat ghostly-sounding improvement on the parlour trick of 'musical glasses'.  It brought back a few memories for Team America as well, since in 2006 I was lucky enough to be involved in putting on a concert of Glass Armonica music to tie in with our Franklin exhibition (there's a listing of the items in .pdf format preserved on the BL's research archive.  Franklin-as-stuffed toy and an empty Franklin-brand bourbon bottle also now sit on the shelves opposite me.)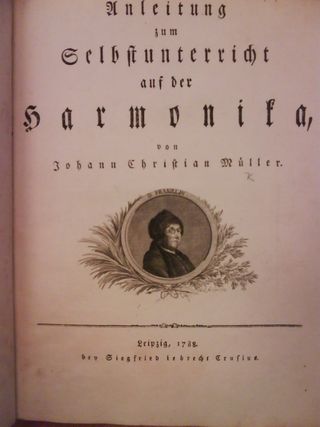 The instrument had an enormous vogue in Europe, impressed Mozart and, according to some sources, terrified or hypnotised the young.  As a result, it was even banned by the police in some German towns.  (For those with access to it, there is a fine entry in Grove.)
The Armonica was also particularly favoured by women, and had somewhat romantic associations. Which, rather tenuously, brings me back to today's post in Dach-Blog: "Love's Labour Lost"  (something Franklin knew a little about).
[M. S.]
Americas and Oceania Collections blog recent posts
Tweets by BL_Americas
Other British Library blogs