10 May 2013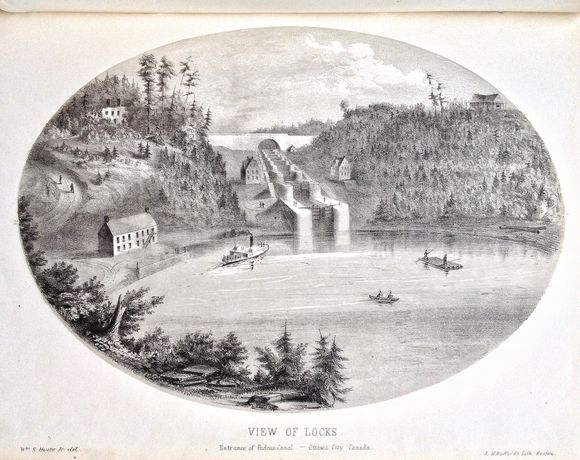 Above: 'View of Locks' in 'Hunter's Ottawa Scenery' [Shelfmark: RB.31.c.502]

These works are free of known copyright restrictions.
After ducks took over the blog earlier in the week a change of tone - although our feathered / mechanical friend will be pleased water is still involved. I've been digging through a few of the Library's printed books on 19th-century Canadian scenery and I thought I'd share some of the examples of subtle and striking change I've come across. The above illustration is a view of the Rideau Canal locks that sit below the parliament buildings in Ottawa, taken from 'Hunter's Ottawa Scenery' [Ottawa City, 1855. Shelfmark: RB.31.c.502]. It shows the city around the time of its incorporation but prior to its installation as capital of the Province of Canada.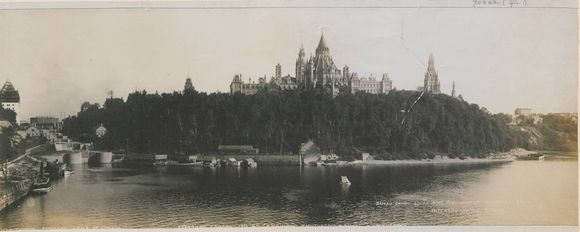 Above: 'Rideau Canal Locks and the Parliament Buildings', by the Canadian Photographic Company [Shelfmark: HS85/10, Copy. 22830]

The above photograph was copyrighted in 1910 by the Canadian Photographic Company, less than 60 years after the plate in Hunter's 'Scenery' was produced. It illustrates quite nicely the changes brought to the area and its development as a national capital, although the scale of change is not as dramatic as in other examples from the collection. A good example here is an illustration of Toronto taken from Willis', 'Canadian Scenery' (London, 1842. Shelfmark: 789.e.18).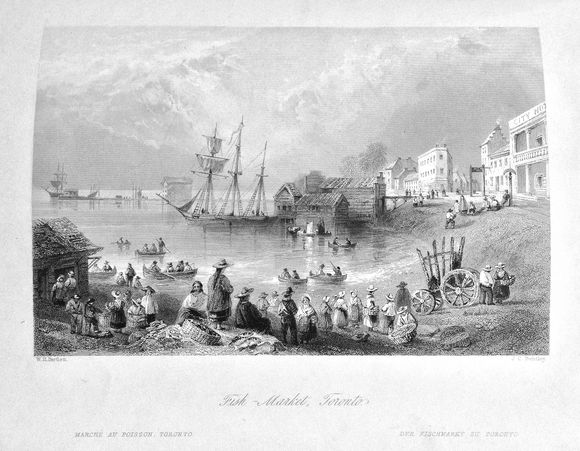 Above: 'Fish Market, Toronto' in, 'Canadian Scenery' [Shelfmark: 789.e.18]

According to the Toronto Public Library the area shown is at the foot of today's Jarvis St., downtown Toronto. By 1903 the view looking across this area was strikingly different, as the below photograph by William Thompson Freeland shows. The photograph is taken across the road from Toronto's government buildings, looking across Younge St. and Jarvis St. out towards the lake and the islands. While it doesn't show the area from 'Canadian Scenery' directly it does illustrate the dramatic change Toronto has undergone.

Above: 'Toronto Panorama, pt 4' by William Thompson Freeland [Shelfmark: HS85/10, Copy. 14481]

These are just a few examples from the collection depicting the changing Canadian environment and relevant items are not just found in printed books and photographs. For example, the topographical views and maps that make up the King's Topographical collection also contain myriad views which help illuminate the developing landscape of Canada.
For more on the scale and scope of the Library's Canadian collections, visit our Help for researchers pages.
[PJH]
06 March 2013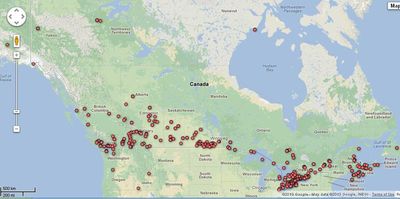 An early visualisation of the collection contents (click for more detail)

The works contained in this post are free of known copyright restrictions.
Those of you who enjoyed Team Americas' cat-themed post a few weeks ago will know that we are currently working to digitise a collection of Canadian photographs held at the Library. Since the digitisation is almost done Andrew and I are beginning to think about ways of displaying the collection and allowing access to the images, beyond hosting them on the British Library Digitised Manuscripts site and Wikimedia Commons.
Since I spent all my university life in geography departments one possibility popped straight into my mind - we could try and map the collection. The picture above is an illustration of the first attempt at this and hopefully I can soon share an interactive version with you. Why a picture at this stage? Well, truth be told, the first results contain a few bugs and I didn't want to give the wrong impression with an early version.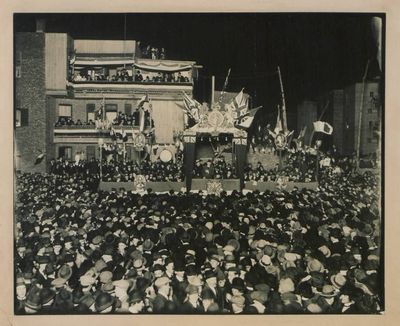 Sir Wilfrid Laurier speaking in Montreal, 27th Sept 1916. British Library shelfmark: HS85/10
That said this first try suggests that mapping would work as a way of opening access and providing users with an easy overview of the collection. It also begins to give a sense of the pattern and density of photographic deposits (important given this is a copyright collection), although this is skewed by the fact that the current map will only add one item to each location.


A pageant from the celebration of Quebec's Tercentenary, 1908. British Library shelfmark: HS85/10
There are a number of ways we could begin to use this as a tool to ask questions of the collection but it is important to note too that such a visualisation will be a good way for people to find the photographs that are of personal interest to them. In short, a map is by far the easiest way to see how many photos of Vancouver, Moose Jaw or Dawson the collection holds.
The above photographs are some examples of photographs that users will eventually be able to find via the map. I should note that the location data in any first version will be generic, pinning photographs to 'Vancouver, BC' as oppose to, 'Stanley Park Drive, Vancouver, BC'. It occurs to me that this level of refinement is something users could help to provide in the future, but one step at a time for now.
The next stage of the project, as Andrew mentioned a few weeks ago, is to tidy up the photographs we have already digitised and we are hosting an editing day on the 18th March. If the above map whets your appetite and you want to come along details can be found here.
[PJH]
24 January 2013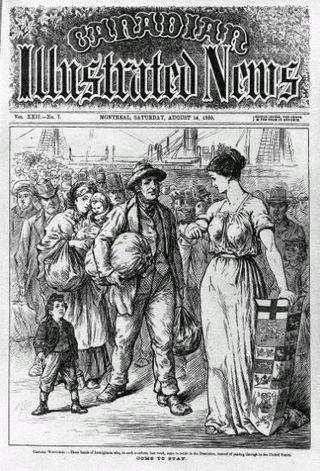 'Come to Stay' by Henri Julien, printed in the 'Canadian Illustrated News' [1880, copy in the BL newspaper collection]. Image from Wikipedia, courtesy of Library and Archives Canada.
It's that time of year again, when many of us start to think about what it would be like to live in a climate of year-round warmth. Oddly though, it's usually around this time of year when my mind meanders onto the large selection of British Library materials detailing the possibilities of emigrating from Britain to nineteenth century Canada.
While the Library's collections document, sometimes inadvertently or in passing, the migration experiences of the many different populations who moved to Canada it is in illustrating the opportunities for English, Irish, Scottish and Welsh families (and individuals) that it provides the richest source. Particularly for the mid-nineteenth century the collection holds many items that document the potential of Canada as well as alluding to some of the push factors causing people to consider taking a risk on the empire.
Locating this material takes a little doing, not least because, as with the above illustration, a number of interesting sources are articles or depictions that form part of a larger holding. However, there is a large cache of items that can be found using the search terms 'emigrate British North America' or 'emigrate Canada' in Explore (you can also do this by province). Items returned from this search include, 'Shall we Emigrate' [1885, BL Shelfmark: 10411.bb.25(5)], 'Emigration Practically Considered' [1828, BL Shelfmark: T.1244(7)] and 'North America Viewed as to its Eligibility to British Emigrants' [1848, BL Shelfmark: 1304.a.12], to name a few. There is also a large sub-collection of microfiche material provided by the Canadian Institute for Historical Microreproductions which can be found using a subset search in Explore.
The Library also holds a few notable facsimile reprints, such as a 1971 version of Catherin Parr-Traill's, 'The Canadian Settler's Guide' [BL Shelfmark: X.955/2390]. As well as notes on the climate and agricultural prospects of Canada, which are common to many of the accounts (with varying decrees of politeness), Parr-Traill's account also includes notes on home-making, Canadian society and the opportunities for leisure. Such detail is perhaps why Parr-Traill is one of the best remembered writers in her field but the many other accounts found in the collections are worth looking at for their many details on the who, how and why of migration to Canada.
[PJH]
04 January 2013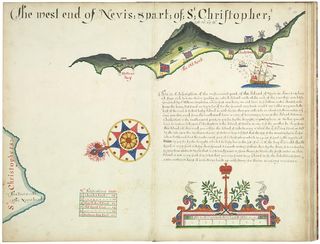 Map of Nevis and St. Christopher (St. Kitts), 1684 [Sloane MS 45] 
 
This work is free of known copyright restrictions.
There are two reasons for sharing the above with you, firstly that it is a rather beautiful and interesting old map. Secondly, that it's an example of how digital objects created by the Library in the last few years continue to evolve.
I was looking over the Caribbean Views collection, which hosts this map and a short text about it, when I noticed that its page now has a shiny 'View in Google Earth' button. Intrigued, I clicked it; only to find I don't have the plug-in installed here at the office. However, I gave it a whirl at home and rather enjoyed what I saw.
If you'd like to do the same head on over to the map's Caribbean Views page and give it a whirl. This piece of geotagging is part of the continuing BL Georeferencer project which you can find out more about here and see some of the results of here. Enjoy!
[PJH]
20 December 2012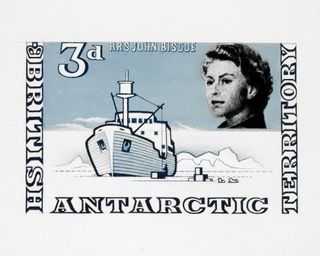 Artwork for the British Antarctic Territory: 1963-69 3d deep blue. From the Crown Agents Philatelic and Security Printing Archive held at the British Library [copyright restrictions apply] 
Wednesday was a busy news day but most will have seen the announcement that part of Antarctica is to be renamed Queen Elizabeth Land in order to commemorate the Queen's Diamond Jubilee. In a year where tributes have ranged from river pageants to daring entrances to the Olympic Opening Ceremony this perhaps seems an odd or remote decision, but its geopolitical significance is already being noted.
The naming of territory has always been an important part of underscoring sovereignty claims. The history of the Americas, for example, is populated with many instances of names being applied to places in order to stake or sure up colonial ambitions. Within the name game Royal monikers have always resembled top trumps, with the British and other nations using monarchic associations to back up claims.
Such a heritage means that areas of the Arctic and Antarctic named after British monarchs are fairly common. During the nineteenth century search for the Northwest Passage, Victoria Island was named by Dease and Simpson in 1839 and Prince of Wales Island was named in 1851 by Captain T. H. Austin during his search for Franklin. The etching of these names onto the map of the Arctic took place at a time when the geopolitics of the area were intense and the potential gains from locating a Northwest Passage thought to be huge. As a result you can also find many items from these expeditions in the Library's collections; Simpson  writes about the work he and Dease conducted between 1836 and 1839 in a work held at Shelfmark 1424.h.2, and a map of Austin's discoveries can be found at Maps.982.(48).
Continuing this theme, Queen Elizabeth II also has the honour of providing a name to an Arctic territory with the Queen Elizabeth Islands being re-named to mark the coronation in 1953. These islands had been noted by William Baffin in 1616 and were rediscovered in 1818 by Sir John Ross. Again, books and maps relating to these expeditions can be found in the collections. It is worth noting that the 1953 re-naming of these islands coincided not just with the coronation but with a resurgence of Canadian interest in the Arctic as a result of its status as a theatre of the Cold War.
Going back to the Antarctic, we should also note that Queen Elizabeth II is not the only British monarch to have part of the continent in her name. In 1841 Captain Ross took a break from splashing his name (and that of his ships) across the land and named a large part of the continent Victoria Land. Published works by Ross are also held here, with his 1847 'A Voyage of Discovery and Research in the Southern and Antarctic Regions' [Shelfmark: 2374.f.6] and other works available for consultation in the reading rooms.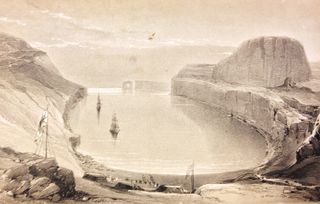 This work (Frontispiece from J. Ross, A Voyage of Discovery and Research in the Southern and Antarctic Regions, 1847) identified by British Library, is free of known copyright restrictions. [BL Shelfmark: 2374.f.6]
Needless to say, I will be trying to acquire anything relevant to the naming of Queen Elizabeth Land - and our new Broadcast News service in the reading rooms will have already picked up the news reports.  
[PJH]
22 November 2012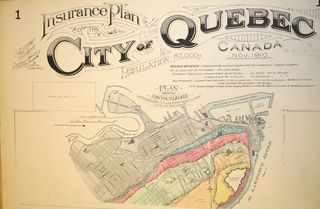 This work (Charles E. Goad, Fire Insurance Plan, City of Québec, 1910) identified by British Library, is free of known copyright restrictions.
One of my current projects at home has been to find the first OS map that shows the development of the street I live on from a track to a row of houses. Seeing the area around the street develop and change over time is fascinating and explains some of the road's current quirks – it also illustrates why we have a fascination with old maps.
Hopefully the illustrations for today's blog will have the same effect for some. While not the oldest map of Québec the Library holds (see here and here for some of those), the Charles E. Goad 'Insurance Plan of the City of Quebec' [BL Shelfmark: Maps 147.b.24(1)] is a fascinating depiction of the city in the early twentieth century.  
Goad was a British migrant to Canada who started producing fire insurance plans in 1875 before opening a highly successful branch of his business back in London in 1885. The function of his plans was to show companies the fire risk in different areas or buildings in urban locations; and this resulted in a unique visual illustration of the city.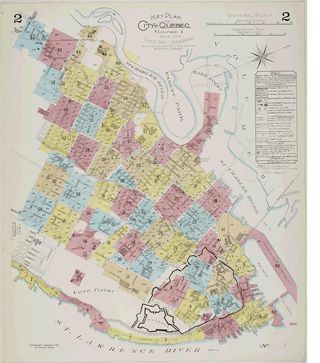 This work (Charles E. Goad, Fire Insurance Plan, City of Québec, 1910) identified by British Library, is free of known copyright restrictions.
The above sheets are an overview of the city, showing which areas are covered by particular parts of the plan. The detail sheets, operating at 1:600 scale, are a mix of vividly coloured blocks. This design helps the different materials of each building stand out and means fire risks can be easily identified. Today they are also a record of what has changed in the city and what remains the same – and for those buildings which remain unchanged, the maps provide a wonderful insight into the construction of urban landmarks.
What further complements these maps and others like them in our collections are the Canadian photographs that were collected between 1895 and 1924 (you can read a bit more about them here. These can provide views of the streets and businesses depicted on Goad's (and other) maps, creating a useful hybrid view. This is one of the reasons we are currently working on digitising the photographs, a sneak preview of which you can see here, courtesy of the Europeana WWI project (Europeana Collections 1914-18)
[PJH]
16 May 2012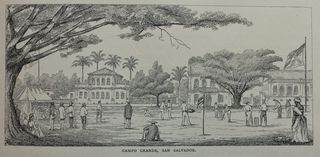 Cricket on the Campo Grande, from Wild (1878), 'At Anchor' [Shelfmark: 1786.a.6]
Tomorrow is the beginning of a few weeks of divided loyalties for me, as England take on the West Indies in the first summer series. In honour of the occasion I thought I'd post a nugget from a paper I've written for the Library's 'Sourcing Sport' event on 21st May.
That paper is on cricket in the Americas and while I was researching it a particular detail caught my eye, that is the insights British colonial shipping can give to the spread of the game. Two non-Americas examples are the earliest record of a game of cricket being played in India (Port of Cambay, 1721. Recorded in Downing (1737), 'A Compendious History of the Indian Wars' [Shelfmark: 800.c.16]) and Darwin's relatively well known Beagle voyage diary entry about cricket being played in New Zealand (December 1895, 'Journal of Researches into the Natural History and Geology of the Countries visited during the Voyage of HMS Beagle Round the World' [Shelfmark: X.319/3182]).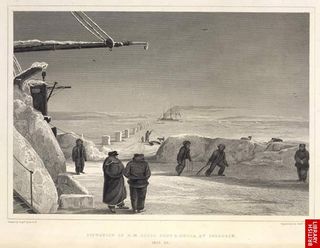 Cricket on the Arctic ice, from Parry (1824), 'Journal of a second voyage for the discovery of a North-West Passage from the Atlantic to the Pacific' [Shelfmark: G.7394]
Because of similar circumstances there was opportunity for the etching at the top of this piece to be made. It depicts a match between expatriate Britons and the crew of HMS Challenger on the Campo Grande, San Salvador, and is an example of cricket being spread into the informal British empire (as the expatriates and sailors were all there as a result of British investment in the building of a local tramway).
However, as interesting as the Campo Grande illustration is, the depiction of cricket being played on the Arctic ice (from William Parry's account of a voyage to chart the Northwest Passage) takes the award for 'most striking ground' - although it might also win 'worst wicket'. These references and others in the Library's collections attest to how much the spread of cricket owes to the enthusiasm of British sailors; they also represent a useful source to further question the relationship between sport and empire
There is a great deal the Library's collections can tell us about sport and society, as previous posts here and next week's 'Sourcing Sport' will show. As to the rest of what makes cricket special, hopefully Sammy, Strauss, et al will furnish that argument.
[PJH]
25 April 2012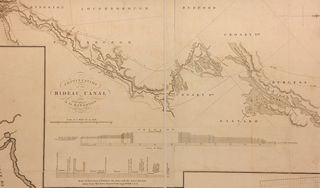 Route of the Rideau Canal, insert from the map, Map of the District of Montreal, Lower Canada [Shelfmark: Maps 70715.(2.)]
Today is World Malaria Day so it seemed appropriate to do a short post related to one of the world's most prevalent diseases. Regarding the collections, there are a number of items which could drive interesting narratives here but this piece focuses on malaria in Canada. This might seem odd but malaria is not solely a tropical disease, coming in two main strains one of which is tolerant of temperate climates. Indeed the P. vivax strain of malaria was long endemic in parts of England, as this blog post from the Wellcome Library points out.
Scientific evidence illustrates that malaria in all its forms was introduced to the Americas subsequent to Columbian contact. Malaria was established in many parts of North America before the nineteenth century and Canada was no exception, but the construction sites of the Rideau Canal provided a particularly strong foothold. The construction of the canal led to the creation of semi-drained, marshy areas into which dense populations of workers were added, an ideal environment for mosquitoes and malaria transmission.

Rideau Canal significant works, plate from, Papers on Subjects Connected with the Duties of the Corps of Royal Engineers [Shelfmark: P.P.4050.i]
As a result parts of the canal's construction were dogged by significant malarial sickness, as described by the engineer John MacTaggart in 1829, "In the summer of 1828 the sickness in Upper Canada raged like a plague; all along the banks of the lakes, nothing but languid fevers; and at the Rideau Canal few could work with fever and ague; at Jones Falls and Kingston Mills, no one was able to carry a draught of water to a friend; doctors and all were laid down together." [from Three Years in Canada, Vol. II, p. 21, Shelfmark: 792.f.8]. While today malaria is almost unheard of in this part of North America, these nineteenth century outbreaks resulted in many deaths in the project's labour camps.
Away from Canada, malaria is still a source of misery for millions around the world. The Library contains a significant amount of published material relating to malaria, largely as a result of the significant twentieth century developments in understanding how the disease was transmitted and could be treated. There is also a large amount of material online, especially because the drive to reduce the incidence of malaria is one of the Millennium Development Goals.
[PJH]
Americas and Oceania Collections blog recent posts
Tweets by BL_Americas
Other British Library blogs