24 November 2017
What makes juvenilia so fascinating? When reading the works written by an author in their youth one often looks for glimpses of the ideas and obsessions they would later develop in their works. But it sometimes also feels like a small betrayal, to read these raw texts written before authors have developed their voice, or met the red pen of an editor. There is something about teenage poetry that makes it particularly excruciating – perhaps because it awakens a dormant fear that one day someone may find our own ring-bound poetry notebook in the bottom of a drawer. It is hard however to resist the temptation to see what war reporter Martha Gellhorn was like when she was 17.
As a star correspondent for the American magazine Collier's Weekly during the late 1930s and 1940s, Martha Gellhorn became well known for her first-person chronicles of the Second World War. Gellhorn covered the principal fronts during the conflict, and wrote a memorable report on the liberation of the Dachau camp for Collier's in 1945. Gellhorn had started her career as a war reporter in Spain during the civil war, and went on to cover most major twentieth century conflicts, including the Vietnam War. Her best journalistic writing is collected in The Face of War (1959) [9104.d.10.].
Gellhorn's life, and especially her turbulent marriage to Ernest Hemingway, has been fictionalised in different genres, from our Eccles Writers in Residence Naomi Wood's Mrs Hemingway to the less successful HBO film Hemingway and Gellhorn.
Before she became well known for her reporting and ruthless commentary however, Gellhorn was writing poetry. From 1923 she attended the newly founded John Burroughs School in her native St Louis, Missouri. The school was a coeducational and progressive institution for the time. The British Library holds an issue of the John Burroughs Review [ZD.9.a.2618], the school magazine where Gellhorn published her first works. The magazine was published five times a year by the students of the school and Gellhorn was part of the board of editors.
The John Burroughs School Review is an impressive publication for a high school magazine, with a modernist cover designed by Clark Smith.  The November 1925 issue contained poems, short stories and book reviews, as well as adverts for local businesses.  Gellhorn was 17 when the magazine printed a sequence of six poems titled 'Bits of Glass', three of which are reproduced below:
Gellhorn was fiercely protective of her reputation. She banned the reprinting of her first novel, the semi-autobiographical work What Mad Pursuit, published in 1934 (the Library holds a copy at YD.2012.a.2572 - read more about it in Naomi Wood's blog post). But despite Gellhorn's and many other writers' anxiety about their early attempts at writing, these texts will always remain fascinating for readers who want to find out how and when they became the writers they admire.
Now remember to hide that notebook the next time you visit your parents' house.
Mercedes Aguirre
Lead Curator, Americas
18 October 2012
The new edition of A Farewell to Arms published this October 2012 by William Heinemann with the original cover from 1929.
I have been luxuriating this week in a handsome new edition of Ernest Hemingway's A Farewell to Arms. The book comes replete with cut chapters, new endings and a handful of frankly awful possible titles under Hemingway's heading 'Shitty Titles' – 'Carnal Education' being one of the bluer offerings. 
The real pleasure in reading all of these new endings, all forty seven of them, is that it shows the author gradually whittling his writing down to the essential material. He submerges these drafts in the final publication so that the reader can only see the 'top' of the story. It's his iceberg principle at work. 
In earlier drafts, for example, the author plots Henry's solitary walk home; the sorrowful night-light still on from the start of Catherine's contractions a day ago; the difficulty of burial in a foreign country. In the final version, however, Hemingway lops off the lament and cuts to the final sentence: 'After a while I went out and left the hospital and walked back to the hotel in the rain.' The reader is left on the brink of Henry's loss. For me, the experience is all the richer because our imagination fills in what Hemingway has left out. 
'A writer who omits things because he does not know them only makes hollow places in his writing', Hemingway wrote in Death in the Afternoon. The ending of A Farewell to Arms is so far from being a hollow spot precisely because of these early drafts: Hemingway knew exactly where Henry was going that night. Underneath the declarative style is the roiling undercurrent of Henry's grief.  
For all that we think of Hemingway as a master of the minimalist tradition, he was a consummate editor of his own work. He often read all of his material back first and then picked up where he left off the day before. The extra material shows how hard he worked to get at his precise style.  
In writing A Farewell to Arms, 'he worked like hell and through it' - so said Dorothy Parker - even changing the ending from what had been serialized in Scribners' magazine to the first edition of the book proper. (Although some critics suggest he did this so that customers would buy both magazine and book – characteristic Hemingway canniness when it came to increasing his bottom line.)
Unlike his posthumous work, where scholars still argue about self-interested editing (his fourth wife edited A Moveable Feast) and savage cuts (almost two thirds was left out from The Garden of Eden in its final publication), we know Hemingway did eventually settle on the designated ending back in 1929.
The alternative endings in A Farewell to Arms give readers an opportunity to see the work evolve, without really threatening the final text. One can happily read The Sun Also Rises without knowing the original beginning that Fitzgerald recommended cutting, just as one can happily read A Farewell to Arms without knowing Hemingway, at one time, considered keeping the baby alive. In not one of the drafts does Catherine live. Regardless of how much he changed his plots, it seems that she was always intended for the chop. 
Naomi Wood is one of the Eccles Centre Writers in Residence. She is currently working on her second novel, Mrs Hemingway which will be published by Picador in 2014. 
27 September 2012
"Here is the expert skier, soldier, here is a naturalist, a navigator, an authority on bullfighting and on boxing. Here is a man who sought the most dangerous conditions the world could offer…" So says the newscaster from this 1950s clip. Hemingway was often portrayed like this by the media: an all round Übermensch who displayed grace under pressure and had a wicked way with his pen to boot.
When we think of Ernest Hemingway we might think of him as all these things – as well as war correspondent, deep-sea fisherman, and of course, as writer – but we tend not to think of him immediately as husband material. A womanizer, yes, but not the type of husband who might call his wife Wicky Poo, Lovebug, Kitty Kat, Small Friend or Picklepot, nor the kind of husband who would permit his own nickname 'Little Wax Puppy'.
But his letters (which were 'not for posterity but for the day and the hour') pulse with an excess of sentiment. Not for Hemingway-the-letter-writer the cool economy of Hemingway-the-novelist. In contrast to his fiction his letters could be 'as loose, devil-may-care, recklessly copious and repetitive as he chose… he wrote letters to warm up his brain… or to "cool out" after he had laid aside the current story or chapter' writes Carlos Baker in his introduction to the Selected Letters. Letter-writing was the equivalent to the therapist's couch, or the pillow wherefrom sweet nothings were whispered in the lover's ear. 
The pet-names and pillow-talk begin with his first wife Hadley. In a long list of grousing complaints about his posting to Lausanne in 1922, he concludes that 'they all talk French and the Russians are miles out of the way and I'm only a little tiny wax puppy. Poor dear little Wicky Poo', the letter over-runneth, 'I love you dearest Wicky – you write the very best letters.' This spillage of emotions continues when he writes to his first mistress (and second wife) Pauline Pfeiifer in 1926: 'oh Pfife I love you love you love you so, and I'm yours all shot to hell.' While studiously avoiding cliché and hyperbole in his fiction, in his letters he sinks joyfully into sentiment, like a penned pig released to the mud.
As I looked through the Selected Letters, I expected to see a change of tone or language in the way he treated each of his four wives. Though his letters to his third wife, Martha Gellhorn, were not included, her own letters tantalizingly reveal half the conversation. One might infer that the language used was in common currency by them both. 'I love you Bug,' writes Martha to Ernest in 1943, 'Kiss all catsies. Take care of yourself for me. / Mook.'   
What is striking is how gloriously constant and yet inventive is his langue d'amour throughout each of his marriages. 'I am just happy and purring like an old jungle beast because I love you and you love me….' he writes to his fourth wife, Mary, in 1944. 'Please love me very much and always and take care of me Small Friend the way Small Friends take care of Big Friends – high in the sky and shining and beautiful.' Not so far from a syrupy Disney romance, but all the sweeter for it coming from Ernest Hemingway; media Übermensch.
What is extraordinary is how direct the artery is from the heart to the page throughout Hemingway's four marriages and many affairs. They always give me great delight to know that this Man Of All Things (skier, soldier, naturalist ad infinitum) also indulged in much baby-talk and mush. The letters pulse with love. It almost makes you forgive him for all the mistresses.
Naomi Wood is one of the Eccles Centre Writers in Residence at the British Library. Her second book, Mrs Hemingway, is a historical novel that explores Ernest's four marriages to Hadley, Pauline, Martha and Mary. Excerpts from the letters are from The Selected Letters of Martha Gellhorn (ed Caroline Moorehead) and The Selected Letters of Ernest Hemingway (ed Carlos Baker).
17 August 2012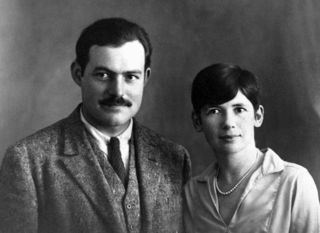 Ernest Hemingway and his second wife, Pauline Pfeiffer. Photograph courtesy of Ernest Hemingway Photograph Collection, John F. Kennedy Presidential Library.  
'All things truly wicked must start from an innocence' Ernest Hemingway wrote in A Moveable Feast, a memoir published after his death in 1964.
The last story of the Feast tells of a married couple 'infiltrated' by a rich young woman. It is the story of Hadley and Ernest and his mistress, Pauline Pfeiffer. Miss Pfeiffer, Hemingway wrote, used the 'the oldest trick' there is to snag a husband: becoming the wife's 'temporary best friend'. The story casts the Hemingways as innocents caught in the net of a rich socialite.
But other sources show a more complicated picture. Carlos Bakers' Selected Letters, for example, shows an eminently more remorseful Ernest. In a letter to Fitzgerald in November 1926, Hemingway wrote 'Needless to say Hadley has been grand and everything has been completely my fault in every way. That's the truth, not a polite gesture.'
Two other volumes also show Hadley taking some share of the blame. Gioia Diliberto suggests Mrs Hemingway's passivity contributed to Pauline's success in her biography Hadley. 'I tend to give up before other people do,' Hadley commented. 'I should have said to her, "No, you can't have my husband." But I didn't.'
Hadley had had a lonely life before she met Hemingway. In many ways this made her too grateful for his 'rescue' six years earlier. 'He gave me the key to the world,' Hadley told her first biographer, Alice Sokoloff, in her book The First Mrs Hemingway. When someone else was favoured with this key, Hadley kept schtum and did not protest.
And yet A Moveable Feast has become perhaps too dominant in how we read the unhappy Hemingway ménage-a-trois. In his early letters Hemingway writes of his urgent and aching love for his mistress: 'All I want is you Pfife and oh dear god I want you so,' he wrote as the divorce papers landed on his desk from Hadley, 'I love you love you love you so – and I'm yours all shot to hell'.
Furthermore, a recently published 'restored' edition of A Moveable Feast (2010) includes much material excised from the 1964 publication. While the Feast is remembered as a eulogy to Hadley, the 2010 edition goes some way in restoring Pauline's reputation as something more than a snake in Dior. 
'For the girl to deceive her friend was a terrible thing but it was my fault and blindness that this did not repel me. Having become involved in it and being in love I accepted all the blame for it myself and lived with the remorse,' reads a 'redacted' section from the new edition.
Though much less satisfying as a piece of prose, the restored edition refutes the simple geometry of a married couple infiltrated by an outsider. The 1964 edition reads: 'I loved her and I loved no one else.' But the 2010 edition shows the hell of when 'you truly love two women'. The 2010 Feast does not exonerate Pauline, but it does lighten her load.
Everything, in the end, is of course conjecture, but by casting the nets further out than just the 'definitive' Moveable Feast, we can see how the wickedness and innocence might just have belonged to all three.
Naomi Wood is one of the current Eccles Centre Writers in Residence and will be talking about her novel Mrs Hemingway at the Summer Scholars Series at the British Library on 22 August. 
13 July 2012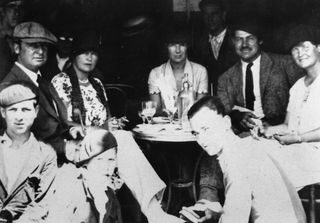 Ernest Hemingway sits in between Pauline and Hadley on a holiday in Spain in 1926. Pauline would become his wife the following year. Photograph in the Ernest Hemingway Photograph Collection, John F. Kennedy Presidential Library and Museum, Boston (Wikimedia Commons)
All the best betrayals start in friendship. And an eerie effect of researching the lives of the Hemingway women is discovering how deep these friendships went between wives and mistresses.
Hemingway had four wives: Hadley, Pauline, Martha and Mary. At a superficial level, the connections are intriguing. Martha's father was Hadley's gynaecologist (eat your heart out, Mr Freud). Mary worked for Hadley's second husband's brother in Europe during the Second World War.
These surface connections suggest a global cultural elite. Knowing your husband's mistress, then, was highly likely. Whether you chose to befriend her was of your own doing.
The archives that exist for Hadley (no.1) and Pauline (no.2) document the women's friendship in their letters from 1926. I love reading these letters, trying to read between the lines for Pauline's betrayal but also Hadley's connivance.
'I've seen your husband E. Hemingway several times – sandwiched in like good red meat between thick slices of soggy bread. I think he looks swell, and he has been splendid to me,' Pauline wrote to the first Mrs Hemingway in March 1926. How calling Ernest 'good red meat' might have provided any reassurance to Hadley, I have no idea, but they carried on being friends. Abruptly, at the end of 1926, the letters end, as well they might when one man transfers himself to his wife's best friend's bed.
While I knew about Hadley and Pauline's friendship, I was surprised to find out about the friendship between Mary and Pauline (no.4 and no.2). Pauline often came to the Cuban house, the Finca Vigia, in the early 1950s, and likewise Mary made the crossing back to Key West several times. It's thrilling to think of the ex-wife and the current wife's choice words for their predecessors and successors; not to mention Ernest.
Which leaves me with Martha Gellhorn (no.3). Martha was the only wife to leave Hemingway rather than be left. Although Martha and Mary (Biblical sisters they were not) were in Paris at the same time during the city's liberation in August 1944, that's probably the closest they came to meeting.
To my mind, Martha was the outlier in the ex-wife confederacy. After the divorce, it's silence that characterizes her relationship with the Hemingway clan. Martha refused to be interviewed about her life with him. Unlike Hadley and Pauline, she wouldn't be part of the ex-wife club.
There is, however, one surviving letter to her predecessor. She wrote it after her first meeting with the Hemingways in Key West in 1937. To my mind, the swinging cadences immediately evoke Pauline's letters from Paris in 1926, when she was calling Ernest Hemingway a chunk of 'good red meat'.
'Pauline, cutie' it begins - and here I can just imagine Pauline positively bristling - and ends, 'In passing perhaps it would be as well to tell you that his collected works are pretty hot stuff not to say tops…. What I am trying to tell you in my halting way is that you are a fine girl and it was good of you not to mind my becoming a fixture, like a kudu head, in your home... Devotedly, Marty.' None-too devotedly: four months later Martha would be in Spain covering the civil war with Ernest – avoiding getting blown up by jumping into bed together. Hot stuff, red meat; how did the wives not see the writing on the wall?
When I first began my research I envisioned Mrs Hemingway to be a series of interlocking triangles, representing Ernest, wife and mistress, in any given decade. Now, in the midst of these letters and telegrams, it seems much more of a tangled web indeed.
[N.W.]
Naomi Wood is one of the Eccles Centre Writers in Residence for 2012. She is the author of The Godless Boys (Picador, 2012).
19 June 2012
Martha Gellhorn and Ernest Hemingway on assignment in China. Image: http://commons.wikimedia.org/wiki/File:Gellhorn_Hemingway_1941.jpg
An exciting new acquisition for the British Library's North American collections comes in the form of Martha Gellhorn's first novel, What Mad Pursuit. I have been in pursuit of this rather costly book for a while, so it was delightful to finally have the book in my hands.
The rest of Martha Gellhorn's work is easy to come by, so why is this book so elusive, and so expensive? Published in 1934 when Gellhorn was only twenty-five, the novel attracted lukewarm criticism at best. Gellhorn consigned her debut to the past: she never listed it in her published works, and, once it had become out of print, it stayed there.
But reading the first and only edition of What Mad Pursuit has been a real pleasure. Crude as it is, the novel races though the tender years of protagonist Charis Day from her job as a cub reporter to her love affairs that abruptly – and syphilitically – end. (Four publishers had previously turned it down on the basis that it was altogether 'too bold' for a young female novelist.)
Bold it is; and brave too, even as the melodrama skates. Charis, the innocent chasing after justice and happiness, is a standalone protagonist, very different from Gellhorn's later characters. One reviewer called What Mad Pursuit 'palpable juvenilia' – and that's precisely why it's interesting: it helps tell the story of Gellhorn before she became the feted war reporter, and before she became the second half of a very famous literary marriage.
Gellhorn chose to preface her first novel with an epigram from Ernest Hemingway's A Farewell to Arms. Hemingway was Gellhorn's literary idol: it was his prose which she held up as the perfect model; his photograph that was pinned against her college wall while she wrote.
On the novel's publication, Gellhorn was two years away from meeting her hero; six years away from marrying him. What tickles me most as I look over Hemingway's pontifical epigram – Nothing ever happens to the brave – is trying to puzzle out to what degree Gellhorn intentionally began her own mad pursuit of her author-hero.
History has it that the Gellhorn family encountered Hemingway on an unplanned detour to Key West during a Florida vacation in 1936. Was Martha's plan merely to meet her hero? Or to seduce him and make him her husband?
Biographer Caroline Moorehead's account of the meeting seems innocent enough. 'They didn't much care for Miami, and so they caught a bus to Key West… One evening they went for a drink in a bar called Sloppy Joe's. Sitting at one end was Ernest Hemingway… reading his mail.' But in Hemingway's Boat, Paul Hendrickson casts it quite differently, arguing Martha was as much the 'shameless' pursuant as his second wife Pauline Pfeiffer had been a decade ago.
The questions over Gellhorn's intentionality gives me ample room to explore in fiction what went on in those few juicy weeks Martha Gellhorn spent in the company of Mr and Mrs Hemingway. I wonder if Mrs Hemingway had seen the epigram to Gellhorn's book; whether she noticed how glad-eyed Ernest became whenever Martha was near; whether it was difficult to watch Ernest in hot pursuit of the young woman as the author followed her on a train to Jacksonville. It strikes me now that perhaps it wasn't so much the mentor who was in mad pursuit of the tutor, but the other way around. 
Naomi Wood is one of the 2012 Eccles Centre Writers in Residence at the British Library. 
19 March 2012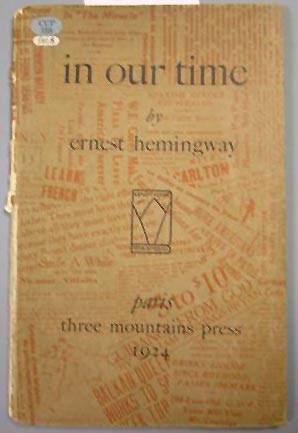 We're dusting off the Delorean again. Following on from Naomi's post on Martha Gellhorn and her research on Hemingway's wives, we thought we'd revive a (slightly tweaked) post on publishing in Paris
and Hemingway's first collection of short stories.
Having worked with our Americas collections for some time now, I like to think that I know where their strengths and weaknesses lie. The internet has made it much easier to fill gaps than in the past, in the days when we had to compile lists of desiderata without too much hope of ever finding a wanted title. And the amount of material now available digitally has obviously also impacted on whether or not we decide to buy a print version of a missing title. But over the years, I've been struck by just how good some of the curators of previous generations were at spotting items and getting them in to the collections.
A case in point is the writing of American authors in Paris in the twenties and thirties, that golden era of literary publishing when many of the giant figures of both British and American literature first got their work into print. These were often the 'difficult' books that had been rejected by more established publishers. The little Paris private presses were not only prescient in their championing of relatively unknown authors, but their owners often risked censorship and prosecution. The Library's holdings from this period are excellent, the curators of the time being equally prescient in their selection. So, if you want to immerse yourself in the output of presses such as the Contact Publishing Company (e.g. Mina Loy's Lunar Baedecker, 1923), Three Mountains (e.g. William Carlos Williams's Great American Novel, 1923), Obelisk (Henry Miller's Black Spring, 1936), Black Sun, and a host of others, the BL is the place to come.
The rather sad looking copy of Ernest Hemingway's In Our Time, shown at the top of the blog, was published by Three Mountains in 1924, in a limited edition of only 170 copies (you may have seen it in our exhibition Breaking the Rules: the printed face of the European Avant Garde 1900-1937). It contains a collection of 18 short untitled chapters (6 of which had appeared in The Little Review). I don't think you could really call Hemingway avant-garde (discuss) but William Bird, the Three Mountains proprietor, decided that a Dada-esque cover was required. The collage included a map and newspaper articles, in both English and French, pasted together, and is meant to reflect both the journalistic prose of the work and the chaos of the First World War and its aftermath, an underlying theme of the collection. And incidently, a copy of In our Time came up for sale a couple of years ago with a price that would make your eyes water.
Hemingway, along with Gertrude Stein, William Carlos Williams, Fitzgerald and Pound, not to mention James Joyce et al, were frequent visitors to Sylvia Beach's little bookshop Shakespeare and Company, which first opened its doors in 1919. It was Beach, of course, who first published Joyce's Ulysses in 1922, and The Letters of Sylvia Beach, edited by Keri Walsh and published by Columbia University Press a year or so ago can be found in the BL.
For those of you who are particularly interested in the presses mentioned, I would recommend Hugh Ford's Published in Paris: American and British Writers, Printers, and Publishers in Paris, 1920-1939, published in 1975, but still indispensable (BL shelfmark: x981/10131).
And finally, you might want to check out Dorian's web feature on American Literature in Europe, which has a little section on the Lost Generation.
[C.H.]
Americas and Oceania Collections blog recent posts
Tweets by BL_Americas
Other British Library blogs