09 November 2022
This blog explores the British Library's wonderful collection of e-resources covering all aspects of the performing arts in the Americas, from the colonial era to the present day.
The British Library's extensive - and ever-growing - range of e-resources means there is plenty of choice when it comes to exploring the performing arts in the Americas - from scripts to videos, audio recordings to articles, interviews to documentaries, magazines to letters, there is literally something for everyone!
A particularly unique source is Film Scripts Online which makes accessible more than 1,100 accurate and authorised versions of copyrighted screenplays, many of which have never previously been published and are available nowhere else. Not only does this enable film scholars to compare the writer's vision with the producer's and director's interpretations from page to screen, but it also makes it possible for students of film studies, writing, drama, theatre and literature to study the structure of scripts, character development, plot points and scenes. The collection is easily searchable by title, people, genre and awards, with further filters available in each case. Film scripts currently within the collection include: The Wizard of Oz, From Here to Eternity, Bringing Up Baby, The Big Chill, Rebel Without a Cause, My Own Private Idaho and The Deer Hunter.1 
Drama Online is an award-winning, fast-growing digital library featuring more than 4,400 playtexts from over 1,400 playwrights, as well as over 400 audio plays, 420 hours of video, and 450 scholarly books from leading theatre publishers and companies. Amongst its holdings is the Playwrights Canada Press collection which offers over 230 plays from notable and award-winning Canadian authors including Daniel MacIvor and Hannah Moscovitch; plays in this collection have won the Susan Smith Blackburn Prize, the Governor General's Literary Award for Drama, the Windham-Campbell Prize and the Siminovitch Prize.2 
Dance Online: Dance in Video, Volumes I and II provides over 900 hours of video content covering the full scope of 20th and 21st century dance. The collection includes performances, documentaries, interviews, and instructional videos from the most influential performers and companies, with the selections covering ballet, tap, jazz, contemporary, experimental, and improvisational dance, as well as forerunners of the forms and the pioneers of modern concert dance.3  
For earlier time periods, Performing Arts in Colonial American Newspapers, 1690-1783, fills a major gap in access to eighteenth-century American sources. This vital e-resource is effectively a database of all references to music, poetry (lyrics), dance, and theatre in 162 American newspapers, from the earliest extant copy in 1690, through to the end of the Revolutionary War in 1783, including titles in French and German. Entry points into the source material are many and varied. The database currently includes: transcriptions of all relevant texts; a general index of all names, genres, subjects, titles, and first lines; graphic images of 45 unique woodcuts; an index of the first lines of 12,061 poems and songs; and an issue-by-issue bibliography of the 50,719 issues and 4,523 supplements of the 162 titles.
Ethnomusicology is published by Adam Mathew in collaboration with the UCLA Ethnomusicology Archive. It includes thousands of audio field recordings and interviews, educational recordings, film footage, field notebooks, slides, correspondence and ephemera from over 60 field collections dating from the mid-twentieth century to the early twenty-first century. For North America, coverage includes Alaska, Arizona, Atlanta, California, Georgia, Hawaii, Kentucky, Michigan, Ohio, Oklahoma, the Cherokee Nation, Tennessee, Texas and more. There are also rich holdings for Mexico, Guatemala, Belize, Jamaica and Honduras, as well as Suriname and Chile, Fiji and Papua New Guinea.
For secondary sources, the Performing Arts Periodicals Database indexes nearly 400 international periodicals covering dance, theatre, stagecraft, musical theatre, circus performance, pantomime, puppetry, magic, performance art, film, television and more.4 Full text coverage is now available for more than 160 of these journals and in some cases the retrospective coverage goes back to 1864. This treasure trove of materials includes biographical profiles, conference papers, obituaries, interviews, discographies, reviews and coverage of events.  
Finally, Entertainment Industry Magazine Archive, 1880-2015 is another wonderfully rich and valuable e-resource; it was reviewed in this recent blog.
References:
British Library Reader Pass holders can access this database on a personal device.
British Library Reader Pass holders can access this database on a personal device.
British Library Reader Pass holders can access this database on a personal device; readers interested in dance may like to read the Dancing in the Archives blog post by 2019 Eccles Centre Visiting Fellow Robert Hylton. 
British Library Reader Pass holders can access this database on a personal device.
05 July 2022
Owen Walsh is a Lecturer in Modern History at the University of Aberdeen and was a 2021 Eccles Centre Visiting Fellow at the British Library.
NB: This article contains historical images and descriptions relating to slavery which readers may find upsetting.
'We are not safe in the United States', warned the Jewish intellectual Anita Brenner in 1943, 'without taking Mexico into account'. This fact of North American interdependence, she argued, 'is something that Mexicans have long known, with dread, but that few Americans have had to look at.'1
My research at the British Library has been motivated by a conviction that scholars of US culture and political radicalism in the early-mid twentieth century have too often averted their gaze from Mexico while chronicling the making of an internationalist American Left. The Mexican revolutionary era, spanning c. 1910-1940, was the first major revolution of the twentieth century and a key moment in the unfolding of the global anticolonial struggle. The Revolution's cultural legacy was described by Brenner and other contemporary critics as nothing less than 'the first great modern art created in America'.2
My work in the British Library marks the start of a project in which I explore the travel experiences and writings of Leftist US intellectuals in revolutionary Mexico. The project traces the impact of Mexico, its rapidly changing culture and its inspired people, on radical cultural formations (New Negro writing, the proletarian literature movement) in the interwar United States. The rare books and radical journals contained in the British Library's collections have been indispensable for this work.
The list of figures who might be included in a history of American travel in revolutionary Mexico is long and distinguished. Leftist journalists John Reed, Lincoln Steffens, and Ernest Gruening wrote sympathetic and romantic reports of the political and military struggles of the era. Future leading Communists Mike Gold, Charles Shipman, and Lovett Fort-Whiteman passed through the country and participated in the germination of revolutionary labour unionism and embryonic Party organisation. Major writers of American modernism including John Dos Passos and Langston Hughes found inspiration in Mexico and mixed with the cosmopolitan cultural networks around Mexico City.
During the most violent phase of the revolution in the 1910s, most of the American visitors were journalists seeking an unmediated view of the chaotic cascade of conflicts – over land, liberty, and individual egos – which together constitute the Mexican Revolution. Through the 1920s and 1930s, political and cultural pilgrims flocked to Mexico. They were often escaping persecution, but they also sought to witness and report on the social conflicts that continued to convulse their southern neighbour and to draw inspiration in their own mission to build a modern, socialist cultural order in the US.
In this short post, I want to focus on one of the earliest and most influential accounts of Mexican society in the era of revolution. Published in 1911, Barbarous Mexico (Chicago: Charles Kerr & Co.; British Library shelfmark 10481.pp.11), was a sensational exposé of life under the rule of the pre-revolutionary dictator Porfirio Díaz. It was the product of investigative reportage by John Kenneth Turner with the help of Lázaro Gutiérrez de Lara. It helped to ignite a movement in support of the radical Magón brothers (Mexican revolutionaries imprisoned in the US) and informed American sympathies with the Mexican Revolution for years to come.
Turner journeyed to Mexico in the immediate pre-revolutionary period, in 1908 and 1909, after hearing rumours of slavery prevailing in large swathes of the country, which was under the political and financial domination of US capitalism. Much of his reporting was done undercover, using disguises and employing the anti-Díaz activist Gutiérrez de Lara to help bridge cultural gaps, build networks, and provide translations. Turner's travels took him across Mexico, from the Yucatán peninsula, where the henequen plantations were worked by indigenous Yaqui people enslaved after defeat in their war with the Mexican state, to Valle Nacional in Oaxaca, 'the worst slave hole in Mexico', where a racially mixed population were forced to labour on tobacco farms by the mostly Cuban planters and the Porfirian state authorities.3

Throughout Barbarous Mexico, Turner was concerned to connect the problem of slavery in Mexico with American policy. Turner's definition of slavery was somewhat specific and limited: 'the ownership of the body of a man, an ownership so absolute that the body can be transferred to another, an ownership that gives to the owner a right to take the products of that body, to starve it, to chastise it at will, to kill it with impunity.'4 But in Barbarous Mexico, Turner explores slavery in various subtle forms, including the informal trading of people that occurred under the legal guise of debt peonage. Indeed, in his introductory remarks Turner's use of the slippery term 'slavery' went so far as to describe the imperial relationship between the two North American republics in the same terms. The US, Turner wrote, 'enslaves the Mexican nation' while the US media collaborated with the Porfiriato to keep 'the American public in ignorance'.5 Such political arrangements, Turner is careful to point out, is what defines Mexico as 'barbarous', rather than any deficiency of its people.6
Despite its republican trappings, Díaz's Mexico had discarded constitutional rule and the rights 'which all enlightened men agree are necessary for the unfolding of a nation'.7 Confronted with such a nation, Turner presciently wrote that the 'country is on the verge of a revolution in favor of democracy'.8 When the Revolution did come, Turner was a leading figure in the US solidarity movement, and he went on to pen a book-length argument against US intervention.
The concerns in Barbarous Mexico with republican principle and democratic rule override any specifically socialist propagandising in Turner's account. But his work could only find an audience via the socialist press. Turner's despatches were published first in the Socialist Party-aligned newspaper Appeal to Reason. The success of these articles opened a route for him to publish in the liberal American Magazine, which soon closed due to the backlash fuelled by the well-funded Porfiriato lobby. The only publisher who accepted Turner's book was the socialist Charles H. Kerr and Co.
The role Turner and his Appeal to Reason comrades played in exposing forced labour in Mexico demonstrates the continuous histories of socialist, abolitionist, and anti-imperialist politics in the US. In making his report on slavery in the province of Yucatán, Turner's mind repeatedly returned to 'the slaves of our southern states before the Civil War'.9 The comparison invites us to imagine that Turner was consciously mimicking the abolitionist journalism of nineteenth-century journals such as William Lloyd Garrison's The Liberator. Like his abolitionist forebears, Turner sought to puncture the well-funded lies of a southern slaveocracy with terrifying reports and haunting visual evidence of injustice and brutality carried out with the sanction of the US state.
Many of the thematic concerns, rhetorical strategies, and ideological negotiations that operate in Turner's important text continued to be visible in writing by American radicals on Mexico for many years. Time and again, American radicals called on their readers to look favourably on the Revolution, to oppose US meddling in Mexican affairs, and to visualise the Mexican people as a noble and patriotic mass struggling for freedoms that were already familiar – and dearly held – to most Americans. Such appeals combined mainstream republican principles with the radical thrust of American socialism, and were often aided by Mexican Leftists who deeply understood the vulnerabilities and opportunities that come with being a subordinate neighbour to the US.
Notes:
1. Anita Brenner, The Wind That Swept Mexico: The History of the Mexican Revolution 1910-1942 (Austin and London: University of Texas Press, 1971) p. 3.(British Library shelfmark X.800/5804).
2. Brenner, p. 65.
3. John Kenneth Turner, Barbarous Mexico (Chicago: Charles Kerr & Co., 1911) p. 67 (British Library shelfmark: 10481.pp.11); Claudio Lomnitz, The Return of Comrade Ricardo Flores Magón (Cambridge: MIT Press, 2014) p. 161 (British Library shelfmark: YC.2014.a.6131).
4. Turner, p. 16.
5. Turner, Preface.
6. Turner, Preface.
7. Turner, p. 11.
8. Turner, p. 10.
9. Turner, pp. 34-5.
18 May 2020
Since I received greetings cards featuring the illustrations of the colourful Mexican game la lotería, I had wondered what we have in our collection at the British Library. I have soon discovered an amazing selection of books, and catalogues of linocut and woodcut prints, collected over the years.
Here began my journey into the magic of the divination game, and its representation through history. From early prints to variants of the digital age at the time of the Pandemic, this has been a multi-sensorial encounter with la lotería. An experience involving sight, imagination and spirit.
A triumph of Mexican colours and vibes, and a vibrant selection of charms, the traditional game of the lotería has its origins in 15th century Italy, a game played for noble and charitable causes, to collect money in support of the poor and commercial activities in financial crisis. It is then thought to have been adopted by Spain in the 16th century, before finally arriving in Mexico in 1769. Initially played by the colonial Mexican elite, the lotería was spontaneously embraced by all classes of society. It would become a mean for communities and families to interact, and to celebrate of traditional events, such as fairs and anniversaries [1].
¡La lotería! ¡Oh! ¡Palabra mágica¡ ¡palabra encantadora! ¡La lotería! [2].  Ignacio Cumplido, a prolific worker of arts and culture in the early 19th century Mexico, was a printer, writer and Mexican politician of liberal ideology. Alongside those pursuits, he also worked for the Museo Nacional of Mexico City, and in 1829 he became director of the press responsible for the printing of the Correo de la Federación Mexicana. He was later in charge of El Fénix de la Libertad, and El Atleta.
In 1844, while elected senator of the state of Mexico, he continued working as a printer and founded a printing school giving jobs and hope to young orphans and the marginalised. In the same year, the Cumplido's press issued La Lotería, one of the first interesting essays on the phenomenology and psychology behind the fascination with this game of chances [3]. 
Although Cumplido's essay refers to the origins and development of the bigger-scale lottery game, where contestants play with numbers printed on tickets previously bought, it is worth drawing attention on the similarity of both games, their origins, and their long-lasting coexistence. It argues that everyone is seduced by the lottery game, a source of illusion and hope, a sort of happiness or, at least, an apparent solace [4].
In his series of twelve iconic linocuts for the Lotería cards and fortune poems, the artist Artemio Rodríguez combines mastery of the linocut art of print with the rich "politically-inflected imagery of José Guadalupe Posada". Made between 1995 and 1998, the artist embodied his linocut illustrations in the traditional Mexican lotería card format.
Huasteca is a region of the eastern part of Mexico, an area culturally and ethnographically rich in traditional arts, music and dance, with a precious heritage of indigenous civilizations. In this woodblock collection of prints, Alec Dempster  gives his personal interpretation of this beautiful land, the theatre of the Mesoamerican civilization period, organising visual messages and concepts in an oneiric resolution translated into lotería cards images.
Google has been recently Celebrating Lotería in their Make the most of your time at home project, relaunching some of the most popular Google Doodle games from the Google Doodle Archive.
A smile instantly comes to my face every time I think of Lotería … I think of being with my extended family in Mexico for the holidays …  think of the laughter, the excitement, and how all the worries of the world melted away as this game brought us together, even if just for a few hours. It was exciting to collaborate with five Mexican and Mexican-American illustrators to reimagine many of the classic Lotería game art for the Doodle—along with some new cards for a fun sorpresa! (Perla Campos –Google Doodles, from Celebrating Lotería on the presentation of the game and on how she has been in spired by her memories of her family holidays in Mexico).
5. El Paraguas. Para el sol y para el agua. The umbrella. For the sun and for the rain.
When I received my first greeting card of the series La Lotería, it was to celebrate an important achievement. A very traditional black umbrella on a blue white-stitched sky background. Come rain or shine, come hell or high water, the umbrella, and what it symbolises, is there to protect me.
21. La mano. The hand. La mano de un criminal. The hand of a criminal.
The second card I received, a neat illustration of the hand, was in this instance a fun representation of the need to wash our hands. The advice accompanied a basket of goodies given to me during the first days of the lockdown due to the COVID-19, when it was almost impossible to find bread and pasta on supermarket shelves.
Coincidentally, I then came across new versions of my two greeting cards, La mano and La esperanza, amongst a collection re-designed by the Mexican artist Rafael Gonzales Jr. In Pandemic Lotería, a pop-art portrayal of realism and hope, he reinterprets the traditional signs to represent life in the time of the quarantine.
¡Viva la lotería! Hooray for the lottery!
Blog post by Annalisa Ricciardi, Cataloguer, Americas and Oceania Collections post-1850.
Bibliography and suggested reading:
*La Lotería, Mexico: Impreso para Ignacio Cumplido, 1844. Shelfmark: DRT Digital Store 8226.aa.26.(3.), page 3.
[1] On the history of the game of la lotería, visit Teresa Villegas digital project History of La Loteria, and take the chance to explore her digital installation: Traveling exhibition "La Lotería: An Exploration of Mexico". Mexico and USA.
On the history and origins of the lotería game see also Cumplido's essay, from pages 4-5  [bibliographic details on note no. 2]
[2] La Lotería, para Ignacio Cumplido, 1844. Shelfmark: DRT Digital Store 8226.aa.26.(3.), page 3.
[3] On the very charismatic Ignacio Cumplido, intensely active in the arts and culture of 19th century Mexico, see the British Library digitised: Tipo que contiene parte de los caracteres y demas útiles de la imprenta de la calle de los Rebeldes num. 2, dirigida por Ignacio Cumplido [por Ignacio Cumplido], México, [Impreso por Ignacio Cumplido], 1936. Shelfmark: DRT Digital Store RB.23.a.34189.
On Complido's art of printing and typography see: Cumplido, I., Establecimiento tipográfico de Ignacio Cumplido: libro de muestras, México, Distrito Federal, Instituto Mora, 2001, (1871facsimile edition). Shelfmark: YA.2003.b.763.
Garone Gravier, Marina, Nineteenth-century Mexican graphic design: the case of Ignacio Cumplido, in Design Issues, Vol. 18, no. 4 (Autumn, 2002), pages 54-63. Shelfmark: 3559.976000. 
[4] La Lotería, para Ignacio Cumplido, 1844. Shelfmark: DRT Digital Store 8226.aa.26.(3.), page 4 etc.
Lotería cards and fortune poems: a book of lives, linocuts by Artemio Rodríguez; poems by Juan Felipe Herrera, San Francisco, California: City Lights Books, 1999. Shelfmark: YC.2002.a.11813.
Artemio Rodríguez, on British Library catalogue.
Juan Felipe Herrera, on British Library catalogue.
For a more accurate understanding of the linocut art of Artemio Rodríguez, check the article Ingenuity and Homage: Poetic Lotería by Artemio Rodríguez, written by Katherine Blood for On Paper: Journal of the Washington Print Club (Fall 2016 Volume 1, No. 2) and available as a reprint in the blog session of the Library of Congress website: https://bit.ly/3dq5gqG
Dempster, Alec, Lotería Huasteca, woodblock prints [illustrated], Erin, Ontario: The Porcupine's Quill, 2015. Shelfmark: YD.2016.a.231. Check the author's website for a more detailed explanation of the book.
Beezley, William H., Mexican national identity: memory, innuendo, and popular culture, University of Arizona Press, 2008. Shelfmark: m08/.25229
Loaeza, Guadalupe, De mexicanos, como la lotería: anécdotas que marcan su lugar en la historia, México: Ediciones B Vergara, 2009. Shelfmark: YF.2010.a.25316
23 April 2020
For this blog, and in collaboration with our European Studies colleagues, we have taken inspiration from last year's timely anthology of poems, Poems from the Edge of Extinction, edited by poet and UK National Poetry Librarian, Chris McCabe. Published in 2019 (also the UN's International Year of Indigenous Languages), the book celebrates linguistic diversity through poetic expression, gathering 50 poems in languages identified as endangered and presenting them in both the original and in English translation. It's got us thinking about poetry written in lesser-known languages in the Americas and Oceania collections. In part 1 of this blog, we consider examples of poetry in Tongan and Yucatec Maya, while part 2 (to follow) will look at examples in Patwa/Jamaican creole and Yolngu Matha. If you've never heard of these languages, read on!

Tongan (Polynesia)
Tongan (Lea Faka-Tonga) is the national language of the Kingdom of Tonga, a Polynesian nation of 169 islands in the southern Pacific Ocean, and the only monarchy in the Pacific. Tongan is a Polynesian language of the Austronesian family and is most closely related to the Samoan language of the same family. There are around 190,000 Tongan speakers with nearly half of these living overseas in Aotearoa/New Zealand, Australia or the United States. Though not on the endangered language list, Tongan, like many Pacific languages, is in danger of an eventual language shift to English. As outlined above, the migration of many native Tongan speakers is a predictor for this, as well as the predominance of English in online environments, and with English being increasingly associated with greater educational and employment opportunities.  In an effort to counter this and preserve Tongan as the native language among young people in the country, the Minister of Education introduced a new language policy in 2012. Children are now taught solely in Tongan upon starting school, with English only gradually introduced at later stages. The policy aims for students to be fluent in both languages by completion of their education. Other efforts to preserve the language and culture among Tongans, includes the annual Tongan Language Week for Tongans living overseas in Aotearoa/New Zealand.
Traditionally a spoken language, the first written examples of Tongan were made by missionaries using the Latin script in the 19th century, with the current spellings decided by the Privy Council of Tonga in 1943. The Tongan script uses three different diacritic marks to guide pronunciation and meaning: the glottal stop, the macron, and the stress mark, which often requires careful proofreading in text. The language is notable for having multiple speech registers based on status and formality, including one specifically for use when speaking to or about the reigning monarch or deities. With its strong oral over written tradition, Tongan language poetry is not abundant in our print collections. However, I would like to take this opportunity to highlight a translated collection of the poetry of Tonga's longest reigning monarch, Queen Sālote Tupou III, Tonga's poet on the throne from 1918 to her death in 1965. Songs & poems of Queen Sālote (2004) features 114 works by the monarch in Tongan with translations into English by the Pacific languages academic, Dr. Melenaite Taumoefolau.
Some of you may already be familiar with Queen Sālote as the head of state who received uproarious applause on Queen Elizabeth II's Coronation Day in 1953, when she refused to lower the hood of her carriage in the driving rain, and instead laughed and waved joyfully at the crowds lining the procession route. Her spirit and warmth on the day prompted newspaper editor, Jack Fishman, to write a song aptly titled The Queen of Tonga (Music Collections VOC/1953/FISHMAN) which was then made popular by Edmundo Ros and his orchestra (Sound Collections 1CD0189529). 
However, you may not know that she is also celebrated as poet and song writer whose work, comprising of over 100 compositions, has played a major role in the preservation of the Tongan language and Tonga's rich cultural heritage. Historian and biographer of Queen Sālote, Elizabeth Wood-Ellem, wrote in Songs & poems of Queen Sālote that: 
The Queen was… acclaimed as an extremely gifted poet. Queen Sālote spent many hours perfecting the words of her poems, and she invited groups of musicians to come to the Palace in the evenings to work with her. They often stayed until the early hours of the morning. Poetry that was set to music consisted of love songs (both happy and sad), laments for deaths of chiefs and those close to her, lullabies for her grandchildren, and songs written especially for the accompaniment of dance, such as lakalaka and mā'ulu'ulu. Love songs (hiva kakala) were often used as accompaniment to the solo dance for a woman, the tau'olunga. (pp.279-281) 
Tongan language poetry makes great use of heliaki (metaphoric language) to make culture specific references to the knowledge shared by Tongan speakers. This can make literal translations difficult without using annotations, as the meanings and connotations of kinship connections in the heliaki often require explanation to non-Tongan speakers. We can see an example of this in Queen Sālote's poem, The Queen's Tears at the Passing of Tangata o' Ha'amea, which employs the technique to bemoan that Ha'amea (a prominent Tongan chief) left no heir: 

Dear home of Niukasa 
Standing at the base of Sia 
With the stream called Fotu 'afinema 
Once trickling but now empty 
Not a drop is left 
Diplomatic use of heliaki can be seen in her poem, 'Uno 'o Sangone. Composed during World War 2, the poem is ostensibly about the Polynesian myth of the turtle Sangone, but draws heavily on the shared knowledge of the long history and connections between Tonga and its neighbour, Samoa. Through this use of heliaki, the Queen aimed to reassure Tongans and remind them of the importance of allies and unity during wartime:  
Ne'ine'i hako mei he tonga 
Tapa ē'uhila mei lulunga 
He na'e mana ē Feingakotone 
Fakahake ē'uno 'o Sangone. 
 
No wonder the gales blew from the south 
Lightening flashed from the west. 
The Feingakotone* thundered 
For Sangone's shell was brought forth. 
However, to really appreciate the Tongan language and Queen Sālote's work, you should enjoy it in the manner through which it was intended, such as this contemporary performance of Loka Siliva (Silver Lock or Locket), a love song (hiva kakala) she wrote for her husband, sung by the Tonga Creative Collective, and with translations from Tongan to English. 
For examples of more recent poetry from the Kingdom of Tonga in the British Library collections, see also Hingano : selected poems, 1966-1986 / by Konai Helu Thaman (BL shelfmark YA.1996.a.3558), and Mauri ola : contemporary Polynesian poems in English / edited by Albert Wendt, Reina Whaitiri & Robert Sullivan (BL shelfmark DRT ELD.DS.322430).
*Feingakotone is a place in the Kingdom of Tonga 
Lucy Rowland (Curator, Oceania Published Collections post-1850)
Yucatec Maya (Mexico) 
Briceida Cuevas Cob is a well-published poet and cultural promoter in her native Yucatan, South-Mexico. The poem below is from the verse collection U yok'ol auat pek' ti kuxtal pek' / El quejido del perro en su existencia [The growl of the dog in its existence]. In her collection, she captures the violence and harshness of Mayan existence through the violence suffered by these abandoned stray dogs.  
 
Four poems from this collection were published in Latin American Literature Today, May 2018: Translated by Arthur Dixon. Here is one of them: 
 
VI 
¿Máax ku tich'ik chuchul uaj yétel u xdzik k'ab, 
u dzókole, 
ku jósik u xnoj k'ab u tial u jadz? 
Pek' má ta p'atik a yúmil, 
Pek' má ta chíik a yúmil, 
Pek' a yama a yúmil: 
majant a uak'ti uínik, 
tiólal u choj xan u k'a u chí, 
ka u ch'ul luum, 
ka u pak', je bix teché, u náatil kuxtal. 
Majant a uich ti uínik, 
tiólal u pákat yétel a k'om ólal. 
Majant a nej ti uínik 
tiólal u bik'ibik'tik, yétel a kímak ólal. 
kun alak ti: KS, KS, KS; 
tiólal u tákik ichil u yok yétel a sútal, 
kun alak ti: B'J, B'J, B'J. 
Majant a ní ti uínik, 
tiólal u yusnítik utz yan chen tu k'ab chichán pal. 
Jálibe, 
majant a dzaay tí uínik, 
tiólal u chíik u túkul. 
VI 
Who is he who holds out the stale tortilla with his left hand 
and then 
raises his right hand to strike? 
Dog, don't you abandon your owner, 
dog, don't you bite your lord, 
dog, you love your master: 
lend your tongue to the man, 
so the drool drips down him too, 
so it wets the earth, 
and sows, like you, the understanding of existence. 
Lend your eyes to the man, 
so he sees with your sadness. 
Lend your tail to the man, 
so he wags it with joy 
when they call him: KS, KS, KS; 
so he tucks it between his legs with your shame 
when they tell him: B'J, B'J, B'J; 
lend him your nose 
so he sniffs the goodness that only exists in the hands of a child. 
Lastly, 
lend him your teeth 
so he bites his own conscience. 
I have chosen this poem, because I remember stray dogs as a striking feature during my first visit to Mexico as an intern at UNFPA (United Nations Population Fund) after finishing my MA. An older Austrian colleague with a proper job adopted a stray dog, when a group of us came home from a weekend trip. Looking back, this must have seemed a foolish act to many local people. Yet, we were a group of young and idealistic Mexicans and foreigners and this act of kindness towards the stray dog is stuck in my mind. 
When I read Briceida Cuevas Cob's dog poems, I think back to the many mangy dogs on dusty roads I saw in Mexico and our friend's little act of defiance in taking one of them in. I like how Cueva Cob in her poem binds together mundane experiences of ubiquitous violence with deep philosophical questions about life. And I like the rhythm of the poem in the English translation by Arthur Dixon. In the Maya original, which I cannot read, I enjoy looking at the distribution of letters on the page, strange and beautiful to me, unlike the spelling of any other language I can read. There are so many 'k' and 'u'. It looks mysterious to me and makes me want to hear the poem recited in Yucatec Maya. 
If you feel the same, you can hear another poem by Cuevas Cob set to music by contemporary Mexican composer Hilda Paredes, who lives in London. Our library has the music score of two pieces composed to Cuevas Cob's work.  One is called Codex of Enigmas/ Códice de Adivinancas [Scores at BL Music Collections g.1465.v.(2.)] and is a piece for solo viola and a speaker reciting the poem written in Maya language . You can find a video of a performance in France on the composer's webpage.

Or if you prefer a different tune, check out the video from Tihorappers Crew, from Tihosuco, Quintana Roo (also in the Yucatec peninsula). It starts in Maya language and then switches between Spanish and Maya. Even if you don't know Spanish or Maya, I think you'll be able to hear the difference between the two languages and can enjoy the beat.  
Iris Bachmann, Curator of Latin American Published Collections (post 1850) 
Further reading:
General
Chris McCabe (ed.), Poems from the Edge of Extinction (London, 2019), [BL shelfmark: ELD.DS.463137] 
Read more about the Endangered Poetry Project here
Tongan
Helu, 'I. F. (2006). Ko e heilala tangitangi ʿo Sālote Pilolevu : Ko e tohi vete ʿo e fatu ʿa e kau Punake Tonga ʿo tuku he tumuʿakiʹ ʿe he ngaahi maaʿimoa ʿa e Taʿahine Kuini Sālote Tupou III : ʿoku fokotuʿu mo fakatoputapuʿi atu ʿa e kiʿi tohi ni (dedicate) kia Pilinisesi Sālote. Nukualofa, Tonga: ʿAtenisi Press. Shelfmark YF.2010.a.28034 

Helu, 'I. F., P., & Janman, P. (2012). On Tongan poetry. Warkworth, Auckland, N.Z.: Atuanui Press. Shelfmark YD.2019.a.4936 

Otsuka, Y. (2007). Making a Case for Tongan as an Endangered Language. The Contemporary Pacific, vol. 19, no. 2, 2007, pp. 446–473. JSTOR, www.jstor.org/stable/23724904.  

Smith, K. and 'Otunuku, M. (2015). Heliaki: transforming literacy in Tonga through metaphor. The SoJo Journal: Educational Foundations and Social Justice Education 1 (1), pp. 99-112.Cardiff University, http://orca.cf.ac.uk/id/eprint/86002  

Wood-Ellem, E. (2004). Songs & poems of Queen Sālote / translated by Melenaite Taumoefolau ; edited by Elizabeth Wood-Ellem ; with essays by HRH Princess Nanasipauʻu Tukuʻaho ... [et al.]. Nukuʻalofa: Vavaʻu Press. Shelfmark YD.2009.b.1963 
Yucatec Maya
Briceida Cuevas Cob, Poetry by Briceida Cuevas Cob, Poetry without Borders, 2005, Nov issue, Accessed 22 April 2020:

Briceida Cuevas Cob, 'Two poems by Briceida Cuevas Cob', World Literature Today., 2010, 84(1), 16-17. [BL shelfmark: 9356.558600]  

Paul Worley, 'On translating indigenous languages', Asymptote, June 7, 2018. Accessed on 22 April 2020:
 

25 October 2018
The OED defines an interlanguage as 'An artificial auxiliary language' or 'A linguistic system typically developed by a student before acquiring fluency in a foreign language, and containing elements of both his or her native tongue and of the target language'. For me, this doesn't quite cover the geographical and cultural circumstances from which many hybrid languages originate, especially around border areas. For example, the term 'Spanglish' could describe: a) the language spoken by an American teenager of Mexican origin, freely mixing English words into Spanish grammatical structures; b) a native English speaker, in the US or elsewhere, attempting to speak incomplete or imperfect Spanish; or c) the common language spoken between a Mexican and an American in a border town such as El Paso or Laredo.
Whatever the definition, the inherently unstable nature of interlanguages (Wikipedia lists hundreds of them, including Camfranglish, Scots Yiddish and Greeklish), makes it hard to think imagine them having clear rules, let alone a literature. The Portuguese/Spanish hybrid predominantly spoken on either side of the borders between Brazil and Uruguay, Paraguay or Argentina doesn't even have a single spelling, as the choice between 'Portuñol' and 'Portunhol' depends on what you consider to be the 'default' language. What's more, it varies hugely even in this (relatively) small area. Linguists have shown that, as well as a language used for communication between people who speak what are ultimately fairly similar languages, there also exist settled dialects of Portunhol spoken in the home and within communities in Northern Argentina and Uruguay.
This got me thinking how on earth one would translate it into English, which led me to wonder if there was any literature actually composed solely or principally in Portunhol. Thanks to Twitter, I know the answer is yes, and the foundational text of this literature is the Brazilian writer Wilson Bueno's Mar Paraguayo (Paraguayan Sea).
Bueno's novella is not exactly an 'authentic' depiction of Portunhol, rather an impressionistic idiolect semi-devised by the author, befitting the oxymoronic title (Paraguay is infamously landlocked). In truth, it is a mixture of three languages: Spanish Portuguese and Guaraní, the indigenous language spoken by nearly 5 million Bolivians, Brazilians and especially Paraguayans. It is completely unique to dip into:
'Si, el infierno, añaretã, añaretãmeguá, existe e, creio, forçando certa honestidad, que el cielo a mi se afigura, acima de todo, el deseo de siempre e sempre más e mais amor – inquieta insaciabilidad que me complete nua llorando en la viuda cama de casal, tan larga, llorando la certeza sin duda de que un dia, un dia, un dia a gente se va a morir: tecové, tecové, tecovepavaerã'
I'd say the grammar and syntax is closer to Spanish, but there is a fairly equal mix of vocabulary, with the Guaraní words relating to death, life and damnation less frequent but of key importance. Interestingly, the phrase 'el deseo de siempre e sempre más e mais amor' includes both the Spanish and Portuguese words for 'always' and 'more'.
As to how we translate this, well the answer is just as open as the language itself. The translator of Mar Paraguayo into English, Erin Mouré, is Canadian, and rather than creating some convoluted way of mirroring Spanish and Portuguese in English, she has chosen to go with her own local equivalent, a mix of English and French. The Guaraní words (as unfamiliar to the average English speaker as they would be to most Spanish and Portuguese speakers) have been left as they are, which helps maintain a sense of place. The results are fascinating:
'la ancestral speech of fathers and grands-pères that infinitely vanishes into memory, they entertain all speech et tricot: these Guaraní voices eternalize so simply as they go on weaving: ñandu: there is no better fabric than the web des leaves tissées all together, ñandu, together and between the arabesques that, symphoniques, interweave, in a warp and weft of green and bird et chanson, in the happy amble of a freedom: ñanduti: ñandurenimbó:'
So I ask myself, were I to translate a story or poem from Portunhol/Portuñol what solution would I go for? I suppose the fact that I live in the capital (Cardiff) of a bilingual country could help, and the closest thing I have to an interlanguage is the Welsh-English pidgin I occasionally use with my daughter, her teachers and other patient Cymraeg speakers. If every English translator living geographically close to another language were to do this, a great number of wildly differing translations could be produced, all equally valid. My translation, Paraguayan Môr, coming soon. Watch this space…
Rahul  Bery
Translator-in Residence 2018-2019
British Library
23 August 2016
In some ways, the "discovery" of America opened the mental horizons of Europeans: Montaigne's essay "On Cannibals" (1580) was a landmark in relativism.
In others, the discoveries confirmed what Europeans had long thought but not actually been able to prove.
Pliny was full of tall tales of dog-headed men and men with one huge foot. When the explorers arrived in the Americas, they "found" what they always knew: the name of Patagonia derives from these monsters. The Amazon was populated by warrior women.
Monstrous beings from distant land. From Sebastian Münster, Cosmographia (Basel, 1545) [British Library 1297.m.6.]
It's well known that the Spaniards applied the names of European fauna to American animals: tigre (in Spain, tiger) became the jaguar, león (lion in Europe, puma in America), zorro (fox in Spain, skunk in the New World).
Early modern authors viewed America through Pliny (see Lacarra and Cacho Blecua). But Urdapilleta shows that writers who actually lived in the Indies soon cast off these old ideas and relied much more on the evidence of witnesses or indeed their own eyes.
Now, iconographical handbooks originated in the Middle Ages, and derived their pictures largely not from extant works of visual art but from verbal literary descriptions. 44 of these are reproduced in facsimile in the series The Renaissance and the Gods ((London, 1976-; X.425/5375).
The most famous is probably Cesare Ripa's Iconologia (first edition 1593; first illustrated edition 1603). Writers and painters alike drew on such sources (see Rosa López Torrijos). In this tradition was Vincenzo Cartari, Le imagini de i Dei degli antichi. The first edition (1556) stuck to the gods and allegories of Greece and Rome.
Title page of Vincenzo Cartari/Lorenzo Pignoria, Le Vere e noue imagini de gli dei delli antichi ... (Padua 1615) [704.d.10].
But in 1615 a Second Part was added by Lorenzo Pignoria, with gods of the Indians and Chinese. His source for the American gods was the Mexican Codex Vaticanus 3738. In his prologue, Pignoria follows the argument that paganism alias idolatry (whether Greco-Roman or contemporary) is a foreshadowing of Christianity, because these false religions derived from the Christian truth. He was not a believer in polygenesis: 350 years before Thor Heyerdahl, he maintained that the Egyptians had the seafaring skills to reach Mexico: after all, many accounts of America were thought mere fables until Columbus went there and proved them true.
The God Quetzalcoatl from Le Vere e noue imagini de gli dei delli antichi [704.d.10]
Here is a case in point: the god Quetzalcoatl. His attributes parallel those of the ancients: on his head he bears the pointed stone, related to the knife used by the Devil in the rites of Cybele; in his right hand the lituus (curved wand) as used by the augurs; at his feet the cornucopia; and (the clincher) the Christian Cross on his cloak and on the cornucopia.
What better proof that all religions were one?
Barry Taylor, Curator of Romance Collections
References/further reading:
Sonia Maffei, 'Le imagini de i Dei degli antichi di Vincenzo Cartari: Dalla poesia all'archeologia' http://dinamico2.unibg.it/cartari/leimaginideiDei.html
Marco Urdapilleta Muñoz, 'El bestiario medieval en las crónicas de Indias (siglos XV y XVI)', Latino América, Revista de Estudios Latinoamericanos, 58 (2014), 237-70. 5160.235500
Miguel A. Rojas Mix, América imaginaria (Barcelona, 1992) LB.31.b.10858
Rosa López Torrijos, La mitología en la pintura española del Siglo de Oro (Madrid, 1985). YV.1988.b.1010 María Jesús Lacarra, Juan Manuel Cacho Blecua, Lo imaginario en la conquista de América (Zaragoza, 1990). YA.1997.a.7376
25 October 2013
 Our colleague Geoff West, Head of Hispanic Studies, blogs for us: 
As Matt acknowledges in a previous blogpost, the Bay Psalm Book (1647) was not the first book printed in the New World.  Indeed, printing in Spanish colonial Mexico had begun more than a century earlier.  The Aztec capital surrendered to the forces of Hernán Cortés in 1521 and the Viceroyalty of New Spain, covering southern and central Mexico, was established in 1535.  In 1527 the Franciscan Juan de Zumárraga had already been designated Bishop of Mexico City, entrusted both with the protection of the indigenous population, who were exposed to much ill treatment by the Spanish settlers, and with converting them to Christianity.
 Zumárraga thought printed materials essential to his evangelizing task.  He had taken some books with him from Spain in 1528, but clearly he saw a need to set up a printing press in Mexico.  The equipment required and supplies would have to be brought from Spain.  In the period 1533-34, when back in Seville, Zumárraga raised the idea of a press with the colonial governing body, the Council of the Indies.  Key to the project was the Cromberger family of Seville who had already produced books for export to New Spain.  The eventual result was the contract of 1539 between Juan Cromberger and an Italian compositor, Giovanni Paoli (or Juan Pablos in Spanish) for the setting up and management of a press in Mexico City.  Although the case has been advanced for an earlier press and although a fragment of an earlier work printed by Pablos indeed survives, his Doctrina breve of 1543/44 remains the earliest complete extant printed book from the Americas.
It is a modest quarto volume containing 84 unnumbered leaves.  Its full title reads in English translation 'Summary and beneficial instruction of matters pertaining to the Catholic faith and to our Christianity in plain language for general comprehension'.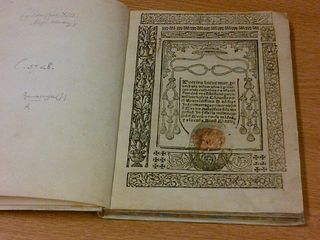 Title page, Fray Juan de Zumárraga, Dotrina breue… de las cosas que pertenecen a la fe catholica British Library shelfmark C.37.e.8
The Doctrina breve is an exposition of the essentials of Catholicism: the articles of faith, the sacraments, the capital sins, the works of mercy, the theological virtues, etc.
A number of other copies of the work are extant and are held in various notable rare book collections, including the Library of Congress, the Huntington Library, John Carter Brown, Biblioteca Cervantina (Monterrey), and the Biblioteca Nacional de España.  The British Library's copy was purchased on 22 April 1869 for £120 at a sale in Leipzig.  It belonged to the library of the bookseller and bibliophile, José María Andrade, which he sold in 1865 in order to form the basis of the projected Imperial Library of the Emperor Maximilian I.  Following the latter's execution in 1867 the books were packed up at the instigation of the notoriously unscrupulous Father August Fischer, who acted as Maximilian's secretary, and sent to Europe to be auctioned.  Our copy still retains the bookplate of the Imperial Library, while the title page bears the ownership stamp of the monastery of San José in Tula.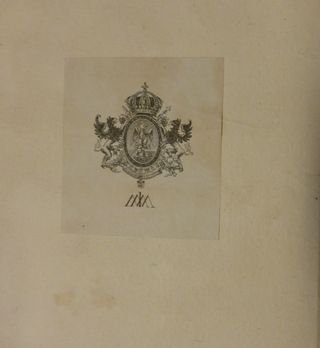 Bookplate of the proposed Imperial Library of Mexico
The British Museum Library, predecessor of the British Library, acquired the core of its collection of Spanish colonial books not only at the sale in Leipzig.  Numerous purchases were also made at the sale of Fischer's own books (London 1869) and in 1880 at the London sale of the books of the statesman, historian and bibliophile, José Fernando Ramírez.  Additions to the collection are now very infrequent, as Barry Taylor pointed out in this blog earlier this year.
 Bibliography
Fernández de Zamora, Rosa María.  Los impresos mexicanos del siglo XVI.  Su presencia en el patrimonio cultural del nuevo siglo. Ciudad de México: UNAM, 2009.
García Icazbalceta, Joaquín. Don Fray Juan de Zumárraga, primer obispo y arzobispo de México. 2nd ed.  Ciudad de México: Porrúa, 1947. 4 vols.
Griffin, Clive. The Crombergers of Seville. The History of a Printing and Merchant Dynasty. Oxford: Clarendon Press, 1988.
Taylor, Barry, and Geoffrey West. 'Libros religiosos coloniales de la British Library: libros impresos en México, Perú, Chile, Cuba, Ecuador y Guatemala, 1543/4-1800', Redial, 8-9 (2001), 69-92.
[G.W.]
30 August 2013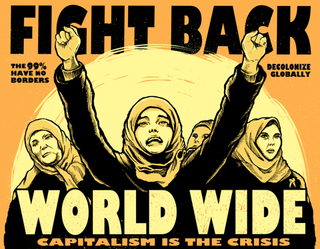 Colectivo Cordyceps, Mexico City, Mexico (website: Justseeds Artists' Cooperative)
If you've been to our Propaganda exhibition (and if you haven't, you only have until 17 September), you might have spotted the above print. It's in a fairly dark corner, so unless you looked at it carefully (or read the accompanying label) you might not have realised that it is a relatively recent poster coming out of the Occupy Movement. It was interesting to me that Ian, one of our Propaganda curators, should choose that particular poster out of a portfolio of prints that we acquired from Occuprint last year. Viewed up close, the text  'the 99% have no borders' is a bit of a give-away, but from a distance it looks like a fairly traditional political poster which could come from more or less anywhere (in fact it's from Mexico) and from any period.
The use of prints and posters to disseminate views on political issues and causes is nothing new of course, – they've been employed pretty much ever since the invention of printing, but they really came in to their own in the early twentieth century as technological developments enabled the relatively cheap mass production of posters. And they remain a simple but effective way of reaching the public and getting a message or viewpoint across.
I've been fascinated by the sheer volume, diversity and creativity of printing that has come out of the global Occupy movement. The portfolio alone is a good example of this – 31 hand silk-screened prints by 31 artists/groups, chosen out of hundreds of submissions from across the world, but all reflecting the values and many concerns of the movement. A fundraising initiative for Occuprint (a non-profit group affiliated to but independent from the Occupy Movement), the portfolio has been issued through the Booklyn Artists' Alliance in an edition of 100. It is curated by Booklyn's Marshall Weber and Occuprint organiser Jesse Goldstein, together with various other Occuprint editorial committee members. The portfolio also includes a copy of issue 4 (November 2011) of the Occupied Wall Street Journal, a special folio issue on the poster art of the Occupy movement, the curation of which led to the establishment of Occuprint itself. Occuprint's website was also launched in November 2011 and now hosts hundreds of images, including the portfolio prints and submissions, all of which can be freely downloaded for non-commercial purposes. More posters continue to be added and the website offers not only a wide range of support materials for local activists, but a fantastic resource for studying the art of Occupy (and much more besides).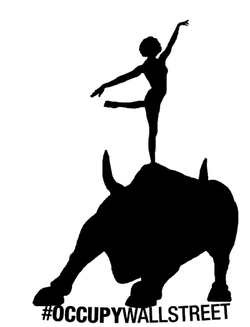 Creator: lots of people  #Occupy Wall Street NYC General Assembly
When Occupy Wall Street (OWS) sprang up in September 2011 with the occupation of New York City's Zuccotti Park, its birth was announced with a particularly arresting and now iconic image – that of a ballerina on top of the Wall Street bull, which appeared in Adbusters, the Vancouver-based anti-consumerist magazine. The bull is just one of the many new symbols that has emerged out of Occupy graphic art, and it is joined by more traditional images (e.g. the raised fists in Fightback), plus appropriations and re-interpretations (e.g. the Guy Fawkes mask, and David Loewenstein's underground 'inverted' fist ).  As Marshall Weber has noted, there is evidence of a variety of historical art influences in the imagery -from Russian Constructivism to Latin American political graphic art to Pop. Although the quality of imagery varies enormously, there are some wonderful, memorable and humorous posters, and it is clear that poster-making is an important strategy for participants of the Occupy movement.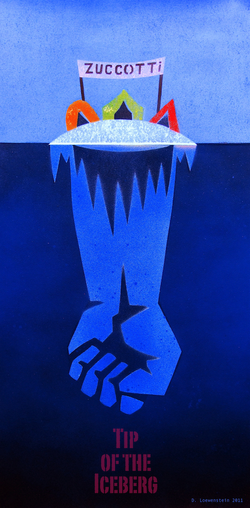 David Loewenstein, Lawrence, Kansas. http://www.davidloewenstein.com
Occuprint organiser Jesse Goldstein describes the graphic work coming out of Occupy as 'social movement culture,' quoting Dara Greenwald and Josh MacPhee's definitition of this as work 'born from a context in which large numbers of people mobilized to achieve transformation goals.' He says that perhaps the single cohesive thread of Occupy's cultural work is 'a self-assured dismissal of corporate media channels and the confidence that alternatives can be, and are being, built.' The graphic work is just one aspect of a growing number of cultural practices which include social media, public camping etc., and Goldstein goes on to say that, 'While it's too early to tell, there does seem to be the possibility that Occupy will successfully reclaim a portion of the cultural commons from a media sphere that has thoroughly infected our everyday lives with ubiquitous branding, messaging, news cycles, and stylized uniformity.' He notes that many of the images on the Occuprint website were created for local use and then passed on to Occuprint, whilst others only exist in the virtual world -'copies without originals.'  He also emphasises the importance of the idea of imagining the future in this social movement culture. 'If anything, the work focuses on the future of the movement itself, and the constituent power that will be required to make the world anew.' - Alexandra Clotfelter's poster The Beginning is Near, being a perfect example of this.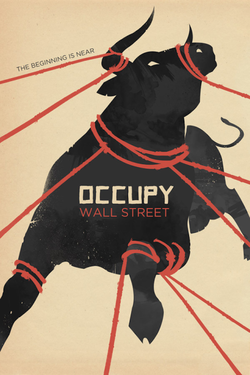 Alexandra Clotfelter, Savannah, GA  Website: http://www.ladyfawn.com
Goldstein acknowledges that 'The images on our site will one day be important, collected, preserved and themselves referenced, as the past is referenced today….The Occupy movement has become conscious of itself as an active producer of history, and this future potential permeates the social movement culture that is beginning to take shape. This, I believe makes the collection at Occuprint an archive of the future.' For me, there was never a doubt that we should have at least some of this material in our collections since it would be important for future researchers studying a whole range of subjects. Aside from the portfolio, we have collected placards, leaflets and other ephemera that help bring to life the movement, culture and a wide variety of political, social and economic issues. The images have in fact already appeared and been discussed and debated in a number of journals and blogs (see below for a few examples). So perhaps not only is the beginning near, the future is now.  
Jesse Goldstein, Occuprint: Archiving the Future, Socialism and Democracy vol.26, no. 2, July 2012 (available online in the library's reading rooms)
Sarah Kirk Hanley Ink: Political Art for a Contentious Time art:21 September 14 2012
Nato Thompson, "Debating Occupy," Art in America 100, no. 6, July/August 2012, pps. 99-103 (includes several images from the portfolio accompanied by statements from artists, curators, writers, and critics on the impact of the Occupy Movement).
[C.H.] 
Americas and Oceania Collections blog recent posts
Tweets by BL_Americas
Other British Library blogs