28 August 2020
One event that is certainly going to be missed this summer is the Notting Hill Carnival. To avoid mass gatherings during the Covid-19 crisis, this year's carnival takes place online. Usually on this weekend, the streets of west London become alive with the vibrant colours and sounds of costumes, steel bands and floats. The European & Americas Collections Team celebrates this popular London event with a joint blog. 
Initially, Trinidad-born activist and West Indian Gazette founder Claudia Jones started an annual indoor Caribbean carnival in response to the racist violence and riots that swept through Britain in the summer of 1958. The first London Caribbean carnival took place in January 1959 and was televised by the BBC, subtitled 'A people's art is the genesis of their freedom'. The British Library holds a copy of a West Indian Gazette special edition about the event:
You can find out more about these beginnings at: https://www.bl.uk/collection-items/claudia-jones-caribbean-carnival-souvenir-programme-1960. In 1966 carnival finally took to the streets in Notting Hill and has stayed there ever since. For three days, music and dance now bring together two million people in celebration of Caribbean cultures. 
My own initiation to the Notting Hill Carnival has been through Brazilian influence and close involvement with the Paraíso School of Samba, the most prominent school of Brazilian samba in London. Every year since its foundation in 2001, Paraíso has taken part in the Notting Hill Carnival parade, featuring costumed percussionists, dancers, and carnival floats.  Just like in Rio!
The president and founder of the Paraíso School of Samba, Henrique da Silva has since the age of eight been involved with one of Rio's most traditional schools of samba: Grêmio Recreativo Escola de Samba Estação Primeira de Mangueira or simply Mangueira. This inspired him to form a samba school in London following the same principles. The main idea of Paraíso is for people to celebrate and express their cultural identity through dance and music. To quote from Paraíso's website  'samba is truly the popular art of people, especially in its inclusivity where everyone has a place. Paraíso plays samba as it is played by the baterias (percussions) of Rio's samba schools.'
Samba music and dance originate from the Northeast of Brazil, where it was developed from the musical traditions of the African slaves. The style of Samba as we know it today, developed in the first half of the 20th century in Brazil's urbanising Southeast, mostly its then cultural centre Rio. The style emphasises the polyrhythmic sounds of multiple percussion instruments, like African drumming music, which uses call and response.  This has become the pulsing sound of Rio's modern carnival. The main driving force behind this style of samba were and still are organized groups known as escolas de samba (samba schools).  They are devoted to playing and dancing, as well as preparing for a yearly carnival parade. In Rio, samba is now inseparable from the Carnival.  
My initial reaction to co-writing this blog was reluctance, as I have mostly stayed away from carnival on my visits to Brazil. Looking after the Latin American Collections, however, I felt I should give it a go and was rewarded with joyful browsing and listening on the internet for a couple of hours. I hope you'll do the same for this year's Notting Hill Carnival until we can take to the streets once more.
Our guide to the first decades of urban Rio carnival is Brazil's most famous composer Heitor Villa-Lobos (1887-1959), a keen participant in his hometown's carnival celebrations. During his lifetime, modern urban carnival developed and he knew its local protagonists and different musical traditions like no other person. In his own classical compositions, Villa-Lobos sought inspiration in the country's popular cultural traditions to create a distinctive Brazilian style of music. He even composed two pieces of music on the theme of children's experience of carnival: Carnaval das Crianças (Children's Carnival) in 1919 and Momoprecoce (the precocious king of carnival) in 1928. The first, a work for piano describes in eight vignettes well-known carnival figures popular at the time like the diabinho (little devil) or the rei momo (king of carnival). The later work reinterprets and elaborates these themes into an orchestral work with solo piano.
Popular narratives of samba usually mark important milestones of modern urban carnival around similar dates. In 1916, Ernesto dos Santos, known as Donga, and Mauro de Almeida registered the first samba with Brazil's National Library in Rio, while in 1928, José Gomes da Costa, known as Zé Espinguela, launched the first samba competition from the same Mangueira neighbourhood, where the famous samba school developed from existing older carnival groups.
Vanessa Rodrigues Cunha (2015) describes the different musical traditions from which samba emerges as predominant by the end of the 1920s. The music played at the time was slower, however, than the samba we know from later Brazilian carnival, which also developed different dance routines. A good way to experience the greatest musicians of the early time of urban carnival is through browsing the recent digital exhibition Native Brazilian Music: 80th anniversary: the history behind one of Brazilian music's most iconic albums.
It tells the incredible story behind the famous recordings of Brazilian popular music organised by Villa-Lobos and Donga for the British composer Leopold Stokowski. His tour through Latin America was part of U.S. president Roosevelt's 'Good Neighbor policy' and Stokowski had asked Villa-Lobos for help in finding Brazilian musicians for recordings. These took place in 1940 on board the steamship U.S.S. Uruguay in Rio's harbour and would be released by Colombia Records in 1942. The exhibition contains some recordings, which give a good flavour of the musical style of the time. It is refreshing to hear them and you can see how they compare to the musical offerings of Notting Hill Carnival Online.
At the end of the weekend, you can sit down to listen to Villa-Lobos' reinterpretation of the carnival theme with a recording (25 min) of his 'Momoprecoce' performed at the Proms in 2012 by the São Paulo Symphony Orchestra with Nelson Freire at the piano and conducted by Marin Alsop. The recording includes a brief introduction to the piece by Alsop, and I could hear it over and over again. I'm sure that a weekend immersed in Caribbean carnival music will only enhance our appreciation of this wonderful ode to carnival!
Lora Afrić, Languages Cataloguing Manager & Iris Bachmann, Curator, Latin American Collections.
Bibliography:
In the absence of access to our physical collection items, Vanessa Rodgrigues Cunha's dissertation has been an invaluable, well-written guide to information on Villa-Lobos carnival pieces and the beginnings of urban Rio carnival:
Cunha, Vanessa Rodrigues. The Symbiosis Between Villa-Lobos's Carnaval Das Crianças And Momoprecoce: A Comparative Study. Dissertation. CUNY. 2015. Accessed 28.08.2020 https://academicworks.cuny.edu/gc_etds/896/ 
Daniella Thompson's research for 'Stalking Stokowski' (2000) http://daniellathompson.com/Texts/Stokowski/Stalking_Stokowski.htm underpins the digital exhibition on the record 'Native Brazilian Music' and gives a more detailed account of its history and the marginalization of black musicians as samba goes mainstream.
Further suggested readings at the British Library:
Goldman, Albert. Carnival in Rio (New York, 1978). f78/3978
George, Terry. Carnival in Rio: samba, samba, samba! (Hamburg, 2005). EMC.2009.a.372
Hertzman, Marc A. Making samba: a new history of race and music in Brazil. (Durham, North Carolina/London, 2013). YD.2017.a.606 
Neto, Lira. Uma história do samba. (São Paulo, 2017). YF.2017.a.22063 
24 December 2015
Aguinaldo is a popular type of Christmas song sung in many Latin American countries at this time of year, thought to have derived from the villancicos imported from the Iberian Peninsula during the second half of the sixteenth century. Perhaps the most celebrated composer of villancicos is Sor Juana Inés de la Cruz, whose words were set to music by Antonio de Salazar in the late 17th century. Although villancicos often made reference to secular themes, they were encouraged – or at least tolerated – by the Church hierarchy as far as they were seen as useful tool in the drive to convert the native populations to Catholicism.
As the popularity of villancicos declined from the 19th century onwards, aguinaldo – a much more folk-inflected art form – began to take their place. Today, aguinaldo are performed by people in groups called parrandas, who wander from door-to-door sharing their songs in much the same way as carollers do in the UK. This wonderful recording of an aguinaldo from Venezuela is a far cry from the baroque villancicos of the 17th century, though it does illustrate how the form mixes the sacred with the everyday, as we hear the celebration of the birth of Christ played out as an commentary on neighbourly relations.
Listen to Tun Tun (performed by Federico Reyna and family)
As far as we have been able to identify, this recording of Tun Tun was performed by Federico Reyna and his family for a BBC radio programme entitled Folk Music of Venezuela. It was broadcast on the Third Programme on 2 September 1962, and introduced by A.L. Lloyd, with production by Douglas Cleverdon.
Like many good folk-songs Tun Tun is a self-satirising comment on the form itself. In the song the parranderos pay a visit to their neighbour to share their goodwill, though he becomes increasingly exasperated and eventually demands to be left alone: "Que el diablo se los lleve a mí dejenme en paz!"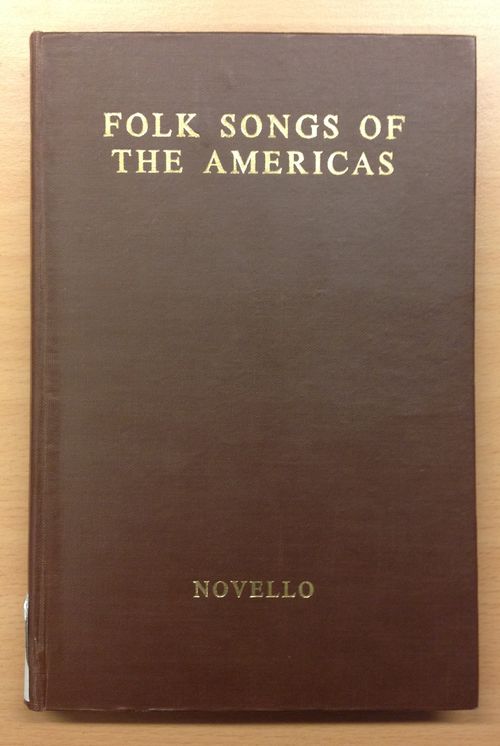 The recording is part of the A.L. Lloyd collection, which contains material collected by the folklorist throughout his life. Lloyd also edited Folk Songs of the Americas (shelfmark: HUS 789.202242), a great resource for those interested in folk-music from across the continent.
More sound recordings from the British Library's collections can heard at BL Sounds.
– Laurence Byrne
03 May 2012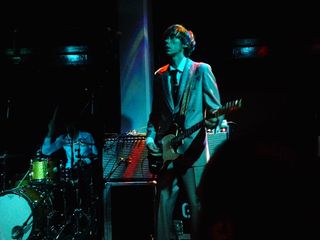 The Sadies.  Photo: R. Bowdler.
It's been a good ten days for Americana in London.  Last week, we had the lachrymose but mercurial alt-country singer Ryan Adams playing his acoustic set at the London Palladium (and apologizing to anyone who expected to see the Wizard of Oz musical which is running on that stage); the first Sundance London festival was running at the former Millennium Dome - and there was a showing of the 90% indie comedy/10% 1980s SF tribute film, Safety Not Guaranteed supported by the U.S. Embassy; and last night, the Jazz Cafe hosted a gig from the Canadian band, The Sadies.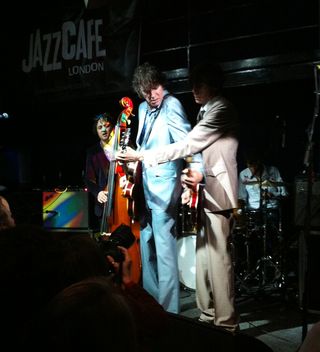 The Sadies' Good brothers display their guitar skills at the Jazz Cafe, May, 2012.
The Sadies serve up a pleasantly sour and addictive mix of country, garage rock, psychedelia and surf, tearing their way through American traditional music, offering murder ballads, instrumentals, and virtuoso musicianship.  They also have neat line in psychedelic suits, in the fashion of the Flying Burrito Brothers (as seen on the cover of The Gilded Palace of Sin album).  As such they are a something of a tribute to a tribute, a visit to an idea.

Dallas Good and his suit. Photo: E. Gee.
Pop and rock, of course, feeds on itself, but there's also something that reminded me of American Studies, at least as it's practiced in the UK (and seemed to appeal also to the audience at the Jazz Cafe).  Jackson Turner's Frontier may be long gone, if it ever existed, but the desire to escape somewhere vast, other and often strange may account for some of the attractions of studying, visiting, imagining and writing about the USA, from the Colonial Period to the Harlem Renaissance, the borders of Mexico to the constructs of Las Vegas and Disneyland.  This year's Eccles Centre for American Studies plenary lecturer, Professor Peter Coates, touched on this during some comments during his talk 'Red and Gray: Toward a Natural History of Anti-Americanism in Britain'.  He mentioned his sense of personal shock at finding himself researching at Kew in The National Archives.  He never wanted to go to Kew.  He wanted to beyond, away, escaping provincial, narrower concerns.
The Sadies (with Andre Williams) are represented in the collections by 'Pardon Me (I've Got Someone to Kill)' from the Red Dirt album.  Those wanting to plan their own scholarly escapes, perhaps with an MA thesis, may want to start with Grant Alden, No Depression: an introduction to alternative country music (Dowling Press, 1998) [YK.2009.a.7499) and a run of No Depression (Seattle), issues from 1998-2008 at ZD.9.b.752.
[M.S.]
03 March 2012
O! Say Can You See. The Star Spangled Banner. New York: Geib & Co., 1817. H.1860.ww.(38)
During the night of 3 September 1814, while on a mission approved by U.S. President Monroe, Francis Scott Key witnessed the massive British bombardment of Fort McHenry in Baltimore, Maryland. As dawn broke Key was astounded to see the American flag still flying. To commemorate this stunning victory he immediately wrote a 4-stanza poem entitled "Defence of Fort McHenry". Recognising that the poem perfectly fit the popular British drinking song "Anacreon in Heaven", Key's brother-in-law had the poem published and it soon began gaining popularity as "The Star-Spangled Banner". On 3 March 1931, nearly 120 years after it was first penned, it became the national anthem of the United States. This edition, published in New York in 1817, is one of the earliest examples of American sheet music held by the British Library.
From the Eccles Centre for American Studies at the British Library online exhibition, Singing the Dream.
Read more about the Star-Spangled Banner on the Library of Congress's Treasures pages, and we've also briefly posted on the origins of the tune here.
[JP/MJS]
15 March 2011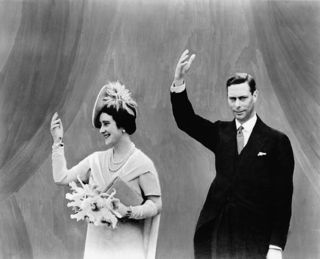 King George VI and Queen Elizabeth at the Canada Pavilion of the New York World's Fair, 1939. Image courtesy of Wikimedia Commons and Library and Archives Canada 
The Guardian has published a fun piece for audiophiles (and pretty much everyone else) today regarding the Queen Mother's record collection. What grabbed my attention was the inclusion of Wilf Carter (the Canadian Country and Western singer), the Desperadoes Steel Orchestra (the Trinidadian calypso steel band) and a general Commonwealth presence.
Given the fondness the Queen Mother expressed for Canada and the times she spent in the Caribbean we should not be surprised to find this affected her musical taste and collection. Apparently, it was visits to Jamaica which resulted in the Queen Mother developing a taste for Ska, illustrating this point quite neatly. Personally, I would love to know what the Queen Mother thought of some of the musical 'heirs' to the above, such as Canada's Stan Rogers or the Ska influenced No Doubt. I suspect, however, the record collection will provide few clues to this.
If you want to find out more about the Royal family the British Library collections are a great resource, as suggested by my previous post on King Edward VIII. In parallel, the British Library Sound Archive provides a rich resource for music from across the globe, as well as interesting oral histories about the spoken word and music in the Caribbean. Needless to say, our monographs on this subject would be well worth a look too. 
[PJH]