28 September 2022
This month's e-resources blog explores five wonderful resources offering full-text access to a wide variety of magazines and comics. 
Please note: all of these resources can be accessed remotely with a British Library Reader Pass.
Entertainment Industry Magazine Archive, 1880-2015 covers the history of the film and entertainment industries, from the era of vaudeville and silent movies through to the 21st century. It includes numerous trade magazines which have effectively provided the main historical record for their subject areas throughout the 20th century – Variety (1905-2000), The Hollywood Reporter (1930-2015), Billboard (1894-2000) and Broadcasting (1931-2000) – as well as more specialist titles, such as American Cinematographer (1930-2015), Backstage (1961-2000) and Emmy (1979-2015). The inclusion of consumer and fan magazines enables researchers to retrieve industry news items, features on technological breakthroughs and in-depth interviews with major artists, together with photographs and illustrations, gossip columns, listings, reviews, charts and statistics. Items such as advertisements, covers and short reviews of films, music singles or other works have been indexed as separate documents enabling researchers find all the relevant material for their search topic.
Men's Magazine Archive contains a handful of US titles, with two being particularly notable. Founded in 1845, the tabloid-style National Police Gazette was in print for over 120 years and initially covered matters of interest to the police – in particular, lurid murders and Wild West outlaws. It also focused on sport, and its plentiful images of burlesque dancers and strippers meant it was a fixture of nineteenth and early twentieth century barber shops. In many ways, the Gazette was a forerunner to illustrated sports weeklies, girlie magazines, celebrity gossip columns, and sensational journalism. Published in New York, The Argosy/Argosy was one of the "big four" pulp (all-fiction) magazines. It had many different iterations, and its writers included Upton Sinclair, Zane Gray and the former dime novelist William Wallace Cook. From the early 1940s, much of its fiction content was replaced by "men's magazine" content. The magazine ceased publication in 1978.
Trench Journals and Unit Magazines of the First World War contains over 1,500 journals and magazines written and illustrated by service personnel in the infantry, artillery, air force, naval, supply and transport units, military hospitals and training depots of all combatant nations. Not only did these magazines create a sense of esprit de corps and raise the spirits of the unit through humorous stories, poems, jokes and parodies, but they also documented the unit's unique circumstances and experiences. The vast and previously unrecognised corpus of war poetry, written by a multitude of hitherto unknown poets, offers a vital counterpoint to the more established authors who emerged from the Great War. NB – a similar resource, Service Newspapers of World War II, was covered in our e-resources blog in November 2021.
Underground and Independent Comics, Comix and Graphic Novels is the first-ever scholarly online collection for researchers and students of adult comic books and graphic novels. From the first underground comix of the 1960s, to the work of modern sequential artists to the present day, it covers the full spectrum of this visual art form and offers 200,000 pages of original material alongside interviews, commentary, criticism, and other supporting materials. Please note that it contains graphic material that some may find offensive.
Vogue Archive contains the entire run of US Vogue, from its founding to the present day and includes all text, graphics, ads covers and fold-outs, indexed and in colour. Vogue was founded in New York in 1892 as a weekly society paper catering for Manhattan's social elite. After being purchased by Condé Nast in 1909, not only did the quality of the paper, printing and illustrations all improve, but there was a new focus on fashion and the magazine quickly became one of the icons of the modern age. The Archive's contents represent the work of the greatest designers, photographers, stylists and illustrators of the 20th and 21st centuries and are a primary source for the study of fashion, gender and modern social history.
17 June 2022
This new series will shine a light on the British Library's Canadian Copyright Collection.
The British Library's Canadian Copyright Collection occupies a unique and quite intriguing place in its Canadian holdings. As well as books and periodicals, it includes maps, sheet music, insurance plans, photographs, and city and area directories, and its comprehensive nature means it offers a vital window into Canadian life and culture between 1895 and 1923. Yet, why does the Library have this Collection? And how can researchers make the most of it?
In this introductory blog, we will answer the first question; subsequent blogs will then illuminate different aspects of the holdings. However, we cannot begin the series without acknowledging the invaluable contribution of Patrick B. O'Neill – Canadian theatre historian and bibliographer extraordinaire.
In the 1970s, O'Neill began work on a research project to illuminate the full corpus of Canadian drama. Quite quickly, he ran into all sorts of obstacles. Yet he was nothing if not tenacious. In 1979, his quest for printed copies of playscripts published in Canada brought him to the British Library and here his conversations with curators – and their conversations with long-retired colleagues – led to the "re-discovery" of the Canadian Copyright Collection in its entirety. Several years later, O'Neill – then professor at Mount Saint Vincent University – returned to the Library on sabbatical to document the collection and it is thanks to his painstaking work, and that of several Dalhousie University colleagues, that it is so accessible today.
In a wonderfully clear and informative article, O'Neill recounts that the genesis of the Copyright Collection lay in an 1895 amendment to the Canadian Copyright Act of 1875.1 Up until 1895, obtaining copyright under Canadian law had involved meeting two conditions. First, the literary, scientific or artistic work had to be published and printed or reprinted in Canada. Second, two copies of the work – be it a book, map, chart, musical composition, photograph, print, cut or engraving – had to be deposited at the Office of the Minister of Agriculture. The 1875 Act instructed the Minister to deposit one copy of the work in the Library of Parliament and to retain the other copy in the Copyright Office.
In 1895, Section Ten of this Act was amended to require that three copies be sent to this Minister, and this third copy was to be forwarded to the Library of the British Museum. Thankfully, the Department of Agriculture appears to have been extraordinarily diligent in ensuring that these third copies reached the UK. Indeed, O'Neill notes that the "Canadian Copyright Lists" (that were found in the office of that retired member of staff and later used by O'Neill to document the collection) indicated nearly 100% receipt of the material copyrighted in Canada between 1895 and 1923. And the Department's diligence would prove even more significant in light of subsequent events at the other two repositories.
In 1916, the Library of Parliament suffered its first of two disastrous fires, with the second one occurring in 1953. In both cases, water damage caused more destruction than the fires themselves and although its copyright collection was not totally destroyed, it was seriously depleted.
The Copyright Office Collection fared even worse. Having drawn a blank in finding any trace of this collection himself, O'Neill resorted to writing to his then Member of Parliament, the Hon. Robert Stanfield, to find out what had happened. Stanfield's response arrived within 24 hours, but was far from encouraging. It appears that in 1937 the Copyright Office was due to move premises. Given that the new offices lacked enough space for its collection, advice was sought on how to proceed. The Committee of the Privy Council's assessment was that few of the "several thousands of volumes of books, catalogues, periodical pamphlets, sheet music, maps" had any value. An Order-in-Council (whose signatories included then Prime Minister Mackenzie-King) therefore ordered that the material be offered for selection to the Secretary of State Library; anything remaining after that was to be disposed of by the Copyright Library. In total, the former chose 155 books of prominent Canadian statesmen and some 60 volumes of Canadian fiction. The remaining 50,000+ items in this copyright collection seem to have been destroyed.
Given these events, it is not surprising that the British Library now holds the most complete record of Canadian printing and publishing – in French and English, and in all its manifestations – for the period between 1895 and 1923. The reason for this particular cut-off date was that on 1 January 1924, the Canadian copyright Act of 1921 came into force and it no longer required items to be deposited in repositories in Canada or elsewhere. It should be noted that this was later amended by a 1931 bill that required publishers to send two copies of all books published in Canada to the Library of Parliament, thereby forming the basis of a Canadian national library.
Next time, we will focus on the sheet music published in Canada during this time, and in subsequent blogs we will explore maps, city and directories, insurance plans (more fascinating than one might initially imagine!) and photographs…
Notes
1. Patrick B. O'Neill, From Theatre History to Canadiana: The Canadian Deposit Collection in the British Library. Papers of the Bibliographical Society of Canada, Vol. 25, No. 1, 1986. 
20 April 2022
In this first installment of a series of blogs, Philip Clark shares his experience of being a 2022 Eccles Centre and Hay Festival Writer's Award winner. The Writer's Award offers £20,000, a year's residency at the British Library to develop a forthcoming book, and the opportunity to showcase work at Hay Festival events in the UK and Latin America. Philip's book – Sound and the City – will be a history of the sound of New York City and an investigation into what makes New York City sound like New York City.
At last, I've made it. After two years of pandemic travel bans, followed by an embarrassing gaffe with my visa back in January, I'm writing this blog sitting in the café at Barnes & Noble bookstore on Union Square in New York City. Since my arrival, I've checked in religiously every morning at 9am for a few hours' writing; ingrained habits, even when in the city in which we're told sleep is optional, die hard. Wake up, write. That's the rhythm. The Barnes & Noble café – the equivalent of the café in Foyles, Charing Cross Road, my usual haunt – is quiet, comfortable and studious. I write surrounded by fellow scribes and ferocious readers – also a young couple gazing into each other's eyes over a chessboard, who were here yesterday, too. This café has character, although not so much character that I'm distracted from my work. And best of all – the book I'm writing, Sound and the City, a history of the sound of New York City, will, in a few years' time, be sitting on one of the shelves here. In this space where it was partly written, an idea which appeals to me very much.
My book opens an investigation into what makes New York City sound like New York City, a soundscape completely different from, say, London, Paris or Berlin. What my book is not is a history of music in New York. Instead, the project is to piece together interwoven histories from architecture, geology, immigration, politics and city planning to explain the unique relationship this city has with sound. Alongside, I'm exploring how writers and musicians who have called this endlessly fascinating resonating chamber home have dealt with the sound of the city – a long, impressive role-call that includes Henry James, John Dos Passos, Antonín Dvořák, Edgard Varèse, Duke Ellington, John Cage, Charlie Parker, Miles Davis, Philip Glass, Bob Dylan, Meredith Monk, Ornette Coleman, Debbie Harry, Lou Reed, Don DeLillo, Grandmaster Flash, Cecil Taylor, Gloria Gaynor, DJ Kool Herc and Wu-Tang Clan.
What does New York do to an artist's sense of pacing, proportion, structure? Of the sort of material they're minded to put into their work and the way it behaves once they've put it there? In his memoir Words Without Music, published in 2015, Philip Glass claimed "My music sounds like New York". Which is undoubtedly true. But so does the bebop of Charlie Parker, the modernist composition of Edgard Varèse, the rock of Debbie Harry and the nimble vocal gymnastics of Meredith Monk – none of which sound remotely like Glass. Could factors beyond musical style and idiom knit all this work together? It is my duty to find out.
As life drifted on between lockdowns, and I wondered whether travel would ever be a realistic proposition again, a fantasy New York ran riot inside my imagination. That said, ever since I discovered modern jazz, West Side Story, Morton Feldman and Bob Dylan in my mid-teens, some thirty-five years ago, I have always carried around my own inner-New York. The environment of the city, transferred to reality, felt entirely familiar to me when I started visiting seriously around 2005, testament to how much information its sonic footprint carries within it. New York played a crucial role in my previous book, a biography of the jazz pianist Dave Brubeck, A Life In Time, but there I needed to curb my enthusiasm; editing out superfluous city history became a continual necessity. Now the time has come to fully understand my New York fixation – why that fascination with the sound of its sound, and the sound of its music, has never left me alone.
Last year was spent immersing myself in histories of the city, and also in a pair of works that I knew would give my book its starting point: Edgard Varèse's orchestral Amériques and John Dos Passos' Manhattan Transfer. Dos Passos' novel was published in November 1925, with the premiere of Varèse's composition following only a few months later in April 1926. The degree to which these panoramic captures of the city mirror each other virtually word-to-note and note-to-word is uncanny. The steamboat whistles and fire engine sirens which Dos Passos describes so vividly are not merely evoked in the fabric of Varèse's music – he literally wrote both machines into his piece, urban objets trouvés he made sing and holler.
Surely Varèse and Dos Passos had enjoyed long discussions about the meaning of art, life and the universe itself in various hostelries around the East Village? The closeness of their art suggests they must. Having won the Eccles Centre and Hay Festival Writer's Award at the end of 2021, and now with the whole British Library at my disposal, this was one of the first questions I set out to answer: did they ever meet? Varèse, I read, enjoyed the company of the composers Carl Ruggles and Carlos Salzedo, the conductor Leopold Stokowski, the violinist Fritz Kreisler, the artist Marcel Duchamp – and there is also a documented encounter with the writer Theodore Dreiser. Dos Passos' associates at the time included the writers E E Cummings, Hart Crane and Dawn Powell. At the British Library, I was very happy to find an extended critique by Sinclair Lewis of Manhattan Transfer, published in 1926, in which Lewis describes Dos Passos' novel as "the moving symphony itself" and talks up the central role sound takes in the narrative (although Lewis' respect for Dos Passos was, sadly, not reciprocated).
Plotting the various addresses before I left home where Dos Passos and Varèse lived in the mid-1920s – and then this week walking between them – I discover that they criss-crossed each other constantly and, during different periods, lived but a few blocks from each other. The hotel in which Varèse took up long-term residence when he first arrived from his native France in 1916 – The Brevoort on the corner of 8th Street and 5th Avenue – is where two characters in Dos Passos' novel, Elaine Oglethorpe and George Baldwin, conduct their affair.
Novelist and composer are traceable to some of the same bars and cafés. Romany Marie's famous bistro-tavern, the place in the Village where artists, musicians and writers met to talk, was a regular meeting place of Varèse's – and surely Dos Passos went there too. Walking a block from 188 Sullivan Street, Varèse's home from 1925 until his death in 1965, I find Caffe Reggio – the first café to bring cappuccino to the city is the boast – which opened its doors in 1927. Given Dos Passos' love of European culture and Varèse's yearning to find tastes of Europe in New York, could their paths have crossed there? And then there's McSorley's Old Ale House, opened around 1860, and subject of a poem by Dos Passos' close friend E E Cummings. And we know that Varèse loved ale. His wife, Louise, in her memoir, Varèse: A Looking Glass Diary, tells us how he took a shine to a barmaid – who called him 'Dearie' – in a London pub, near Broadcasting House, when the BBC performed his piece Hyperprism in 1924. Degrees of separation melt away by the moment.
But even if they managed never to meet, my thesis holds firm. Varèse and Dos Passos walked those same sidewalks, listening deep into the sound of the city, and you feel that kinship in the work they produced. New York works as an artistic matchmaker apparently – even when artists are not aware it is happening.
28 August 2020
One event that is certainly going to be missed this summer is the Notting Hill Carnival. To avoid mass gatherings during the Covid-19 crisis, this year's carnival takes place online. Usually on this weekend, the streets of west London become alive with the vibrant colours and sounds of costumes, steel bands and floats. The European & Americas Collections Team celebrates this popular London event with a joint blog. 
Initially, Trinidad-born activist and West Indian Gazette founder Claudia Jones started an annual indoor Caribbean carnival in response to the racist violence and riots that swept through Britain in the summer of 1958. The first London Caribbean carnival took place in January 1959 and was televised by the BBC, subtitled 'A people's art is the genesis of their freedom'. The British Library holds a copy of a West Indian Gazette special edition about the event:
You can find out more about these beginnings at: https://www.bl.uk/collection-items/claudia-jones-caribbean-carnival-souvenir-programme-1960. In 1966 carnival finally took to the streets in Notting Hill and has stayed there ever since. For three days, music and dance now bring together two million people in celebration of Caribbean cultures. 
My own initiation to the Notting Hill Carnival has been through Brazilian influence and close involvement with the Paraíso School of Samba, the most prominent school of Brazilian samba in London. Every year since its foundation in 2001, Paraíso has taken part in the Notting Hill Carnival parade, featuring costumed percussionists, dancers, and carnival floats.  Just like in Rio!
The president and founder of the Paraíso School of Samba, Henrique da Silva has since the age of eight been involved with one of Rio's most traditional schools of samba: Grêmio Recreativo Escola de Samba Estação Primeira de Mangueira or simply Mangueira. This inspired him to form a samba school in London following the same principles. The main idea of Paraíso is for people to celebrate and express their cultural identity through dance and music. To quote from Paraíso's website  'samba is truly the popular art of people, especially in its inclusivity where everyone has a place. Paraíso plays samba as it is played by the baterias (percussions) of Rio's samba schools.'
Samba music and dance originate from the Northeast of Brazil, where it was developed from the musical traditions of the African slaves. The style of Samba as we know it today, developed in the first half of the 20th century in Brazil's urbanising Southeast, mostly its then cultural centre Rio. The style emphasises the polyrhythmic sounds of multiple percussion instruments, like African drumming music, which uses call and response.  This has become the pulsing sound of Rio's modern carnival. The main driving force behind this style of samba were and still are organized groups known as escolas de samba (samba schools).  They are devoted to playing and dancing, as well as preparing for a yearly carnival parade. In Rio, samba is now inseparable from the Carnival.  
My initial reaction to co-writing this blog was reluctance, as I have mostly stayed away from carnival on my visits to Brazil. Looking after the Latin American Collections, however, I felt I should give it a go and was rewarded with joyful browsing and listening on the internet for a couple of hours. I hope you'll do the same for this year's Notting Hill Carnival until we can take to the streets once more.
Our guide to the first decades of urban Rio carnival is Brazil's most famous composer Heitor Villa-Lobos (1887-1959), a keen participant in his hometown's carnival celebrations. During his lifetime, modern urban carnival developed and he knew its local protagonists and different musical traditions like no other person. In his own classical compositions, Villa-Lobos sought inspiration in the country's popular cultural traditions to create a distinctive Brazilian style of music. He even composed two pieces of music on the theme of children's experience of carnival: Carnaval das Crianças (Children's Carnival) in 1919 and Momoprecoce (the precocious king of carnival) in 1928. The first, a work for piano describes in eight vignettes well-known carnival figures popular at the time like the diabinho (little devil) or the rei momo (king of carnival). The later work reinterprets and elaborates these themes into an orchestral work with solo piano.
Popular narratives of samba usually mark important milestones of modern urban carnival around similar dates. In 1916, Ernesto dos Santos, known as Donga, and Mauro de Almeida registered the first samba with Brazil's National Library in Rio, while in 1928, José Gomes da Costa, known as Zé Espinguela, launched the first samba competition from the same Mangueira neighbourhood, where the famous samba school developed from existing older carnival groups.
Vanessa Rodrigues Cunha (2015) describes the different musical traditions from which samba emerges as predominant by the end of the 1920s. The music played at the time was slower, however, than the samba we know from later Brazilian carnival, which also developed different dance routines. A good way to experience the greatest musicians of the early time of urban carnival is through browsing the recent digital exhibition Native Brazilian Music: 80th anniversary: the history behind one of Brazilian music's most iconic albums.
It tells the incredible story behind the famous recordings of Brazilian popular music organised by Villa-Lobos and Donga for the British composer Leopold Stokowski. His tour through Latin America was part of U.S. president Roosevelt's 'Good Neighbor policy' and Stokowski had asked Villa-Lobos for help in finding Brazilian musicians for recordings. These took place in 1940 on board the steamship U.S.S. Uruguay in Rio's harbour and would be released by Colombia Records in 1942. The exhibition contains some recordings, which give a good flavour of the musical style of the time. It is refreshing to hear them and you can see how they compare to the musical offerings of Notting Hill Carnival Online.
At the end of the weekend, you can sit down to listen to Villa-Lobos' reinterpretation of the carnival theme with a recording (25 min) of his 'Momoprecoce' performed at the Proms in 2012 by the São Paulo Symphony Orchestra with Nelson Freire at the piano and conducted by Marin Alsop. The recording includes a brief introduction to the piece by Alsop, and I could hear it over and over again. I'm sure that a weekend immersed in Caribbean carnival music will only enhance our appreciation of this wonderful ode to carnival!
Lora Afrić, Languages Cataloguing Manager & Iris Bachmann, Curator, Latin American Collections.
Bibliography:
In the absence of access to our physical collection items, Vanessa Rodgrigues Cunha's dissertation has been an invaluable, well-written guide to information on Villa-Lobos carnival pieces and the beginnings of urban Rio carnival:
Cunha, Vanessa Rodrigues. The Symbiosis Between Villa-Lobos's Carnaval Das Crianças And Momoprecoce: A Comparative Study. Dissertation. CUNY. 2015. Accessed 28.08.2020 https://academicworks.cuny.edu/gc_etds/896/ 
Daniella Thompson's research for 'Stalking Stokowski' (2000) http://daniellathompson.com/Texts/Stokowski/Stalking_Stokowski.htm underpins the digital exhibition on the record 'Native Brazilian Music' and gives a more detailed account of its history and the marginalization of black musicians as samba goes mainstream.
Further suggested readings at the British Library:
Goldman, Albert. Carnival in Rio (New York, 1978). f78/3978
George, Terry. Carnival in Rio: samba, samba, samba! (Hamburg, 2005). EMC.2009.a.372
Hertzman, Marc A. Making samba: a new history of race and music in Brazil. (Durham, North Carolina/London, 2013). YD.2017.a.606 
Neto, Lira. Uma história do samba. (São Paulo, 2017). YF.2017.a.22063 
24 December 2015
Aguinaldo is a popular type of Christmas song sung in many Latin American countries at this time of year, thought to have derived from the villancicos imported from the Iberian Peninsula during the second half of the sixteenth century. Perhaps the most celebrated composer of villancicos is Sor Juana Inés de la Cruz, whose words were set to music by Antonio de Salazar in the late 17th century. Although villancicos often made reference to secular themes, they were encouraged – or at least tolerated – by the Church hierarchy as far as they were seen as useful tool in the drive to convert the native populations to Catholicism.
As the popularity of villancicos declined from the 19th century onwards, aguinaldo – a much more folk-inflected art form – began to take their place. Today, aguinaldo are performed by people in groups called parrandas, who wander from door-to-door sharing their songs in much the same way as carollers do in the UK. This wonderful recording of an aguinaldo from Venezuela is a far cry from the baroque villancicos of the 17th century, though it does illustrate how the form mixes the sacred with the everyday, as we hear the celebration of the birth of Christ played out as an commentary on neighbourly relations.
Listen to Tun Tun (performed by Federico Reyna and family)
As far as we have been able to identify, this recording of Tun Tun was performed by Federico Reyna and his family for a BBC radio programme entitled Folk Music of Venezuela. It was broadcast on the Third Programme on 2 September 1962, and introduced by A.L. Lloyd, with production by Douglas Cleverdon.
Like many good folk-songs Tun Tun is a self-satirising comment on the form itself. In the song the parranderos pay a visit to their neighbour to share their goodwill, though he becomes increasingly exasperated and eventually demands to be left alone: "Que el diablo se los lleve a mí dejenme en paz!"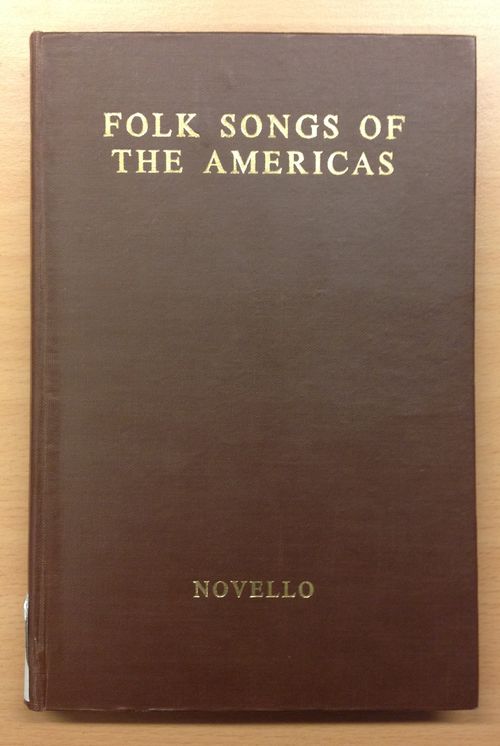 The recording is part of the A.L. Lloyd collection, which contains material collected by the folklorist throughout his life. Lloyd also edited Folk Songs of the Americas (shelfmark: HUS 789.202242), a great resource for those interested in folk-music from across the continent.
More sound recordings from the British Library's collections can heard at BL Sounds.
– Laurence Byrne
03 May 2012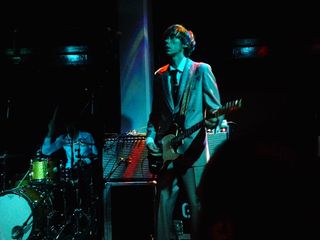 The Sadies.  Photo: R. Bowdler.
It's been a good ten days for Americana in London.  Last week, we had the lachrymose but mercurial alt-country singer Ryan Adams playing his acoustic set at the London Palladium (and apologizing to anyone who expected to see the Wizard of Oz musical which is running on that stage); the first Sundance London festival was running at the former Millennium Dome - and there was a showing of the 90% indie comedy/10% 1980s SF tribute film, Safety Not Guaranteed supported by the U.S. Embassy; and last night, the Jazz Cafe hosted a gig from the Canadian band, The Sadies.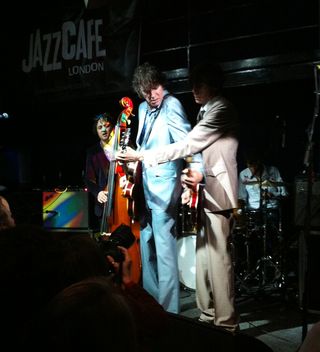 The Sadies' Good brothers display their guitar skills at the Jazz Cafe, May, 2012.
The Sadies serve up a pleasantly sour and addictive mix of country, garage rock, psychedelia and surf, tearing their way through American traditional music, offering murder ballads, instrumentals, and virtuoso musicianship.  They also have neat line in psychedelic suits, in the fashion of the Flying Burrito Brothers (as seen on the cover of The Gilded Palace of Sin album).  As such they are a something of a tribute to a tribute, a visit to an idea.

Dallas Good and his suit. Photo: E. Gee.
Pop and rock, of course, feeds on itself, but there's also something that reminded me of American Studies, at least as it's practiced in the UK (and seemed to appeal also to the audience at the Jazz Cafe).  Jackson Turner's Frontier may be long gone, if it ever existed, but the desire to escape somewhere vast, other and often strange may account for some of the attractions of studying, visiting, imagining and writing about the USA, from the Colonial Period to the Harlem Renaissance, the borders of Mexico to the constructs of Las Vegas and Disneyland.  This year's Eccles Centre for American Studies plenary lecturer, Professor Peter Coates, touched on this during some comments during his talk 'Red and Gray: Toward a Natural History of Anti-Americanism in Britain'.  He mentioned his sense of personal shock at finding himself researching at Kew in The National Archives.  He never wanted to go to Kew.  He wanted to beyond, away, escaping provincial, narrower concerns.
The Sadies (with Andre Williams) are represented in the collections by 'Pardon Me (I've Got Someone to Kill)' from the Red Dirt album.  Those wanting to plan their own scholarly escapes, perhaps with an MA thesis, may want to start with Grant Alden, No Depression: an introduction to alternative country music (Dowling Press, 1998) [YK.2009.a.7499) and a run of No Depression (Seattle), issues from 1998-2008 at ZD.9.b.752.
[M.S.]
03 March 2012
O! Say Can You See. The Star Spangled Banner. New York: Geib & Co., 1817. H.1860.ww.(38)
During the night of 3 September 1814, while on a mission approved by U.S. President Monroe, Francis Scott Key witnessed the massive British bombardment of Fort McHenry in Baltimore, Maryland. As dawn broke Key was astounded to see the American flag still flying. To commemorate this stunning victory he immediately wrote a 4-stanza poem entitled "Defence of Fort McHenry". Recognising that the poem perfectly fit the popular British drinking song "Anacreon in Heaven", Key's brother-in-law had the poem published and it soon began gaining popularity as "The Star-Spangled Banner". On 3 March 1931, nearly 120 years after it was first penned, it became the national anthem of the United States. This edition, published in New York in 1817, is one of the earliest examples of American sheet music held by the British Library.
From the Eccles Centre for American Studies at the British Library online exhibition, Singing the Dream.
Read more about the Star-Spangled Banner on the Library of Congress's Treasures pages, and we've also briefly posted on the origins of the tune here.
[JP/MJS]
15 March 2011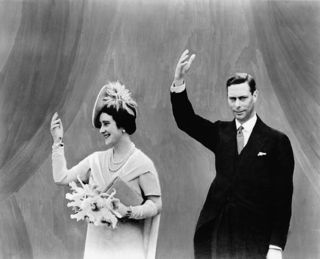 King George VI and Queen Elizabeth at the Canada Pavilion of the New York World's Fair, 1939. Image courtesy of Wikimedia Commons and Library and Archives Canada 
The Guardian has published a fun piece for audiophiles (and pretty much everyone else) today regarding the Queen Mother's record collection. What grabbed my attention was the inclusion of Wilf Carter (the Canadian Country and Western singer), the Desperadoes Steel Orchestra (the Trinidadian calypso steel band) and a general Commonwealth presence.
Given the fondness the Queen Mother expressed for Canada and the times she spent in the Caribbean we should not be surprised to find this affected her musical taste and collection. Apparently, it was visits to Jamaica which resulted in the Queen Mother developing a taste for Ska, illustrating this point quite neatly. Personally, I would love to know what the Queen Mother thought of some of the musical 'heirs' to the above, such as Canada's Stan Rogers or the Ska influenced No Doubt. I suspect, however, the record collection will provide few clues to this.
If you want to find out more about the Royal family the British Library collections are a great resource, as suggested by my previous post on King Edward VIII. In parallel, the British Library Sound Archive provides a rich resource for music from across the globe, as well as interesting oral histories about the spoken word and music in the Caribbean. Needless to say, our monographs on this subject would be well worth a look too. 
[PJH]
Americas and Oceania Collections blog recent posts
Tweets by BL_Americas
Other British Library blogs