10 March 2010
It struck me this morning that I didn't manage to fit in a second visit to our Points of View exhibition, which closed last Sunday. I really enjoyed my only visit but now will have to make do with visiting its website or pouring over the exhibition catalogue.
However, should you be in a photographic frame of mind at the moment, I would suggest you go along to the Portal of Texas History. One of the more recent additions to this impressive online archive of Texan history is a collection of over 400 photographs of places, events and evidence relating to the assassination of President John F. Kennedy on 22nd November 1963, which are to be found in the Dallas Police Department archive. Included are a number of crime scene photos showing various views from and inside the Texas School Book Depository – such as the view from the window which overlooked Kennedy's motorcade route, and a lonely bottle of Dr Pepper.
The Dallas PD JFK archive also includes a selection of Lee Harvey Oswald's personal possessions which were collected as evidence from his home, e.g. letters, pages from his photograph albums, the famous photos of Oswald posing with a rifle, and his copy of George Orwell's 1984 (the 1962 New American Library Signet Classics edition). You will also find mug shots and the distinctive finger print card of Jack Ruby (he lacked the top half of his left index finger), who, of course, shot Oswald.
This photographic archive allows us to explore and travel through the investigation in the weeks following the Kennedy assassination, examining all the evidence compiled by the DPD. The Portal of Texas history is a good example of how State material can be made available to the wider research community – great for historians and conspiracy theorists alike.
[J.J.]

18 February 2010
Yesterday, I did a short 'show and tell' for a visitor from Rhode Island.  This included some early Providence printing, Thomas Jefferson's inscribed copy of Notes on Virginia (which was also owned by Henry Stevens, the nineteenth century book dealer and gunpowder merchant, who bought for both the British Museum and John Carter Brown), and a collection of colonial female printers to tie in with a recent acquisition of a letterpress facsimile of the Declaration of Independence.
We also looked at some of the large collection of pamphlets dating from the American Revolution, many of which were printed in several editions - in New York, Pennsylvania, Boston, but also by sympathetic printers in Britain, such as J. Almon in London, and also in Edinburgh.
One of these particularly caught our eye.  To some extent, it may be counted as an official publication - Abstract of the Resolutions of the General Congress Assembled at Philadelphia (New York, reprinted Edinburgh 1775) [8176.a.38]. It begins thus
THE CONGRESS RESOLVES to acknowledge the King,

But not to obey him in any one thing...
We sometimes wish all government documents were as iambic and rhyming.  This, however, originated in the New York Gazette, and is a tory account of the Continental Congress in verse - or 'Dogrel Metre, for the help of weak memories' (p. 1). 
[M.S.]
20 November 2009
Despite Matthew's efforts to make our blog more cheerful, I'm afraid I'm still deep in the war zone, having just read in the Times that it's 40 years today since Ron Haeberle's  photos of the massacre at My Lai were first published in the Cleveland Plain Dealer. Published the best part of 2 years after the event, they recorded the horrific slaughter of March 16th, 1968 when 347 or 504 (depending on who you believe) Vietnamese civilians died at the hands of a U.S. infantry brigade. Today the Plain Dealer has published a rare interview with the photographer, which is well worth reading.
There's a huge amount of information on My Lai on the web, but I would pick out Seymour Hershe's original reports for the St Louis Post-Dispatch, which first exposed the massacre (and which won him a Pulitzer). And the Library of Congress has digitised the Peers Inquiry.
Also, you will find James Stuart Olson and Randy Robert's My Lai: a brief history with documents (Boston, Mass: Bedford Books, c.1998) in the BL.
[C.H.]
10 November 2009
As Remembrance Day draws near, Jerry writes...
Between 1914 and 1919, 424,000 Canadians served overseas. During that period the Canadian forces earned a reputation as the elite 'shock troops' of the British Expeditionary Forces. In part, this reputation was constructed by Sir Max Aitkin as head of the Canadian War Records Office in London and by publications pushed through the rigors of the censor (as the contents page of the December 1917 issue of the Maple Leaf magazine notes, it was "Passed by Press Bureau"  (BL Shelfmark P.P.4039.w.d.(6)).  This post looks at some of these remarkable records of that terrible conflict.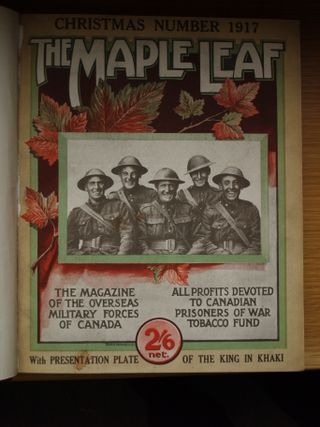 1. The Maple Leaf magazine began as a publication of the Canadian Expeditionary Force Pay and Record Office for the support of Canadian Prisoners of War, but its contents were also to appeal to the general public. It included short fictional articles, battle reports written by participants, humorous pieces and poetry. It also raised funds for the Canadian Prisoners of War Tobacco Fund, and helped in a campaign to send cigarettes to Canadian soldiers and prisoners.  Such activities were recognized by the command at an early stage as an important factor to maintain morale at the front; as the Maple Leaf claimed in 1916, "a parcel of smokes from home makes a man happy for days…"  The parcels of cigarettes also contained a postcard addressed to the sender so that the soldier might acknowledge receipt of the gift.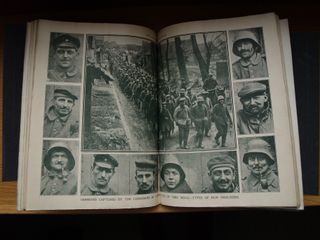 2. Although the use of photographic equipment was closely monitored at the front to prevent potentially valuable information falling into enemy hands, the Canadian War Records Office published the Canadian War Pictorial (BL Shelfmark: 9085.ff.4) until 1918, when the publication ceased. It published volumes illustrating the soldier's life on the western front with pages of photographs interspersed by short essays. The British edition sold out within a week and the Canadian edition printings could not keep up with advance orders.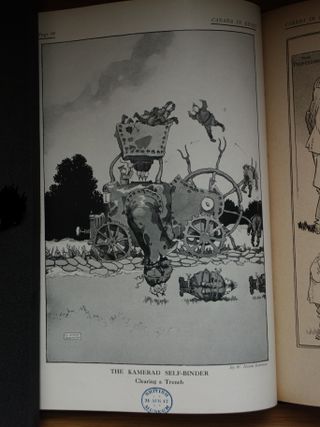 3. Canada In Khaki (BL Shelfmark: 12355.k.23) - another pictorial newspaper - was also a great success. The first volume published January 1917 sold 40,000 copies in the UK, leaving none available for the Canadian market. Canada in Khaki was made up of fictional short stories, humorous pieces, and patriotic poetry accompanied by photographs by the official photographer in both black and white and colour. It also contains cartoons from famous illustrators such as W. Heath Robinson (above).
 
These publications are not, strictly speaking, what spring to mind when one thinks of 'official publications'. However, the catalogue records all name the author as Canada: Army, Canadian Expeditionary Force. While it is quite clear that at the time these hugely popular periodicals fulfilled a propaganda role of boosting morale and maintaining the view of the war as heroic and just war in the public eye, over ninety years later we might reflect on this material from differing view points.
See also, 
Where Duty Leads: Canada in the First World War, Exhibition Catalogue by Graham Bradshaw. Thomas Fisher Rare Book Library, University of Toronto, 2008.
Tim Cook, Shock Troops Canadians Fighting the Great War 1917-1918, Viking Canada: Toronto, 2008   [BL Shelfmark: YD.2008.a.9604]  
Tim Cook, "Documenting War and Forging Reputations: Sir Max Aitkin and the Canadian War Records Office in the First Wold War", War in History 2003 10 (3) p.p.265-295 [BL Shelfmark: ZC.9.a.3892]  
[J. D. J.]   

15 October 2009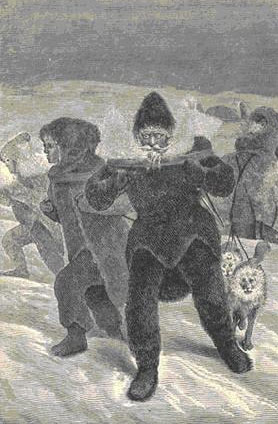 With reports on the possibility of shipping in the Arctic within a decade in mind, our Official Publications curator writes about some of his recent findings among the many government documents held by the Library:
While following up a lead on Benjamin Franklin in the digitised U.S. Congressional Serial Set,
I stumbled across a later reference to Sir John Franklin's 1845 exhibition to search for the North West Passage.  The item in question was a short Senate Report from the Committee on Military Affairs (47th Congress 1st Session  Report 655) requesting authorisation for the full payment of salary to a U.S. Army lieutenant, Fredrick Schwatka, who had taken leave to search for written evidence left behind by the ill-fated Franklin expedition.
Schwatka set off in June 1878, commanding a group of four others and accompanied by Inuit guides. Although the exhibition did not recover any written evidence left by Franklin's expedition, the Proceedings of the Royal Geographical Society described Schwatka's two year exhibition "as remarkable and in many respects his journey is without parallel [for having survived in the wilderness of the Arctic] without loss and without accident of any kind".*  Additionally, The Times applauded Schwatka for clearing the "reputation of a harmless people from undeserved reproach."
While both Franklin's and Schwatka's stories are well known (for example, James Anderson, Searching for Franklin (1999)), it is always comforting to know that the Congressional Serial Set's official record can offer up insights into events such as the search for the North West Passage.  Now back to my lead on Benjamin Franklin...
*Vol. 2, No. 11 (Nov., 1880), pp. 657-662  [BL shelfmark: Ac.6170/2]
[J. D. J.]  
Americas and Oceania Collections blog recent posts
Tweets by BL_Americas
Other British Library blogs