01 August 2015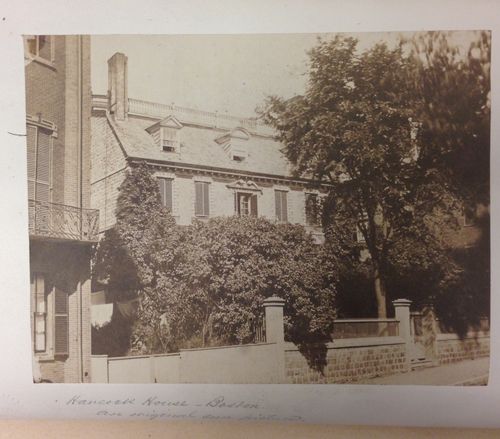 In yesterday's post on writers' libraries, I mentioned Homes of American Statesmen (1854, but printed in 1853), which is widely considered to include the first example of a type of photograph used as an illustration in an American book (i.e., a real photograph, as opposed to an engraving of a daguerreotype or similar).  Well, here it is, at shelfmark  10881.c.3. The photograph, which has clearly been hand-trimmed and pasted in, used a form of reproduction patented as Crystalotype (see the close-up, below).  Invented by the Boston photographer John Adams Whipple, Crystalotypes began as albumen prints, which were then copied onto glass via a form of crystallography.  Whipple then had what were in effect glass negatives, and which could be used to copy the image numerous times.  The publisher George Putnam took advantage of this method, and used a Whipple print in the frontispiece of Homes, giving it a unique advantage in the potentially lucrative gift-book market. 
Of the two, Homes of American Authors would be the one I'd prefer to find in my Christmas stocking.  Authors generally make better copy than statesmen, and these volumes don't buck that trend. But it's fascinating to see John Hancock's house in Boston, over 160 years later. Hancock's house, which was built in the 1730s and survived ransacking by British soldiers during the Revolution, was sold during the Civil War and demolished to public outcry in 1863.
John Adams Whipple is rightly remembered (and collected) today as the photographer of luminous images of the moon at Harvard University Observatory.  He was the first to produce an image of the star other than the sun: Vega, the brightest of the Lyra Constellation, and, in 1997, the source of Jodie Foster's alien chatter in Contact. Putnam's gift book of extraterrestrial life remains, we gather, unwritten.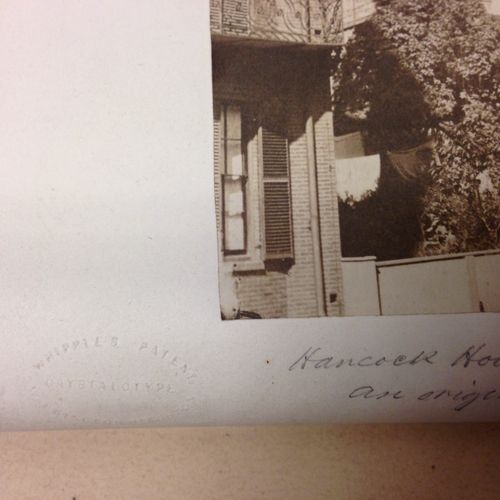 Detail of frontispiece, showing Whipple's patent.
Images: This item, Homes of American Statesmen (New York, 1854), Shelfmark 10881.c.3, is believed by the British Library to be in the public domain.
- Matthew Shaw
05 September 2014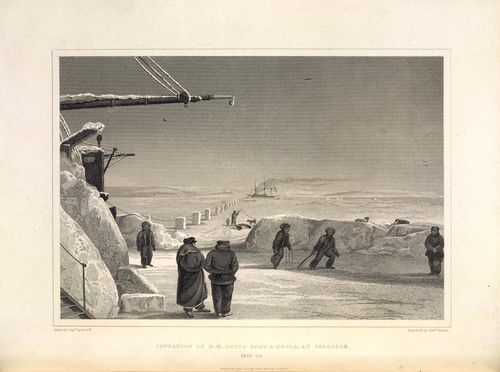 Above: HMS Fury and Hecla in winter quarters near Igloolik (1822-23). Frontispiece to vol. 1 of Parry's account, 'Journal of a second voyage for the discovery of a North-West Passage...' [BL: G.7394]

Last week two Canadian Coast Guard icebreakers reached the North Pole. In and of itself there's nothing unusual here as planes, ships and subs have been reaching the Pole for a long time now. What made the news story, though, was how the Canadian crew celebrated - with a game of hockey at the North Pole.
Interestingly, while this is a news-worthy pastime, it is not a new way of celebrating a milestone or just filling time in the High North. For many years sports have been played to celebrate reaching notable locations (when the German ship Polarstern reached the North Pole in 1991 a game of football ensued) or just to pass time while locked into the ice. Such was the case during the search for the Northwest Passage where the monotony of long periods of time spent locked into the ice were broken up with many activities, not least a bit of sport on nicer days (i.e. when not snowing, foggy, blowing a gale, etc.).
At the top of this post you can see a plate depicting a scene near Igloolik in 1822-23, where sailors pass the time standing around, hunting, working with local Inuit (right in the background) and playing a spot of cricket. We can only imagine how it must have felt, so far away from home and in such an alien environment, to break out the cricket bat and be taken back to memories of leisure time cricket on the green wickets of an English summer.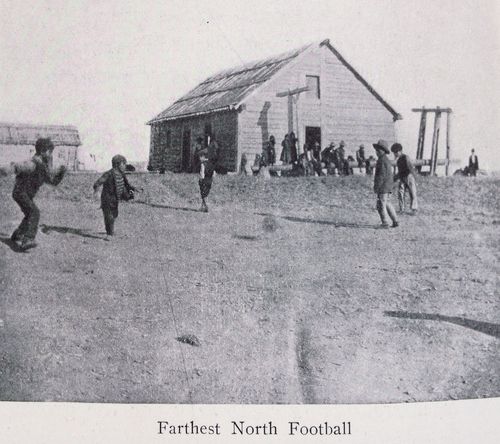 Above: Inuit children from the Arctic Red River area play football during the summer. In, 'The New North' (p.232) [BL: 010470.ee.18]
A later photograph from the travels of Agnes Cameron captures what she calls, 'Farthest North Football' and it's a reminder of how much cultural exchange was instigated by whalers, traders, prospectors and explorers making their way north in ever greater numbers. Unfortunately Cameron's work doesn't make it into 'Lines in the Ice: Seeking the Northwest Passage' but Parry and his cricket playing crew do; so for more on them, the history of cricket in the Arctic and the expedition's interactions with local Inuit make sure you come along to the exhibition once it opens on November 14th. 
Finally, it's worth noting that Santa has also (unseasonably) visited the icebreakers' crew, but that is a story for another blog post and for his (more timely) appearance in 'Lines in the Ice'.
[PJH]
03 June 2014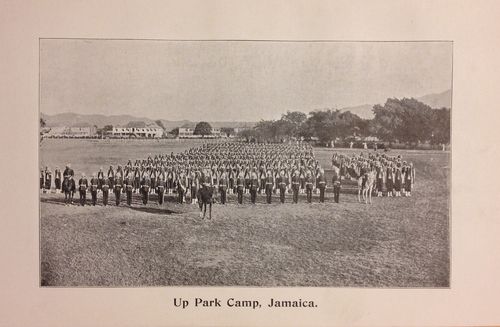 Above: 'Up Park Camp, Jamaica' from One Hundred Years' History of the 2nd Battalion, West India Regiment (Shelfmark: 8841.t.1)

These works are free of known copyright restrictions.
Starting in October 2014, Team Americas will be part of a very exciting research project led by the Department of History at the University of Warwick. 'Africa's Sons Under Arms: Race, Military Bodies and the British West India Regiments in the Atlantic World, 1795-1914' is an AHRC funded project that will be looking at many aspects of the history of the British West India Regiments.
In the short term though we wanted to draw attention to two PhD studentships being offered at the University of Warwick as part of the project. 'Fear of the Armed Black Man in the Antebellum South' and 'Picturing the West India Regiments in an Age of Unrest, Civil War and Tourism, 1850 - 1914' are both open to applications, the closing date is Friday 20th June.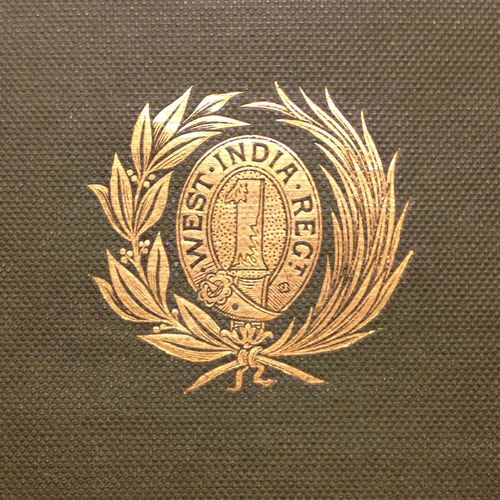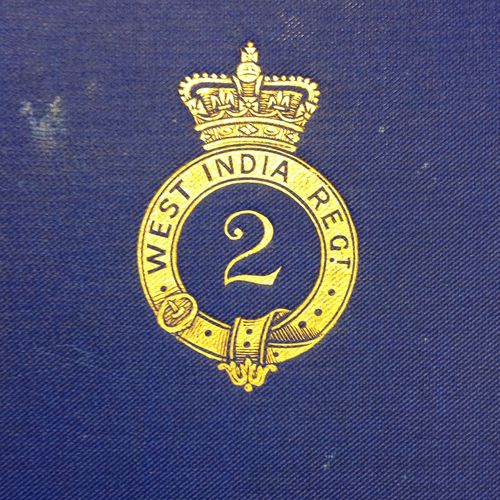 Above: WIR crests from (l), The History of the First West India Regiment (Shelfmark: 8829.cc.11) and (r), One Hundred Years' History of the 2nd Battalion, West India Regiment (Shelfmark: 8841.t.1)
Both these projects will require the use of a number of different library, archive and museum collections but the British Library's book, map, newspaper and manuscript collections provide a deep range of contextual materials for research. And, as has happened with PhD students working with Team Americas previously, there's always the chance you'll find something we didn't know about...
[PJH]
23 December 2013

A stereoscopic image of Mt. Rundle, Banff, by Byron Harmon, 1908
Just before we head off for the Christmas break, we've dug out a couple of suitable images for you from our Canadian photographs collection (aka 'a Canadian photo for every occasion'). Both are available on our Picturing Canada pages on Wikimedia Commons.

The Canadian Winter Girl, 1905. Alfred W. Bell
We wish everyone a very Merry Christmas and a Happy New Year. We'll be back in 2014!
[C.H.]
27 September 2013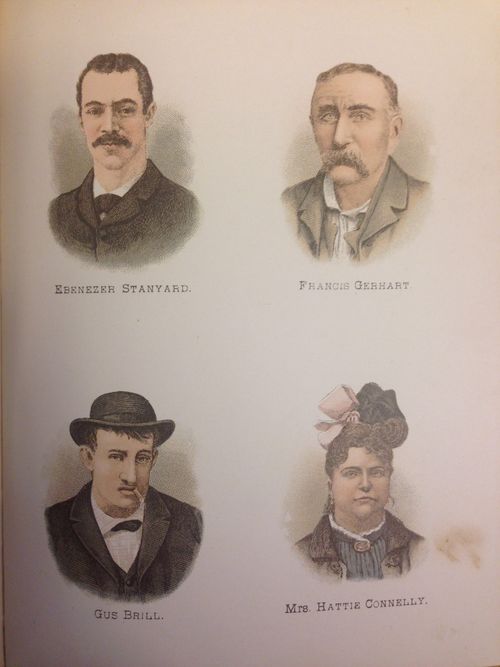 In this digital age, it is hard to escape the semiotics of the avatar; even at work we get to chose one for the staff directory or our internal social network. A recent acquisition, Defenders and Offenders (New York, 1888) offers a chance to peek at earlier versions of this artform: the mugshot.  In this title, the Defenders – the lawmen of Brooklyn and New York – are given a page of biography and a large, elegant side portrait. The Offenders are presented face on (rarely entirely flattering), and squeezed into a grid of four.  All are rendered in very compelling and understated chromolithography. We leave you, the reader, to decide which is most appropriate for us.  . 
Historians, particularly the historian of photography and science, have long paid attention to the cultural meanings of the mugshot. There is also surely something to be made of the rather mean text that accompanies each portrait: 'Mrs Hattie Connelly is an adventuress and swindler, and also known by the names of Carroll, Styles, Bruce and canal boat Hattie.  Her latest adventure was in June, 1888, when she swindled an old man of 68 years of age, in Jersey City, out of over $2,000.  Mrs. Connelly is fair, fat, and 40, and the way the old man was taken in by this clever confidence woman is something remarkable'. (There is an account of her case in The New York Times, 28 April 1888.) Law & Order: 1888, we await you. 
[MJS]
11 September 2013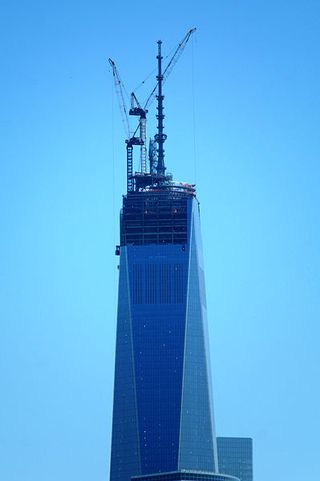 Spire installed at the top of One World Trade Center by Alec Perkins 

It hardly seems possible that it's 12 years since the horrors of 9/11. As usual, over the last week or so the TV networks have been showing numerous programmes relating to the events of that day but it's been good to also see some stories which focus on post 9/11 developments in New York. I would recommend in particular that you try to catch Belfast-born artist and film-maker Marcus Robinson's Rebuilding The World Trade Center, an artistic project "about reconstruction, ambition and humanity."
In 2006, when Ground Zero had finally been cleared and the numerous disputes around the rebuilding resolved, Robinson was given permission to document (through film, photography, drawing and painting) construction on the  World Trade Center site, which must be one of the most scrutinised building projects in the world. Through time-lapse photography (with 13 cameras taking a frame once every 30 minutes), we get to see exactly what goes in to the construction of  a skyscraper (the focus is on Tower One), as beautifully edited sequences distill over 7 years work to almost the blink of an eye. Interspersed with the time-lapse photography are numerous interviews with the army of people who are needed for such a massive building project – surveyors, site managers, engineers, construction workers and a whole host of others, many of whom wanted to be involved in the project for very personal reasons.  And although the photography is stunning, it is the construction workers and riggers who are the real stars (and heart) of this story of epic architecture and engineering (they are aptly described as a kind of Greek chorus by one reviewer). In particular, it's amazing to watch the legendary iron workers as they walk across open girders hundreds of feet in the air in the world's most dangerous circus. "I see a lot of things up there, I get chills, see shadows. I don't know if you call them ghosts or whatever, but you feel stuff. They're trying to tell you something." comments Joe "Flo" McComber, one of a long line of Mohawks who have been involved in building New York's skyscrapers since the early twentieth century.  And look out for the wonderful Chantelle Campbell, an ex-secretary but now concrete carpenter, who isn't content with doing "light work" but says "I want to be seen on the same level as the men… I don't have the type of personality where I'm going to back down. That gets me a lot of respect." And you really can't imagine anyone arguing with her.
Ending (well almost, but not quite) with a joyful party on the roof, Rebuilding the World Trade Center is an uplifting film in every sense.  The actual end and final stage of the build was in fact the incredibly complex and dangerous crowning of Tower One with a huge metal spire earlier this year. The Tower, standing at a symbolic 1,776 feet, is now the tallest building in the U.S. But it was never just going to be about building a new skyscraper - for the crew, or New York. As Marcus Robinson says, "They are healing a scar in the bedrock of the city, in its skyline, and in many ways what they are doing is part of a much greater act of rebuilding and healing."
The documentary is currently still available on the Channel 4OD website and we'll acquire a copy on dvd for the collections when it becomes available.
 [C.H.]
26 August 2013
Above: Pelorus Jack of HMS New Zealand. Looks like he loved his job. Image from Wikimedia Commons.

These works are free of known copyright restrictions.
At Team Americas we like to give opportunities to all and our canine friends might have felt they had a 'ruff' deal on World Cat Day. But do not fear, we bring you Canada's finest historical pooches for World Dog Day! Unfortunately, it seems early twentieth century Canada was less fond of dogs and so they make fewer appearances in the collection than our feline friends. That said there's not a single cat with a Union Flag in the rest of the photographs...
Above: 'Squidge', proud to sit wherever you tell him. Image from Wikimedia Commons.
Above: 'Squirrel!' Image from Wikimedia Commons.
So, with that, enjoy World Dog Day everyone - Team Americas will, it's a bank holiday over here!
[PJH]
08 August 2013
Above: some of our colleagues may bring you illuminated cats but we bring you cats and books!

These works are free of known copyright restrictions.
Those of you on Twitter will have noticed it is World Cat Day and here at Team Americas we love a bandwagon. So, here's a selection of wonderful felines from the Picturing Canada collection. Enjoy!
Above: a (rather scary) garden party
Above: Fritz, looking magnificent
Above: Topsey is curious...
Above: another set of bookish kittens to round us off
All images are from the Picturing Canada collection on Wikimedia Commons. You can read more about the collection over at Public Domain Review.
[PJH]
Americas and Oceania Collections blog recent posts
Tweets by BL_Americas
Other British Library blogs