13 August 2020
Following on from part one of our Mrs. America-themed blog, we continue to look at the themes and characters featured in the FX mini-series and how they are represented in British Library collections.
The show depicts the parallel efforts between the feminists rallying to ratify the Equal Rights Amendment in America during the 1970s, and conservative activist Phyllis Schlafly who leads the fight against the Amendment's passing. While Library collections have limited accessibility at the moment, we hope this blog serves has a welcome reminder of the items available for Readers' research, inspiration and enjoyment as and when holdings can be made fully available again.

Please note that images in this article have been retrieved from online sources as I have been unable to access and photograph Library collections. Therefore there may be some discrepancy in what the Library's holdings look like in comparison to the items pictured in this blog.
Betty Friedan 
The name Betty Friedan and her 1963 manifesto, The Feminine Mystique, may be the most well-known of the characters and works featured in Mrs. America. Friedan was the first president of the National Organization for women and co-founded the National Women's Political Caucus with Bella Abzug and Gloria Steinem.

The Feminine Mystique is widely credited with sparking the second-wave feminism movement that arose in America during the 1960s and 70s. It was whilst having conversations with former members of her Smith College contingent that Friedan realised the level of disillusionment and satisfaction amongst both herself and her former classmates; her research on these suburban housewives led to her coining the term the 'feminine mystique' and to the eventual publication of the text. Her description of 'the problem that has no name' – that is, the systematic, underlying beliefs and institutions that led to women's disempowerment and kept them in the home – spoke to the women readers who had, for so long, struggled to articulate the feelings of disenchantment they experienced while quietly occupying their life as mother, wife and homemaker. Inspired by the feeling of possibility invoked by Friedan, women were empowered to see how it wasn't too late to reclaim their lives.

The Feminine Mystique was first published on 19 February 1963 by the New York-based W. W. Norton and Co. It would quickly become a bestseller, with over one million copies of the paperback being purchased in its first run. The British Library holds a version of the book published later on in 1963 in London by Victor Gollancz (shelfmark: 8418.m.8.), a British publisher and humanitarian known as a supporter of left-wing causes.
In Mrs. America, the relationship between Gloria Steinem and Betty Friedan is an interesting one to observe; the two trailblazers association has been documented as acrimonious, with Friedan stating in a 1972 speech about Steinem that 'the media tried to make her a celebrity, but no one should mistake her for a leader.' This is represented in the TV show, with various comments being flung between the two, although a touching moment occurs between them after Friedan is antagonised by Schlafly during a heated televised debate. Friedan is left publically humiliated having let her emotions seemingly get the better of her on screen, frustratingly, if only momentarily, damaging her professionalism and proficient demeanour in the public eye. Steinem stands in solidarity with Friedan, despite their disagreements, telling her "I have been thinking about the first time I read The Feminine Mystique. 'Why should women accept this picture of a half-life, instead of share in the whole of human destiny?' I don't know if I ever told you. Your book changed my life. Thank you."
Phyllis Schlafly
Writer and political activist Phyllis Schlafly is at the heart of Mrs. America. Leading the opposing argument to the ratification of the Equal Rights Amendment, she rallies women across America to join her in the fight against the women's rights movement – representing conservative and traditional family values. The small-screen retelling of Schlafly's 1960s-70s activities reference her 1952 campaign for the US House of Representatives. Having established her strongly anti-Communist stance and political positioning, Schlafly is frequently pictured as the only women in a room of suited and booted white men in the scenes that take place in Washington. Mrs. America traces Schlafly's actions as she turns her attention to the ERA and women's issues.

The Phyllis Schlafly Newsletter was her monthly bulletin used to gather fellow women supporters and inform them of political issues. When the ERA was passed by Congress in 1972, Schlafly used her newsletter to publicly oppose the amendment, fearful that its ratification would undermine traditional US values and among other concerns, lead to women ('your daughters' as she emotively refers to them) being drafted into the army. Mrs. America depicts Cate Blanchett as Schlafly, dedicatedly and single-handedly authoring, typing and mailing out copies from her home, taking on the role of both 'boss' and assistant. With momentum for her argument gathered, she and her supporters established the Stop ERA lobbying group with factions spread out across the country. And so the plot of Mrs. America unfolds…

Schlafly was a well-organised, powerful and eloquent public speaker, particularly on anti-feminist topics. While this divided audiences (Schlafly infamously received a pie to the face from one of her many opposers), she articulated her position in the 1977 book The Power of the Positive Woman. In it, we are introduced to characters like the White Knight, the Black Demon, and, The Positive Woman. Schlafly attacks what she believes are the false promises of the women's movements and argues that any further equality for women i.e. the passing of the ERA, would hinder the fabric of American society. The New York Times has an interesting 1977 review on what they call this 'strange little book'. Strange as it may be, its sentiment was enough to galvanise the support of housewives up and down America, so much so that the ERA eventually failed to be ratified by the required majority of states. The British Library holds a c.1977 copy of the book published by Arlington House in New York (shelfmark: 78/2650). 
Perhaps to show that even her campaigning should never take precedence over role as a housewife, dinner for her family, including six children, was always on the table at 6 o'clock each evening, a point made in Mrs. America. After receiving her phone call of rejection from Ronald Reagan in 1980 (after aiding Reagan in the elections, Schlafly had her sights set on a Cabinet position), she puts down the receiver and affirms to her husband: 'dinner is always at 6'. Impeded on the way to achieve her political ambition once again, she moves from her desk to the kitchen table to peel apples. A melancholy juxtaposition of a closing scene – a woman driven by political fervour resuming her place as homemaker, just as her campaign would have wanted…
Gloria Steinem
Gloria Steinem, writer, lecturer, political activist, and feminist organiser, is another key player in Mrs. America. Steinem became a pivotal spokeswoman for the American feminist movement in the late 1960s and early 1970s, speaking out for the empowerment of women on topics such as abortion (Steinem was a fervent pro-choice advocate) as well as on issues including children's education where she sought to break down barriers based on sex and race. As this National Geographic article expresses, Steinem's concerns were global, 'she understood…race, class, and caste'.

Steinem co-founded Ms. magazine in 1972 and helped found both the Women's Action Alliance and the National Women's Political Caucus, the latter being 'a group that continues to work to advance the numbers of pro-equality women in elected and appointed office at a national and state level'. Steinem gained attention for her journalism when she published the two-part feature entitled 'A Bunny's Tale' in Show magazine in 1963. In it, Steinem tells of how she was hired as a Bunny Girl and details the conditions in which she, and the other Bunnies, were made to work, including the sexual demands made on them. This 2013 Guardian article explored 'A Bunny's Tale' and its contemporary relevance when the feature turned 50 years old.

The British Library holds a number of copies of Ms. magazine, from 1987 onwards when the magazine switched from monthly to quarterly (shelfmark: ZA.9.a.6674). Ms. was founded by Steinem and Dorothy Pitman Hughes, the African American human rights activist, feminist, and child-care advocate. The Spring '72 issue, featuring a depiction of a version of the Hindu goddess, Kali, using her eight arms to tackle house-wifely duties including cooking, ironing and cleaning, is featured in Mrs. America. It also included the article 'Women Tell The Truth About Their Abortions'. In one touching scene, a reader stops Steinem in the street and thanks her for publishing the piece; illustrating how this taboo subject was one that many women felt isolated in experiencing and being able to talk about.
Ms. was a departure from many magazines published at the time that were marketed to women in a bid to help them find a husband, raise children, or wear the right make-up, it "helped to shape contemporary feminism, with…editors and authors translating 'a movement into a magazine.'"

In a topical twist of fate, when searching editions online, it would seem that the earliest British Library holdings of Ms., from September 1987, feature Tracey Ullman on the front cover – Ullman plays the role of Betty Friedan in Mrs. America.
A woman with clear journalistic proficiency and activist vehemence, Mrs. America also touches on the media attention that Steinem's appearance gained her: 'the real Steinem has expressed exasperation with the way media coverage centered [sic] on her looks and style.' A frustrating and ironic state of affairs considering the exact points Steinem and her fellow activists were making in their campaigns. This LA Times article examines this point in more detail, and how accurate Mrs. America's' portrayal of Gloria Steinem is (or isn't). Steinem was not involved in the portrayal of herself in the FX series and discusses what Mrs. America gets 'hopelessly wrong' in this article. In particular, Steinem notes: 'I'm very disturbed that people may look at Mrs. America and feel that women are our own worst enemies. Because even when we disagree, we don't have the power to be our own worst enemies.'

Works by Bella Abzug and Shirley Chisholm can be seen in part one of this blog pairing. And don't forget that Unfinished Business: The Fight for Women's Rights, the next major British Library exhibition, while on hold for now, will be opening later in 2020.
Further reading in the Library collections which speak to the subjects/characters in Mrs. America
Abortion Rap by Diane Schulder and Florynce Kennedy (New York: McGraw-Hill, 1971). Shelfmark: A71/979

A Feminist in the White House: Midge Costanza, the Carter Years, and America's Culture Wars by Doreen J. Mattingly (Oxford; New York, NY: Oxford University Press, 2016). Shelfmark: YC.2016.a.8330

My Own Words by Ruth Bader Ginsburg with Mary Hartnett and Wendy W. Williams (New York: Simon & Schuster Paperbacks, 2018). Shelfmark: YK.2019.a.2799
Available as an online resource
National Organization for Women (Washington, D.C.: Federal Bureau of Investigation, 2003)
Journal and journal articles
'Puerto Rican Women and Work: Bridges in Transnational Labor' by Carmen Delgado Votaw, found in Inter-American review of bibliography. Vol 47; Number 1/4,; 1997, 234-235. Shelfmark: 4531.894000

Women's Rights Law Reporter (Newark, N.J.: Women's Rights Law Reporter, 1971). Shelfmark: 9343.450000
[Blog by RSC]
11 August 2020
One of the programmes I've managed to binge-watch my way through during the past few weeks is Mrs. America: an FX mini-series (currently available on BBC iPlayer) with a blockbuster feel starring Uzo Aduba, Elizabeth Banks, Cate Blanchett and Rose Byrne, to name a few.
The show depicts the battle between the feminists rallying to ratify the Equal Rights Amendment in America during the 1970s, and conservative activist Phyllis Schlafly who leads the fight against the Amendment's passing. This two-part blog looks at some of the characters from the programme and the items they authored which are available in the British Library collections.
The airing of Mrs. America comes at a very timely point for Library colleagues – many of whom have been working tirelessly for months and years before lockdown, and continue to do so, on our next major exhibition Unfinished Business: The Fight for Women's Rights. The exhibition was due to open in April 2020 but is currently on hold until later in the year. From bodily autonomy and the right to education, to self-expression and protest, the exhibition will examine how feminist activism in the UK has its roots in the complex history of women's rights. A number of Mrs. America's themes and conversations speak to those explored in the exhibition. The closing notes of the series bring the conversation to present-day America (Virginia ratified the ERA as recently as January 2020) implying, in the same way as the Library exhibition's name affirms, that these debates are ongoing and far from settled: the fight for women's rights is indeed unfinished business.
The nine-part series focuses each episode on key players in the US second-wave feminism movement , and the battles that were waged by the movements' opposing parties. Tackling issues such as reproductive rights, equal pay and girls' education, 'the fight to ratify the Equal Rights Amendment (ERA) in the United States was one of the most conflict laden.'

Some of the show's characters I was familiar with, but many names were new to me and I wanted to find out more. Watchers of the programme will know that there are numerous pieces of literature referenced or mentioned throughout. Of course, many of us aren't in the British Library building at the moment and seeing these foundational pieces of text on screen, or even mentioned, made me miss the office – and the collections – even more. Resources that would normally be at one's fingertips are now slightly harder to reach. Despite the exercising of patience needed when it comes to accessing collection items at the moment, I wanted to have a root around the catalogue to see what holdings there might be that complement the stories of the main protagonists during this unforgettable moment in US history.

The following discoveries served as a wonderful and relevant reminder to me, as I hope they will for you, of what influential items the Library holds and that will available to easily consult for one's research, inspiration or enjoyment, once a more recognisable version of reality greets us once again.

Please note that images in this article have been retrieved from online sources as I have been unable to access and photograph Library collections. Therefore there may be some discrepancy in what the Library's holdings look like in comparison to the items pictured in this blog.
Bella Abzug
'This woman's place is in the House—the House of Representatives.' Bella Abzug's bold 1971 campaign slogan declared that she was a force to be reckoned with. U.S. Representative, attorney, peace activist and gay-rights supporter, Abzug helped to advance the role of women in US politics. In 1961, Abzug co-founded the women's peace activist group, Women Strike for Peace, and during the 60s and 70s she was active in the peace movement, vehemently against the testing of nuclear weapons. Her fighting spirit and passion earnt her the nickname Battling Bella. Abzug was an early supporter of the National Organization for Women (NOW) and remained active in feminist issues until her death in 1998.
The Library holds a first edition of Bella! Ms. Abzug goes to Washington (shelfmark: 72/4051X) written by Abzug and edited by Mel Ziegler. The title was published in 1972 by Saturday Review Press – the publishing company branch of Saturday Review, which was, in contrast to this book's subject, an American weekly men's lifestyle and health magazine, established in 1924. As the name implies, the book traces New York-born Bella Abzug's journey to politics. The dust jacket shows her signature hat-wearing appearance in silhouette form, with her charismatic grin on the back cover – something Margo Martindale portrays brilliantly, along with Abzug's 'pugnacious wit', in Mrs. America.
Episode 7 focuses on Abzug as she is tasked with organising the National Women's Conference in Houston following her failed run for Senate in 1977. Abzug would later be dismissed by President Carter as co‐chairman of his National Advisory Committee on Women after a heated discussion on women's issues at the White House. In the TV show, members of Abzug's committee resign in solidarity with Bella; making for a powerful and pertinent scene (and one of my favourites). Did this really happen? This article examines the fact vs fiction in Mrs. America and the reality behind this particularly event, one which Gloria Steinem referred to as 'the Friday afternoon massacre.'
Shirley Chisholm
The first Black woman elected to the United States Congress in 1968, Shirley Chisholm represented New York's 12th congressional district for seven terms from 1969 to 1983. Chisholm was also the first woman and African American to seek the nomination for president of the United States from one of the two major political parties. 'Unbossed and unbought' was her motto, showing her outspoken advocacy for both women and minority groups. In this Washington Post article, Vanessa Williams explores how Chisholm "described herself as 'the people's politician,' fighting for higher wages for working people and more money for public education and demanding respect for black Americans and women."

The Library holds a first edition of Chisholm's 1970 autobiography, which took its name from her slogan: Unbought and Unbossed (Boston: Houghton Mifflin, 1970, shelfmark: W44/9078). In the book, Chisholm writes about her life, growing up as a young girl in Brooklyn, through her journey into politics, and her experiences of the American political system. It examines her long political struggle and the problems which plagued the American system of government.
Episode 3 of Mrs. America focuses on Chisholm as the congresswoman and presidential candidate vows to stay in the race for nomination come the 1972 Democratic National Convention. She is a recurring character and steadfast force, and through her story the series 'points out how the obstacles Chisholm face[d] as a liberal black woman differ[ed] from those facing the white co-founders of the National Women's Political Caucus.' This recent Washington Post article includes a fascinating interview with Uzo Aduba, who plays the iconic role of Chisholm.

The next Mrs. America blog instalment will feature works by Betty Friedan, Phyllis Schlafly and Gloria Steinem.
[Blog by RSC]
04 August 2020
This post by Carmen Logie is part of a special Summer Scholars blog series highlighting the recent research Eccles Centre awards have supported across Caribbean, Canadian and US  collections.
My work in the field of HIV began in the early 1990s, before we had effective anti-retroviral therapy.  I had just moved from small town Ontario, to a big Canadian city - Toronto.  It was the first semester in my undergraduate degree when a fellow student asked me if I wanted to volunteer with her on what was then called the 'AIDS' floor of a local hospital.  Always interested in learning about something new, I agreed.  Little did I know that would change the course of my life.  The floor was sectioned off for only people with HIV, and by the time people reached the stage of being hospitalized, for many they were in the last stages of life.  As a volunteer my job was anything that the patient wanted—to run and grab a newspaper, to escort them to the smoking area (when there was such a thing), or to help the nurses feed someone.  Sometimes I would just sit and hold someone's hand.  Myself and other volunteers were often the only visitors some patients had, having been abandoned by their friends and family due to HIV-related stigma alongside with homophobia, as many at the time (as today) living with HIV in Canada were gay and bisexual men.  Knowing that people were sick and alone due to stigma sparked my passion on stigma in the field of HIV and sexual health.
Fast forward 26 years and it is my first week at the British Library for my Eccles Fellowship in March 2020.  A new virus—COVID-19—had recently emerged and was stirring global fear and panic.  A few weeks prior to arriving in London I had conducted a media interview on stigma directed toward persons of Asian descent in Toronto, Canada related to COVID-19. I reflected on the roots of this stigma, and its parallels to HIV-related stigma.  While at the British Library I was inspired to re-read books on HIV-related stigma from the beginning of the epidemic.  Classics like Susan Sontag's AIDS and Its Metaphors led me back to her earlier work, Illness as Metaphor.1 I also revisited D. Crimp's AIDS: Cultural Analysis/Cultural Activism.2
Reading these pieces from early in the AIDS pandemic was striking.  I was inspired to write two commentaries on parallels between HIV-related stigma and COVID-19 stigma.  Sontag had warned about using military metaphors to describe the HIV and AIDS pandemic decades ago: "We are not being invaded.  The body is not a battlefield.  The ill are neither unavoidable casualties nor the enemy.  We—medicine, society—are not authorized to fight back by any means whatever."3  Yet the panic and fear regarding COVID-19 was palpable.  While this fear was understandable, the use of military metaphors in framing COVID-19 exacerbated the xenophobic responses, including hate crimes, toward persons of Asian descent in Canada and other global contexts.  Othering—distinguishing oneself as 'normal' in comparison with the 'abnormal' other—has been a central part of understanding and approaching illness throughout history.  Crimp reminds us from his discussion of the framing of HIV in the early days as impacting the '4-H's' (Haitians, haemophiliacs, heroin users, 'homosexuals') that illnesses are often blamed on the racial, foreign or otherwise 'immoral' other.  Although COVID-19 was named to avoid association with a place of origin, even in July 2020 world leaders continue to refer to it as the 'China virus'.  People who are not following public health measures have been labelled 'super spreaders' and even 'intentional murderers'.  This blaming of individuals leaves the larger social and structural factors contributing to COVID-19 vulnerabilities—including racism, poverty and insufficient access to PPE—unaddressed.
Yet reading Sontag's and Crimp's work more than 30 years after it was written also provides me with hope.  They both underscore the solution to stigmatizing and blaming groups of people for illnesses lies in strengthening communities.  We need to remind one another of our shared humanity in order to build solidarity and caring networks that support one another to engage in COVID-19 preventive practices and care for one another when we are sick.  These networks have already been formed; for instance, across the globe people are sewing hand-made masks to share with others, and some are shopping and checking in on the wellbeing of the elderly.  Sontag powerfully reminds us that we are unified in our vulnerability to acquiring illness:
"Illness is the night-side of life, a more onerous citizenship.  Everyone who is born holds dual citizenship, in the kingdom of the well and in the kingdom of the sick.  Although we all prefer to use only the good passport, sooner or later each of us is obliged, at least for a spell, to identify ourselves as citizens of that other place." (Sontag, 1978, p. 3).
I disappointingly had to leave my Eccles Fellowship early, after the Prime Minister in Canada requested Canadians return home as the border was closing.  Being at the British Library when this pandemic was spreading inspired me to go back to the books on early HIV and AIDS activism, to reach back in history and learn from the way we stigmatize new infections—and from the way we can challenge this stigma and build stronger communities.  My research has now expanded to understanding and tackling COVID-19 stigma across the globe, hoping we can learn from the past to dig out the root causes of stigma and plant seeds of solidarity and care.
Carmen Logie, Eccles Centre Visiting Fellow 2019, is Associate Professor, Factor-Inwentash Faculty of Social Work, University of Toronto, Toronto, Canada.
For further discussions of stigma, listen to Carmen's podcast series, 'Everybody Hates Me: Let's Talk About Stigma'. This podcast invites a range of weekly guests to talk about all different kinds of stigma. Why does it matter? What does it look like? What can we do about it? https://www.buzzsprout.com/1024792
References:
1.  Susan Sontag, AIDS and its metaphors. New York: Farrar, Straus and Giroux; 1989. General Reference Collection: YK.1993.a.100;  Susan Sontag, Illness as Metaphor. New York: Farrar, Straus and Giroux; 1978. General Reference Collection: X.329/11987.
2.  D. Crimp,  AIDS: cultural analysis/cultural activism. Cambridge, MA: MIT Press; 1987. p. 3–16.  General Reference Collection: YC.1992.b.5679.
3.  Sontag, 1989. p. 180.
Articles supported by this Eccles Fellowship:
C. Logie, 'Lessons learned from HIV can inform our approach to COVID-19 stigma.'  Journal of the International AIDS Society. 2020, 23:e25504
C. Logie and J. Turan, 'How do we balance tensions between COVID-19 public health responses and stigma mitigation? Learning from HIV research.'  AIDS & Behavior. 2020, 24: 2003-3006.
05 February 2020
Nearly forty years ago, on 13 June 1980, Guyanese historian, political activist and academic Walter Rodney was assassinated.  Family, friends and fans across the world mourned the loss of Rodney.  This grief expressed itself privately and publicly – through poetry, letters and protest.  Traces can be found in the British Library, particularly in the archive of Andrew Salkey.  P.D. Sharma – a Guyanese comrade – wrote to Salkey shortly after hearing the news.  He wrote of being 'paralyzed with grief, shock and disbelief' as expressed in the poem below; such moving remembrances of Rodney's continue to this day: 
WALTER RODNEY IS DEAD (13th June 1980)
Weep people, cry Jesus
And drown the earth above us
Flood the oceans
Liquidify the mountains
Sink heaven.
The Eastern star is blown
No more the fairest of twinkles
Done the kingdom and the king.
Now the sun will never catch the night
The falcon god soars
And shadows we be
Our world is out.
How infinite was so brief
Too much and only but few
Except that grey men
With infants on their laps
Shall tell to eternity
Of the light that once,
Breathless and bedamned
Questioning the open
But if, what might …
(Letter from P.D. Sharma (LA) to Salkey (Massachusetts), June 1980, Walter Rodney File, Box 21, Andrew Salkey collection, The British Library)
Walter Rodney's intellectual energy, praxis and commitment lives on.  It lives on through Black liberation struggles across the world and the action and commitment of the Friends of the Huntley Archives at LMA  (FHALMA). Housed at the London Metropolitan Archives (LMA), the Huntley Archives is made up of Jessica and Eric Huntley's documents, photographs and recordings.  It also holds the files of Bogle-L'Ouverture Publications (one of Britain's earliest black publishing houses) that they collectively founded in 1968, following the banning of Walter Rodney from Jamaica.   
On Saturday 22 February, the 15th Annual Huntley Conference: Rodney's Enduring Legacy will offer a space for activists, scholars, students and families to engage with this legacy through a day of discussion, film, lectures and archive tours.  Supported by the Eccles Centre for American Studies at the British Library, the LMA and the Museum of London, it brings together some of London's key cultural heritage institutions.  It also builds on an ongoing collaboration between the British Library, LMA and FHALMA as part of the mass sound digitisation project Unlocking Our Sound Heritage.
Volunteering for FHALMA and helping to organise this conference has offered a brilliant opportunity to extend my Collaborative Doctoral Partnership beyond the British Library and UCL by connecting with archives and community groups across London.  Related to ongoing research on Caribbean publishing as activism, the conference provides an important space to discuss the history and legacy of Caribbean intellectual thought.
Notably, the conference will include roundtable sessions called 'Groundings' which are modelled on and inspired by Rodney's practice of talking plainly about human rights, identity and Black history directly with grassroots communities.  These intergenerational conversations will explore themes of Black liberation, solidarity and class, whilst considering the role of youth, academics, communities and creative producers within historic and contemporary struggles.
Professor Patricia Daley's keynote, 'Walter Rodney: The Black Academic and the Importance of the Study of Africa for Global Black Emancipation', will reflect on Rodney's impressive contribution to radical scholarship on Africa and consider his understanding of 'groundings' as a form of academic and political practice, central to black emancipation globally.
Walter Rodney continues to challenge us through our archives.  You can find Rodney in the British Library's Andrew Salkey collection, from recordings of memorial lectures to Bogle-L'Ouverture book launches.  Rodney also speaks to us through his many texts - published both when he was alive and posthumously - including: The Groundings with My Brothers (1969), A History of the Upper Guinea Coast, 1545-1800 (1970), How Europe Underdeveloped Africa (1972) and Walter Rodney Speaks: the making of an African Intellectual (1990).
Suggested further reading/listening:
Bogle book launch (1985), Andrew Salkey collection, C1839/62.
Rupert Lewis, Walter Rodney: 1968 Revisited.  Barbados: Canoe Press, UWI, 1998. (British Library shelfmark: YC.2005.a.8199).
Rupert Lewis, Walter Rodney's Intellectual and Political Thought. Mona: University of the West Indies, 1998. (British Library shelfmark: Document Supply 99/13124). 
Manning Marable lecture (1987), Andrew Salkey Collection, C1839/45.
Colin Prescod, 'Guyana's socialism: an interview with Walter Rodney', Race & Class, 18 (1976), 109- 128. (British Library shelfmark: Ac.6236.a). 
Kate Quinn (eds.), Black Power in the Caribbean. Gainesville: University Press of Florida, 2014.  (British Library shelfmark: YC.2014.a.16051) 
Works by Walter Rodney:
The Groundings with My Brothers. London: Bogle-L'Ouverture Publications, 1970. (British Library shelfmark: X.709/10382) 
A History of the Upper Guinea Coast, 1545-1800. Oxford: Clarendon Press, 1970. (British Library shelfmark: Document Supply 72/14824)
How Europe Underdeveloped Africa. London: Bogle-L'Ouverture Publications, 1976. (British Library shelfmark: Document Supply 82/24897) 
Walter Rodney Speaks: The Making of an African Intellectual. Trenton, NJ: African World Press, 1990. (British Library shelfmark: YA.1992.a.9118) 
Naomi Oppenheim

is an AHRC Collaborative Doctoral Student, British Library and UCL researching Caribbean print cultures and the politics of history in post-war Britain. Follow her on Twitter @naomioppenheim

 
17 October 2019
October is Black History Month in the UK and has been celebrated here for nearly 40 years. The month marks an annual commemoration of the history, achievements and contributions of black people in the UK. Originally founded to recognise the contributions made by people of Caribbean and African backgrounds, the focus of Black History Month has now expanded to include the history of African, Asian and Caribbean peoples and the importance of their contributions to the culture of the UK.
To mark Black History Month, we have selected a few items from our collections which highlight significant moments in black history around the world. The British Library will also be hosting Caribbean Fest events on Saturday October 19th 2019 including poetry, food and performance.
Ottavia Salvador, Fabrizio Denunzio, Morti senza sepoltura. Tra processi migratori e narrativa neocloniale (Ombre corte, 2019) YF.2019.a.14806
Chosen by Valentina Mirabella, Curator Romance Collections (Italian)
Migrations in the Mediterranean are the subject of a lot of Italian books at the moment. I chose this title because the authors don't shy away from holding neo-colonialism responsible for the immigration process. The title 'Dead without Burial' evokes the horror of dying in a foreign country, in exile, often without a grave with a name on. Like French sociologist Abdelmalek Sayad (more from him, also in English in our collections) says in the essay in the appendix, the way a country treats a foreigner who dies on its soil says a lot.
John Michael Vlach, Back of the Big House: The Architecture of Plantation Slavery (Chapel Hill and London: The University of North Carolina Press, 1993). q93/15775
Chosen by Cara, Deputy Head, Eccles Centre for American Studies at the British Library
This book made a deep impression on me when I first came across it as part of an MA course on the built environment in America.  I was impressed by how thoroughly Vlach managed to bring the lived experiences of the enslaved into sharp focus through the architectural landscapes they had inhabited.  As he says himself in his Preface his "main objectives here are first to describe, in broad terms, the architectural settings of plantation slavery and then to suggest some of the ways in which black people may have transformed those architectural settings into places that best served their social needs" (p.x).  The major source for the visual material in the book is the Historic American Buildings Survey (HABS).  Originally founded in 1933, it still operates as a division of the National Parks Service.  During the 1930s and later, HABS teams documented large numbers of slave buildings and associated spaces and Vlach uses these photographs and plans to great effect in his book.  These are then complemented by another Depression-era source, the oral histories of formerly enslaved people conducted by interviewers for the Federal Writer's Project.  As Vlach explains "My description of the architecture of slavery thus meshes information from two archival projects that have been separated for more than half a century" (p.xiii).  I found this mixture of first-person accounts, as well as other archival evidence (business records, personal letters etc), with the structures that had shaped people's everyday lives to be incredibly evocative.  I came away from the book with a deeper understanding of the importance of vernacular spaces to historical enquiry, as well as more especially a better understanding of the way the built environment shaped, and was shaped by, the lives of enslaved African-Americans and their white overseers and owners.  I've found myself thinking about this book often over the years, especially as discussions around how to more fully represent the experiences of enslaved people have come to the forefront in heritage and tourism contexts (for example, the incorporation of slave buildings and stories into the interpretation offered to visitors at plantation sites in the US, most notably at Thomas Jefferson's Monticello home).
For more information on Federal Writer's Project holdings at the British Library, including the accounts of former slaves, see the guide prepared by my Eccles Centre colleague, Jean Petrovic.
The Color Purple by Alice Walker (Boston, Mass: G.K. Hall, 1986), Nov.1987/702
Chosen by Rachael (Curator, American Printed Collections Post 1850)
I was introduced to the The Color Purple while in my first year as an undergraduate at the University of Nottingham. It was like nothing I'd read before, in both voice and content. I'd never encountered a character like Cecile, nor the abuse she endures in a novel, and I remember being interested in the contrasting ways the various females in the book are portrayed. Told in an epistolary format as Cecile writes to God, she tells of the horrors she suffers at the hands of her father and later her husband, and the life that eventually leads her to Shug – a woman who opens her eyes to a different way of living. The Color Purple won the Pulitzer Prize in 1983 and frequently features on lists of banned or contested books (see more of these on our Banned Books Week blog).
Land Rights Before Games poster (Brisbane, Australia: 1982) shelfmark

HS.74/2436



Chosen by Lucy (Curator, Oceania Published Collections Post-1850)
This poster represents a key piece of 20th century campaign material in Australian history. The 1982 Commonwealth Games in Brisbane were the focus of a series of protests from Indigenous Australians who aimed to bring the issue of land rights to the international stage. The campaign called for rights over indigenous lands in Queensland and control over mining in those areas. The Queensland premier at the time, Joh Bjelke-Peterson, declared a state of emergency and banned street marches during the games. Yet around 2000 people still took to the streets of Brisbane on 26th September in support of the campaign and in protest of the continuing oppression of Indigenous Australians. Further sit-ins and marches were held throughout the games with hundreds of arrests made by police. The protests gained international attention and remain a significant moment in the indigenous civil rights movement in Australia. In 2012, the State Library of Queensland held an exhibition called 'State of Emergency' to mark the 30th anniversary of the protests.
12 August 2019
While many may be captivated by the US political scene today (and its constant evolution), I recently lost myself in over 60 years of American electoral history while working on a new donation to the Library.
Philip J Davies (Professor Emeritus of American Studies, De Montfort University and Former Director for the Eccles Centre for American Studies here at the British Library) has donated a rich collection of material which can now be viewed in our Reading Rooms. Featuring promotional political material for US presidential election campaigns from 1952 to 2018, the collection is an invaluable new resource for researchers. With material right up to the Obama, Clinton and Trump eras, it's sure to provide an interesting and intriguing picture of the current political landscape for years to come.
On donating the collection Philip said: 'It is a pleasure to see this small collection reach the British Library.  When I started teaching US politics at Manchester University in the 1970s only a few students had been able to visit the USA.  I found that using a few real campaign items helped our discussions and gave more tangibility to the subject.  I hope that the materials give some sense of the three-dimensional, ground-level reality of US presidential campaigns at a time when we have grown used to experiencing them on the TV and through computer screens.'
There are over 100 items available to explore from a giant Obama inauguration placard and video content encouraging young people to vote (featuring the likes of John Legend) to through-the-door propaganda collected from a number of US states. Sifting through this vast collection it's amazing to see how the promotion and slamming of electoral candidates has changed over decades and into new millennia – while in some ways not changed at all.
A handful of the topics covered amongst the plethora of material are gun crime, same-sex marriage, war veteran care and climate change. While just some items researchers may find of particular interest include a nomination petition form for Dwight D. Eisenhower from 1952, a 1988 Jesse Jackson poster (pictured above), a 1980 Reagan Campaign Leadership Manual including volunteer phone script (pictured below), and an (unused) official invitation to the inauguration of President Donald Trump.
Too many to name individually, but on examining this treasure trove of historical and political paraphernalia I was particularly struck by a few items:
The power of Lenora Fulani
As part of the New Alliance Party in the 1988 presidential elections Fulani was the first woman and the first African American to achieve ballot access in the fifty states. The archive contains Membership cards for the Party, a pamphlet for the campaigning committee for fair elections, and leaflets on The Black Agenda and Independent Politics.
Political lampooning
This placard designed for front yard display reads 'Ovide End Public Kindergarten'. You might think this is a rather negative promotion of one's policies. And you'd be right. Ovide Lamontagne was a Republican candidate for Governor in New Hampshire in 2012. This poster was produced by the Democrats in Ovide's style to lampoon his politics (by their interpretation). Ovide lost the vote.
Make your own… Obama paper doll
Who says American politics is no place for fun and games? Marking the moment in history when Barack Obama won the 2008 election this collectable booklet lets you dress the President, the First Lady and their two daughters in an array of outfits worn throughout the campaign. My personal favourite: Barack in his best basketball gear.
The Philip Davies Collection of US election archive material (Add MS 89357) is now available to view in Reading Rooms at St Pancras and Boston Spa. Find out more by searching for '89357' in our Archives and Manuscripts catalogue. If you use any of the items for your research, we'd love to hear about it. Let us know using @BL_Americas.
[RSW] (resisting the temptation to actually dress the Obama paper dolls)
23 May 2018
After reading Luke Pearson's blog post on Indigenous X about Indigenous Australian characters in comic books, I decided to see what comics the British Library held that represented Indigenous Australasian characters.[1] Instead of reiterating Pearson's existing article, which I recommend reading, I have simply listed the comics I was able to find and their shelfmarks at the end of the post. The Condoman poster for a sexual health campaign is a great example of how comic characters can appeal to and educate children and teenagers. By making Condoman an Indigenous man there is a clear relatability for the Indigenous teens that this poster was aimed at.
It is clear that creating characters that readers or viewers can identify with is important; it provides a role model that one can recognise themselves in. Ryan Griffen, creator of the television show Cleverman – a program centred on Indigenous Australian characters and inspired by Indigenous culture, explained how he had created Cleverman so his son had Indigenous superheroes he could be as excited by as he was the Teenage Mutant Ninja Turtles:
'I wanted to create an Aboriginal superhero that he could connect with, no matter what others said. I wanted a character that would empower him to stand and fight when presented with racism. Just like the old dreaming stories, Cleverman would be able to teach moral lessons; not only for my son, not just for Aboriginal people, but for many more out there as well.'[2]
As Pearson points out, the majority of the Indigenous characters he lists were created by non-Indigenous people. I was interested in how some of these Indigenous characters were depicted so decided to focus on one of them, a DC character named Betty Clawman. She appears in the Millennium comic, the compilation of which is in the British Library collections.[3]
Betty does not appear until week two of the series, where she is found squatting by 'the aptly named Ayres Rock, near Alice Springs, Australia.'[4]  The comic series was produced three years after custodianship of Uluru was returned to the Anangu traditional owners so it seems likely this event caught the international imagination and resulted in Indigenous Australians being associated with Uluru. Ayres Rock was the name that colonisers gave the rock, it was named after a South Australian Premier called Sir Henry Ayres, I am unsure how this makes it 'aptly named' and I assume it underlines how little research the comic writers had undertaken into Indigenous Australian history and culture. Betty has been selected as one of a group of people to become immortal guardians of earth, a fact she already knew before she was approached as she foresaw it in the 'Dreamtime.'[5] While Betty seems to impress the existing Guardians, she is rather passive throughout the encounter and makes multiple references to dreaming and the land – 'while I, rather than dreaming on the land, learn how to wake from its embrace!'[6] These vague references around dreamings and land could also be reference to a half-formed understanding of Indigenous culture through the debates surrounding the return of Uluru. It seems no coincidence, however, that this comic was produced in 1988, the same year Australia celebrated the Bicentennial of its 'founding'. On 26th January 1988 (Australia Day) Indigenous and non-Indigenous people alike took to the streets to protest the celebration of two-hundred years of history that tried to rewrite the 40,000 years of history Indigenous Australia had prior to British conquest. The protests sought to highlight ongoing denial of land rights along with the integral structural racism Indigenous Australians often experienced. It would be interesting to know how much of this political background Englehart, Staton and Gibson were aware of when they conceived Betty Clawman.
The other future Guardians set to join Betty suggests that the writers were keen to create an inclusive and diverse range of characters, yet they fell into the trap of easy cultural stereotypes (another future Guardian is Xiang Po, a Chinese woman who seizes the opportunity because 'it never would have happened before the reforms)[7]. While I understand that the pages of comic books do not lend themselves to nuance and subtlety, it is a shame that the characters are so stereotyped. Betty's willingness to follow the existing Guardians could at first be taken as passivity, but she often shows that she is confident and intelligent, such as questioning the teachings that the universe is logical. She is fore fronted in the cartoon frames and praised for her readiness to become a Guardian. I was very excited about the empowering depiction of Betty until the selected new Guardians transitioned into their new forms – the stereotyping became almost comical again: Xiang Po becomes incredibly sexy and her whole appearance is Westernised. Betty quite simply disappears! She becomes an invisible spirit that is simultaneously part of the earth and the other Guardians but no longer visible or audible; she informs others and perhaps shapes their actions but can no longer take actions herself.
This characterisation of the spiritual silent Indigenous person is reminiscent of Gateway, the Indigenous character Marvel created the same year the DC created Betty Clawman. Like Betty in her Guardian form, Gateway is silent and only communicates through telepathy. He simply sits and watches the actions of the X-Men, opening portals for them on request.[8] From my close reading of these two comics and looking at the Indigenous characters on Pearson's list, it does seem that if writers want a mysterious character that is imbued with spirituality, they make that character Indigenous. While there is perhaps nothing necessarily wrong with depicting an Indigenous person as deeply wise and spiritual, it becomes problematic when that is all they are shown as. It firmly places Indigenous Australians in a position of 'other', making it difficult for Indigenous people to identify with those characters, let alone other comic book fans.
Joanne Pilcher is currently carrying out a PhD placement project at the British Library, exploring contemporary publishing in Australia. If you would like to know more about placement opportunities at the Library for doctoral students please click here.
In my placement at the Library I have suggested the purchase of comic books that show a wide variety of Indigenous characters and complex personalities. If you have any other good suggestions do tweet me: @JoannePilcher1
Comic books/graphic novels in the British Library Collections that feature Indigenous Australian characters:
Grant Morrison et al, The Multiversity: the deluxe edition, New York: DC Comics, 2015, [shelfmark: General Reference Collection YKL.2017.b.559]
Hugh Dolan, Adrian Threlfall, Reg Saunders: An Indigenous War Hero, Sydney, NSW, Australia: NewSouth, 2015 [shelfmark: General Reference Collection YKL.2017.b.766]
Marvel Comics, Essential X-Men, Volume 8, New York, N.Y. : Marvel Publishing ; London : Diamond, distributor, 2007, [General Reference Collection YK.2009.b.171]
Steve Englehart, Joe Staton, Ian Gibson, Millennium: Trust No One, DC Comics, New York 2008. [shelfmark: General Reference Collection YK.2009.b.9556]
References:
[1] Luke Pearson, 'The Wombat to Kaptn Koori – Aboriginal Representation in Comic Books and Capes,' Indigenous X, 13th June 2017, https://indigenousx.com.au/luke-pearson-the-wombat-to-kaptn-koori-aboriginal-representation-in-comic-books-and-capes/#.Wm8DF1hLHcs, [last accessed 29/01/18]
[2] Ryan Griffen, 'We need more Aboriginal superheroes, so I created Cleverman for my son', The Guardian, 27th may 2016, https://www.theguardian.com/tv-and-radio/2016/may/27/i-created-cleverman-for-my-son-because-we-need-more-aboriginal-superheroes, [last accessed 29/01/18]
[3] Steve Englehart, Joe Staton, Ian Gibson, Millennium: Trust No One, DC Comics, New York 2008. Originally published as an eight part magazine series in 1988. [shelfmark: General Reference Collection YK.2009.b.9556]
[4] Millennium, DC Comics, p32
[5] ibid
[6] ibid p33
[7] ibid p40
[8] Marvel Comics, Essential X-Men, Volume 8, New York, N.Y. : Marvel Publishing ; [London : Diamond, distributor], 2007, [General Reference Collection YK.2009.b.171]. Originally printed as serial magazines in 1988.
11 September 2014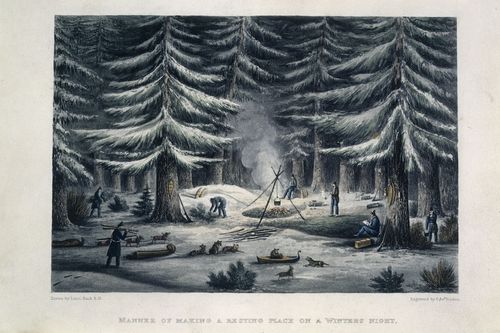 Above: a camping scene from one of Franklin's earlier overland expeditions [G.7397]
With 'Lines in the Ice: Seeking the Northwest Passage' coming up in November it would be remiss not to pass a few comments on Canada's locating one of Sir John Franklin's ships. When news of this year's search came through I must confess I hoped they would find something (perhaps a spoon?) but I was doubtful something as significant as a ship would be found.
A few *spoilers* for 'Lines in the Ice' are in the following but rest assured there will be plenty more to see when it opens. So, for those reading on, a potted history of why Sir John Franklin found himself in the Arctic as executive officer of the ships Erebus and Terror. Leaving Britain in 1845 this was Franklin's third time in charge of an Arctic expedition and his fourth aboard one of the many voyages of exploration championed by Sir John Barrow. His previous two Arctic expedition commands had seen some success but also great hardship and starvation (leading to he and his men, famously, eating their boots).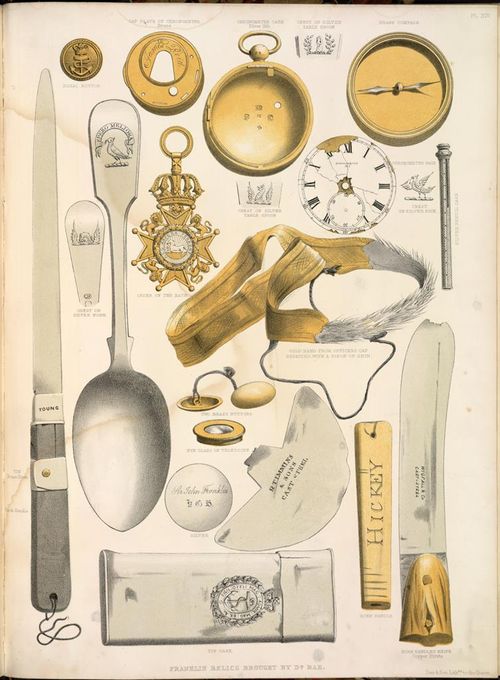 Above: Previously found Franklin artefacts (including a spoon) [Shelfmark: 1781.a.6].
In all these expeditions Franklin was searching for the Northwest Passage, a new trade route to Asia that would dramatically cut journey times for British sailors. English and, later, British sailors had been searching for the route at least since the time of the Tudors, largely hoping to break Spanish and Portuguese trade monopolies with the Asia. By Franklin's time, however, the aim was more broadly political, as much a way of expressing British power over the seas as it was an attempt to find a trade route that may, or may not, be practically viable. Indeed, while we think of this story as being one of Arctic exploration (and of Franklin as an Arctic explorer) it's perhaps worth thinking about the broader context at play here.
After all, Franklin was not just a polar explorer. He was a veteran of the Napoleonic wars, deafened by the roar of conflict but otherwise unscathed, and in between Arctic journeys he served in the Greek war of independence and was Lieutenant-Governor of Van Diemen's Land. Further, by 1845 he was a fixture of Lincolnshire and London society. In short, his career spanned the globe and he was as much a citizen-officer of the British Empire as he was anything else.
So, when Franklin went missing with his ships (which had also seen a diverse and international series of duties) this was not a disappearance of an Arctic specialist on the edge of the world; instead a British officer vanished trying to bring a space into the service of the globe-spanning British Empire. While the distinction is subtle it helps explain the significance of this event, why we remember it so strongly and why such bad-feeling ensued when Dr. John Rae announced the grim fate of Franklin's crew.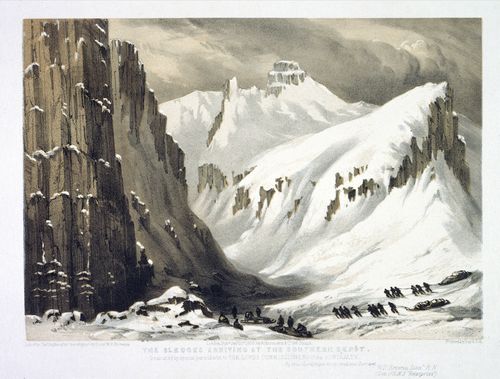 Above: a man-hauling party from HMS Investigator. Dragging huge weights across the ice was a fate awaiting a number of Franklin's crew, as well as those searching for them [Shelfmark: 1259.d.11]
Parks Canada's locating of a Franklin ship also operates in a wider context than the narrow geography of the Northwest Passage. It allows Canada to perform geopolitical sovereignty, display technical expertise and set a media agenda on a global scale - this story is being read far and wide beyond Canada and the U.K. For 'Lines in the Ice' this is quite a happy development as it is a further example of the exhibition's main point, that the Northwest Passage and Arctic Ocean exploration in general are areas of global significance. Embedded in all of this are complex networks of cause and effect, especially considering that the Arctic is not an unpopulated space for Europeans and Americans to express their desire for exploration.
Indeed, Inuit who lived in what is today Canada have played an integral role in other nation's exploration of the Northwest Passage - and paid a heavy price for it. A great Franklin search example of this was sketched out by Ken McGoogan in the Globe and Mail and there are many more such stories to tell; but that is for another blog post and the exhibition itself.
[PJH]