17 October 2019
October is Black History Month in the UK and has been celebrated here for nearly 40 years. The month marks an annual commemoration of the history, achievements and contributions of black people in the UK. Originally founded to recognise the contributions made by people of Caribbean and African backgrounds, the focus of Black History Month has now expanded to include the history of African, Asian and Caribbean peoples and the importance of their contributions to the culture of the UK.
To mark Black History Month, we have selected a few items from our collections which highlight significant moments in black history around the world. The British Library will also be hosting Caribbean Fest events on Saturday October 19th 2019 including poetry, food and performance.
Ottavia Salvador, Fabrizio Denunzio, Morti senza sepoltura. Tra processi migratori e narrativa neocloniale (Ombre corte, 2019) YF.2019.a.14806
Chosen by Valentina Mirabella, Curator Romance Collections (Italian)
Migrations in the Mediterranean are the subject of a lot of Italian books at the moment. I chose this title because the authors don't shy away from holding neo-colonialism responsible for the immigration process. The title 'Dead without Burial' evokes the horror of dying in a foreign country, in exile, often without a grave with a name on. Like French sociologist Abdelmalek Sayad (more from him, also in English in our collections) says in the essay in the appendix, the way a country treats a foreigner who dies on its soil says a lot.
John Michael Vlach, Back of the Big House: The Architecture of Plantation Slavery (Chapel Hill and London: The University of North Carolina Press, 1993). q93/15775
Chosen by Cara, Deputy Head, Eccles Centre for American Studies at the British Library
This book made a deep impression on me when I first came across it as part of an MA course on the built environment in America.  I was impressed by how thoroughly Vlach managed to bring the lived experiences of the enslaved into sharp focus through the architectural landscapes they had inhabited.  As he says himself in his Preface his "main objectives here are first to describe, in broad terms, the architectural settings of plantation slavery and then to suggest some of the ways in which black people may have transformed those architectural settings into places that best served their social needs" (p.x).  The major source for the visual material in the book is the Historic American Buildings Survey (HABS).  Originally founded in 1933, it still operates as a division of the National Parks Service.  During the 1930s and later, HABS teams documented large numbers of slave buildings and associated spaces and Vlach uses these photographs and plans to great effect in his book.  These are then complemented by another Depression-era source, the oral histories of formerly enslaved people conducted by interviewers for the Federal Writer's Project.  As Vlach explains "My description of the architecture of slavery thus meshes information from two archival projects that have been separated for more than half a century" (p.xiii).  I found this mixture of first-person accounts, as well as other archival evidence (business records, personal letters etc), with the structures that had shaped people's everyday lives to be incredibly evocative.  I came away from the book with a deeper understanding of the importance of vernacular spaces to historical enquiry, as well as more especially a better understanding of the way the built environment shaped, and was shaped by, the lives of enslaved African-Americans and their white overseers and owners.  I've found myself thinking about this book often over the years, especially as discussions around how to more fully represent the experiences of enslaved people have come to the forefront in heritage and tourism contexts (for example, the incorporation of slave buildings and stories into the interpretation offered to visitors at plantation sites in the US, most notably at Thomas Jefferson's Monticello home).
For more information on Federal Writer's Project holdings at the British Library, including the accounts of former slaves, see the guide prepared by my Eccles Centre colleague, Jean Petrovic.
The Color Purple by Alice Walker (Boston, Mass: G.K. Hall, 1986), Nov.1987/702
Chosen by Rachael (Curator, American Printed Collections Post 1850)
I was introduced to the The Color Purple while in my first year as an undergraduate at the University of Nottingham. It was like nothing I'd read before, in both voice and content. I'd never encountered a character like Cecile, nor the abuse she endures in a novel, and I remember being interested in the contrasting ways the various females in the book are portrayed. Told in an epistolary format as Cecile writes to God, she tells of the horrors she suffers at the hands of her father and later her husband, and the life that eventually leads her to Shug – a woman who opens her eyes to a different way of living. The Color Purple won the Pulitzer Prize in 1983 and frequently features on lists of banned or contested books (see more of these on our Banned Books Week blog).
Land Rights Before Games poster (Brisbane, Australia: 1982) shelfmark

HS.74/2436



Chosen by Lucy (Curator, Oceania Published Collections Post-1850)
This poster represents a key piece of 20th century campaign material in Australian history. The 1982 Commonwealth Games in Brisbane were the focus of a series of protests from Australia's First Peoples who aimed to bring the issue of land rights to the international stage. The campaign called for rights over Indigenous lands in Queensland and control over mining in those areas. The Queensland premier at the time, Joh Bjelke-Peterson, declared a state of emergency and banned street marches during the games. Yet around 2000 people still took to the streets of Brisbane on 26th September in support of the campaign and in protest of the continuing oppression of First Peoples. Further sit-ins and marches were held throughout the games with hundreds of arrests made by police. The protests gained international attention and remain a significant moment in the Indigenous civil rights movement in Australia. In 2012, the State Library of Queensland held an exhibition called 'State of Emergency' to mark the 30th anniversary of the protests.
12 August 2019
While many may be captivated by the US political scene today (and its constant evolution), I recently lost myself in over 60 years of American electoral history while working on a new donation to the Library.
Philip J Davies (Professor Emeritus of American Studies, De Montfort University and Former Director for the Eccles Centre for American Studies here at the British Library) has donated a rich collection of material which can now be viewed in our Reading Rooms. Featuring promotional political material for US presidential election campaigns from 1952 to 2018, the collection is an invaluable new resource for researchers. With material right up to the Obama, Clinton and Trump eras, it's sure to provide an interesting and intriguing picture of the current political landscape for years to come.
On donating the collection Philip said: 'It is a pleasure to see this small collection reach the British Library.  When I started teaching US politics at Manchester University in the 1970s only a few students had been able to visit the USA.  I found that using a few real campaign items helped our discussions and gave more tangibility to the subject.  I hope that the materials give some sense of the three-dimensional, ground-level reality of US presidential campaigns at a time when we have grown used to experiencing them on the TV and through computer screens.'
There are over 100 items available to explore from a giant Obama inauguration placard and video content encouraging young people to vote (featuring the likes of John Legend) to through-the-door propaganda collected from a number of US states. Sifting through this vast collection it's amazing to see how the promotion and slamming of electoral candidates has changed over decades and into new millennia – while in some ways not changed at all.
A handful of the topics covered amongst the plethora of material are gun crime, same-sex marriage, war veteran care and climate change. While just some items researchers may find of particular interest include a nomination petition form for Dwight D. Eisenhower from 1952, a 1988 Jesse Jackson poster (pictured above), a 1980 Reagan Campaign Leadership Manual including volunteer phone script (pictured below), and an (unused) official invitation to the inauguration of President Donald Trump.
Too many to name individually, but on examining this treasure trove of historical and political paraphernalia I was particularly struck by a few items:
The power of Lenora Fulani
As part of the New Alliance Party in the 1988 presidential elections Fulani was the first woman and the first African American to achieve ballot access in the fifty states. The archive contains Membership cards for the Party, a pamphlet for the campaigning committee for fair elections, and leaflets on The Black Agenda and Independent Politics.
Political lampooning
This placard designed for front yard display reads 'Ovide End Public Kindergarten'. You might think this is a rather negative promotion of one's policies. And you'd be right. Ovide Lamontagne was a Republican candidate for Governor in New Hampshire in 2012. This poster was produced by the Democrats in Ovide's style to lampoon his politics (by their interpretation). Ovide lost the vote.
Make your own… Obama paper doll
Who says American politics is no place for fun and games? Marking the moment in history when Barack Obama won the 2008 election this collectable booklet lets you dress the President, the First Lady and their two daughters in an array of outfits worn throughout the campaign. My personal favourite: Barack in his best basketball gear.
The Philip Davies Collection of US election archive material (Add MS 89357) is now available to view in Reading Rooms at St Pancras and Boston Spa. Find out more by searching for '89357' in our Archives and Manuscripts catalogue. If you use any of the items for your research, we'd love to hear about it. Let us know using @BL_Americas.
[RSW] (resisting the temptation to actually dress the Obama paper dolls)
23 May 2018
After reading Luke Pearson's blog post on Indigenous X about Indigenous Australian characters in comic books, I decided to see what comics the British Library held that represented Indigenous Australasian characters.[1] Instead of reiterating Pearson's existing article, which I recommend reading, I have simply listed the comics I was able to find and their shelfmarks at the end of the post. The Condoman poster for a sexual health campaign is a great example of how comic characters can appeal to and educate children and teenagers. By making Condoman an Indigenous man there is a clear relatability for the Indigenous teens that this poster was aimed at.
It is clear that creating characters that readers or viewers can identify with is important; it provides a role model that one can recognise themselves in. Ryan Griffen, creator of the television show Cleverman – a program centred on Indigenous Australian characters and inspired by Indigenous culture, explained how he had created Cleverman so his son had Indigenous superheroes he could be as excited by as he was the Teenage Mutant Ninja Turtles:
'I wanted to create an Aboriginal superhero that he could connect with, no matter what others said. I wanted a character that would empower him to stand and fight when presented with racism. Just like the old dreaming stories, Cleverman would be able to teach moral lessons; not only for my son, not just for Aboriginal people, but for many more out there as well.'[2]
As Pearson points out, the majority of the Indigenous characters he lists were created by non-Indigenous people. I was interested in how some of these Indigenous characters were depicted so decided to focus on one of them, a DC character named Betty Clawman. She appears in the Millennium comic, the compilation of which is in the British Library collections.[3]
Betty does not appear until week two of the series, where she is found squatting by 'the aptly named Ayres Rock, near Alice Springs, Australia.'[4]  The comic series was produced three years after custodianship of Uluru was returned to the Anangu traditional owners so it seems likely this event caught the international imagination and resulted in Indigenous Australians being associated with Uluru. Ayres Rock was the name that colonisers gave the rock, it was named after a South Australian Premier called Sir Henry Ayres, I am unsure how this makes it 'aptly named' and I assume it underlines how little research the comic writers had undertaken into Indigenous Australian history and culture. Betty has been selected as one of a group of people to become immortal guardians of earth, a fact she already knew before she was approached as she foresaw it in the 'Dreamtime.'[5] While Betty seems to impress the existing Guardians, she is rather passive throughout the encounter and makes multiple references to dreaming and the land – 'while I, rather than dreaming on the land, learn how to wake from its embrace!'[6] These vague references around dreamings and land could also be reference to a half-formed understanding of Indigenous culture through the debates surrounding the return of Uluru. It seems no coincidence, however, that this comic was produced in 1988, the same year Australia celebrated the Bicentennial of its 'founding'. On 26th January 1988 (Australia Day) Indigenous and non-Indigenous people alike took to the streets to protest the celebration of two-hundred years of history that tried to rewrite the 40,000 years of history Indigenous Australia had prior to British conquest. The protests sought to highlight ongoing denial of land rights along with the integral structural racism Indigenous Australians often experienced. It would be interesting to know how much of this political background Englehart, Staton and Gibson were aware of when they conceived Betty Clawman.
The other future Guardians set to join Betty suggests that the writers were keen to create an inclusive and diverse range of characters, yet they fell into the trap of easy cultural stereotypes (another future Guardian is Xiang Po, a Chinese woman who seizes the opportunity because 'it never would have happened before the reforms)[7]. While I understand that the pages of comic books do not lend themselves to nuance and subtlety, it is a shame that the characters are so stereotyped. Betty's willingness to follow the existing Guardians could at first be taken as passivity, but she often shows that she is confident and intelligent, such as questioning the teachings that the universe is logical. She is fore fronted in the cartoon frames and praised for her readiness to become a Guardian. I was very excited about the empowering depiction of Betty until the selected new Guardians transitioned into their new forms – the stereotyping became almost comical again: Xiang Po becomes incredibly sexy and her whole appearance is Westernised. Betty quite simply disappears! She becomes an invisible spirit that is simultaneously part of the earth and the other Guardians but no longer visible or audible; she informs others and perhaps shapes their actions but can no longer take actions herself.
This characterisation of the spiritual silent Indigenous person is reminiscent of Gateway, the Indigenous character Marvel created the same year the DC created Betty Clawman. Like Betty in her Guardian form, Gateway is silent and only communicates through telepathy. He simply sits and watches the actions of the X-Men, opening portals for them on request.[8] From my close reading of these two comics and looking at the Indigenous characters on Pearson's list, it does seem that if writers want a mysterious character that is imbued with spirituality, they make that character Indigenous. While there is perhaps nothing necessarily wrong with depicting an Indigenous person as deeply wise and spiritual, it becomes problematic when that is all they are shown as. It firmly places Indigenous Australians in a position of 'other', making it difficult for Indigenous people to identify with those characters, let alone other comic book fans.
Joanne Pilcher is currently carrying out a PhD placement project at the British Library, exploring contemporary publishing in Australia. If you would like to know more about placement opportunities at the Library for doctoral students please click here.
In my placement at the Library I have suggested the purchase of comic books that show a wide variety of Indigenous characters and complex personalities. If you have any other good suggestions do tweet me: @JoannePilcher1
Comic books/graphic novels in the British Library Collections that feature Indigenous Australian characters:
Grant Morrison et al, The Multiversity: the deluxe edition, New York: DC Comics, 2015, [shelfmark: General Reference Collection YKL.2017.b.559]
Hugh Dolan, Adrian Threlfall, Reg Saunders: An Indigenous War Hero, Sydney, NSW, Australia: NewSouth, 2015 [shelfmark: General Reference Collection YKL.2017.b.766]
Marvel Comics, Essential X-Men, Volume 8, New York, N.Y. : Marvel Publishing ; London : Diamond, distributor, 2007, [General Reference Collection YK.2009.b.171]
Steve Englehart, Joe Staton, Ian Gibson, Millennium: Trust No One, DC Comics, New York 2008. [shelfmark: General Reference Collection YK.2009.b.9556]
References:
[1] Luke Pearson, 'The Wombat to Kaptn Koori – Aboriginal Representation in Comic Books and Capes,' Indigenous X, 13th June 2017, https://indigenousx.com.au/luke-pearson-the-wombat-to-kaptn-koori-aboriginal-representation-in-comic-books-and-capes/#.Wm8DF1hLHcs, [last accessed 29/01/18]
[2] Ryan Griffen, 'We need more Aboriginal superheroes, so I created Cleverman for my son', The Guardian, 27th may 2016, https://www.theguardian.com/tv-and-radio/2016/may/27/i-created-cleverman-for-my-son-because-we-need-more-aboriginal-superheroes, [last accessed 29/01/18]
[3] Steve Englehart, Joe Staton, Ian Gibson, Millennium: Trust No One, DC Comics, New York 2008. Originally published as an eight part magazine series in 1988. [shelfmark: General Reference Collection YK.2009.b.9556]
[4] Millennium, DC Comics, p32
[5] ibid
[6] ibid p33
[7] ibid p40
[8] Marvel Comics, Essential X-Men, Volume 8, New York, N.Y. : Marvel Publishing ; [London : Diamond, distributor], 2007, [General Reference Collection YK.2009.b.171]. Originally printed as serial magazines in 1988.
11 September 2014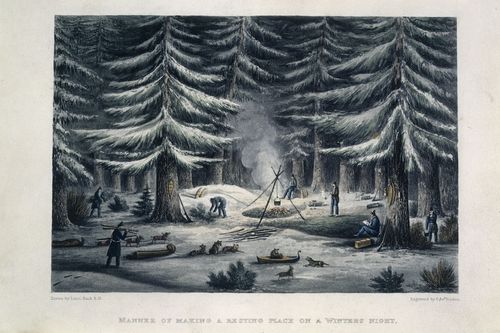 Above: a camping scene from one of Franklin's earlier overland expeditions [G.7397]
With 'Lines in the Ice: Seeking the Northwest Passage' coming up in November it would be remiss not to pass a few comments on Canada's locating one of Sir John Franklin's ships. When news of this year's search came through I must confess I hoped they would find something (perhaps a spoon?) but I was doubtful something as significant as a ship would be found.
A few *spoilers* for 'Lines in the Ice' are in the following but rest assured there will be plenty more to see when it opens. So, for those reading on, a potted history of why Sir John Franklin found himself in the Arctic as executive officer of the ships Erebus and Terror. Leaving Britain in 1845 this was Franklin's third time in charge of an Arctic expedition and his fourth aboard one of the many voyages of exploration championed by Sir John Barrow. His previous two Arctic expedition commands had seen some success but also great hardship and starvation (leading to he and his men, famously, eating their boots).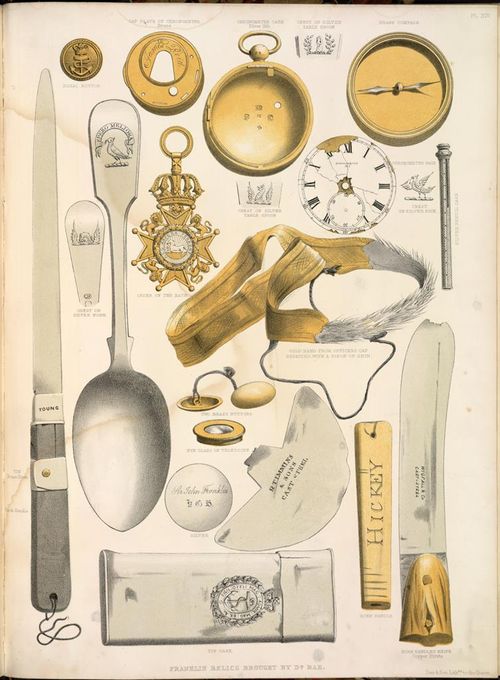 Above: Previously found Franklin artefacts (including a spoon) [Shelfmark: 1781.a.6].
In all these expeditions Franklin was searching for the Northwest Passage, a new trade route to Asia that would dramatically cut journey times for British sailors. English and, later, British sailors had been searching for the route at least since the time of the Tudors, largely hoping to break Spanish and Portuguese trade monopolies with the Asia. By Franklin's time, however, the aim was more broadly political, as much a way of expressing British power over the seas as it was an attempt to find a trade route that may, or may not, be practically viable. Indeed, while we think of this story as being one of Arctic exploration (and of Franklin as an Arctic explorer) it's perhaps worth thinking about the broader context at play here.
After all, Franklin was not just a polar explorer. He was a veteran of the Napoleonic wars, deafened by the roar of conflict but otherwise unscathed, and in between Arctic journeys he served in the Greek war of independence and was Lieutenant-Governor of Van Diemen's Land. Further, by 1845 he was a fixture of Lincolnshire and London society. In short, his career spanned the globe and he was as much a citizen-officer of the British Empire as he was anything else.
So, when Franklin went missing with his ships (which had also seen a diverse and international series of duties) this was not a disappearance of an Arctic specialist on the edge of the world; instead a British officer vanished trying to bring a space into the service of the globe-spanning British Empire. While the distinction is subtle it helps explain the significance of this event, why we remember it so strongly and why such bad-feeling ensued when Dr. John Rae announced the grim fate of Franklin's crew.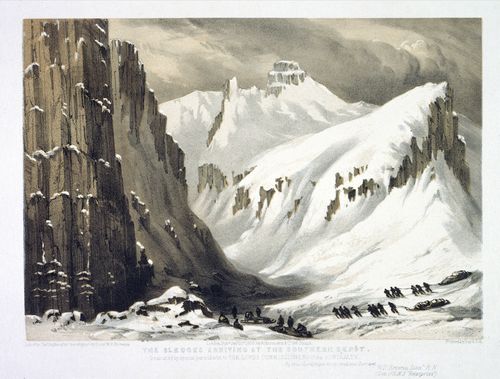 Above: a man-hauling party from HMS Investigator. Dragging huge weights across the ice was a fate awaiting a number of Franklin's crew, as well as those searching for them [Shelfmark: 1259.d.11]
Parks Canada's locating of a Franklin ship also operates in a wider context than the narrow geography of the Northwest Passage. It allows Canada to perform geopolitical sovereignty, display technical expertise and set a media agenda on a global scale - this story is being read far and wide beyond Canada and the U.K. For 'Lines in the Ice' this is quite a happy development as it is a further example of the exhibition's main point, that the Northwest Passage and Arctic Ocean exploration in general are areas of global significance. Embedded in all of this are complex networks of cause and effect, especially considering that the Arctic is not an unpopulated space for Europeans and Americans to express their desire for exploration.
Indeed, Inuit who lived in what is today Canada have played an integral role in other nation's exploration of the Northwest Passage - and paid a heavy price for it. A great Franklin search example of this was sketched out by Ken McGoogan in the Globe and Mail and there are many more such stories to tell; but that is for another blog post and the exhibition itself.
[PJH]
30 August 2013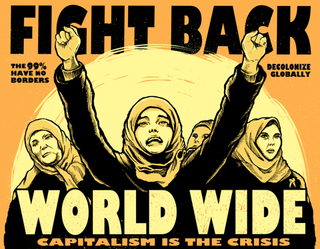 Colectivo Cordyceps, Mexico City, Mexico (website: Justseeds Artists' Cooperative)
If you've been to our Propaganda exhibition (and if you haven't, you only have until 17 September), you might have spotted the above print. It's in a fairly dark corner, so unless you looked at it carefully (or read the accompanying label) you might not have realised that it is a relatively recent poster coming out of the Occupy Movement. It was interesting to me that Ian, one of our Propaganda curators, should choose that particular poster out of a portfolio of prints that we acquired from Occuprint last year. Viewed up close, the text  'the 99% have no borders' is a bit of a give-away, but from a distance it looks like a fairly traditional political poster which could come from more or less anywhere (in fact it's from Mexico) and from any period.
The use of prints and posters to disseminate views on political issues and causes is nothing new of course, – they've been employed pretty much ever since the invention of printing, but they really came in to their own in the early twentieth century as technological developments enabled the relatively cheap mass production of posters. And they remain a simple but effective way of reaching the public and getting a message or viewpoint across.
I've been fascinated by the sheer volume, diversity and creativity of printing that has come out of the global Occupy movement. The portfolio alone is a good example of this – 31 hand silk-screened prints by 31 artists/groups, chosen out of hundreds of submissions from across the world, but all reflecting the values and many concerns of the movement. A fundraising initiative for Occuprint (a non-profit group affiliated to but independent from the Occupy Movement), the portfolio has been issued through the Booklyn Artists' Alliance in an edition of 100. It is curated by Booklyn's Marshall Weber and Occuprint organiser Jesse Goldstein, together with various other Occuprint editorial committee members. The portfolio also includes a copy of issue 4 (November 2011) of the Occupied Wall Street Journal, a special folio issue on the poster art of the Occupy movement, the curation of which led to the establishment of Occuprint itself. Occuprint's website was also launched in November 2011 and now hosts hundreds of images, including the portfolio prints and submissions, all of which can be freely downloaded for non-commercial purposes. More posters continue to be added and the website offers not only a wide range of support materials for local activists, but a fantastic resource for studying the art of Occupy (and much more besides).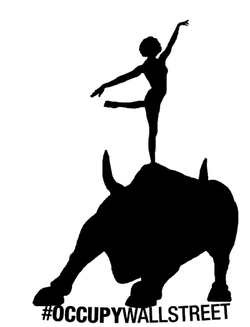 Creator: lots of people  #Occupy Wall Street NYC General Assembly
When Occupy Wall Street (OWS) sprang up in September 2011 with the occupation of New York City's Zuccotti Park, its birth was announced with a particularly arresting and now iconic image – that of a ballerina on top of the Wall Street bull, which appeared in Adbusters, the Vancouver-based anti-consumerist magazine. The bull is just one of the many new symbols that has emerged out of Occupy graphic art, and it is joined by more traditional images (e.g. the raised fists in Fightback), plus appropriations and re-interpretations (e.g. the Guy Fawkes mask, and David Loewenstein's underground 'inverted' fist ).  As Marshall Weber has noted, there is evidence of a variety of historical art influences in the imagery -from Russian Constructivism to Latin American political graphic art to Pop. Although the quality of imagery varies enormously, there are some wonderful, memorable and humorous posters, and it is clear that poster-making is an important strategy for participants of the Occupy movement.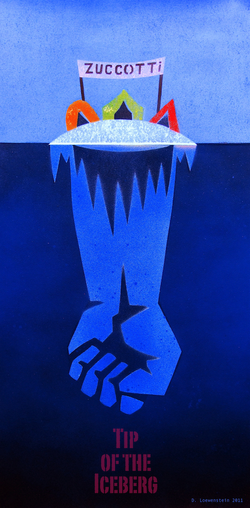 David Loewenstein, Lawrence, Kansas. http://www.davidloewenstein.com
Occuprint organiser Jesse Goldstein describes the graphic work coming out of Occupy as 'social movement culture,' quoting Dara Greenwald and Josh MacPhee's definitition of this as work 'born from a context in which large numbers of people mobilized to achieve transformation goals.' He says that perhaps the single cohesive thread of Occupy's cultural work is 'a self-assured dismissal of corporate media channels and the confidence that alternatives can be, and are being, built.' The graphic work is just one aspect of a growing number of cultural practices which include social media, public camping etc., and Goldstein goes on to say that, 'While it's too early to tell, there does seem to be the possibility that Occupy will successfully reclaim a portion of the cultural commons from a media sphere that has thoroughly infected our everyday lives with ubiquitous branding, messaging, news cycles, and stylized uniformity.' He notes that many of the images on the Occuprint website were created for local use and then passed on to Occuprint, whilst others only exist in the virtual world -'copies without originals.'  He also emphasises the importance of the idea of imagining the future in this social movement culture. 'If anything, the work focuses on the future of the movement itself, and the constituent power that will be required to make the world anew.' - Alexandra Clotfelter's poster The Beginning is Near, being a perfect example of this.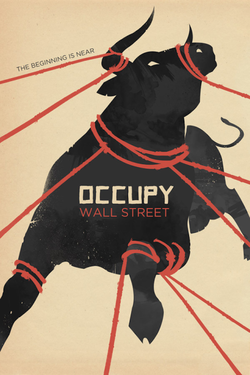 Alexandra Clotfelter, Savannah, GA  Website: http://www.ladyfawn.com
Goldstein acknowledges that 'The images on our site will one day be important, collected, preserved and themselves referenced, as the past is referenced today….The Occupy movement has become conscious of itself as an active producer of history, and this future potential permeates the social movement culture that is beginning to take shape. This, I believe makes the collection at Occuprint an archive of the future.' For me, there was never a doubt that we should have at least some of this material in our collections since it would be important for future researchers studying a whole range of subjects. Aside from the portfolio, we have collected placards, leaflets and other ephemera that help bring to life the movement, culture and a wide variety of political, social and economic issues. The images have in fact already appeared and been discussed and debated in a number of journals and blogs (see below for a few examples). So perhaps not only is the beginning near, the future is now.  
Jesse Goldstein, Occuprint: Archiving the Future, Socialism and Democracy vol.26, no. 2, July 2012 (available online in the library's reading rooms)
Sarah Kirk Hanley Ink: Political Art for a Contentious Time art:21 September 14 2012
Nato Thompson, "Debating Occupy," Art in America 100, no. 6, July/August 2012, pps. 99-103 (includes several images from the portfolio accompanied by statements from artists, curators, writers, and critics on the impact of the Occupy Movement).
[C.H.] 
10 July 2013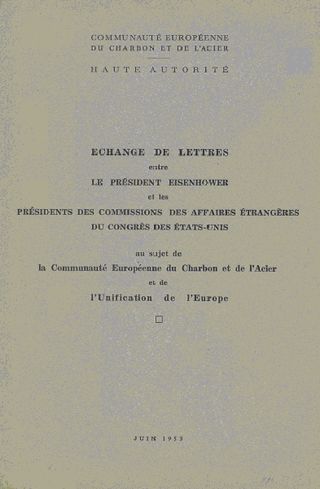 The British Library recently made available the digitised contents of the EU Bookshop via its catalogue: Explore the British Library now provides free access to a range of digitised official publications produced by the European Union (and its previous incarnations) from the mid 1950s up to the present day.
Why would this be of relevance to our Americas blog I hear you ask? Firstly, I hope to make the wider research community aware of the development since there is a wide range of interesting and informative material available on the subject of European integration. But I'm also taking the opportunity to share an interesting primary source that I've discovered from within the EU Bookshop collection:  
Correspondence between President Eisenhower and Presidents of the Foreign Affairs Committee of the Congress of the United States about the European Coal and Steel Community and the European unification. 
This 1953 publication (issued in both English and French), offers an insight to the views of President Eisenhower and the members of the U.S. Congressional Foreign Affairs Committee on the prospect of the Coal and Steel Community growing into a wider European community. All parties were keen that this transformation 'may be speedily developed, ratified and put into force.' (Resolution of 16 June 1953 by the Foreign Affairs Committee of the House of Representatives).  
The final part of the document is a communiqué issued from the White House on 3 June 1953, following a meeting held between President Eisenhower and Jean Monnet, the economist and diplomat regarded as the chief architect of European unity, Franz Etzel, and Dirk Pieter Spierenburg. The text notes that while in Europe Eisenhower's 'experience there convinced him that the uniting of Europe is a historic necessity for the peace and prosperity of Europeans and of the world.' In addition, the document states that in the U.S. 'in the field of coal and steel the barriers, which have so long divided Europe, have been removed so that those basic materials enjoy a single market of 155 million consumers...'
The sentiments articulated in the document echo over time. In recent years I've attended many talks and lectures organised by our Eccles Centre for American Studies, and delivered by a range of U.S. statesmen and diplomats. One common and ongoing thread in these events has been the importance of the transatlantic relationship between Europe and U.S. 
To close, in a piece on the U.S. and the European Union, I must mention the fine work of the University of Pittsburgh's Archive of European Integration to disseminate European Union documentation.
[J.J.]
04 June 2013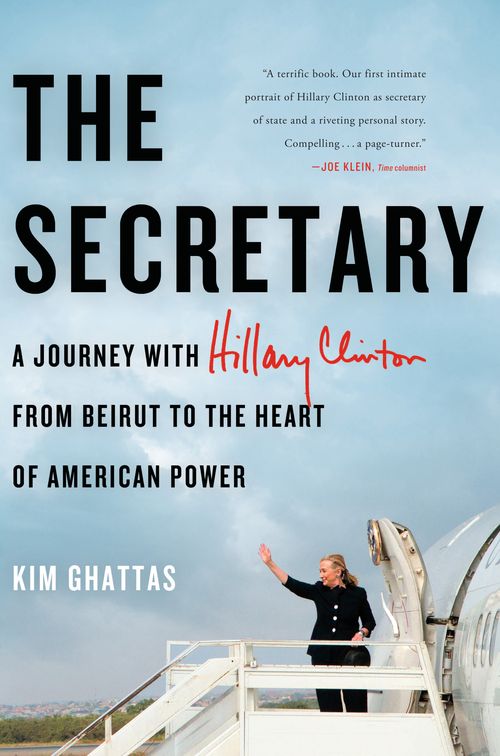 Above: the cover of Ghattas' book, 'The Secretary: a journey with Hillary Clinton from Beirut to the heart of American power'
As the sun bathes central London it seems like the best possible time to start this year's Summer Scholars programme. On Friday Kim Ghattas, BBC State Department Radio and TV Correspondent, will open the season with a talk drawing from her new book, 'The Secretary'.
Ghattas, who grew up in Beirut during the civil war, has worked as the BBC's State Department Correspondent since 2008 and has drawn on her earlier personal experiences as well what she has seen from the front row of U.S. diplomacy to open up this world to a new audience. With Hillary Clinton as the main focus the book looks at how she handled a range of issues in the first Obama administration, from the relationship with Asia, to the Arab uprisings, to crisis spurred by the diplomatic cables revealed by WikiLeaks. Friday's talk will provide an introduction to the book, as well as a Q&A session and a chance to discuss the issues raised with other attendees over a tea or coffee at the end.
For Team Americas this is a timely talk to be hosting as our intern, Catherine, wades through political letters relating to the Civil War, part of the final steps of the Civil War digitisation programme. If you would like to attend the talk is this Friday lunchtime, places are free and you can find full details here.
[PJH]
03 April 2013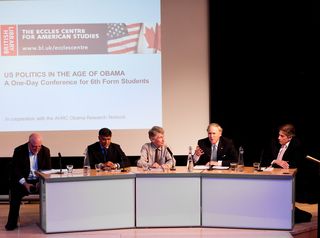 Photo © Alexander McIntyre
Professor Philip Davies, Director of our Eccles Centre for American Studies writes:
In March of this year the Eccles Centre hosted its most recent week of Congress to Campus UK events. Twice yearly, in co-operation with the US Association of Former Members of Congress, the Centre masterminds a week of events featuring former Democratic and Republican Members of Congress. This year I was joined by Cliff Stearns (Republican-Florida) and Bob Carr (Democrat-Michigan) for a range of conferences, discussions and seminars with students, office holders, researchers and members of the public. We met more than 500 people, and among the many topics discussed the 2012 election results, and the parties' future prospects, featured prominently.
The re-election of Barack Obama was followed by much speculation about demographic change in the USA, and the implied inevitable decline of the Republican Party in a country where, for example, projections suggest that one-third of the population will be defined as Hispanic/Latino by 2050.
This figure is especially telling. Latino voters made up 10% of the 2012 electorate. They voted 71% for Obama. This group of voters has increased as a proportion of the electorate steadily in recent elections, and has swung increasingly to back the Democratic presidential candidates. In 2004 the Latino vote for Democrat John Kerry was equivalent to 3.7% of the electorate. In 2008 Obama's Latino vote made up 6% of the electorate, and in 2012, 7.1%. If this Democratic grip continues, the argument goes, as the Hispanic/Latino vote grows, then by mid-century the Democrats could have a bloc vote from this group alone amounting to 25% of the electorate.
There are other startling aspects of this demographic shift. In 1980 Ronald Reagan began his influential period as president with a clear victory over incumbent Jimmy Carter. At the core of this overwhelming result was the support of 56% of the white vote. Mitt Romney had the support of 59% of the white vote, and still lost. Almost 9 out of 10 American voters in 1988 were white, by 2012 this had fallen to about 7 out of 10.
Obama faced re-election as a president whose first term legislative achievements had provoked controversy, in a poor economic climate, facing a united Republican Party opposition. Republicans were confident of victory, but while there was a modest voter swing away from the president, the Republicans failed to erode his electoral appeal very much, and certain key groups, especially young voters, cast the majority of their votes for Obama. Pundits pointed to the Democrats' more skilled use of social media – for fund-raising as well as messaging – and to a 'ground game' that amalgamated the latest data analysis with dogged door-to-door canvassing.
There was some schadenfreude that the hundreds of millions invested in the campaign by Republican supporter Sheldon Adelson, by Karl Rove on behalf of teams of Republican supporters and by other wealthy backers of Romney and Republican candidates had failed to achieve its aims. How could these investors save their party, it was asked, if the demographic imperative is against them.
This is all very plausible, but the decline of the Republicans is not a done deal, and those Republican political investors have plenty of opportunity if they remain interested. Certainly the potential for political investment remains strong if the appetite for it remains. Adelson's losses in 2012 amount to tens of millions, but his estimated worth approaches $25 billion. Others are not so fortunate, but the Republicans could accumulate a considerable war chest. But do they have places to invest?
Of course they do. In 2012 the Republican presidential campaign was unsuccessful against the USA's first African-American incumbent, and lessons need to be learned about modern campaigning. The Republicans' campaigns for Senate seats were an exercise in failure and farce, as candidates who had been selected by deeply conservative primary electorates made statements extreme enough to alienate the general electorate not just in their home states, but via mass media, throughout the nation. Again, lessons must be learned. But the great Republican success in 2012 was in the US House of Representatives, where they retained control in spite of the Democrats receiving almost 1.4 million more votes.
The US House is gerrymandered. In most states the design of constituency boundaries is a political exercise, seen as a spoil of victory. The exercise is usually performed by some combination of the state governor and legislature. Republicans have been very successful in many state elections. After 2012 30 of the nation's 50 governors were Republicans, and in 24 states the Republicans controlled the governorship and both chambers of the state legislature – the Democrats had similar one-party domination in only 14 states. The federal nature of US politics gives these states victories particular value. Most domestic policy spending is done at the state and local level. Political groups at state level can use ballot initiatives and referenda to influence the political agenda. A substantial rise in spending on state judicial elections in 2012 suggests an increasing awareness of the political potential at this level. The combination of these and other factors presents the Republican Party with substantial electoral opportunities in 2014 and 2016.
2014 will see the second midterm elections of Obama's administration. The presidential party usually does not do well in midterm elections, especially in second midterms. The Democrats' gain of four seats in 1998 is only example of a presidential party gaining House seats in a second midterm in well over a century. Turnout declines at midterms, and it may be that elements of the Obama electoral coalition that performed so well for the party in 2012 will be less enthusiastic without Obama on the ballot. In the Senate 21 of the seats up for election are held by Democrats, 14 by Republicans, and about one-third of the Democrat seats are in states that voted for Romney – the Democrats again present a large target.
In 2016, especially if there are not strong signs of recovery, the administration will face a disappointed electorate. And the American electorate has shown an inclination to change its presidency regularly. Since 1952 only once has a party held on to the presidency for more than two terms. President Obama will not be on the 2016 ticket, and while Democrat Hillary Clinton may be the best known potential candidate, the Republican stable – including Rand Paul, Chris Christie, Jeb Bush, Marco Rubio – looks healthy.
The Republicans have opportunities in the short term to maintain their strength at state level and in the House, to make gains in Senate, and to make a credible challenge for the presidency. They have to adapt their policies and their strategies to the changing demographics of the electorate. And while voting loyalties tend to remain influential over time, in the long term though a group's political allegiances cannot be guaranteed. When I look at my US Latino grandchildren I am not sure whether either will be Republican or Democrat as adults, but I look forward to their campaigns for office.
[P.D.]
Americas and Oceania Collections blog recent posts
Tweets by BL_Americas
Other British Library blogs